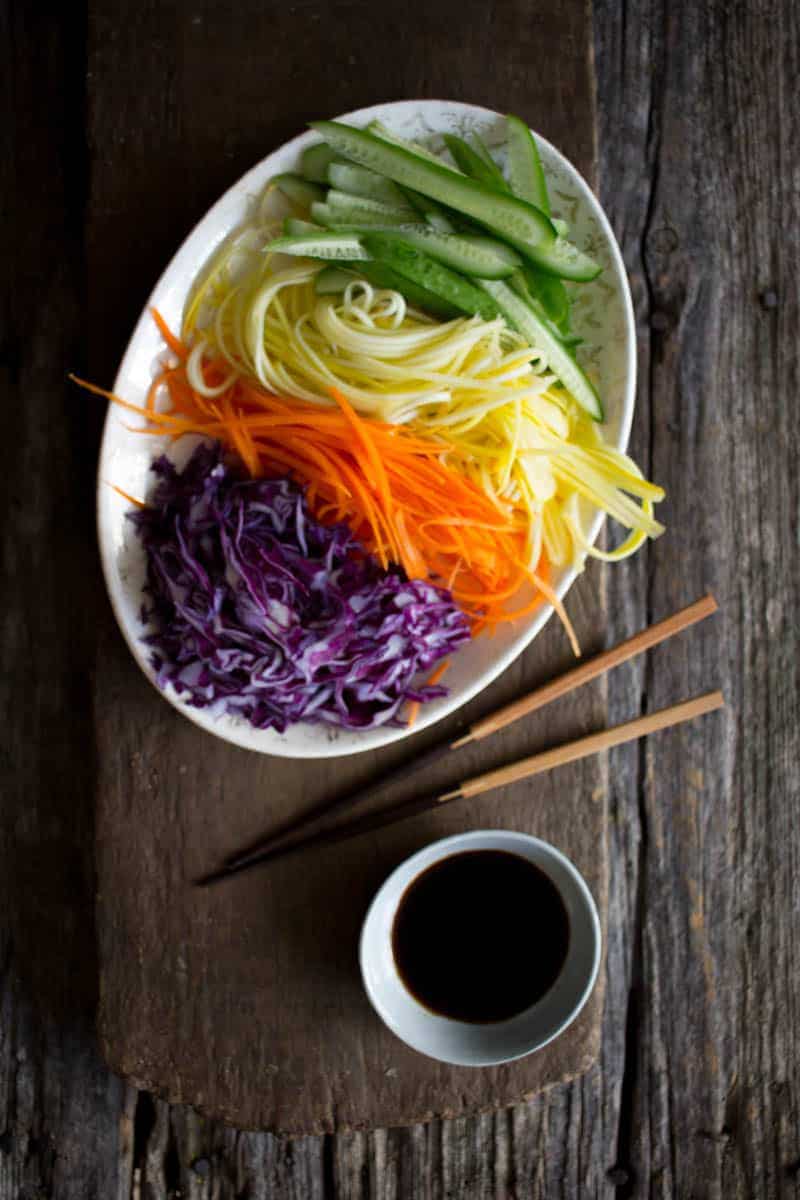 You know how sometimes you meet someone and there is an instant connection? Like you just knew you were meant to have met each other and be a part of one another's lives? That is exactly what happened when I met Amie Valpone of The Healthy Apple for the first time last year. Within 3 minutes of our initial introduction we were chatting it up like we were old high school friends that were in desperate need of a catch up session.
Amie has this magnetic energy that just pulls you in and you want a piece of it. She is full of life with this euphoric energy that I wish I could bottle and sell! So, when she started to fill me in on her journey to health I couldn't even wrap my head around all the things this beautiful soul had dealt with in her life. Amie who seemed like she had it all had been through absolute hell the past 10 years simply riddled with health problems that left her immobile and bed ridden.
Amie sought help from health professionals, was subjected to more tests than I can possibly wrap my head around and eventually was diagnosed with a laundry list of ailments ranging from Lyme disease to adrenal fatigue. Some people at this point would have shut down, become reclusive and detached themselves from the world around them but Amie saw this as an opportunity to help others. Her amazing journey to health is the inspiration for her new cookbook Eating Clean: The 21-Day Plan to Detox, Fight Inflammation, and Reset Your Body and I am beyond thrilled that she asked me to share a recipe from it here with all of you!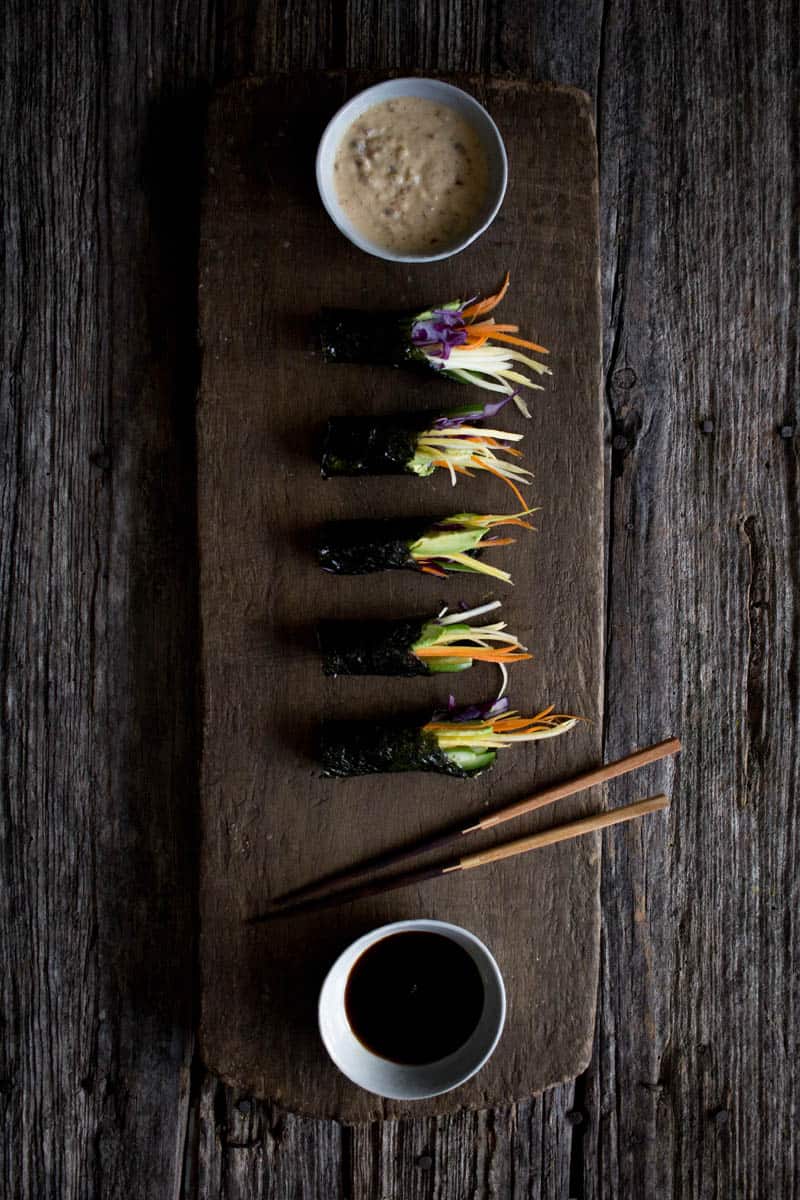 Amie's Sunrise Nori Wraps with Spicy Tahini Drizzle excited me as soon as I saw them. I love all of the bright rainbow-esque colors of the crisp veggies in contrast to the nori and while Amie elegantly stacks her veggies atop sheets of nori for a party worthy presentation I opted for a portable hand roll, mainly so I could get more of that spicy tahini sauce down in there, but also because I think hand rolls are pretty much the cutest thing ever and I don't have enough opportunities to eat them.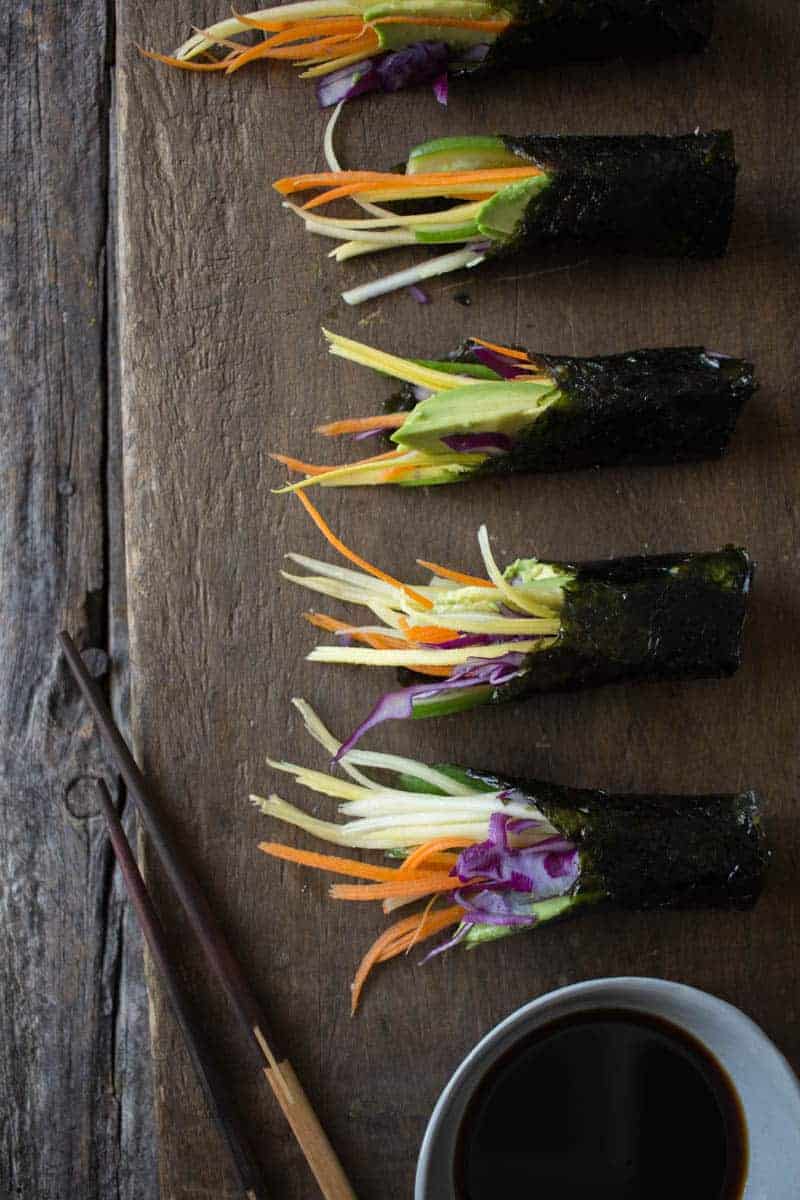 Whether you roll or stack isn't really important, what is important is that you taste this amazing combo of flavors and textures. Also, you should totally check out Amie's book and her blog, The Healthy Apple. I just know she will be a beacon of light in your life just as she is in mine!
Print
Sunrise Nori Wraps with Spicy Tahini Drizzle
If you like California rolls, you'll love these nori wraps (though personally, I think they're so much better!). The tahini dressing is truly addictive—you're going to want to dress everything in it—and the cabbage provides a nice crunch. If possible, use a food processor to slice the cabbage so you can get it super thin. Also, make sure the vegetable strips are all the same width and length so that they don't hang over the edges of the nori sheets; this will make rolling up the wraps easier. Use leftover tahini drizzle as a dressing for salads or as a dip for crudités.
Spicy Tahini Drizzle
2 tablespoons

freshly squeezed lemon juice

1 ¼ tablespoons

chickpea miso paste

1 tablespoon

raw tahini

2

medjool dates, pitted

1

garlic clove, minced

¼ teaspoon

crushed red pepper flakes
Water, as needed to thin the drizzle
Sunrise Nori Wraps
4

nori seaweed sheets

¼

small head red cabbage, very thinly sliced

1

large carrot, peeled and julienned

1

small yellow summer squash, julienned

1

small cucumber, julienned

1

large ripe avocado, pitted, peeled, and sliced
Instructions
Make the tahini:
Combine all of the ingredients except the water in a blender. Blend, adding water 1 teaspoon at a time as you go, until the mixture becomes a thin sauce.
Make the wraps
Place the nori sheets on a flat surface. Divide the cabbage, carrot, squash, cucumber, and avocado among the sheets. Top each pile of vegetables with a heaping tablespoon of the Spicy Tahini Drizzle, and then roll up the nori sheets into a tube shape.
Notes
Text excerpted from EATING CLEAN, © 2016 by AMIE VALPONE. Reproduced by permission of Houghton Mifflin Harcourt. All rights reserved.
Recipe Card powered by
SaveSave