Sit down, pour a glass of rosé, and let's talk for a second about my WORD for 2019 and the weekly mess which is our life...
I've deemed 2019 the year of "PLAY". For me, this is the year of working smarter, not harder. It's the year to inject everything I do, from my role as a mom and wife to my role here as the editor of this space, with FUN. I'm looking to tap back into my creative spirit while tuning in to real life memory making moments with my family and I plan to do those things while simultaneously turning off my screens more than ever before. My goal? To actually LIVE this year and to be able to look back at this point in 2020 with more meaningful memories with my husband and kids, lots of laughter, and less negative self chatter.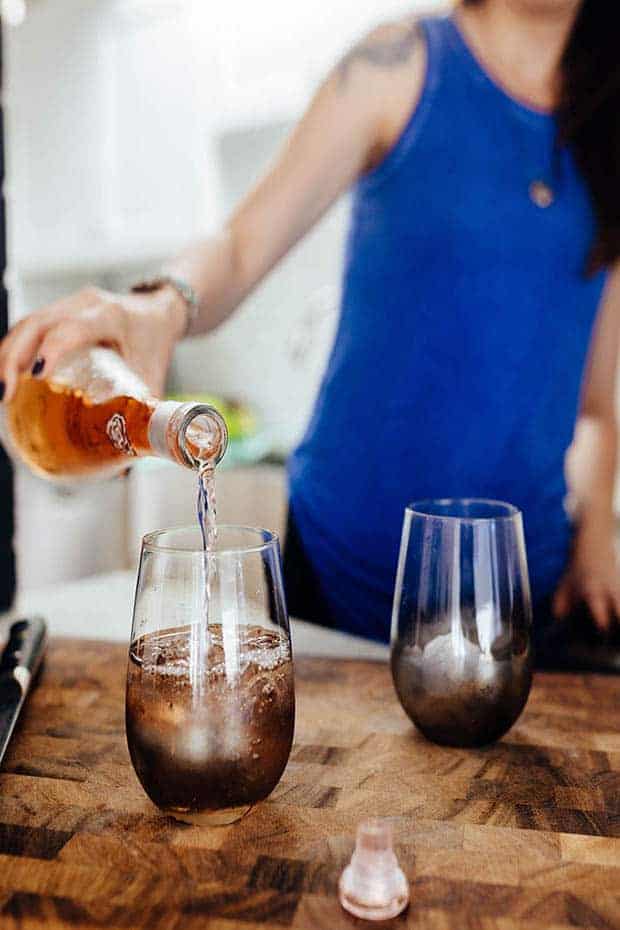 Photo by Emma K Morris
In year's past my resolutions have always revolved around "fixing" what I felt was broken about myself.
There were year's that I intended to "PUSH" myself by joining gyms and working out feverishly, years where I planned to "ORGANIZE" my life into neat little compartments , and there were even years where I literally set out to "FOCUS" on being more of a type "A" personality than a creative one. I mean, who even does that? You can't change the fiber of your being with a resolution, so why even set out to do so in the first place?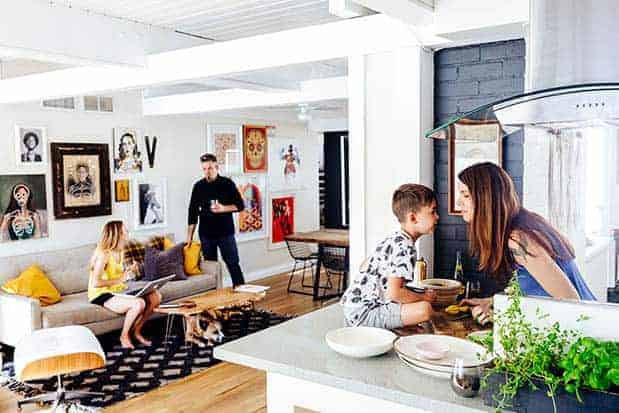 Photo by Emma K Morris
I don't think I ever realized before that my resolutions were based on a lot of negative self chatter that I was feeding myself. But, now that I do, I've decided to tackle new year's resolutioning from an entirely new angle.
This year, I'm setting out to DO things that challenge me to have fun, create new experiences with my family, and really live. No more setting resolutions to change myself - I've decided to ignore the years of negative self talk and to instead believe the truth which is, that I am not broken. I am exactly whom and how I am supposed to be. I plan to spend 2019 seeking out experiences that make me feel good in my heart and soul instead of spending the year beating myself up over resolutions that were designed to fail.
In order to really allow myself time and space to bring more play I am going to change a few things about the way I post here and I think ultimately it will lead to a more personal online space for you to come visit. Here's what you can plan for, you can bet on a weekly post like this one that shares a little glimpse of our lives (the good, the bad, and sometimes maybe even the ugly), a weekly diary of the meals we share at our family table including links to recipes I cook from other websites, magazines, and cookbooks (scroll down to see last week's eats!), and you can plan on at least 1 brand spanking new recipe posted to This Mess Is Ours each and every week.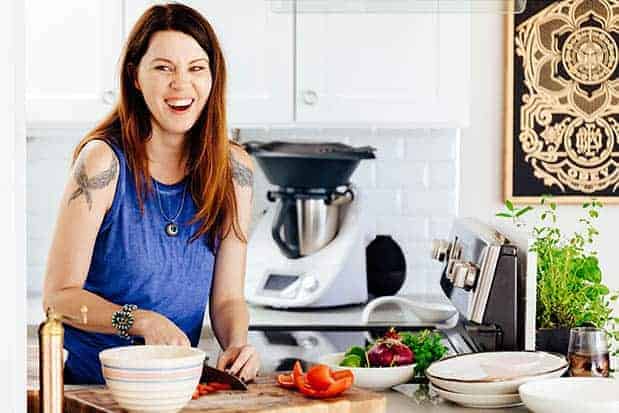 Photo by Emma K Morris
The bulk of what I'm cutting back on won't really effect you at all, it's more of the behind the scenes day to day endless tail chasing that I find myself doing that I'm cutting out because honestly, it isn't really serving me to do these things and it REALLY isn't serving my family well either. I'm cutting out mindless scrolling on social media by setting a daily time limit for social media apps on my phone, and I'm looking to hire someone to help with some of the backend work on the site that makes my brain feel numb. ( Feel free to send me your recommendations for web designers that are also SEO masterminds!) See, you'll hardly notice a thing, but I just wanted you to know where I am coming from.
See ya next week and don't forget to check out all the delicious eats I dished up at our table last week below!
xoxo, Meg
The weekly mess hall || 1.7.2019
Our modern family table seats an eclectic bunch of eaters and I am tasked with feeding them all breakfast, lunch, and dinner! While there are only 5 of us gathering at the table each evening, between us the dietary restrictions and preferences can be a bit overwhelming.
Currently, as far as restrictions go, I'm feeding 2 vegetarians, 2 meat-eaters, a flexitarian, and 3 gluten-free-er's. Don't even get me started on their personal flavor preferences and things they like versus things they hate...It's mind boggling! I've found that big batch cooking throughout the week helps me a lot - it allows me to focus some nights purely on my plant-based eaters while having leftovers for my meat eaters to supplement their meals and it also allows me to ensure that there is always something available and ready to go for hearty weekday lunches.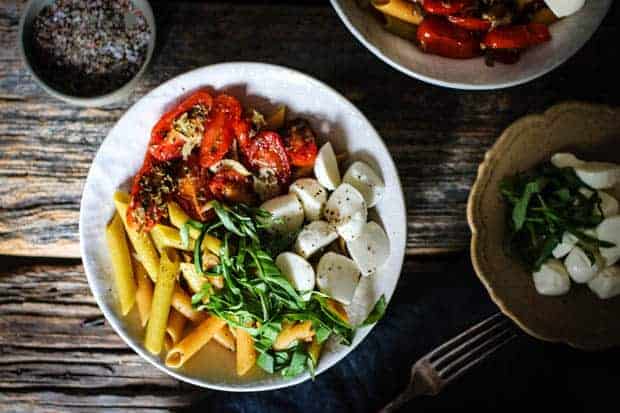 MONDAY || Ranch Chicken Breasts + Roasted Caprese Pasta Salad (BIG BATCH TIP: Double this recipe for easy lunches + vegetarian main dishes)
I haven't hit publish on my Ranch Chicken recipe yet because it still needs some perfecting, but my kid's LOVE this pasta salad and I love how fast and easy it is to make. While I like to use lentil pasta when we are eating it warm I always use Pamela's gluten free pasta if I plan on having leftovers to use for lunch or an easy vegetarian dinner the following night. Pamela's pasta is great warm, but it also keeps its texture once its cooled and chilled unlike other gluten free pasta's I've tried. If you don't have any issues with gluten simply use your favorite pasta.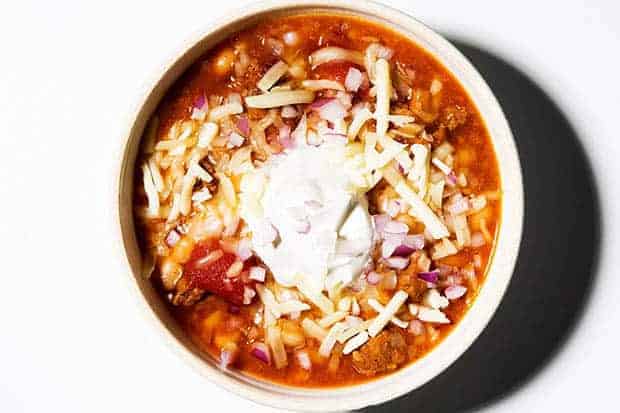 Photo by Bon Appetit
TUESDAY || White Bean and Chorizo Chili from Bon Appetit (BIG BATCH TIP: This recipe makes 12 cups. Store leftovers for hearty lunches + meaty main dishes)
This is hands down my favorite chili of ALL time! While I often opt for vegetarian chili, I am a sucker for chorizo! This recipe makes a ton and makes your house smell heavenly in the process. Plus, even my sickest eater, our 7 year old, will willingly scarf this down.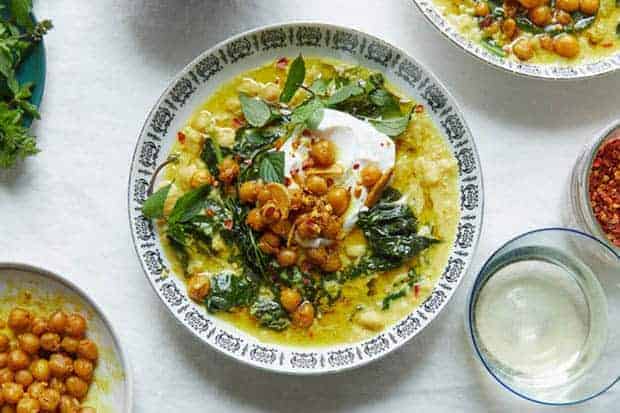 Photo by Michael Graydon & Nikole Herriott for The New York Times
WEDNESDAY || Spiced Chickpea Stew with Coconut + Turmeric from New York Times + Kale Salad with Fig Balsamic Dressing from Rachel Ray magazine + Jasmine Rice (BIG BATCH TIP: This salad makes a whopping 8 servings and while it is delicious the day its made, its even better the next day for a delicious lunch or vegetarian main dish! )
This is the first night this week that both of the vegetarian's were at home for dinner, so I wanted to make it super special! The Spiced Chickpea Stew is hands down one of the best vegetarian dishes I have ever come across on the internet. Its rich and full of flavor without being too fussy to make like other similar recipes I've tried. While we didn't have a lot of leftovers I did have enough to deliver some to my friend for lunch the following day and she raved about it too!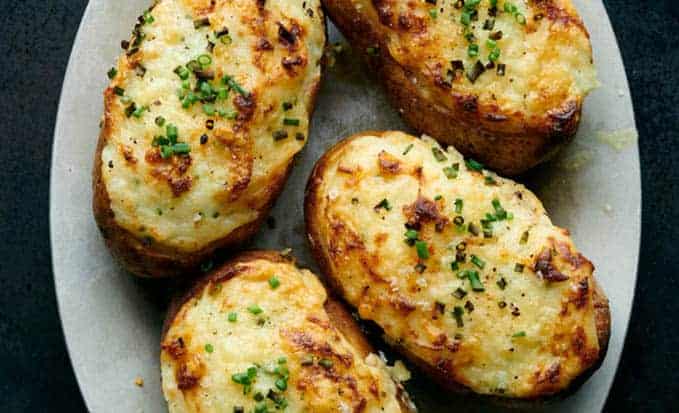 Photo byDavid Malosh for The New York Times.
THURSDAY || Simplest Roast Chicken (BIG BATCH TIP: This 1 hour time investment yields lots of leftover shredded chicken for the weekend ahead!) + Twice Baked Potatoes from New York Times.
While I don't always take the time to make Twice Baked Potatoes they are my daughter's favorite, so every now and then they make the weekly rotation. My vegetarians paired their decadent potatoes with the leftover kale salad from Wednesday's dinner.
FRIDAY|| Fridge clean out!!
I plan on putting the leftover roasted chicken to use by making a pot of chicken noodle soup for the cold, rainy weekend ahead. I am also roasting up any leftover veggies hanging out in the crisper drawer and serving them with the leftover Jasmine rice I saved from Wednesday's meal.