Today, we're diving into the irresistible realm of pan-fried apples. But here's the exciting part: we're not just stopping at one way to enjoy them! Whether you want to savor them as a delightful breakfast addition or indulge in a decadent dessert by topping them with a scoop of vanilla ice cream, these pan-fried apples offer versatility and delectable flavors that will tantalize your taste buds. The best part? This recipe is incredibly quick and easy to make, allowing you to whip up a batch of these mouthwatering treats in no time. So, let's roll up our sleeves and prepare for a delicious and fuss-free culinary experience!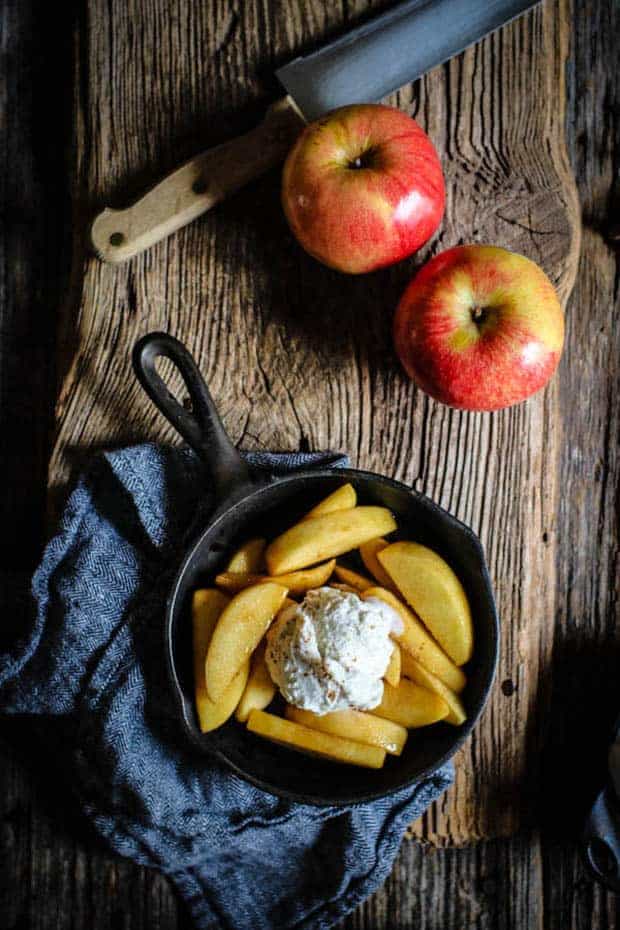 From Granny Smith to Fuji: Discover the Perfect Apple Varieties for Pan-Fried Delights
When it comes to pan-frying apples, it's important to choose the right variety. Each apple brings its own unique flavor profile, adding depth and complexity to our dish. Here are some exceptional apple varieties that you can consider:
1. Granny Smith:
Known for its vibrant green color and tartness, Granny Smith apples offer a refreshing zing to your pan-fried apples. The firm texture holds up well during cooking, providing a satisfying crunch in every bite.
2. Honeycrisp:
As the name suggests, Honeycrisp apples bring a delightful natural sweetness to the table. They strike the perfect balance between sweet and tart, making them a crowd-pleaser. When pan-fried, they become tender and release their luscious juices, creating a burst of flavor.
3. Braeburn:
With its distinct spicy undertones and pleasant tartness, Braeburn apples add a touch of sophistication to our pan-fried dish. They maintain their structure beautifully during cooking, providing a satisfying texture.
4. Fuji:
Fuji apples are known for their crispness and natural sweetness. They have a hint of floral aroma and offer a pleasing balance of flavors. When pan-fried, they become tender and develop a caramelized richness.
How to Prepare Apples for Pan-Frying Perfection:
Now, let's gather our ingredients and get ready to work our culinary magic. You'll need just a handful of simple ingredients:
1 tablespoon unsalted butter
3 apples, peeled, cored, and sliced into equal size wedges
2 packed tablespoons light brown sugar
1 teaspoon lemon juice
1 teaspoon vanilla extract
¼ teaspoon ground cinnamon
pinch of coarse kosher salt
4 scoops of vanilla bean ice cream, optional
Start by selecting your preferred apple variety or mix and match for a delightful blend of flavors. Peel and core the apples, removing any seeds or tough parts. Slice them into uniform wedges to ensure even cooking. A drizzle of fresh lemon juice not only adds a touch of brightness but also prevents the apples from browning.
In a small bowl, mix together the light brown sugar, vanilla bean paste, ground cinnamon, and a pinch of kosher salt. This fragrant blend will coat the apple slices, infusing them with a delightful sweetness and warm spice.
Pan-Frying to Perfection:
Now it's time to let the skillet work its magic. Heat a tablespoon of unsalted butter in a skillet over medium heat. Once the butter melts and starts sizzling, carefully add the apple slices, arranging them in a single layer. This ensures even cooking and caramelization.
Allow the apples to cook undisturbed for about 5 minutes on each side. The heat will coax out the natural sweetness of the apples, and a gentle caramelization will occur. The result? A golden-brown exterior with tender, melt-in-your-mouth goodness.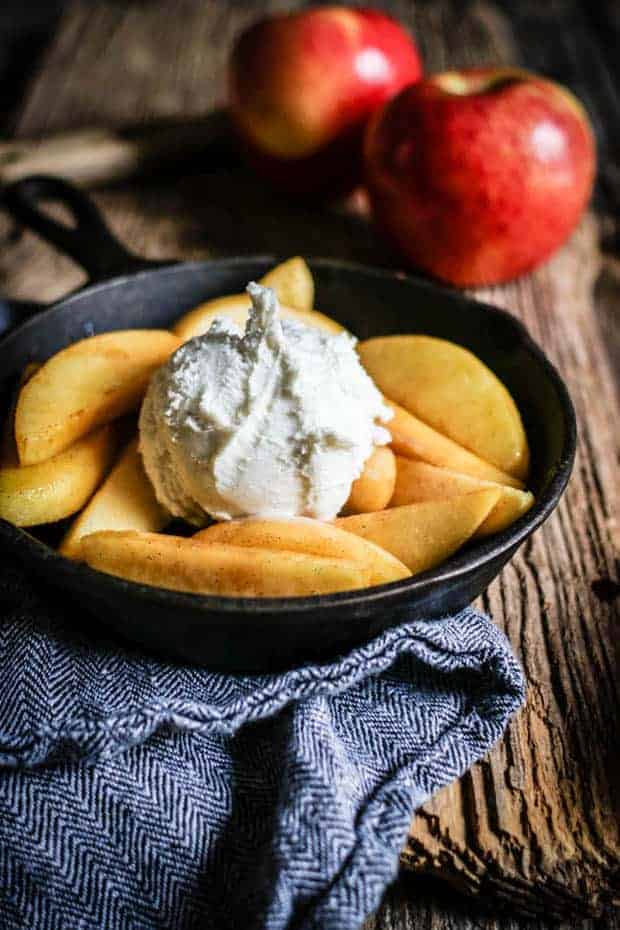 From Breakfast Delights to Dessert Indulgence: Unlock the Versatility of Pan-Fried Apples
Now comes the exciting part: exploring the different
ways to enjoy these pan-fried apples. For a delightful breakfast, serve them as a topping for fluffy pancakes or crispy waffles. The warm, caramelized apples will add a burst of flavor and create a comforting start to your day.
But we're not stopping there! These pan-fried apples can be transformed into a decadent dessert. Spoon them over a generous scoop of creamy vanilla ice cream, allowing the warm apples to meld with the cool, velvety goodness. The contrast of temperatures and textures creates a symphony of flavors that will satisfy your sweet tooth.
Flavorful Adventures Await: Experience the Joy of Quick and Easy Pan-Fried Apples
In just a few simple steps, you've unlocked a world of flavor with these quick and easy pan-fried apples. Each apple variety brings its own unique taste, adding depth and complexity to the dish. So, whether you prefer the tangy zest of Granny Smith, the sweet juiciness of Honeycrisp, the sophisticated spiciness of Braeburn, or the crisp sweetness of Fuji, there's an apple variety that will suit your taste buds. The versatility and deliciousness of these pan-fried apples make them perfect for both breakfast and dessert. So, gather your ingredients, heat up that skillet, and get ready to savor the delightful combination of sweet, caramelized apples with a hint of vanilla. It's time to indulge in a truly delightful culinary experience that is both comforting and satisfying!
Kitchen Tips:
For a sweeter dessert, add an extra tablespoon of brown sugar.
For a more tart dessert, use a different type of apple, such as a Honeycrisp or Fuji.
Serve the apples with a scoop of vanilla ice cream or whipped cream for an extra special treat.
What are the health benefits of apples?
Apples are a healthy and delicious fruit that are packed with nutrients. They are a good source of fiber, vitamin C, and potassium. Apples have also been shown to have a number of health benefits, including:
Reducing the risk of heart disease
Preventing diabetes
Improving gut health
Helping with weight loss
So next time you're looking for a healthy and delicious dessert, reach for an apple!
Click here more information about the health benefits of apples.
Frequently Asked Questions
If you have tried baking artichokes and found this recipe helpful I would be so grateful if you would rate the recipe and let me know what you think in the comments below
Print
Vanilla Scented Pan Fried Apples
Ditch the fancy chocolates and snobby pastries and try these slightly updated, but still VERY old-school, Vanilla Pan Fried Apples. They are the ultimate Valentine's dessert.
Author:
Prep Time:

00:10

Cook Time:

00:10

Total Time:

00:20

Yield:

4

Servings

1

x
Category:

Breakfast

Method:

Pan Fried

Cuisine:

American

Diet:

Gluten Free
1 tablespoon

unsalted butter

3

Stemilt, Piñata apples, peeled, cored, and sliced into equal size wedges

2

packed tablespoons light brown sugar

1 teaspoon

lemon juice

1 teaspoon

vanilla bean paste

¼ teaspoon

ground cinnamon

pinch of coarse kosher salt

4

scoops of vanilla bean ice cream, optional
Instructions
Melt the butter in a 10-inch non-stick skillet over medium heat.
Add the apple wedges, brown sugar, lemon juice, vanilla bean paste, cinnamon, and salt. Stir to coat the apple wedges completely.
Cook for approximately 10 minutes until wedges are tender, but still have a little bit of a bite.
To serve divide the apple wedges between 4 bowls and add a scoop of vanilla bean ice cream to each bowl.
Note: These apple wedges have lots of uses in the kitchen - they are great served over pancakes, perfect on top of oatmeal, and even hold their own as a southern inspired side dish.
Notes
Nutritional Information
Per Serving
Nutrition
Serving Size:

1

Calories:

65
Keywords: Pan Fried Apples, Fried Apple Recipe, Apples with Vanilla, Ways To Use Apples, Apples for Breakfast
Recipe Card powered by
Want to be a part of our online community outside of the blog? It's easy!! All you have to do is follow @THISMESSISOURS on FACEBOOK, INSTAGRAM, TWITTER, YOUTUBE, or PINTEREST to see cooking demos and peeks into our day to day life.