Confession: I don't like tomato juice, at all! Therefore I have never had a proper Bloody Mary.
Yikes, did I just put that out there on the internet?! Actually if you want to get technical I really am not a fan of raw tomatoes. I am the adult that nonchalantly pushes them to the side of the plate. That is of course unless people are looking and then I begrudgingly eat them with a smile on my face. Seriously, what vegetarian food blogger doesn't like raw tomatoes?! Admittedly I am a little weird.
What I do really like are tomatillos with their tart little bite and their cute little paper husks. I love peeling the husk back to reveal their beautiful green flesh almost as much as I like cooking with them. So, a few weeks ago during a cocktail conversation with my favorite Long Beach bartender Joy I asked "Can you make a Bloody Mary with tomatillos instead of tomatoes?" in true Joy fashion her reply was "Heck yes we can!" ...seriously you gotta love having a bar tending buddy that will come to your house and develop drink recipes with you.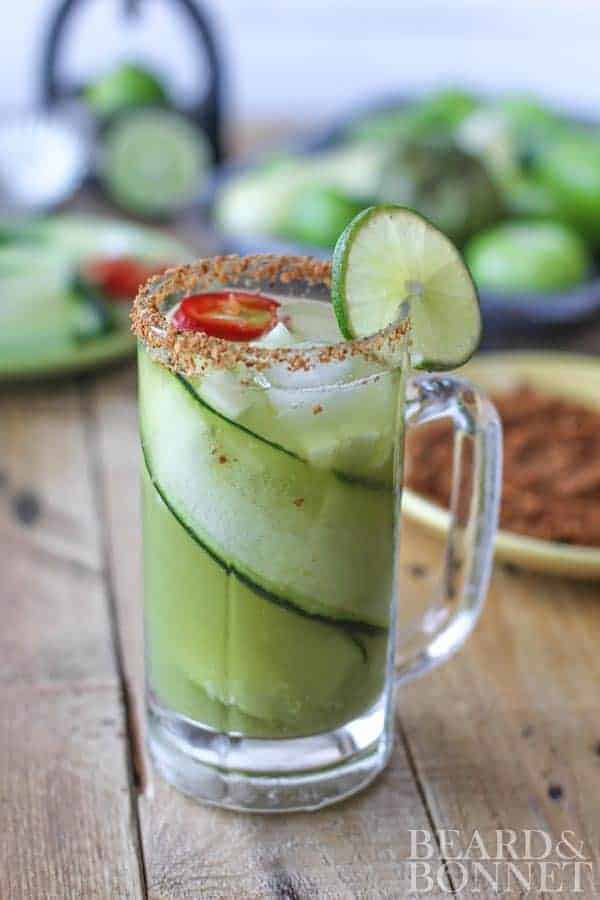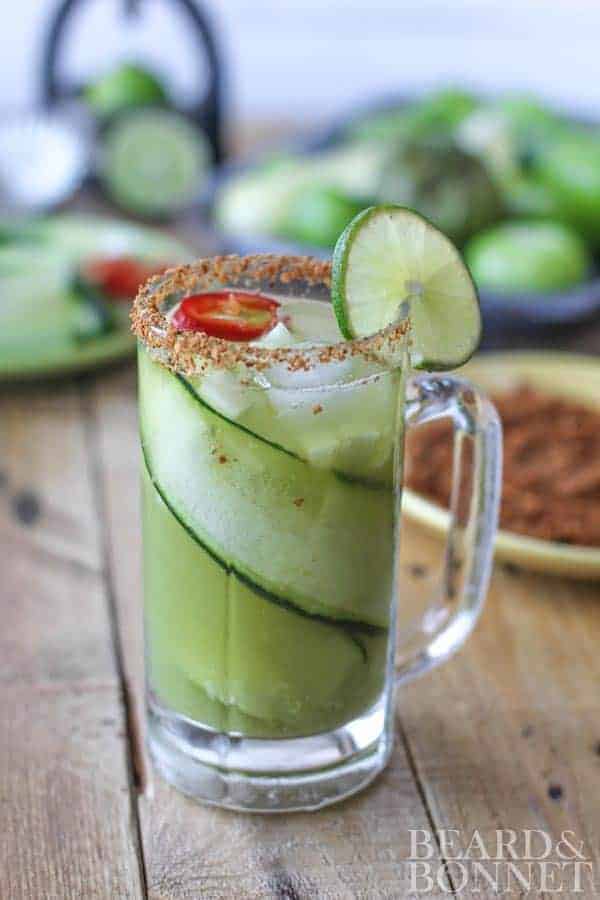 For 3 days Joy and I tested and retested Verde Mary recipes! We juiced, we blended, and we mixed until we had the perfect concoction. Having never tasted a Bloody Mary before I wasn't really sure what we were going for, but what I can tell you is that this drink is the perfect blend of tart and savory with a touch of sweet. According to Todd and Joy, my real deal Bloody Mary aficionados, this is summertime cocktail perfection and I completely agree!
Print
Verde Mary Cocktail (Gluten Free & Vegan)
Author:
Yield:

4

-

12

ounce

1

x
Cucumber quick pickle mix-in
⅔ cup

peeled and diced cucumber

1 ½ teaspoon

Maldon salt
juice of

1

large lime

2 tablespoons

Bee Free Honee, agave, or honey
Verde drink
12 ounces

tomatillo puree

2 ounce

cilantro juice

2 ounce

cucumber juice
juice of

4

large lime

1 teaspoon

minced lemongrass

1 teaspoon

peeled and grated ginger

1 teaspoon

freshly cracked black pepper

½ teaspoon

smoked paprika

⅛ teaspoon

of minced garlic
pinch of kosher salt

8 ounces

ice cold vodka
ice
Garnish
Strips of cucumber
Lime wheels
Red Fresno pepper slices
Finely ground coconut bacon
Instructions
Make the quick pickle mix-in
In a small bowl combine the diced cucumber, Maldon salt, juice of 1 large lime, and Bee Free Honee. Stir well to combine; set aside to marinate.
Make the base
Combine the tomatillo puree, cilantro juice, cucumber juice, lime juice, lemongrass, ginger, black pepper, paprika, garlic, salt , vodka, and a few cubes of ice in a large martini shaker. Gently shake the mixture a few times to combine.
Build your Verde Mary
Rub a lime wheel around the lip of each glass and immediately dip the rim into the ground coconut bacon. Wrap a cucumber slice around the inside of each glass and fill the glass with ice. Place 1 ½ tablespoons of the quick pickle in each glass then fill each glass with the Verde Mary mixture. Place a lime wheel on the lip of each glass and place a red pepper slice in each glass.
Notes
To spice up your Verde Mary place a few slices of Fresno pepper into the martini shaker along with your base before shaking.
Recipe Card powered by