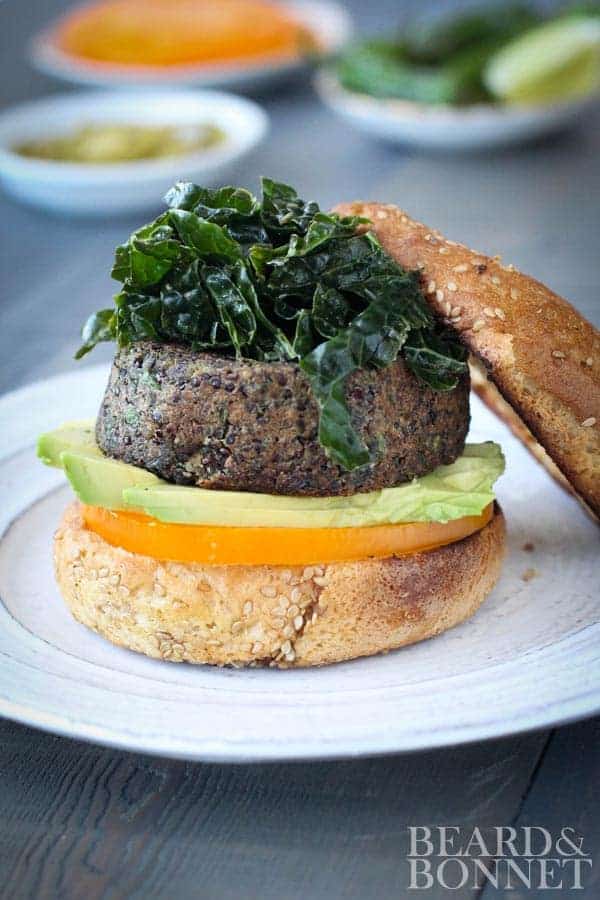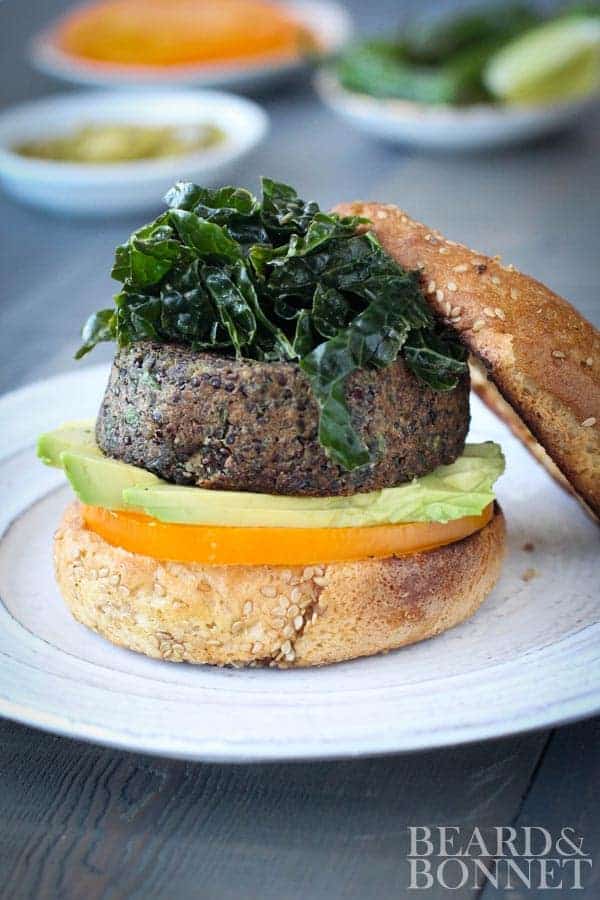 I have been holding onto this black bean and quinoa veggie burger recipe for a while now just waiting for the perfect moment to share it here with all of you. When my buddy Vijay from Noshon.it reached out to me and asked if I would like to be apart of #BurgerWeek, I knew it was time.
This burger is big, juicy, and flavorful...what more could you possibly want in a burger? Veggie burgers can be tricky because if you don't get the right texture they can quickly turn into mush and that's no fun for anyone. I have a few 'secret' tricks up my sleeve that ensure I always end up with a tasty veggie burger (and since we are friends) I thought I'd share them with you too.
First, it's really important to layer the flavors in a veggie burger. Real beef burgers have a big flavor on their own simply from the meat, but the individual components of veggie burgers by themselves can be pretty bland. In this burger I chose to cook the black beans myself instead of using canned beans. When I make black beans from scratch I cook them with fresh bay, crushed garlic cloves, and spices. Then when I cook the quinoa I simply sub out a flavorful broth for the water that is called for in the cooking process. You can use vegetable broth, but for this particular recipe I chose to use a beef flavored vegan broth to really amp up the flavor.
Patty shape is key! I like to measure out the patty mixture and then form nice round even patties in molds, AKA round cookie cutters. This not only helps to make sure that the patties are all even in thickness so that their cooking time is the same, but I think it's a psychological thing for me too. I like perfectly formed patties...they just taste better.
Toppings are essential. Whether you are going with traditional burger toppings or something a little more unconventional, toppings are one of the most important parts of building a great veggie burger. For this burger I knew I wanted to imitate that juicy bite that you get from a traditional burger, so I opted to top our veggie patties with a juicy kale salad that is made with fresh lime juice, olive oil, salt, and pepper. The dressing on the salad offers an additional layer of flavor to each bite of this veggie burger and pairs really well with the other toppings.
Do you want to become a grilling pro? Need a new grill? #BurgerWeek sponsor Broil King wants to give you the chance to win one of their high-performance gas grills (a $549+tax value) plus burger grilling accessories to use in your home!
Made entirely in North America, every one of Broil King's gas grills are made of the highest-quality materials and engineering that allows you the versatility to sear the perfect burger or steak, roast chicken or vegetables, or even bake a dessert right on the grill. Their grills are already in more Canadian backyards than any other brand and they're available in the U.S. at Lowe's and many other retailers! To enter to win your own Broil King grill, just click on the banner below.
Print
Black Bean & Quinoa Veggie Burger (Gluten Free)
Author:
Yield:

7

patties

1

x
⅓ cup

+

2 tablespoons

olive oil

1

small poblano pepper, finely chopped

¼ cup

finely chopped red onion

2

cloves garlic, minced

1 ½ cups

cooked black beans or

1

can black beans rinsed and drained

2 cups

coked black quinoa (

½ cup

uncooked quinoa +

1 cup

vegan beef broth)

½ cup

chopped cilantro

1

large egg, lightly beaten

½ teaspoon

ground cumin

¼ teaspoon

ground coriander

¼ teaspoon

smoked paprika

½ teaspoon

kosher salt
To serve
7

gluten free hamburger buns, toasted

1

avocado, thinly sliced
sliced tomato
pickled peppers
kale salad, recipe follows
To make the kale salad
3 cups

thinly shredded Lacinato kale

1 ½ tablespoons

freshly squeezed lime juice

1 ½ tablespoons

olive oil
salt and pepper to taste
Instructions
Heat 2 tablespoons of the oil in a medium sized skillet over medium heat. Add the poblanos, red onion, and garlic, and cook, stirring until just softened, about 2-3 minutes.
Transfer the cooked peppers and onions to the bowl of a food processor fitted with the "S" blade. Add the beans and coked quinoa, and pulse until the beans are chopped and the mixture is combined.
Transfer the mixture to a large bowl and add the cilantro, bread crumbs, egg, cumin, coriander, paprika, and salt. Gently stir with a spoon or mix with your hands.
Divide the mixture into ½ cup portions and form into patties with slightly dampened hands. Refrigerate, uncovered, until firm, at least 30 minutes and up to 4 hours.
When ready to cook heat the remaining oil in a large heavy bottomed skillet over medium heat until shimmering hot. Cook half of the burgers until browned on one side, about 2-3 minutes. Flip and brown the other side, about 1 minute more.
Transfer to a plate and cover loosely to keep warm while you repeat the process with the remaining burgers.
To build your burger top toasted buns with a slice of tomato, avocado slices, pickled peppers, a burger patty, and top with kale salad (recipe follows).
To make the kale salad
Combine the shredded kale, lime juice, olive oil, and salt and pepper in a large bowl and massage with your hands for 1-2 minutes until the kale has softened.
Recipe Card powered by
Check out the other spectacular burger recipes from the other fantastic bloggers featured today as a part of #BurgerWeek by clicking on the links below:
Brown Rice, Oat and Nut Vegetarian Patty Melt from Naturally Ella
Pork Belly Pimento Cheese Burger from Climbing Grier Mountain
Asian Slaw Turkey Burgers from The Kitchen Prep
Chili Cheese Tot Burger from A Zesty Bite
Turkey Reuben Patty Melt from Mountain Mama Cooks
Peanut Butter Burger with Savory Strawberry Relish from Foodness Gracious
Al Pastor Burger from Noshon.it
...and just in case you haven't had enough veggie burger goodness I recently shared a recipe for Thai Veggie Burgers on Oh My Veggies! Click on the image below to get the recipe.