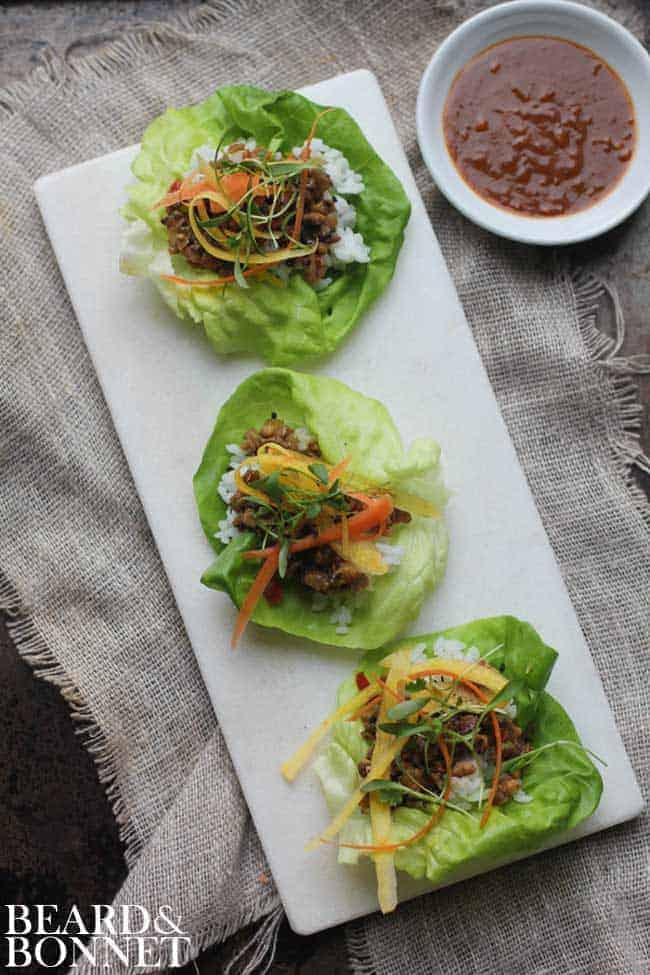 My 12-year-old daughter Eliza is somewhat of a PF Chang's fanatic. To be honest, she will chow down on any type of Asian meal she can get her hands on, but lettuce wraps are her jam and according to her, PF Chang's has the best. She relishes in the fact that she can order their meaty wraps and have the whole plate to herself because chicken, gluten, and oyster sauce means a no-go for the rest of us. So when Kiersten challenged me to make a meatless version of lettuce wraps for Oh My Veggies, I was both intrigued and a little terrified at the same time. Kiersten had no way of knowing that I live with a self-appointed lettuce wrap aficionado and when it comes to food I can always trust Eliza to give me honest feedback, even when it may be hard for me to hear.
Armed with Eliza's help, I anxiously accepted the challenge. I stalked the internet, I hung out in the ethnic section of Whole Foods far too long, and then I came home and made my first attempt at lettuce wraps. On the Eliza rating scale, they were a "kind of like" not a "love," so I went back and started over, picking apart what she liked and didn't like about my failed attempt. Have you ever tried to have a 12-year-old girl old explain why they like or don't like something when it comes to food? I assure you, it requires patience and lots of love!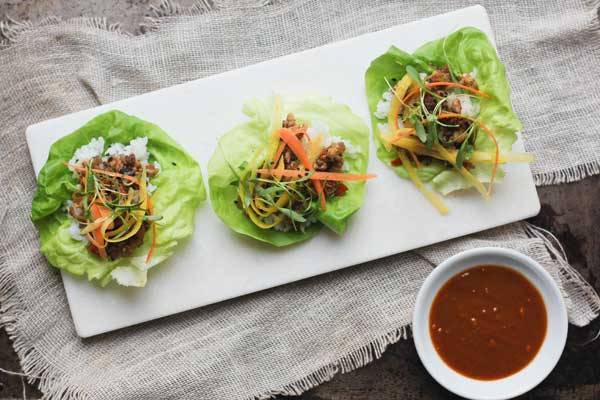 While I was working on this recipe, we had lettuce wraps more times than I care to admit, until Eliza exclaimed that they were perfect, she wouldn't change a thing, and may never have the need to order out for the PF Chang's meaty version again. I could not believe it; my chicken-loving kid was actually opting for my veggie-filled version of lettuce wraps! I am pretty sure that a ray of sun broke through the cloudy sky and warmed me with its light at that very moment.
*Ok, I may have a flare for the dramatic and that may be an embellishment, but it was a BIG deal!
Over the course of the next 24 hours, Eliza had lettuce wraps for breakfast, packed in her lunch for school, as an afternoon snack, and again at dinner that night! She pouted when the filling ran out and made me promise that these will be making a regular appearance in our house and her lunchbox.
Here are a few things to keep in mind when making these lettuce wraps at home for yourself:
There is more prep involved in this recipe than actual cooking. It is very important to have all of the ingredients prepared and ready to go before heating your pan.
When you are chopping the ingredients for the filling, you want all of the pieces to be the same size. A bulky dice will only make your lettuce wraps hard to eat and instead of the flavors of the ingredients merging together, they will stand apart from one another.
I discarded the stem and gills from our portabella mushroom so that the intense earthy flavor that the gills lend was not overpowering the rest of the ingredients. This step is completely optional and up to you.
If you are a sauce fanatic, go ahead and make a double batch of my hoisin sauce because according to my daughter, extra sauce is essential!
Hop on over to Oh My Veggies for the full post and the recipe for my Asian Lettuce Wraps by clicking here!
SaveSave
SaveSave