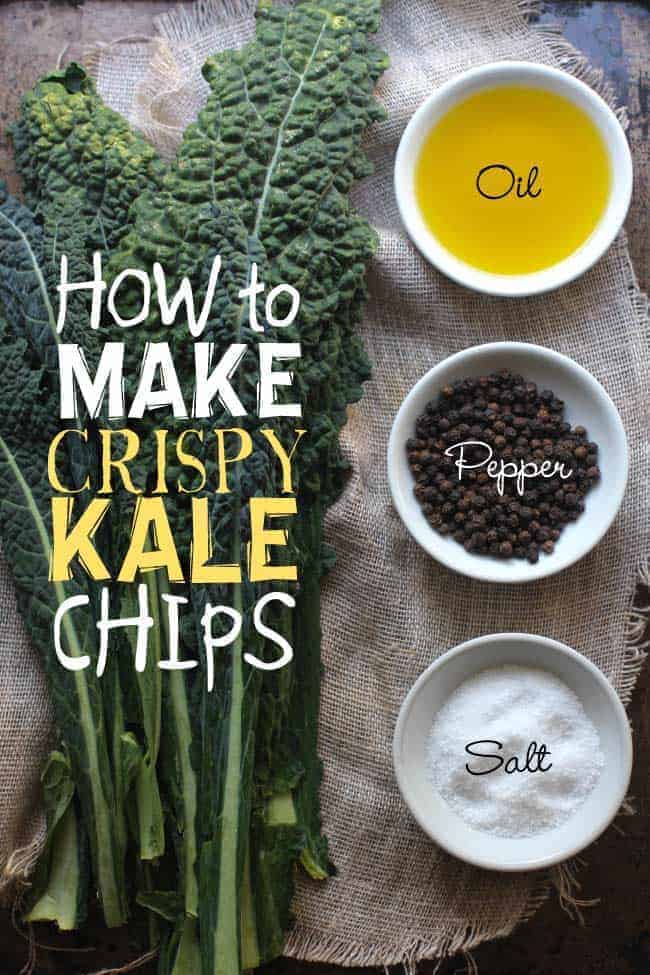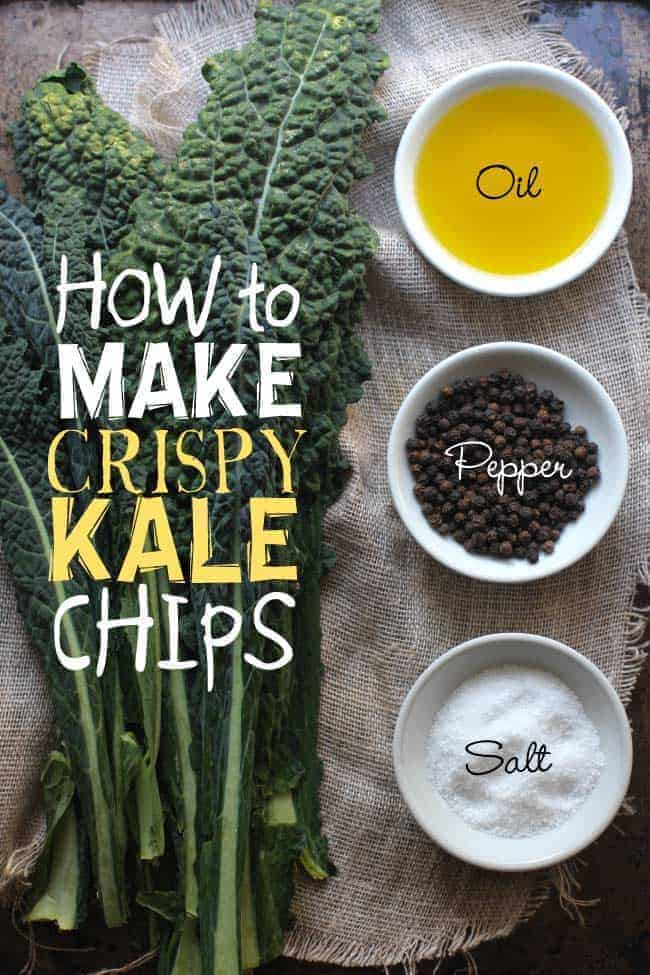 I am sure that many of you are probably already kale chip aficionados, but every time I make kale chips for our friends and family I get drilled with questions. Probably the most frequently asked question is "My kale chips sometimes turn out chewy. How do you get them SO crispy?" a close second though is "I normally don't like the flavor of kale, but I love these! Do you put a lot of spices on them or something?" So, I spend a few minutes each time explaining the process, showing how to remove the ribs, and talking about the cooking process. When this happened again just this past week I thought that maybe I should share my method here too with all of you.
My kale chips are so easy you could probably make them with your eyes closed and once you have mastered this simple recipe you can feel free to branch out and make all sorts of different kale chip creations. There are only 4 ingredients needed and a little planning ahead to have perfectly crispy kale chips on your dinner table tonight.
Step 1: I almost always use Lacinato kale, AKA: dino kale or Tuscan kale, when I am making kale chips, you can use curly kale if you like it better though. The most important step to making truly crispy kale chips every time is to make sure that you allow the kale plenty of time to dry completely after washing it. If there is any moisture left on the leaves you will wind up with soggy, chewy chips. If I plan to serve kale chips at dinner I always wash the kale in the morning, spin it in the salad spinner, then I lay it out on a towel to dry until I am ready to make the chips.
Step 2: Remove the ribs of the kale with a paring knife or kitchen scissors and discard. I like to keep my kale leaves long like this because my kids think kale chips bigger than their heads are awesome! You can cut them in half, quarters, or wait until the chips have finished baking to break them up if you like.
Step 3: Toss the kale, olive oil, salt, and pepper in a large bowl with your hands until the kale is coated with the olive oil and appears slightly glossy. Arrange the kale on two baking sheets lined with parchment paper so that the kale is in a single layer and not overlapping one another.
Step 4: Bake the kale at 325°F for 15 minutes, rotating the pans halfway through the cooking process. If some leaves are smaller than others they will inevitably crisp up first, simply remove them from the pan while the others continue cooking to prevent scorching the small chips.
That's it! You are ready to enjoy perfectly crispy kale chips! Hear that crunch? Yep, that means you did right.
Print
How To Make Crispy Kale Chips (Gluten Free and Vegan)
Author:
Prep Time:

5 mins

Cook Time:

15 mins

Total Time:

20 mins

Yield:

4

as a side

1

x
1

bunch of Lacinato kale

1 tablespoon

olive oil

1 teaspoon

kosher salt

½

-

1

teaspoon freshly cracked black pepper, depending on how spicy you want your kale.
Instructions
Wash and thoroughly dry the kale.
Preheat the oven to 325°F and line 2 baking sheets with parchment paper.
Remove the ribs from the kale and discard.
Toss the kale with the olive oil, salt, and pepper in a large bowl then lay flat on the prepared baking sheets so that the leaves aren't overlapping.
Bake in the oven for 15 minutes, rotating the pans halfway through.
Recipe Card powered by
Ready to spice it up a bit? Try my taco spiced kale chips by clicking here.