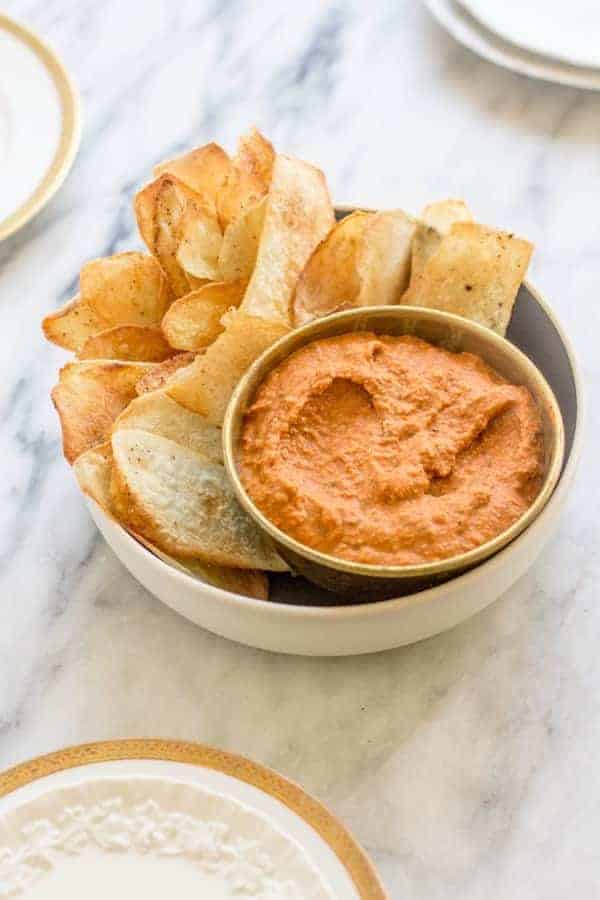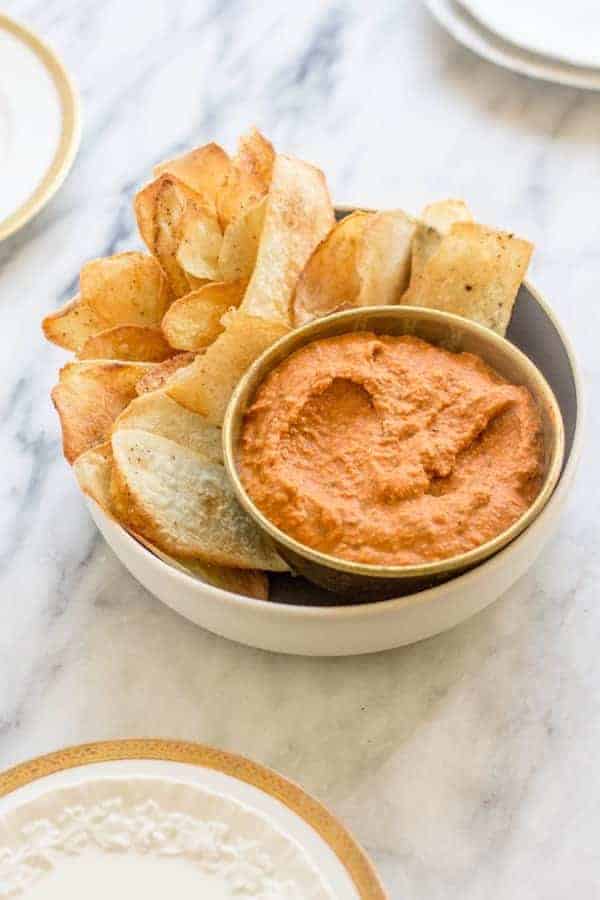 Raise your hands if you LOVE chips!!! Me too, me too.
I have a totally unhealthy obsession with potato chips. I am a little ashamed to admit that when I am running around my house in the mornings, packing lunches, getting everyone dressed and answering a slew of emails that it isn't uncommon for me to grab a little bag of Trader Joe's kettle chips from the snack bowl and stuff them in the pocket of my bathrobe to munch on instead of eating breakfast. Please, don't judge me to harshly for that.
Keeping my chips for breakfast habit in mind, you can imagine my absolute horror when one of my friends told me that she was recently diagnosed with a laundry list of food allergies that included potatoes! Todd and I were chatting that night about what kinds of foods she could use to replace the ones that are no longer good for her. While I am having a hard time suggesting substitutions for things like peppercorns and avocados I knew immediately that taro root would be a great replacement for her when she was craving potato chips.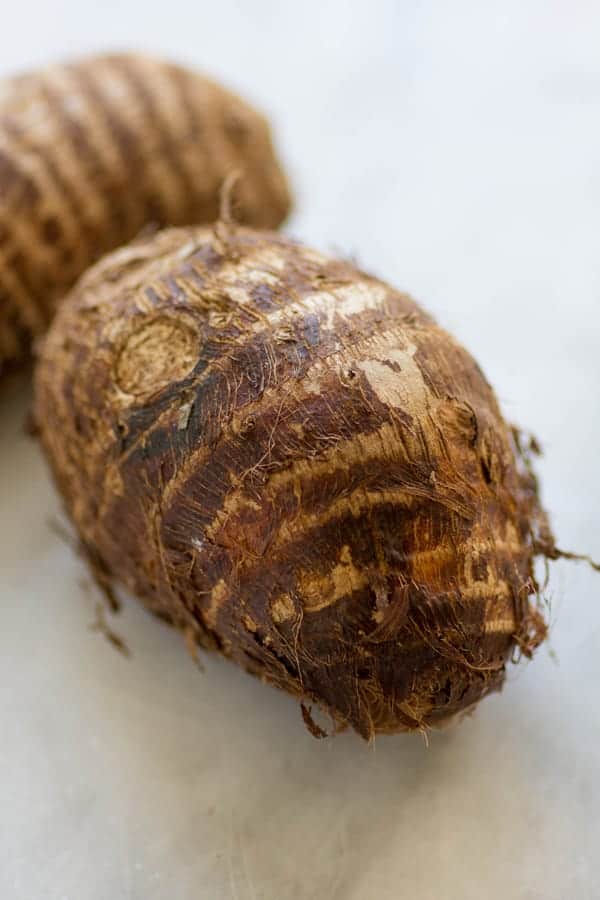 If you were just meandering through the produce aisle and saw the little hairy beast that is the taro root you might just walk past it, but I promise you that beneath that ugly exterior their is a gorgeous little starchy root that loves to be baked up into these crispy little chips. Taro root has a delicate flavor that takes on whatever spices you season it with and as it bakes in the oven it turns beautifully golden brown and crisp. Plus, it's the perfect dipping vessel for my roasted red pepper walnut dip.
[mc4wp_form id="7635"]
Print
Baked Taro Root Chips
I love these chips with dip, but if you are looking for something heartier try substituting taro root chips for the tortilla chips in your next batch of nachos. They are excellent!
Author:
Prep Time:

8 mins

Cook Time:

20 mins

Total Time:

28 mins

Yield:

4

-

5

dozen

1

x
2

12-ounce taro root, peeled and sliced thin on a mandoline

1 tablespoon

olive oil, plus more for greasing pans

½ teaspoon

Kosher sea salt

¼ teaspoon

garlic powder

⅛ teaspoon

freshly ground black pepper
Instructions
Preheat the oven to 350°F, line 2 baking sheets with parchment paper and brush lightly with olive oil. Set aside
In a large mixing bowl combine the thinly sliced taro root, tablespoon of olive oil, salt, garlic powder and black pepper. Toss to coat.
Spread chips evenly onto the prepared baking sheets and bake until crisp and golden 18-20 minutes. Some chips make cook faster than others, so check the oven frequently after the 14 minute mark and remove any chips that have cooked quicker than the others to prevent scorching.
Transfer the chips to a paper towel to cool and sprinkle with more salt while still warm.
Recipe Card powered by
Print
Roasted Red Pepper Walnut Dip
This dip is great for chips, it can be spread on toast and sandwiches or thinned with a bit of oil for a delicious smoky dressing to drizzle over your salad.
Author:
Prep Time:

5 mins

Total Time:

5 mins

Yield:

10

-

12

servings

1

x
1

small garlic clove

¾ cup

walnut pieces, toasted

1 ½ teaspoons

paprika, plus more for garnish (optional)

¾ teaspoon

ground cumin

1

(12-ounce) jar of fire roasted red peppers, drained. About 3 large peppers

1

(16-ounce) can Cannellini beans, drained and rinsed

1 tablespoon

balsamic vinegar

1 tablespoon

freshly squeezed lemon juice

2 teaspoons

extra-virgin olive oil, plus more for drizzling

¾ teaspoon

coarse salt
Freshly ground black pepper
Instructions
Combine garlic and walnut pieces in the bowl of a food processor; process until fine crumbs form, about 10 seconds. Add the paprika, cumin, peppers and beans; process until smooth, about 10 seconds. Add vinegar, lemon juice, oil, salt and season with black pepper. Pulse until combined.
Transfer to a serving bowl; cover with plastic wrap. Refrigerate at least 1 hour or overnight. Before serving, bring to room temperature.
Recipe Card powered by