May I introduce you to our newest OBSESSION…Roasted Buffalo Cauliflower Flatbread!!! When I say obsession I'm not even close to over embellishing, this epic meal has been on a pretty constant repeat for over 8 weeks straight and not one single person at our table is complaining about it. In fact, they actually keep begging for it, again and agin!
Some of the links in this post are affiliate links click here to see what that means.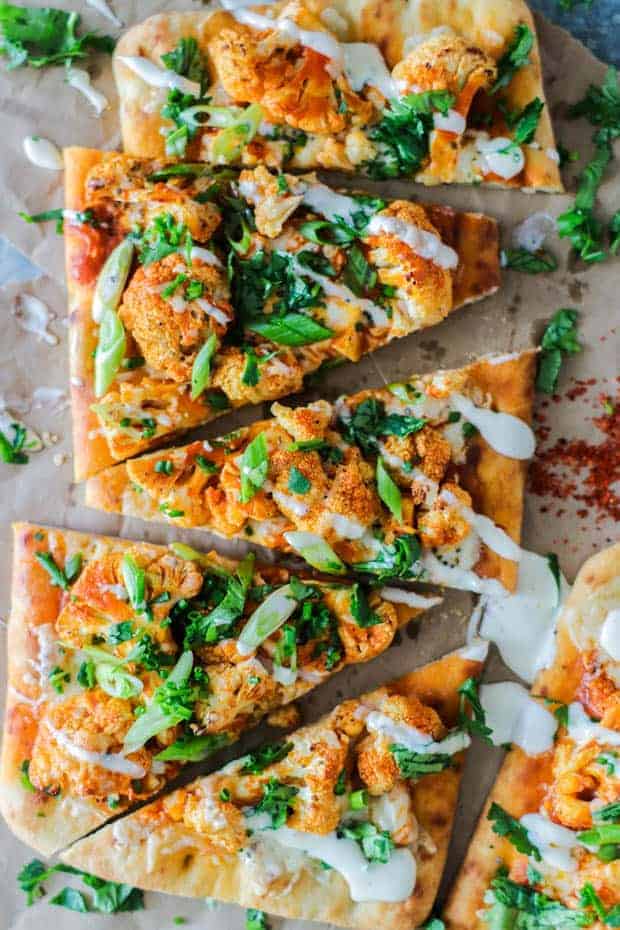 Look, I'm a cauliflower lover. You know that! We've made cauliflower about every which way you can and have all sorts of cauli forward recipes that we call our "favorites" like my Piri Piri Cauliflower or our Cauliflower Tinga Tacos, but this one…this Roasted Buffalo Cauliflower Flatbread from Jessica Merchant's cookbook, The Pretty Dish, (affiliate link) has risen to our all-time, #1 family favorite cauliflower recipe so fast it made my head spin.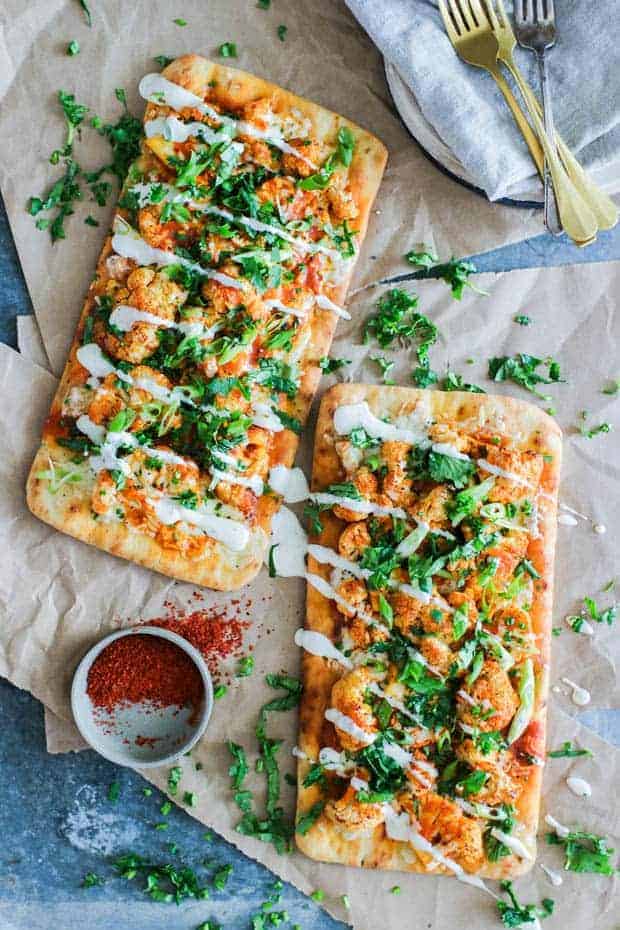 I am admittedly late to the game of buffalo flavored dishes and at this point I honestly, feel like I have been missing out my entire life! What on earth took me so long? The combination of spicy buffalo roasted cauliflower on these flatbreads drizzled with tangy cool ranch then topped with melty cheese and herbs is absolutely mind-blowing. Like drop. dead. mind.blowing!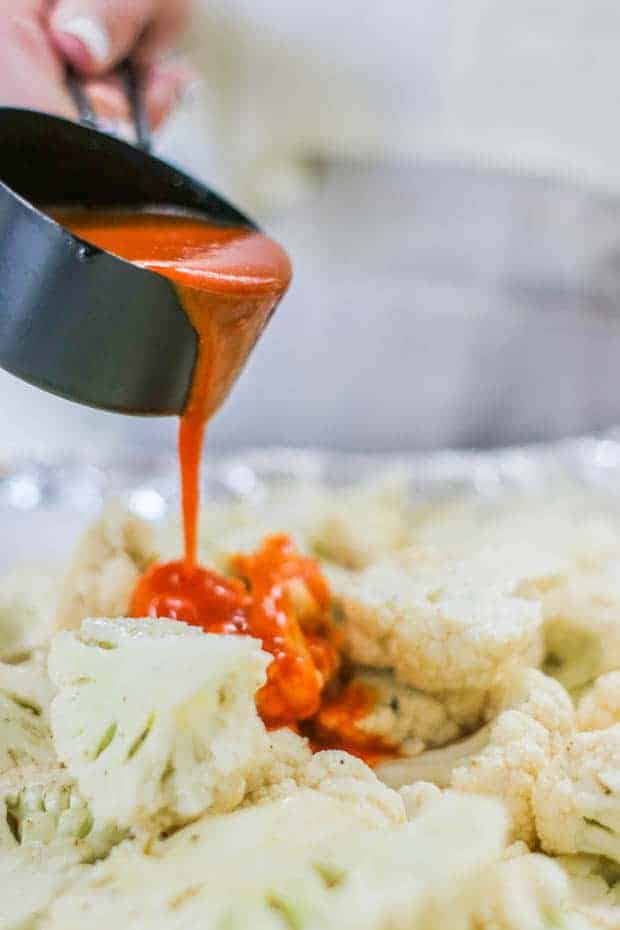 Just like you we have a variety of dietary preferences at our table depending on what night of the week it is AND a super busy schedule to boot! So, when I don't have time to make flatbread from scratch OR we need a gluten free option here are the flatbread options we've tried and recommend.
Gluten Free || We try to eat gluten free as much as possible, so when I have time to cook from scratch I like to whip up a batch of my gluten free roasted garlic naan bread. I love the roasted garlic flavor with the buffalo cauliflower, but if you want to make teh nan bread plain you can do that too simply by omitting the cloves of roasted garlic.
Store-bought flatbreads || Ok, so there are LOTS of choices here, but our personal favorite to use when I don't have to worry about dietary restrictions and I just want an epic flatbread is Stonefire. They have an artisan flatbread that is rectangular in shape and super delicious to eat! Store-bought gluten free flatbreads that are delicious are a little harder to come by, but we found that these toppings work REALLY well on top of a plain Udi's gluten free pizza crust!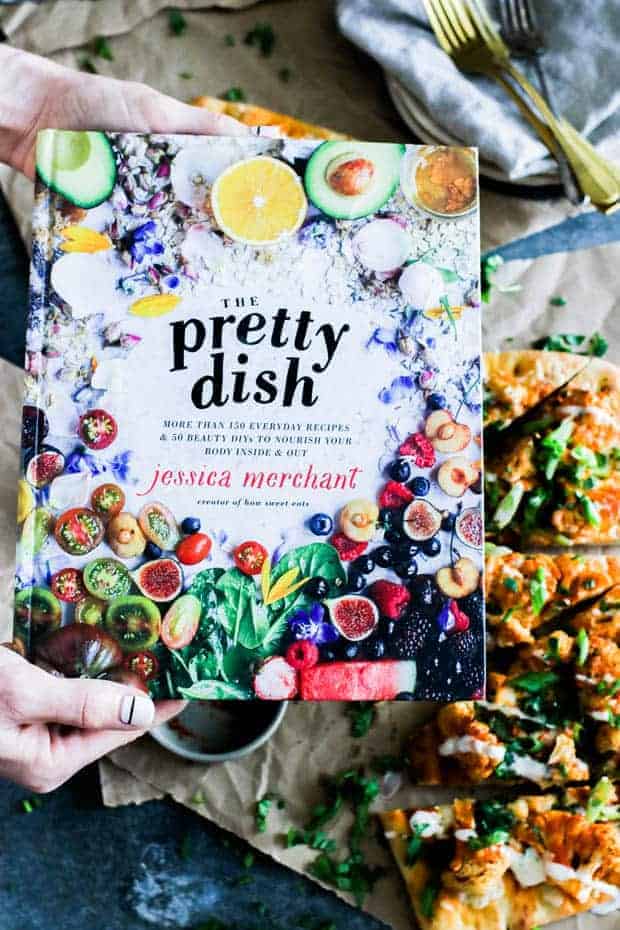 Want to see more of The Pretty Dish cookbook?(affiliate link) Here are 4 more recipes that were featured around the internet that captured our attention and had our taste buds begging for more!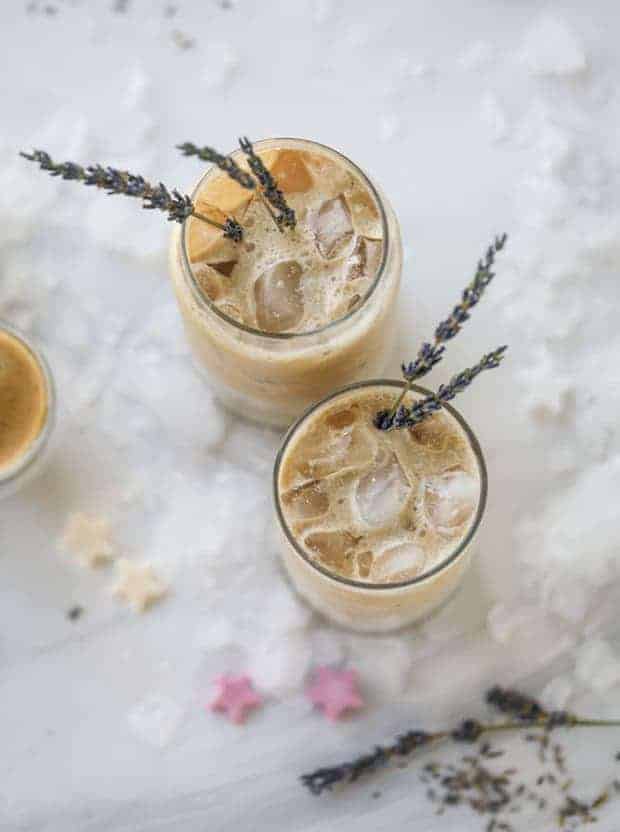 Lavender Vanilla Iced Latte (photo by @howsweeteats) || OH YES SHE DID!!! Jessica featured these on her site last spring and my jaw literally dropped to the ground. You guys know I am a coffee fanatic and these Lavender Vanilla Iced Lattes are unlike anything I have ever tasted before. These babies are on my "must make again" list before summer is over and I'm thinking they should be on yours too!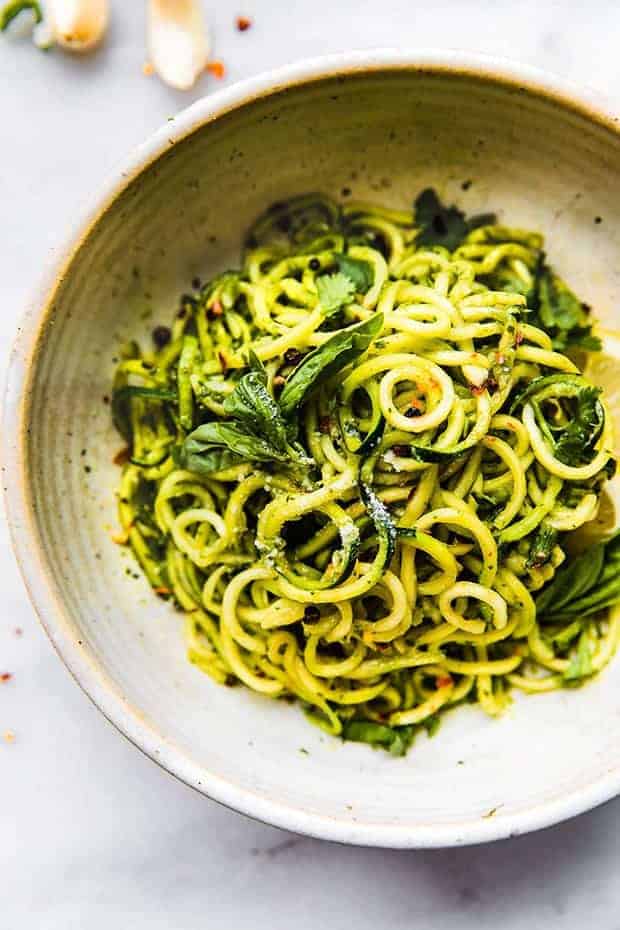 Roasted Poblano Pesto Zoodles (photo by @cottercrunch) || Lindsay of Cotter Crunch featured these incredibly delectable zoodles on her site and I have been thinking about them ever since. This recipe is a super easy, low carb, gluten free, and vegetarian, but can easily be made vegan if you wish.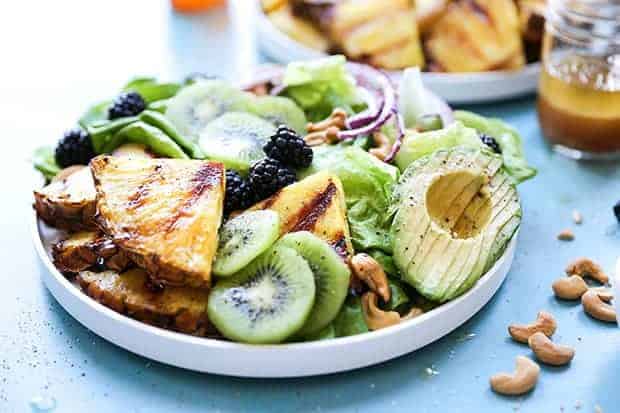 Charred Pineapple Salad (photo by @floatingkitchen ) || My girl Liz of Floating Kitchen has impeccable taste, so it didn't surprise me at all that teh recipe she featured from The Pretty Dish was this gorgeous salad. Honestly, there is nothing that I love more than a smoky sweet wedge of grilled pineapple!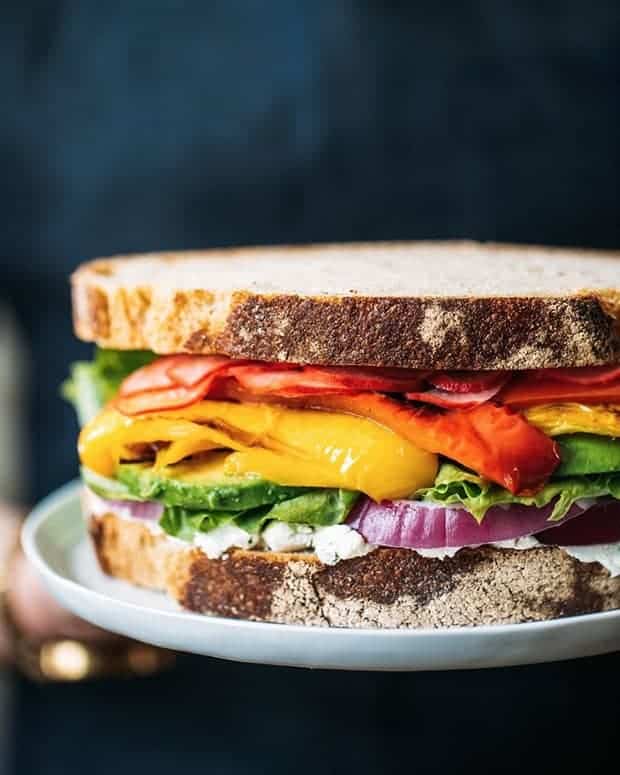 The Ultimate Rainbow Vegetable Sandwich (photo by @acouplecooks) || When Alex & Sonja visited us in Long Beach back in the Spring we spent some time chatting about The Pretty Dish and debating exactly what recipes we were going to make first. Turns out we had settled on the same 2 recipes, this Roasted Buffalo Cauliflower Flatbread and The Ultimate Rainbow Vegetable Sandwich that they ultimately shared on their site. I don't think there was a wrong choice in this situation and I'm definitely still planning on feasting on these sandwiches soon!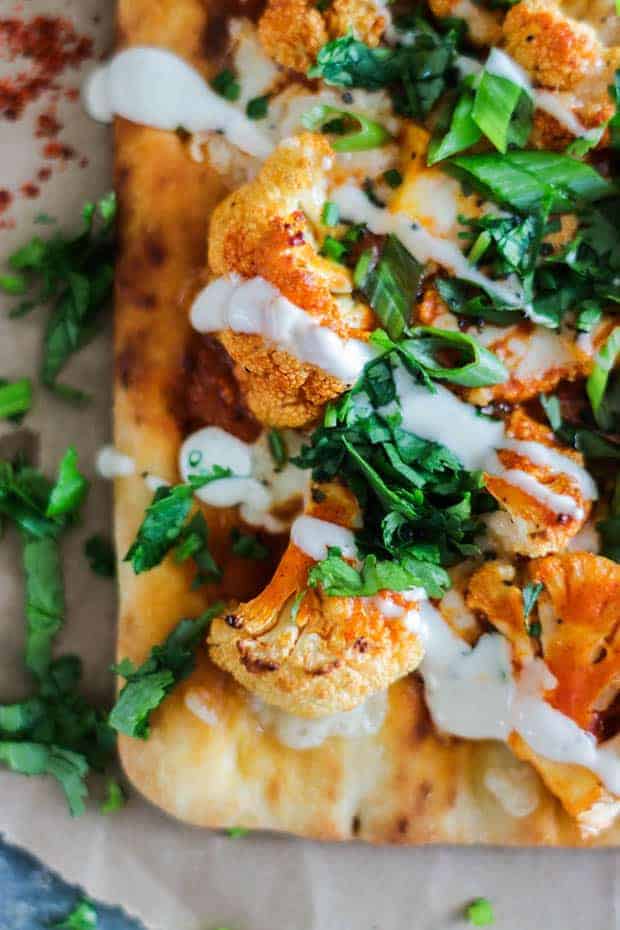 If you've made this Roasted Buffalo Cauliflower Flatbread or any other recipe on our site please don't forget to rate the recipe and let me know what you thought in the comments below, I love hearing from you and your opinions are SO valuable to me! You can also FOLLOW ME on FACEBOOK, INSTAGRAM, TWITTER, and PINTEREST to see more delicious food, design, and decor.
Print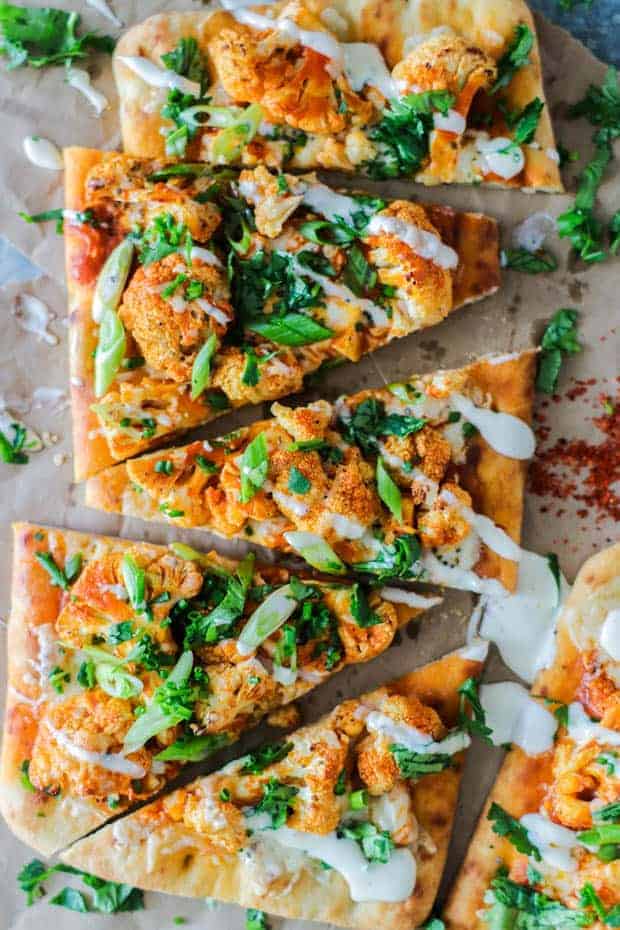 Roasted Buffalo Cauliflower Flatbread
Author:

Prep Time:

25

Cook Time:

50

Total Time:

1 hour 15 minutes

Yield:

2

servings

1

x

Category:

Vegetarian

Method:

Baked

Cuisine:

American
Recipe Card powered by
SaveSave
SaveSave
SaveSave
SaveSave
SaveSave
SaveSave
SaveSave