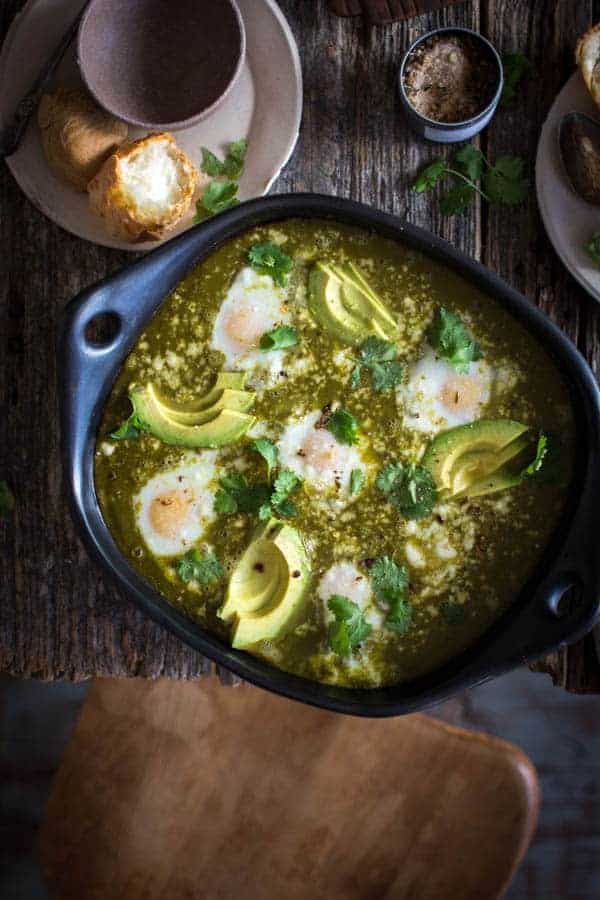 There is nothing that I love more than farm fresh eggs - ok, maybe there are a few things that I love more, like my family, but when it comes to easy breakfasts, fast filling lunches and hearty dinners - eggs are one of my all-time favorite ingredients to cook with! Case in point, this Easy Verde Shakshuka Recipe. The base of this recipe starts with my spicy vegan green pozole. It is easily one of my family's favorite fall meals - and I love that it is a cook once - eat twice type of situation for me too!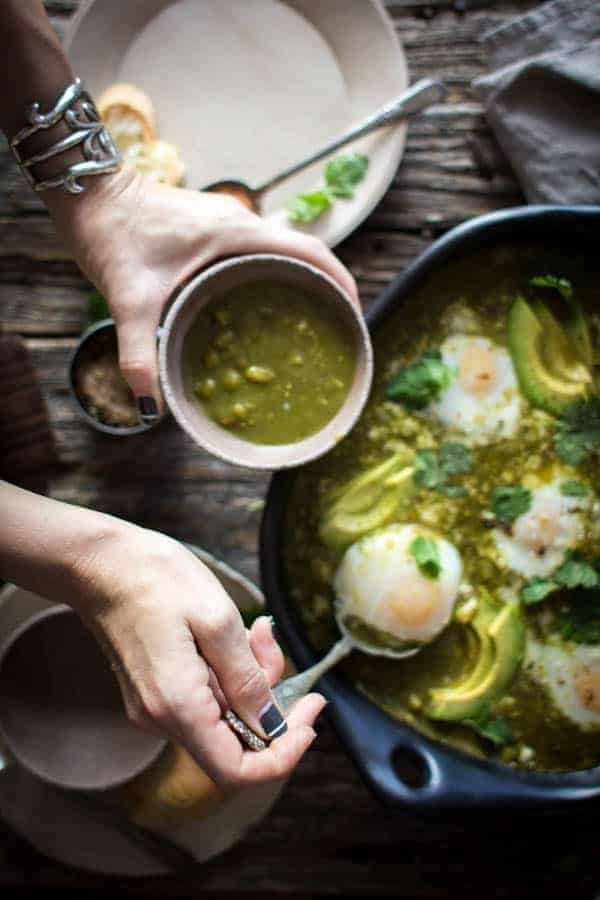 Today a fantastic group of bloggers are coming together to celebrate mamma to be Ashley of the blog Edible Perspective by sharing our favorite breakfast recipes. I know Ashley is as big of a fan of farm fresh eggs as I am, so I just couldn't resist sharing this eggy Tex-Mex inspired shakshuka recipe.
Now, I know what you are thinking, shakshuka is traditionally thought of as a dinner dish. I however, think of it as a cross over meal - much like a cross over country song that blurs the lines and soars the pop music charts. This meal is a welcome sight at our table morning, noon and night!
If you've tried this Verde Shakshuka Recipe, I would be so grateful if you would rate it. Let me know what you think in the comments below. I just love hearing from you and your reviews and comments really help others that visit This Mess is Ours!
Print
Verde Shakshuka
This recipe is great for feeding a crowd, but you can also easily decrease the amount of pozole and eggs for single servings too.
Don't forget to rate the recipe and let me know what you think about this Verde Shakshuka in the comments below. I just love hearing from you. Your reviews/comments really help other people that visit This Mess is Ours!
5 cups

leftover vegan green pozole

½ cup

crumbled cotija cheese

5

eggs
kosher salt and pepper to taste

¼ cup

cilantro leaves

1

avocado, sliced thin
Instructions
Preheat the oven to 375°F and lightly grease a baking dish.
Add the prepared vegan green pozole to a deep skillet or a baking dish that can go from the stove to the oven. Heat the pozole over medium-high heat until simmering. Sprinkle cotija cheese over the top. Make an indention in the pozole with the back of a spoon and gently break an egg into the indention. Repeat with the remaining eggs. Season with salt and pepper to taste.
Bake in the preheated oven for 10-15 minutes until eggs are cooked to the desired consistency. (This time will vary slightly depending on whether the pozole is hot or cold when you start the recipe.)
Top with cilantro and avocado slices then serve immediately with gluten free baguette slices or toast.
Recipe Card powered by
Want to be a part of our online community outside of the blog? It's easy!! All you have to do is follow @THISMESSISOURS on FACEBOOK, INSTAGRAM, TWITTER, YOUTUBE, or PINTEREST to see cooking demos and peeks into our day to day life.
Hungry for more delicious breakfast recipes?! Check out the other blogs taking a part in today's #ediblebabybash festivities for some seriously delicious brekkie inspiration!
What are the health benefits of tomatillos?
Tomatillos are a low calorie fruit that are free of cholesterol, fat, and sodium. They are also rich in Vitamins A and C, as well as potassium. Tomatillos are known to improve heart health and alleviate arthritis symptoms.
Click here for more information on the health benefits of tomatillos.
Frequently Asked Questions