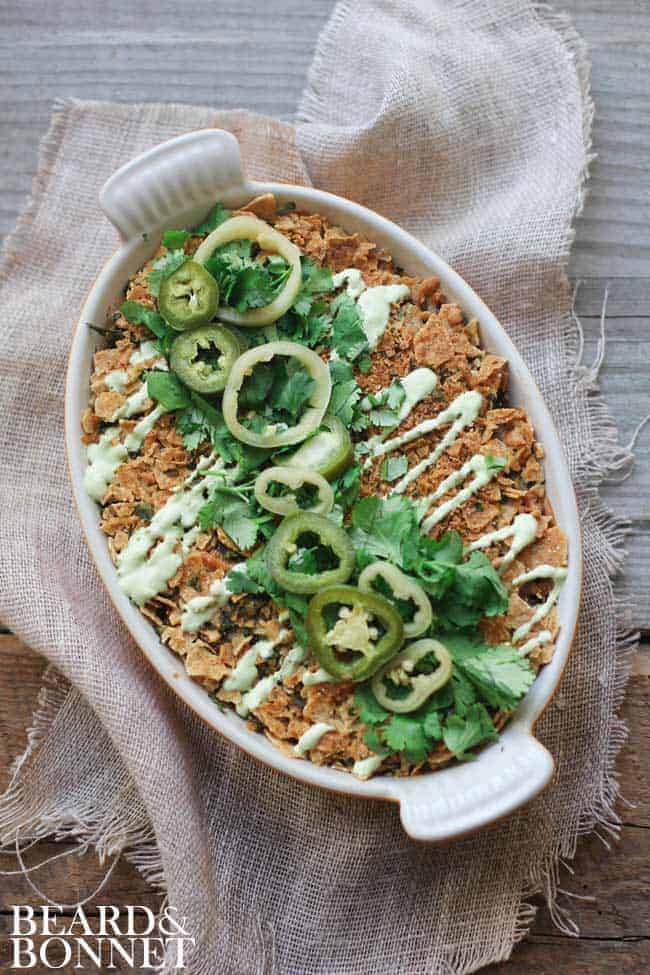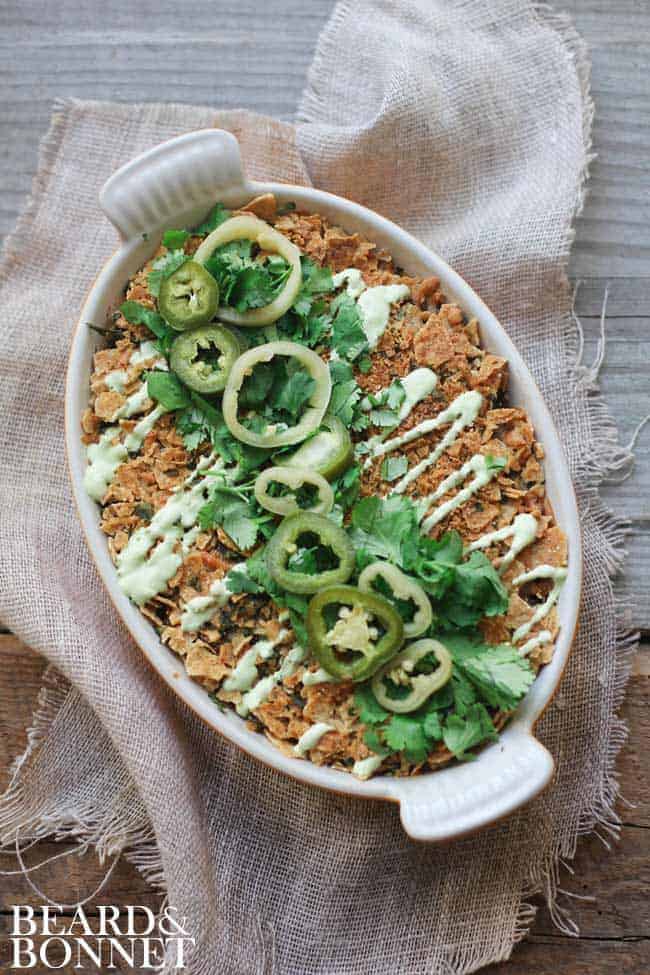 Lately I have been in need of meals that are fast, easy, and feed a hungry crowd without any problem. You see, I have been a little busy behind the scenes of Beard and Bonnet working on a cookbook collaboration with Oh My Veggies. *Insert girly squeal here!* I am so incredibly excited and honored that Kiersten asked me to a be a part of her book and I cannot wait for all of you to see the amazing vegetarian cookbook that we are putting together for you.
So... as you can imagine there has been lots and lots of cooking and recipe development happening in my kitchen, but not all of those meals are hitting my kitchen table quite yet. Let's face it...when you are developing a recipe from start to finish it doesn't always work out, and to be completely honest it could take multiple attempts to get that recipe to a point where your family will eat it. For those nights when I have a string of epic fails in the kitchen I throw together a simple meal like this Enchilada Casserole to feed my hungry clan.
This casserole makes ALOT of food! I divide it up between a few small baking dishes so that I have 2 emergency meals waiting in the wings, but you can absolutely make it all at once, stuff your face, and have plenty of leftovers for lunch.
This isn't a soupy, saucy casserole because I am not a huge fan of those, but it is perfect with a little extra Ranchero Sauce drizzled over your plate. I garnished this particular enchilada casserole with roasted poblano cashew cream, fresh cilantro, and pickled peppers. In case you are curious I have tried this topped with my roasted red pepper cashew cream too and it's equally delicious and a nice swap up for my family when I had 2 not so hot days in the kitchen in the same week.
Print
Enchilada Casserole (Gluten Free)
2 cups

organic long grain Basmati rice

3 cups

homemadeten Free and Vegan)"> vegetable broth, or store bought

2 tablespoons

butter or vegan margarine

2

15.5 ounce cans black beans, rinsed and drained

2 tablespoons

olive oil, plus more for greasing baking dish

1 cup

chopped red onion

¼ cup

chopped carrot, approximately 1 small carrot

½ cup

chopped green bell pepper, approximately 1 small bell pepper

1 cup

chopped zucchini

1

clove garlic, minced
kosher salt
freshly ground black pepper

2 ½ cups

Ranchero Sauce, see recipe in post

1

12 ounce bag shredded jalapeno jack cheese

1

5 ounce bag lime tortilla chips, crushed, I use Food Should Taste Good chips

½ cup

finely chopped cilantro
Instructions
Cook the rice: Combine the rice, broth, and butter in a large pot, and bring to a boil. Cover with a tight fitting lid, reduce the heat to low, simmer and cook for 15 minutes - 20 minutes. Remove from the heat, with the lid on, and let steam for an additional 10 minutes. Fluff with a fork and set aside.
Saute the veggies: In a large skillet heat 2 tablespoons olive oil over medium-high heat. Saute the onion, carrot, and bell pepper for 5 minutes until almost tender, add the zucchini and garlic then cook for an additional 4 minutes until the veggies are easily pierced with a fork. Remove from the heat and set aside.
Assemble the casserole: Preheat the oven to 350°F and generously grease a 13 x 9 x 2-inch baking dish with olive oil; set aside. In a large mixing bowl combine the cooked rice, beans, sauteed veggies, and 2 ½ cups Ranchero sauce. Stir to mix well then season with kosher salt and black pepper to taste. Spread the rice and veggie mixture evenly in the prepared baking dish and set aside. You may have a little more than you need to fill the dish, simply cover and store separately in the fridge for a quick lunch.
Make the topping:In a large plastic bag combine the shredded jalapeno jack cheese, crushed tortilla chips, and minced cilantro. Close the bag tightly and shake to combine all of the ingredients. Spread the topping mixture evenly over the casserole in the baking pan and cover with aluminum foil. Bake in the preheated oven for 20 minutes, remove the foil and bake an additional 10 minutes until the topping is golden brown.
To serve: Top the casserole with cilantro and your choice of other toppings. Sour cream, cashew cream, pickled peppers, or pico de gallo are all great choices!
Recipe Card powered by
Print
Ranchero Sauce (Gluten Free and Vegan)
Author:
Yield: Makes

5 cups

1

x
2 tablespoons

olive oil

1

large yellow onion, chopped

1

large red bell pepper, chopped

1

jalapeno, seeds and ribs removed, chopped

4

cloves garlic, chopped

1 ¼ teaspoons

ground cumin

½ teaspoon

ground coriander

1 teaspoon

kosher salt

¾ teaspoon

freshly ground black pepper

⅓ cup

tomato paste

1

28-ounce can diced tomatoes

1 cup

ten Free and Vegan)">homemade vegetable stock, or purchased stock

¼ cup

packed fresh cilantro leaves
Instructions
In a large, heavy saucepan heat the olive oil over medium heat. Add the onion and bell pepper and saute for 5 minutes, or until tender. Add the jalapeno, garlic, cumin, coriander, salt, pepper and saute for another 2 minutes. Stir in the tomato paste and cook for an additional 2 minutes, stirring frequently.
Add the tomatoes with their juices and the vegetable stock. Raise the heat to high and bring to a boil. Decrease the heat to medium-low, cover, and simmer for 30 minutes, stirring occasionally until all of the vegetables are very tender and the liquid has reduced slightly.
Use a handheld immersion blender to puree the sauce until completely smooth. Alternatively, let the sauce cool slightly and puree in a high powered blender until smooth. Add the cilantro and continue to blend until the cilantro is finely chopped. Season to taste with more salt and pepper if desired.
To store: Allow the sauce to cool completely then store covered tightly in the refrigerator for 2-3 days
Recipe Card powered by