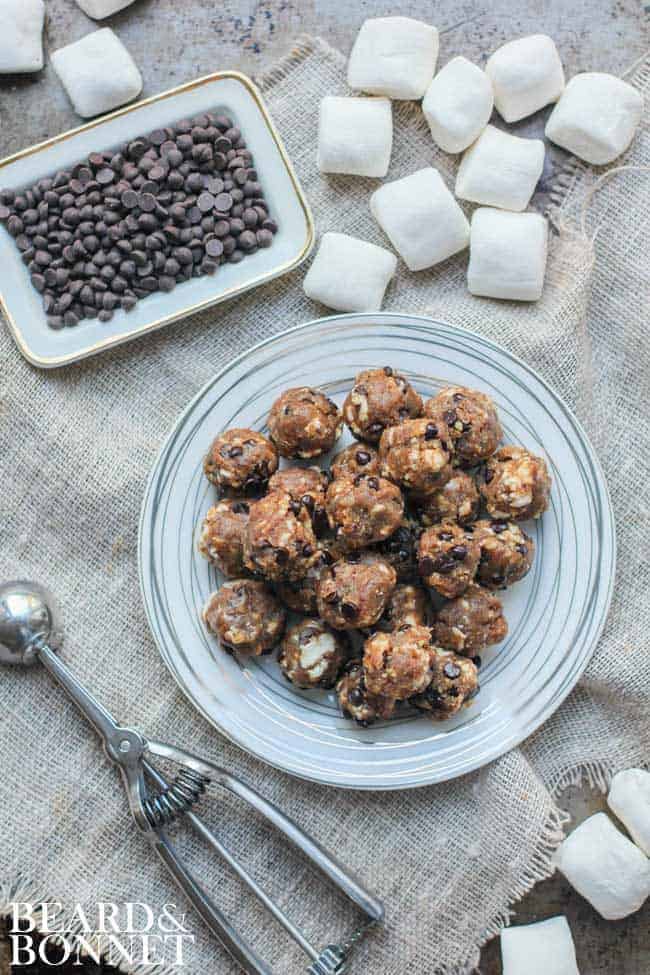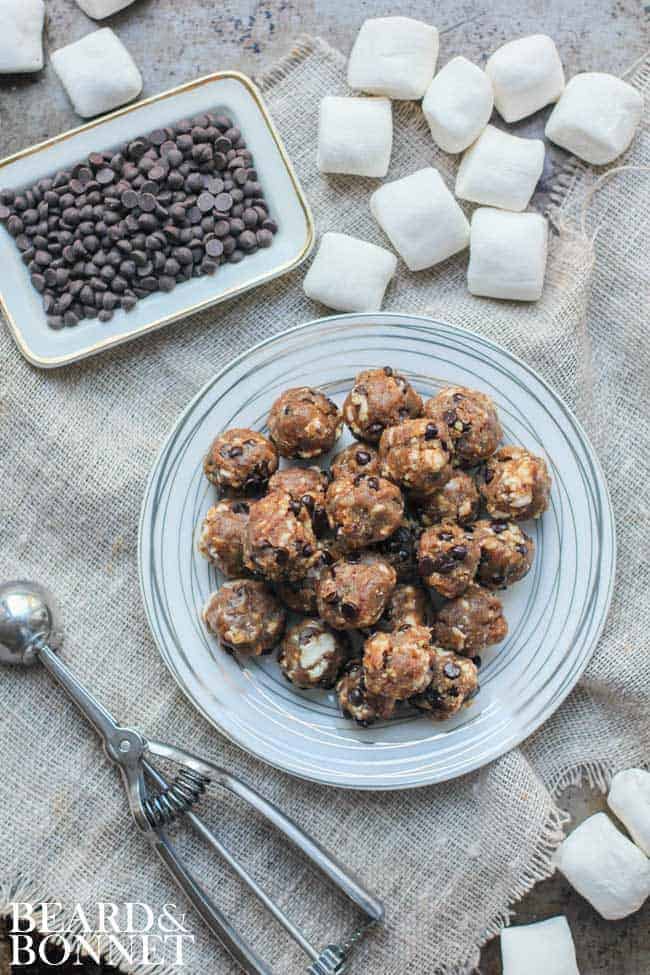 I am the type of person that will schedule so many things into each day that I have little to no wiggle room for when life actually happens. You know, the inevitable last minute errand that pops up, or when your kid comes down with a cold and your are suddenly tied to you're house until they are no longer a walking petri dish. Yep, I am one of THOSE people. I am almost always in a full on dash to the next thing, and it's not that I don't want to enjoy every moment it's that I want to enjoy all of the moments and then some. You know, I want to seize the day with a vengeance and never look back and say 'I wish I had just made time to...' please, tell me I am not the only person that lives like this!
As you can imagine, some days are spent running from here to there without much time for stopping and making lunch, so for those days I happily settle for a smoothie and a handful of energy bites like these. Granted these are stuffed with vegan marshmallows and chocolate chips, but there are fresh dates and raw walnuts in there too. These smore's energy bites fill me up without weighing me down so I can keep about the business of crossing things off of my "to-do" list without having to sacrifice lunch.
These bites are not only great for eating on the run, but they are perfect to pack into school lunches too. My kids and husband loved this recipe SO much that I had to make two batches just to get these pictures made! Not that I am complaining about having an extra plate full of tasty smore's energy bites in my fridge.
I am so happy to be sharing this recipe on my friend Beth's site Tasty Yummies today while she is pursuing her dream of becoming a yoga instructor! Click here for the full recipe.
Hungry for more no-bake easy snacking recipes? I have you covered.
Carrot Cake Raw Bars
Almond Joy Raw Bars
Chocolate Chip Cookie Dough Raw Bars
Coconut Cranberry Raw Bars