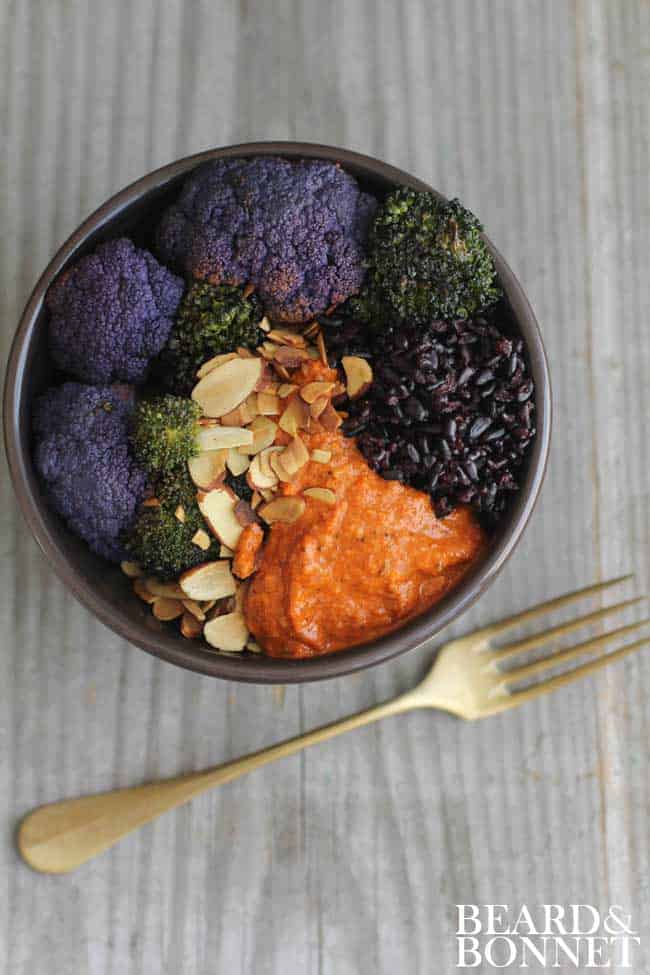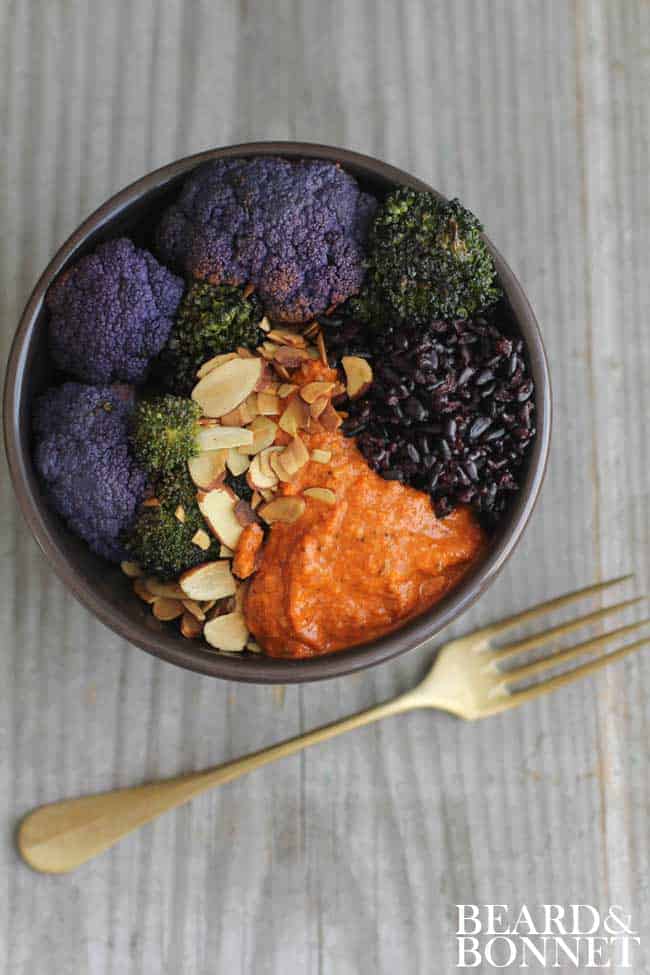 Some days simplicity is best when it comes to meals. Nothing fancy just a little leftover rice, roasted veggies, and one spectacular sauce all served up in a colorful bowl that you just cannot wait to dig your fork into. I adore food in bowls, so much so that I recently started a Pinterest board just for my love of bowls. Apparently, I am not alone because Kiersten of Oh My Veggies just declared them one of the 15 basic recipes every vegetarian should master.
There is really nothing that I love more than pulling out one of my favorite latte bowls and constructing a picture worthy bowl. Except for maybe devouring that picturesque bowl! Looking for a great way to use leftover rice and quinoa, that lone stalk of broccoli hanging out in the crisper drawer, or the last smidgen of smoky Romesco sauce or roasted red pepper cashew cream? Than this dish is for you my friend!
So tell me, how do you build your favorite bowl?
Print
Black Rice, Romesco, and Roasted Veggie Bowl (Gluten Free and Vegan)
1

medium sized head purple or white cauliflower, cut into florets. (about

3 cups

)

2

small broccoli crowns, cut into florets (about

2 cups

)
olive oil
kosher salt
freshly ground black pepper
* 1 cup cooked black rice

1 cup

Romesco sauce, recipe in post
**¼ cup toasted sliced almonds
Instructions
Preheat the oven to 425°F and line a baking sheet with parchment paper. Place the cauliflower and broccoli on the sheet pan and drizzle with olive oil, then sprinkle with salt and pepper to taste. Roast the veggies for approximately 20-25 minutes flipping halfway through. Remove from the oven and allow to cool slightly.
Divide the cooked rice between 3 bowls, pile roasted veggies on top of the rice, drizzle prepared Romesco sauce, and top with a sprinkle of toasted almonds.
Notes
* If you don't have precooked rice on hand then you will need to make 1 cup uncooked rice for 3 cups of cooked rice.
**See the recipe for Romesco sauce for how to toast almonds.
Recipe Card powered by
Click here for a quick and easy tutorial on how to make Romesco sauce!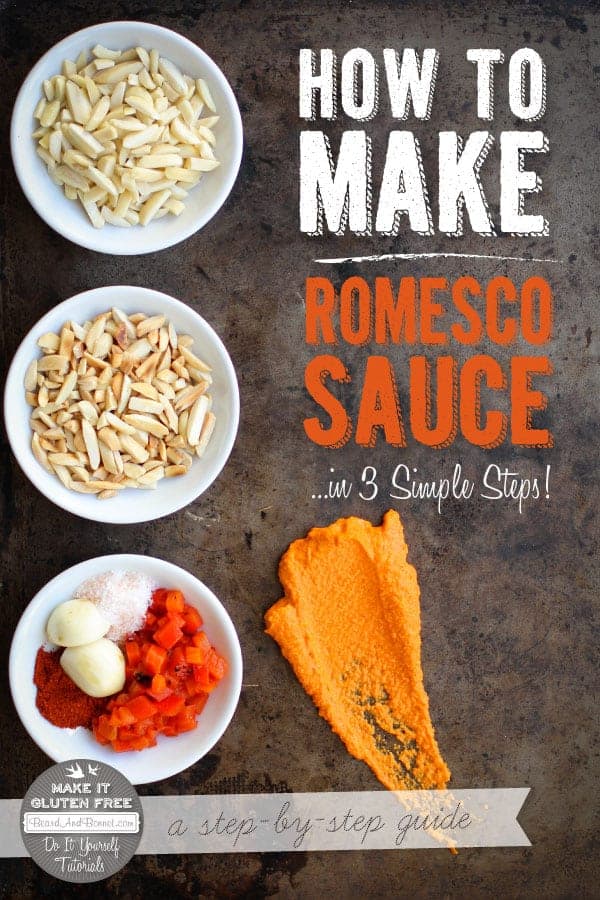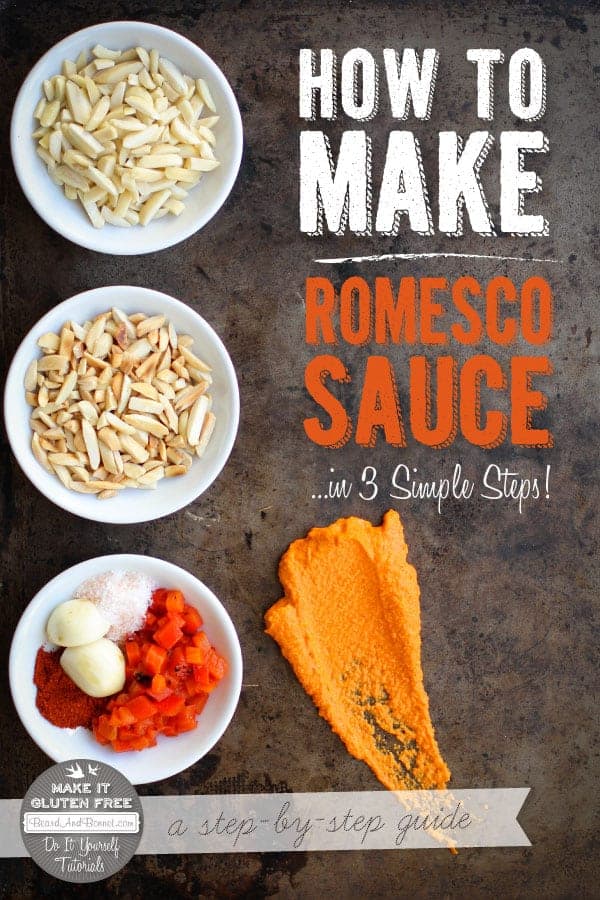 Print
Romesco Sauce (Gluten Free and Vegan)
¾ cup

slivered almonds

2

cloves garlic, minced

2

jarred roasted red peppers, chopped

1 tablespoon

olive oil

1 tablespoon

red wine vinegar

2 teaspoons

sweet paprika

¼ teaspoon

kosher salt
Instructions
Toast the almonds: Preheat a large, heavy bottomed pan, over medium-low heat. Pour the sliced almonds in the pan in a single layer. Toss frequently until fragrant and golden brown, around 5-7 minutes.
Place the toasted almonds in a high powered blender or the bowl of a food processor fitted with the "S" blade and pulse into fine crumbs. Add the garlic and pulse until finely chopped. Add the chopped roasted red peppers, olive oil, red wine vinegar, paprika, and salt, then puree until smooth. You will need to stop and scrape the sides every now and then to ensure hat everything has been incorporated. If your blender or food processor is having a hard time blending the sauce add the vegetable broth 1 tablespoon at a time until there is enough liquid for the machine to operate properly.
Notes
This recipe for Romesco sauce is slightly adapted from one of my all-time favorite cookbooks Isa Does It!
Recipe Card powered by