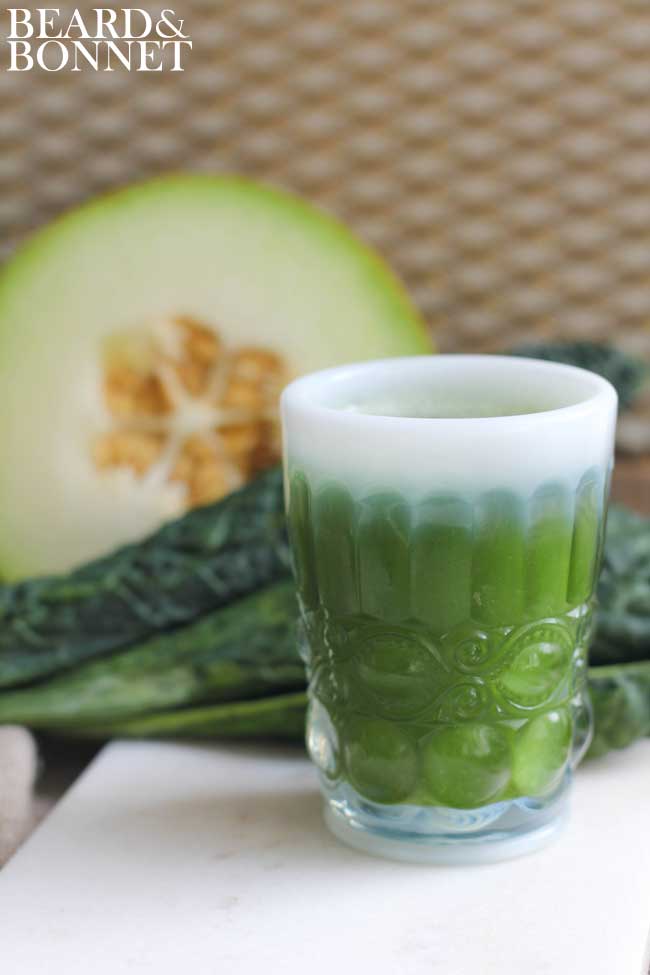 As you know I recently broke out my juicer and joined the juicing craze with the rest of the world. Seriously, what took me so long? My entire family LOVES fresh juices so much that the juicer has now won a coveted spot on the kitchen counter. The kids LOVE picking their own fruits and veggies for their juice and Todd has really been enjoying the fresh green juices that I have been sending to work with him each day. Now that we all have a new favorite kitchen "toy" we have been putting it to use juicing practically anything and everything that comes our way.When I came across a bin of beautiful Galia melons at Trader Joe's the other day I couldn't wait to get home and give juicing melon a try.
Galia melons look like a small cantaloupe from the outside, but have slightly green hued inner flesh similar to a honeydew melon. The flavor is unlike any melon I have ever had before; it is juicy, tart, and sweet all at the same time while the flesh is incredibly succulent and tender. After a few searches on Google I learned that this intense flavored melon is a cantaloupe-honeydew hybrid that was created by Israeli melon breeder Zvi Karchi in the '70s. He named his melon creation Gaila after his beloved daughter, how sweet is that?! The Galia Melon is commonly referred to as a dessert melon because of its intensely sweet flavor, and although I completely agree that it would be a welcome addition to the dessert line up at our home, I also had the sneaking suspicion that it would make a pretty tasty juice.
You can thank Kash, AKA the fruit bandit, for this winning juice combination. After serving him up a bowl of freshly cubed Galia melon with pineapple he immediately asked for juice too. I plugged in the juicer and began feeding pineapple and melon down the shoot along with a handful or two of lacinato kale. He LOVED this juice so much that he immediately ran a sample into the other room for Todd to try with a proud grin on his face. He was so excited explaining to his daddy that he helped to make this new juice. His proud smile and contagious giggles coupled with an intense session of jumping up and down in excitement after Todd exclaimed how delicious the juice was were priceless. I knew I had to share the recipe here with all of our Beard and Bonnet friends.
Do you have a favorite juicing recipe? Share your recipe or a link to it in the comments below.
Print
Toddler Approved Gaila Melon Green Juice (Gluten Free & Vegan)
Author:
Prep Time:

5 mins

Total Time:

5 mins

Yield:

2

small juice glasses

1

x
2 ½ cups

Galia melon, approximately half of one large melon, peeled

3 cups

cubed pineapple

4

-

5

large lacinato kale leaves
Instructions
Feed the ingredients through your juicer, stir to combine and serve immediately.
Recipe Card powered by