It's time people! Time to cave and share my first fall squash recipe of the season. I seriously thought I would hold out until October 1st for all things butternut and delicata, but my Pinterest feed was tempting me and I just couldn't resist any longer. I have been dreaming up this fall harvest bowl for at least a month now. Perfectly roasted, chili spiced butternut squash paired with caramelized onions, massaged kale, pepitas, and millet. All paired with my current teff obsession: Teff "polenta" fries.
This is one of those meals that warms your soul as you eat it! Having a bad day, grab a bowl. Need an easy dinner to wow your family, grab a bowl. Seriously, I could probably find a million reasons why I should eat this bowl every single day of the week, but I think you might get tired of seeing me post pictures of the same fall harvest bowl on Instagram every day. This bowl may seem like a lot of elements, but just like any good bowl planning is key.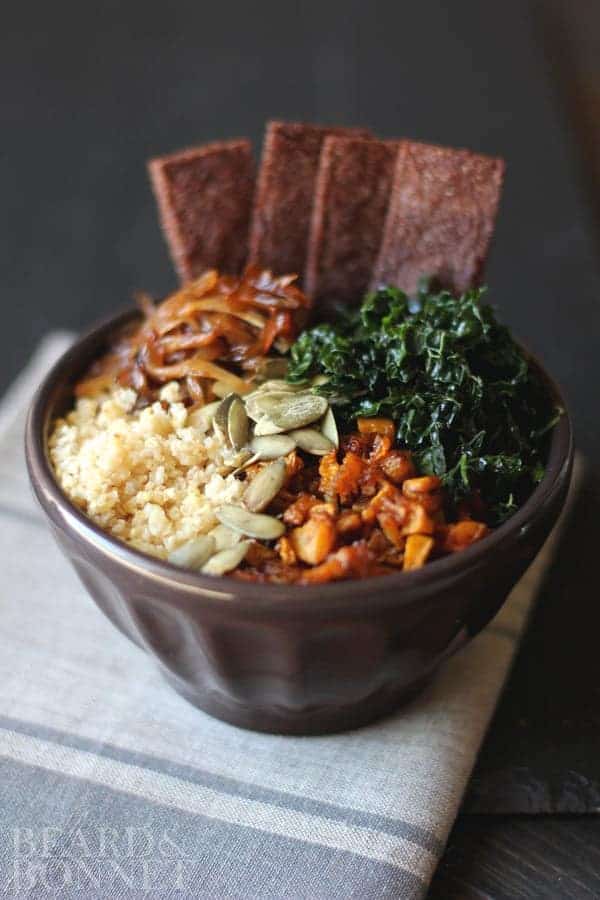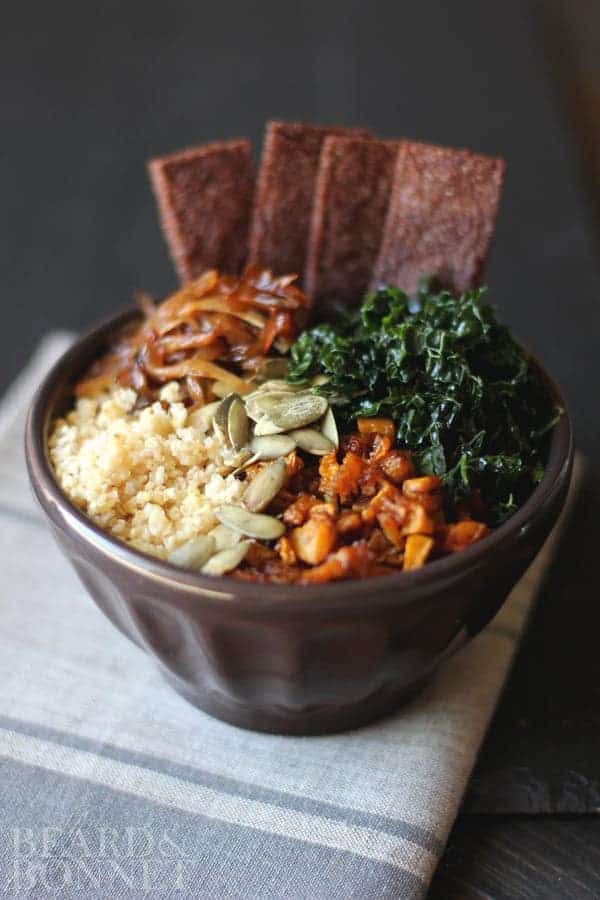 Want lots of yummy bowls during the week? Cook up a big batch of caramelized onions and roast a great big squash over the weekend. That way all you have to do is make a little millet and a fresh kale salad before you eat. The teff "polenta" fries are totally optional to the bowl, but I just love munching on them as I work my way through all of the delicious flavors.
Of course this recipe wouldn't be the same without Massel gluten-free & vegan bouillon and seasoning. I simply cannot say enough good things about this company and their delicious products. A few weeks ago I shared my Grilled Mexican Street Corn Soup and introduced you to Massel, but I didn't want to stop there. I wanted to show you just how versatile their products are and to show you that I really do use them in my kitchen on a daily basis.
The entire Massel product line is: 
Gluten Free
Wheat Free
All Natural
Vegan
No Animal Content
Lactose Free
Cholesterol Free
Transfat Free
Preservative Free
No Added MSG
Suitable for people with Celiac disease
Free from common allergens
Kosher
I have found myself using Massel in countless numbers of recipes here behind the scenes at B&B since I first tried it and honestly I can't imagine my life without it anymore. I used to make a double batch of homemade vegetable broth every week, but Massel's flavor is so rich and complex that I no longer have to make my own broth. Somehow Massel manages to create vegan versions of chicken and beef broth that really hit the mark and their vegetable broth is rich and luscious too.  I have used Massel beef bouillon to "beef" up my veggie burgers, and proudly use Massel vegetable bouillon as the brothy base for my garden vegetable soup. Just in case you are wondering, Massel broth is delicious enough on its own that when my kids were sick this past winter I made them soothing mugs of hot broth to make them feel better.
Print
Fall Harvest Bowl
Scale
Ingredients
For the squash
1

2-pound butternut squash, peeled, deseed, cut into small dice

2 tablespoon

olive oil

1

heaping teaspoon chili powder
Kosher salt and freshly cracked pepper to taste
For the millet
2 cups

boiling water

1

cube Massel "beef" bouillon cube

1 cup

raw millet

1/4 teaspoon

kosher salt

1 tablespoon

vegan butter, optional
For the kale salad
3 cups

tightly packed, shredded Lacinato kale

1/4 teaspoon

fine sea salt

1 tablespoon

freshly squeezed lemon juice

1 tablespoon

olive oil
Assemble the Fall Harvest Bowl
1

batch millet

1

batch chili spiced roasted butternut squash

1 cup

caramelized onions

1

batch kale salad

1/2 cup

roasted pepitas
Teff "polenta" fries, optional
Instructions
Prepare the butternut squash
Preheat the oven to 400°F and line a large baking sheet with parchment paper.
In a large mixing bowl combine the cubed squash with the oil, chili powder, salt and pepper. Mix well then spread the butternut squash into an even layer on the prepared baking sheet. Roast in the oven for 30-35 minutes until tender and the edges are beginning to brown. Set aside.
Prepare the millet
Dissolve the Massel "Beef" bouilon cube into the boiling water and set aside.
In a large, dry saucepan, toast the raw millet over medium heat for 4-5 minutes or until it turns a rich golden brown and the grains become fragrant. Watch them closely so that they don't burn. Add the prepared Massel broth and the salt the to pan, be careful the pan is hot so it might splatter. Stir well then increase the heat to high and bring to a boil.Decrease the heat to low, drop in the vegan butter and cover the pot. Simmer until the grains absorb most of the water about 15 minutes. Once the water has been absorbed turn off the heat and let sit covered for 10 minutes. Fluff with a fork before serving.
Make the kale salad
Place the shredded kale, salt, and lemon juice in a large mixing bowl and gently "massage" with your hands for 3-5 minutes until the kale is tender. Add the olive oil and "massage" for 1 minute longer.
Assemble the Fall Harvest Bowl
Divide the millet equally into 4 bowls, top each bowl with 1/4 of the squash, 1/4 of the caramelized onions, 1/4 of the kale salad, 1/4 of the pepitas, and add 3 or 4 teff "polenta" fries if you wish. Serve immediately.
Recipe Card powered by
Print
Teff "polenta" fries
Author:
Yield:

18

pieces

1

x
Scale
Ingredients
2 cups

water

1

Massel "chicken" bouillon cube

1/2 cup

teff
olive oil
Instructions
Bring the water and the Massel "chicken" bouillon to a boil in a medium-sized pot. Whisk the liquid to make sure that the cube has completely dissolved then stir in the teff. Reduce the temperature to low, cover the pot, and simmer, stirring occasionally, for 15 minutes or until the liquid has absorbed.
Line a half sheet pan with foil or plastic wrap and pour the prepared teff into the pan. Spread into an even layer and allow to cool completely then cover and refrigerate for 8 hours or overnight.
The next day turn the chilled teff out onto a cutting board, the mixture will keep its form and you can then slice it in half lengthwise then into 18 even rectangles.
Preheat the oven to 450°F. Line a large sheet pan with parchment paper and brush the paper with olive oil. Evenly space the pieces out onto a baking sheet and brush the tops lightly with olive oil. bake in the preheated oven for 30-35 minutes flipping half way through.
Recipe Card powered by
Disclosure: Massel bouillon and seasoning sponsored this post and provided me with products to use in the recipes; however, the opinions I share in this post are my own.
(Visited 4 times, 4 visits today)