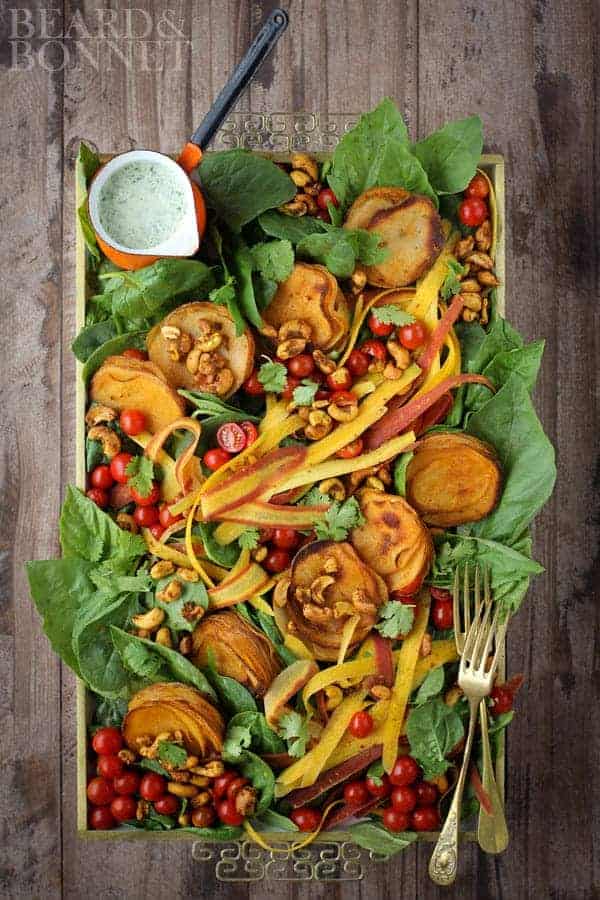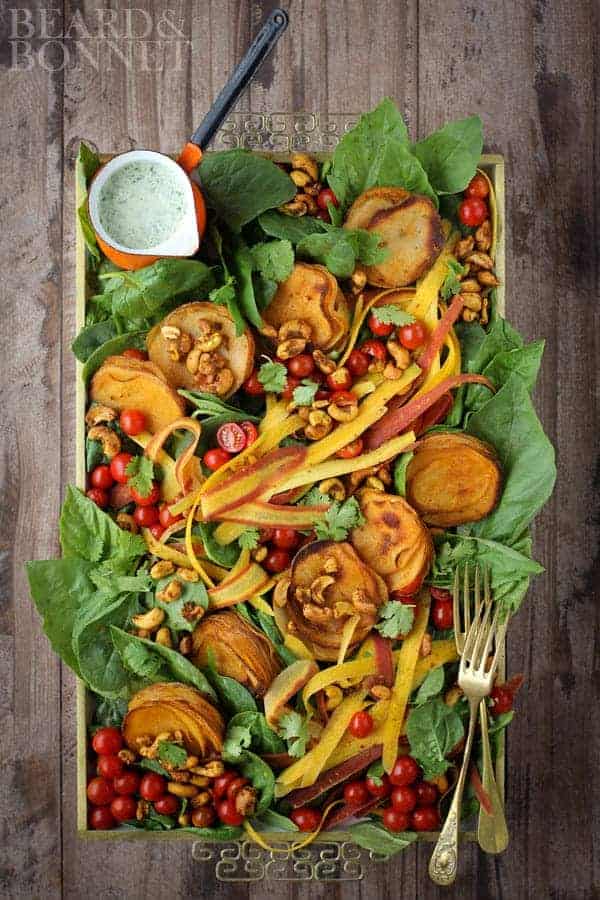 Did you have a good weekend? We spent the last few days celebrating my birthday, which just happens to fall on Monday, and I feel like I am literally on cloud nine! I have such amazing family and friends that really go the extra mile to let me know just how much they care and I am so grateful. We spent some time in LA this weekend chowing down at a few of my favorite place like Pot and Crossroads Vegan Kitchen. We drank a few too many cocktails, laughed at all of the jokes, and really enjoyed the alone time Todd and I had thanks to Todd's mom keeping our kids for the weekend.
I had good intentions to bake a cake or make a sweet treat to share here in celebration of my birthday, but honestly I just can't stop thinking about this salad. So, after much deliberation and a few failed baking attempts, because my heart just was WAY more into this salad, I decided that there really isn't a rule that says you have to serve cake on your birthday, so I am serving my Roasted Red Curry Potato Stack Salad instead! BOOM! Take that, we are having savory birthday festivities!!
Can you tell I am happy dancing over here? I first introduced you to my Roasted Red Curry Potato Stacks when I made them as a part of my Double Down Potatoes for the National Potato Boards #TopTater Vegas Contest. They still haven't announced who won the contest yet, but that's OK because I feel like I hit the jackpot with this potato recipe already! I have made these little tasty stacks quite a few times since I invented them and this salad was by far my favorite way to devour them!
The roasted red curry potato stacks are nestled into a blend of baby spinach, basil, and cilantro leaves. I topped that spicy blend with heirloom cherry tomatoes, carrot ribbons, and curry roasted cashews. Oh yeah, I said curry roasted cashews!!! Then this delicious party salad is drizzled with a silky smooth, cilantro, lime and coconut milk dressing. Hello YUM!
Print
Roasted Red Curry Potato Stack Salad
Curry Roasted Cashews
2 tablespoons

vegan butter

1 tablespoon

hot madras curry powder

1 teaspoon

kosher salt

¼ teaspoon

cayenne pepper

1 teaspoon

granulated sugar

1 cup

raw cashews
Assemble the salad
1

5 -ounce package baby spinach

¼ cup

cilantro leaves

¼ cup

basil leaves

1

batch Roasted Red Curry Potato Stacks

2

carrots, cut into ribbons with a vegetable peeler

1 cup

grape tomatoes

1

batch curry roasted cashews

1

batch cilantro, lime and coconut milk dressing, recipe follows
Cilantro, Lime, Coconut Milk Dressing
½ cup

basic cashew cream

¼ cup

full fat canned coconut milk

1 ½ tablespoons

freshly squeezed lime juice

1 cup

chopped cilantro

½ teaspoon

kosher salt

½ teaspoon

freshly cracked black pepper
Instructions
Make the cashews
Preheat the oven to 350°F and line a baking sheet with parchment paper. Set aside.
In a small saucepan melt the vegan butter with the curry powder, salt, cayenne pepper, and sugar; stirring constantly for 30-40 seconds until fragrant.
Toss the cashews with the curry sauce on the prepared baking sheet, spread the nuts in an even layer. Bake until the nuts have turned golden brown and are roasted through, stirring once or twice during the cook time. Allow to cool before serving.
Assemble the salad
On a large platter spread out a bed of the spinach leaves and tuck the cilantro and basil leaves throughout the spinach. Nestle the warm roasted red curry potato stacks into the bed of greens then add the carrot ribbons, tomatoes, and lastly sprinkle the curry roasted cashews throughout the salad. Serve with the cilantro, lime, coconut milk dressing on the side.
Make the dressing
Combine the cashew cream, coconut milk, lime juice, cilantro, salt, and pepper in a blender and process until everything is combined and there are small flecks of cilantro throughout the dressing.
Recipe Card powered by