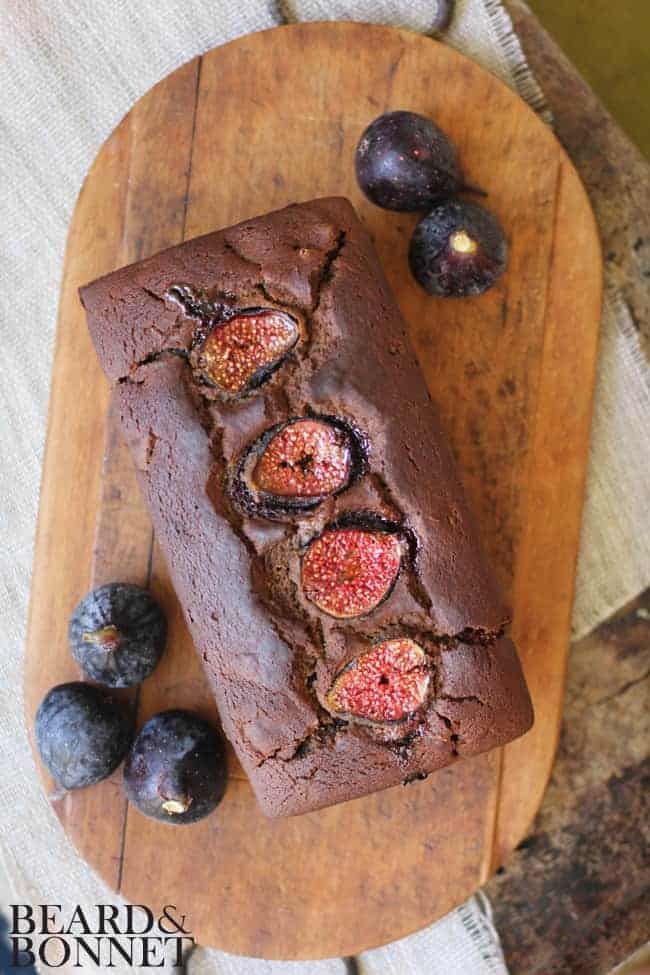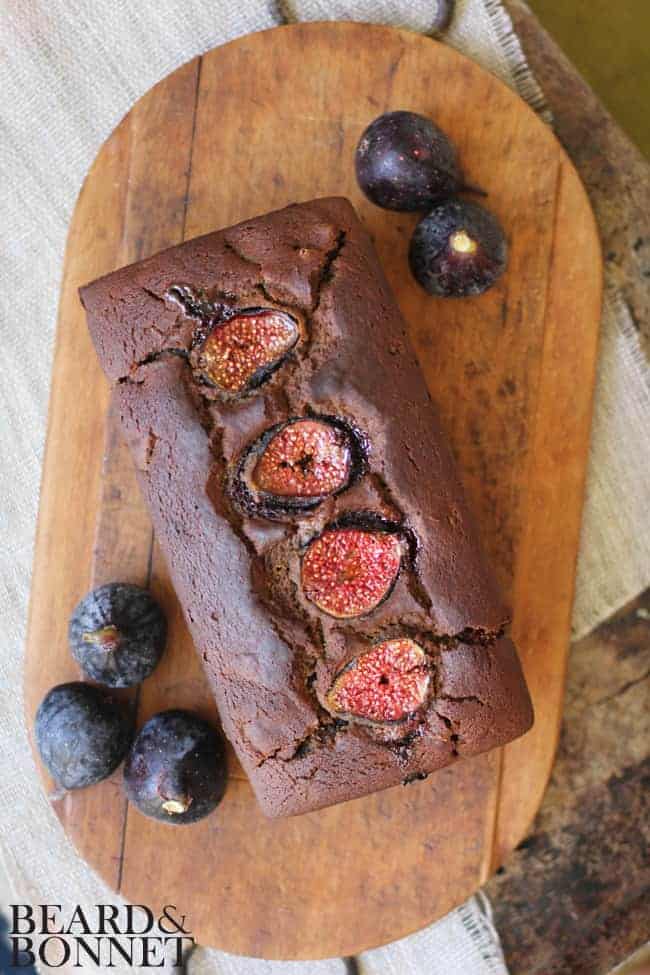 It has been a little bit of fig mania here at our house and at my neighbor Beth's house lately! You see, Beth has a HUGE fig tree in her yard and a couple of weeks ago she gifted me with more figs than I knew what to do with. To add to the fig craze in our house the same week there were dozen black mission figs in my CSA box too! It has been a fun few weeks experimenting with all of the yumminess that figs have to offer. I made a fig and vanilla infused pisco, and I have now made this Fig Chai Tea Bread twice. This bread is so simple to make and does double duty as dessert or breakfast!
Over the last few months' I have been experimenting with "new to me" gluten-free flours and making my own custom blends. I have been throwing myself into cookbooks and researching online to learn everything I can about blending flours, nutritional benefits, and flavor profiles. Let me tell you it is hard, but tasty work. This fall I will be sharing more with you here on B & B about different types of gluten free flours, but for now I want to focus on Teff flour. This was my first time baking with teff flour and I have to say that it was such a wonderful experience for me that I couldn't wait to share it here with you. Quite often in this learning process I have worked extremely hard with high expectations of the final outcome of a recipe only to be disappointed and left hungry, but working with Teff was different.
Teff has a very mild, nutty flavor, and it packs a serious nutritional punch! A single cup of cooked teff offers 123 mg of calcium, about the same as in a half-cup of cooked spinach. *Bonus: It will be easier to get your kids to eat teff than spinach! It's also an excellent source of vitamin C, which is a nutrient that is not often found in grains. Teff flour isn't just good for you though, it is extremely easy to work with. Have you baked with Teff flour before?
Fig Chai Tea Bread
Fresh figs and chai tea come together in a beautiful quick bread that is simple to make and delicious!
1 ½ cups

teff flour

¾ cups

tapioca flour

1 ½ tsp

. baking soda

¾ tsp

. kosher salt
*1 cup brewed chai tea

½ cup

coconut oil

½ cup

evaporated cane juice, *you can use brown sugar in a pinch

1 ½ tsp

. vanilla extract

¾ cup

black mission figs, chopped

2

black mission figs, halved
coconut oil spray
Instructions
1. Preheat the oven to 375°F. Lightly grease an 8x4x4-inch loaf pan with coconut oil spray and dust with teff flour.
*2. In a medium sized mixing bowl, combine the teff flour, tapioca flour, baking soda, and salt. Mix well with a whisk to combine.
3. In a separate large mixing bowl, combine the chai tea, coconut oil, evaporated cane juice, and vanilla extract. Add the dry ingredients to the wet ingredients and mix with the whisk until no lumps remain and the batter is smooth. Gently fold in the chopped figs.
4. Pour the batter into the prepared pan and gently tap the pan on the counter to ensure that any air bubbles escape. Place the 4 fig halves upside down on to of the batter and gently press them into the batter so that they stay where you want them. Bake for 1 hour and 10 minutes or until a toothpick inserted in the center comes out clean. The loaf should be golden brown and slightly firm to the touch when it is done. Allow the loaf to cool in the pan on a wire rack for 15 minutes then remove the loaf and allow it to cool the rest of the way before slicing.
Notes
*I use 2 tea bags per cup and allow the tea to brew for 15 minutes because I like a strong chai flavor.
*If using brown sugar add it to the dry ingredients in step 2.
This bread is best eaten the day it's made, but can be kept in the refrigerator wrapped tightly for a day or two. Allow the loaf to come to room temperature before serving.
Recipe Card powered by