Something you may have guessed about me is that I like to sneak veggies into ALL sorts of my family's meals. What you might not have guessed though is that I also like to sneak protein into my family's sweet treats too! Mwahahahaha!! Case in point, this protein packed Gluten Free Banana Cream Pie. (Or pudding cups, if you prefer portable pie flavored treats.)
{{ The recipe and post for this Gluten Free Banana Cream Pie was made in partnership with Premier Protein. We received product and compensation in exchange for it. Opinions are always our own. If we don't love it, you don't hear about it. Thanks for your continued support! }}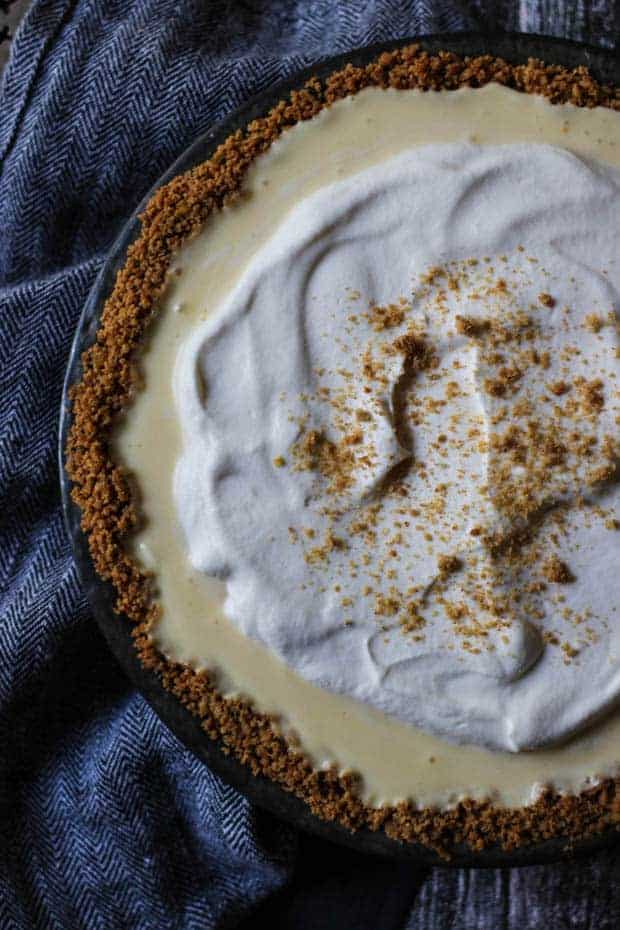 First and foremost I would like to point out that in the 8-ish years I have been creating recipes for this blog never once, NOT ONCE, have I ever made a pie!
Why? Friend, to be perfectly honest, I normally just don't have the patience for creating pie. But, somewhere in-between spring and summer, when the weather starts to warm up just a bit, I seriously crave a slice of my grandmother's banana cream pie and in that moment of sticky humid heat I suddenly develop the zen like patience that I imagine one must have to make pie. Don't worry though, because f
or the sake of banana cream pie cravings that may occur over the course of the rest of the year – when zen like patience is running low, I'm also including instructions for making banana cream pie pudding cups.
Let's break down this Gluten Free Banana Cream Pie layer by layer shall we? (Spoiler alert: the layers of the pudding cups are EXACTLY the same!)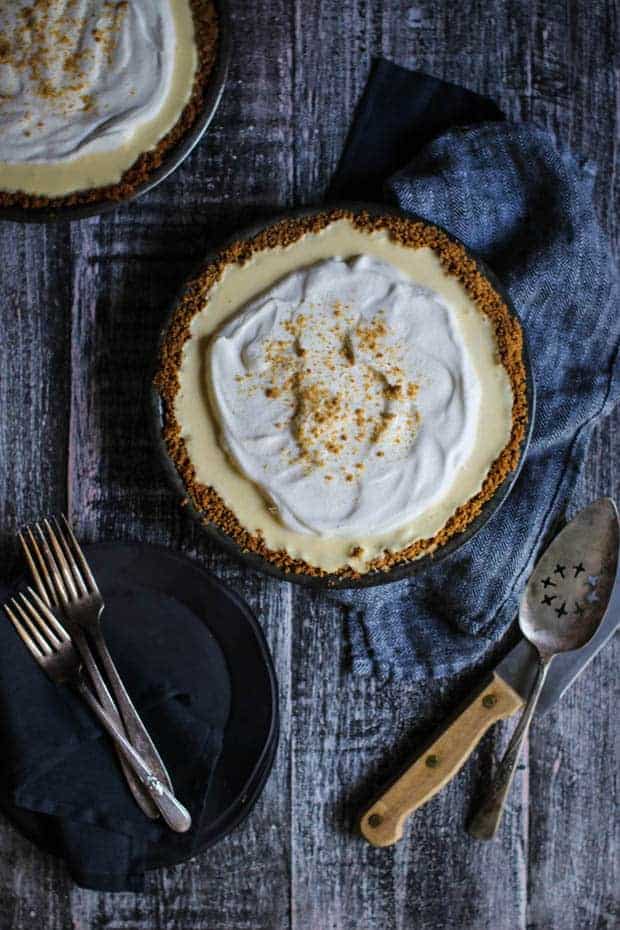 The crust
|| Rustic – spicy sweet – cookie crust magic! Like I mentioned above, I don't have a lot of patience for rolling out pie crusts, so I swapped out the traditional pie crust in my Mamaw's banana cream pie for one made with
ground ginger cookies
and melted butter. This fail proof crust has a perfectly sturdy crust with rustic, crumbly sides that I just LOVE! Plus, the spice from the ginger cookies is a nice balance with the sweet pastry cream.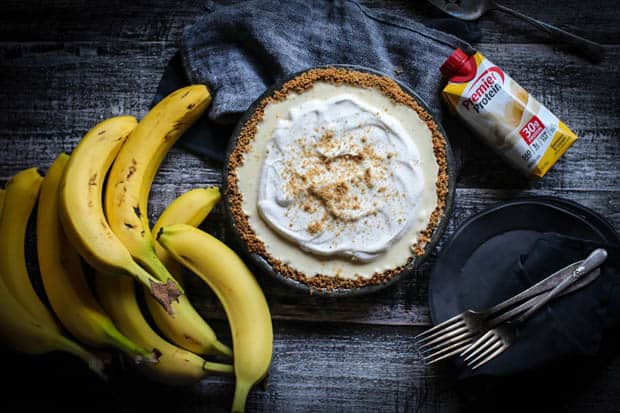 The pastry cream
|| This step combines
Premier Protein Bananas and Cream Shake
with milk, eggs, and a few other ingredients to create pure magic! However, it requires lots of patience…and love…and magazines…and music….but mostly patience! To recreate my Mamaw's banana cream pie we need to make a pastry cream which has to very slowly cook on the stove while you whisk constantly…I'm not going to lie, it will seem like it is taking forever, but my friend ALL good things take time and this pastry cream is the BEST!
The 4 times I've made this pie so far, I timed it roughly at about 20-25 minutes of constantly whisking over low heat for the liquids to change to a thick pudding consistency for me. Be careful and don't get impatient with this step. If the mixture gets too hot or cooks to long you risk curdling the eggs but if it doesn't cook long enough to thicken all the way your pie filling will not set and when you slice into your pie the filling will be a runny mess.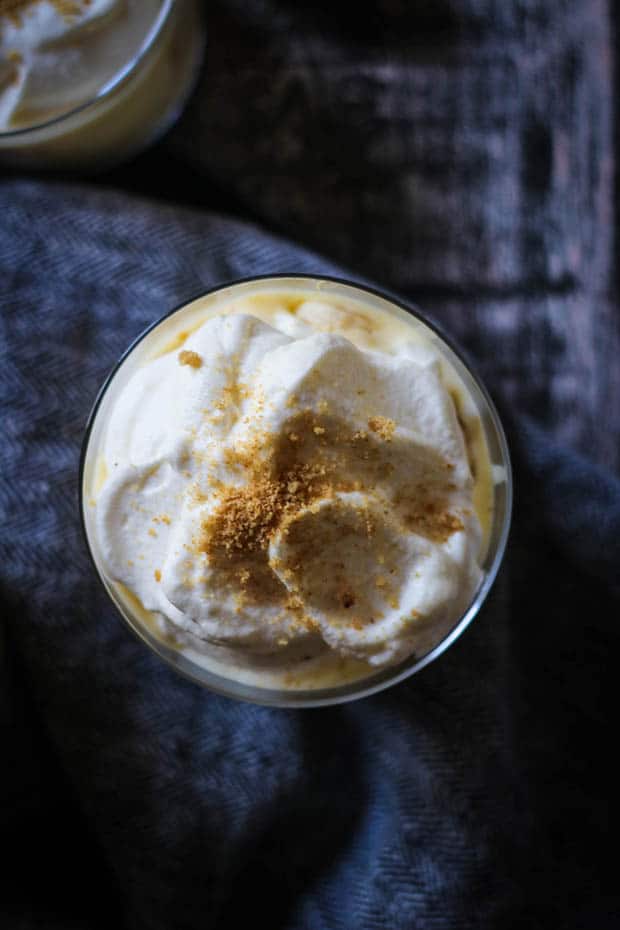 The topping
|| The whipped cream in this recipe is unsweetened on purpose. I find that similar to the spice of the ginger cookie crust, the unsweetened whipped cream plays really nicely with the sweet pastry cream. When I tested this recipe with sweetened whip it was just too much sweet on sweet for me. Finally, I like to sprinkle a little bit of the cookie crumbs from the crust on top…it adds a nice little pop of color to the otherwise pale looking pie and adds a bit of crunch too!
…and now, because I love you and I love this gluten free banana cream pie and I think that the two of you should meet, I am going to let you in on another way to dish the components of this pie up without all the hassle!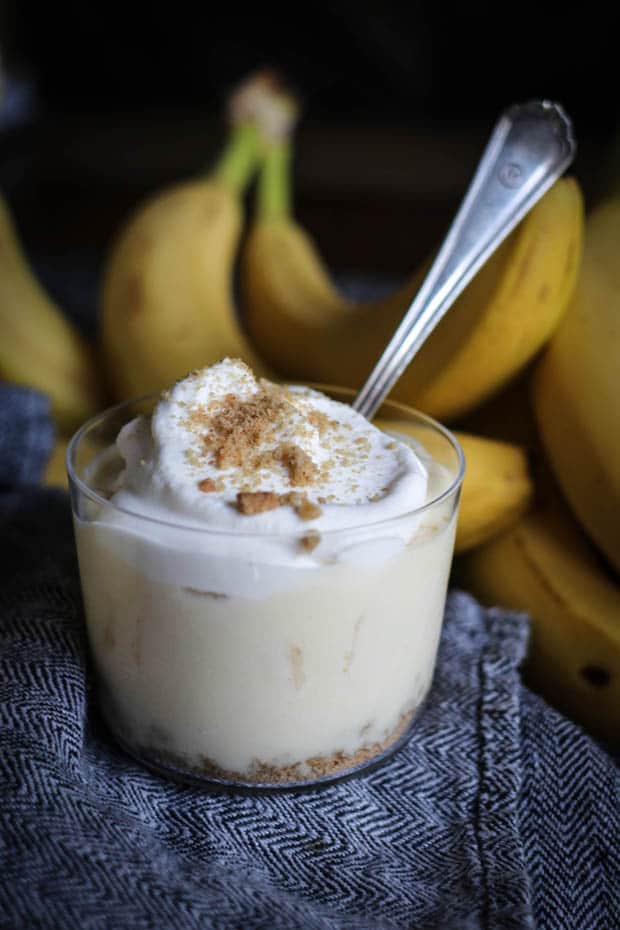 All you do here is layer my friend. You still have to master the art of patience while making the pastry cream, but aside from that this version is easy peasy! Simply, lightly pack a generous scoop of buttery cookie crumbles in the bottom of a
glass cup
with a lid. Then add a layer of sliced bananas, a heap of protein packed pastry cream, and a dollop of whipped cream. Top it all with a light dusting of ginger cookie crumb sprinkles then slap a lid on it and store it in the fridge. Then be prepared to be amazed at how quickly these cuties fly off the shelves!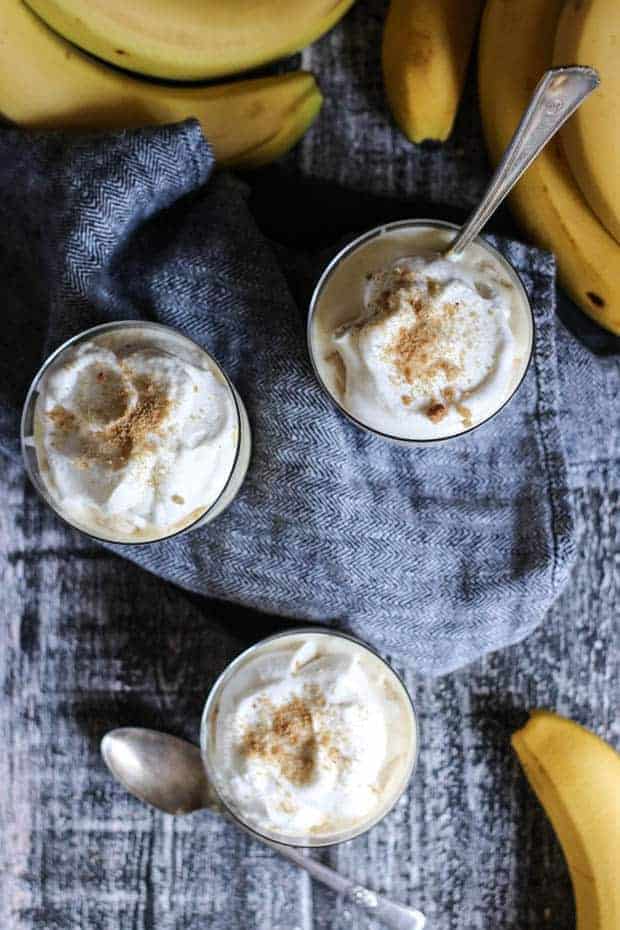 When I said I like to sneak protein into my family's sweet treats I wasn't kidding! Just check out all of these delicious protein packed treats that I make with Premier Protein products…
If you've made this Gluten Free Banana Cream Pie, puddings or any of the other recipes on our site, don't forget to rate the recipe and let me know what you thought in the comments below, I love hearing from you! You can also FOLLOW ME on FACEBOOK, INSTAGRAM, TWITTER, and PINTEREST to see more delicious food, design, and decor
.
Print
Gluten Free Banana Cream Pie & Puddings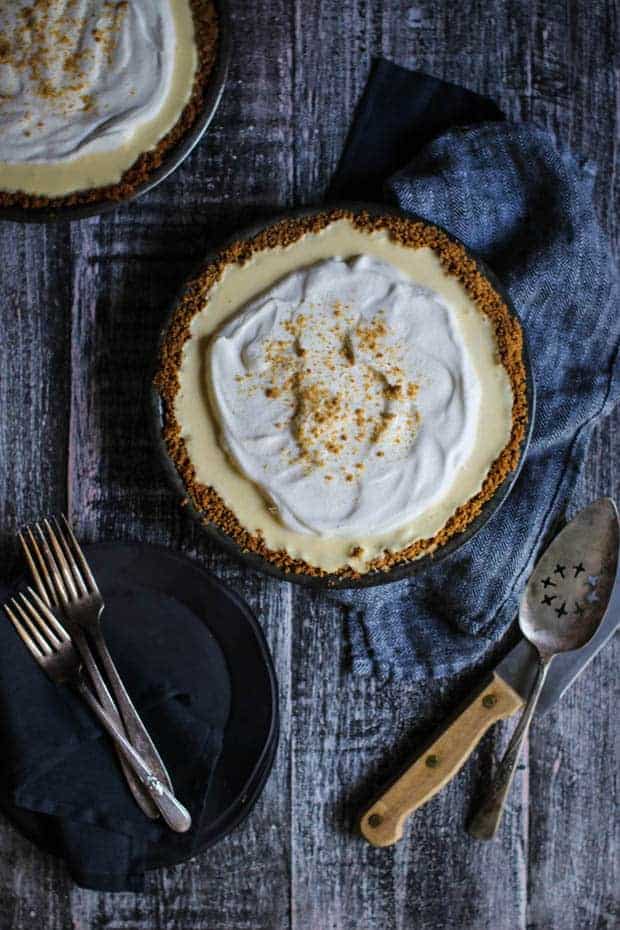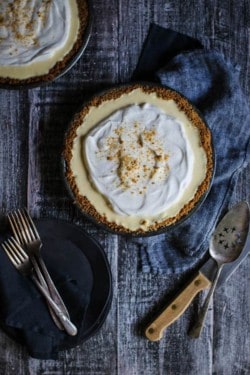 This pie is TOTALLY worth all the effort required, but be sure you make note that this pie requires a minimum of 4 hours chilling time for the pastry cream to set before serving.
Author:
Prep Time:

25 minutes plus 4 hours refrigeration

Cook Time:

30 min

Total Time:

55 minutes + chill time

Yield:

8

slices/pudding cups

1

x
Category:

Dessert

Method:

Baked / Stovetop

Cuisine:

Dessert
Scale
Ingredients
For the ginger cookie crust:
4 tablespoons butter, melted
For the protein packed pastry cream:
2/3 cup whole milk
1/4 cup plus 3 tablespoons granulated sugar, divided
1/2 tablespoon vanilla bean paste or pure vanilla extract
3 tablespoons cornstarch
1 large egg
2 large egg yolks
1 1/2 tablespoons butter
To serve:
1 1/2 cups heavy cream
1/2 tablespoon vanilla extract
2 medium bananas, sliced into 3/8-inch-thick rounds
1 tablespoon ginger cookie crumbs, optional
Instructions
Make the ginger cookie crust:
Preheat the oven to 325°F. Set aside 1 tablespoon of ginger cookie crumbs if using for garnish. In a bowl, combine the remaining cookie crumbs and the melted butter. Stir to combine completely. Once all the crumbs are moistened, pour the mixture into a 9-inch pie pan. Then using a flat-bottomed cup, press the crumbs evenly into the pan across the bottom. The edges of the shell will be rustic and crumbly. Bake for 9 minutes, cool completely.
Make the protein packed pastry cream:
Over a small bowl, sift the remaining sugar an date cornstarch together. In a large bowl, whisk together the egg and egg yolks.
When the milk mixture comes to a simmer, add the cornstarch mixture to the eggs and whisk until combined.
While whisking the egg mixture constantly, slowly drizzle in about 3/4 cup of the milk mixture to temper it. Transfer this mixture into the saucepan, over low heat. Simmer, whisking constantly, until it reaches the consistency of thick pudding. ***This will seem like it is taking forever – I timed it at about 20 minutes to come to pudding consistency for me. Be careful and don't get impatient in this step. If the mixture gets too hot or cooks to long you risk curdling the eggs but if it doesn't cook long enough your pie filling will not set.***
Once pudding like remove from the heat and stir in the butter until incorporated. Pour the protein packed pastry cream into a shallow bowl, place plastic wrap directly on the surface and chill.
To serve:
Using an electric mixer or whisk, whip the heavy cream and vanilla into peaks Transfer the chilled pastry cream to a large bowl and whisk until smooth. Fold in 1/2 cup of the whipped cream. Line the bottom of the cooled cookie crust with an even layer of sliced bananas. Fold the remaining banana slices into the pastry cream, then spoon it evenly into the crust. Mound the remaining whipped cream on top, swirling it decoratively. Chill completely, about 4 hours, then serve within 24 hours.
Keywords: gluten free, pie, banana cream pie
Recipe Card powered by
(Visited 5 times, 5 visits today)