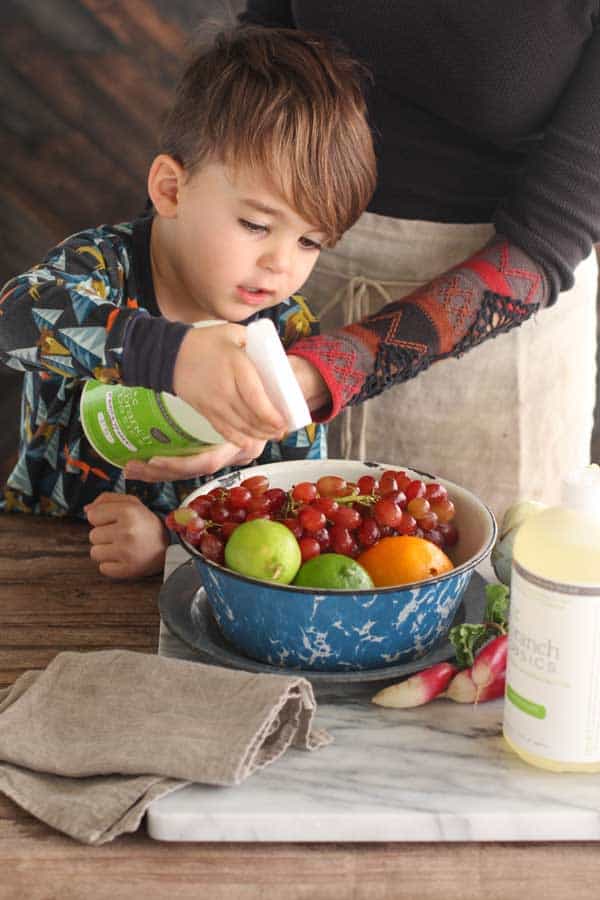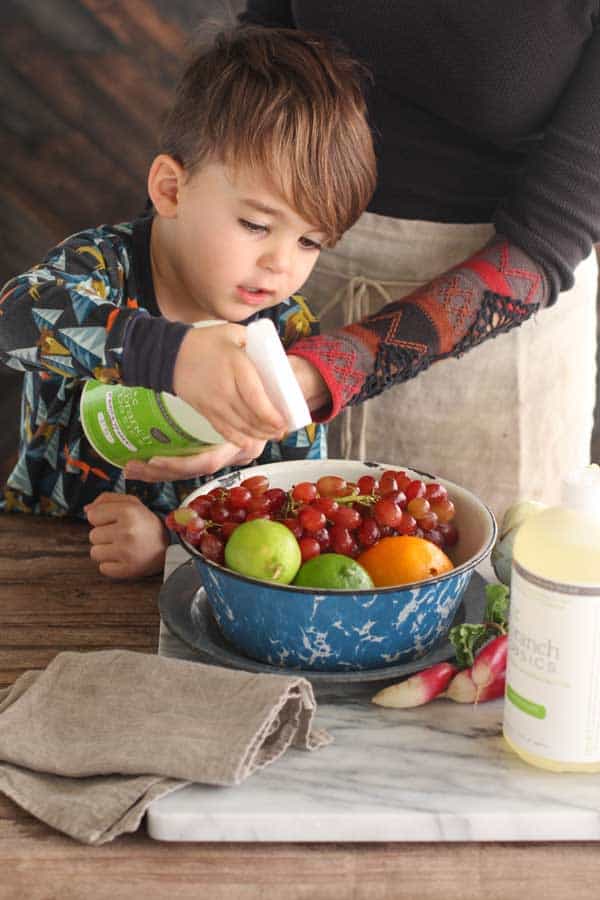 If you are like me then I imagine there will be lots of preparing your home and prepping food for holiday gatherings in the weeks to come. Let me show you how to safely ring in the holidays without the concerns of chemical-laden cleaners, and pesticide covered produce. If you have been following Beard and Bonnet for a while then you remember last year when I showed you how pure, effective, and versatile Branch Basics is - I even used it to clean Halloween makeup off of my kids' precious faces!
Over the past year I have found countless other uses for my Branch Basics, but one of the ways I use it most is to safely clean our fruits and vegetables. Never in a million years would I have thought that I would be able to use the same product that we wash our clothes and counters with to wash the food we eat, but I do. That may sound crazy, but their soap concentrate is 'human-safe' (not harmful if absorbed, inhaled, or accidentally ingested). It's made with food-grade ingredients that replaces and in my opinion, outperforms virtually all other home and body cleaning products. The Branch Basics ingredient list actually reads a little like my grocery list with items like purified water, coconut oil, and edible & seed-bearing plants. Branch Basics is one product that replaces the need for virtually every other cleaning product in my home, both for hygiene and general cleaning.
With all of the food-borne illness outbreaks related to produce in the past few years, we as consumers have heightened concerns over the safety of fresh produce! From spinach, lettuce, and tomatoes to melons, and sprouts they have all caused people to become extremely sick with Salmonella and E. coli. I wouldn't dare gift my family and friends with one of those at our holiday party!
You might be surprised to learn that very little of what's hanging out on your fresh vegetables and fruits actually comes off when you place them under running water - sometimes even rubbing the produce won't get it completely clean. Even if you buy organic produce from your local farmers' market  there are potentially hidden dangers lurking on their surfaces as well. Grow your own? Fertilizers, unhealthy soil, and animals can contaminate even homegrown produce. Your best bet is to know how to clean your fruits and vegetables effectively so that there is no cause for concern.
Here is how I use Branch Basics  5:1 (5 parts water + 1 part concentrate) to safely clean our fruits and veggies :
Thick skinned produce (apples, pears, tomatoes, eggplant, carrots, and grapes): Spray the produce with Branch Basics 5:1 solution well enough to cover the entire surface area and allow to sit for 1-2 minutes. Wipe the surface with your hands or a vegetable brush to loosen any dirt or contaminants and rinse in cool water.
Leafy greens  (spinach, kale, and chard): Shake well to remove any loose dirt, place in a strainer and spray liberally with Branch Basics 5:1 solution allow to sit for 2 minutes then rinse thoroughly with cool water.
Veggies with nooks and crannies (broccoli, lettuces, and cauliflower): Soak in cold clean water for 2 minutes then spray lightly with Branch Basics 5:1 solution and rinse thoroughly.
Are you ready to eliminate all of the other cleaners and chemical laden products dwelling under your sink and in your cabinets? Now is the time!! For a limited time Branch Basics is having a killer sale -25% off the entire site and 40% off gift starter kits when you get a gallon or 5-gallon pail!!!