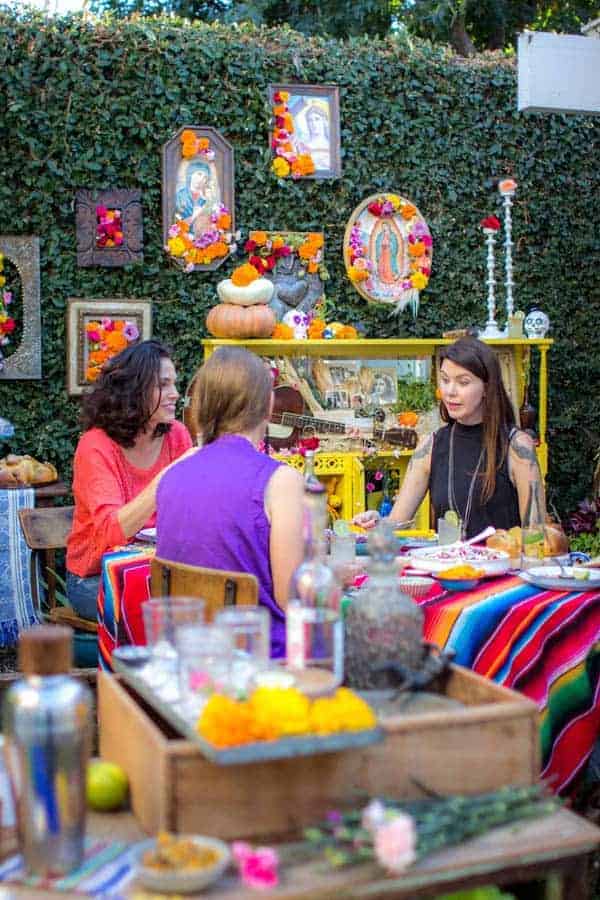 Those who know me the best can attest to the fact that I really love to host gatherings with our friends and family! From planning the menu to picking out the decor; I enjoy every single second of it. If I had to pick a favorite season of the year to entertain though it would have to be fall! The flowers, the produce, the crisp air - I just can't get enough. Let's face it, fall has the best holidays too...case in point Diá de los Muertos! I love the traditions and sentiments behind this special holiday and am so excited to share with you the Day of the Dead food decorations we had at our home this year with our friends Kate and Aida!
We all took part in creating dishes for the feast; we decorated an altar for our loved ones who have passed with photos, mementos and traditional flowers like marigolds and roses. The entire day was full of meaningful conversation and lots of laughter as we swapped stories about our loved ones (both the special people in our lives today as well as those who've already left us).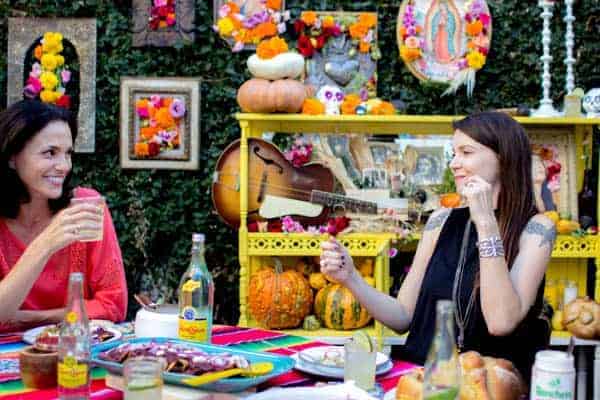 Although I have always loved the sentiment behind the Day of the Dead festivities I never had much knowledge of the true history of the holiday that I enjoy so much. I knew there were feasts; I knew there were sugar skulls, marigolds and altars, but why?
Throughout the process of planning the feast, Kate shared with me little nuggets of inspiration to answer all of my questions- it was such a beautiful window into her family's culture; even in death, celebrating life. Her stories really inspired me to give serious thought and focus to each and every detail.
Let's start with the Day of the Dead food menu:
Whether your Day of the Dead feast is large or small, you are going to need a few fabulous recipes to feed your friends and family! It is common during Day of the Dead festivities to place decadent dishes, drinks (even cocktails) and treats on altars for the souls that have made their long journey back home from the other side. This feast had a little something for everyone and was one of the most incredible meals I have had in a long time! Over the next few weeks I will be adding the links to the recipes below as they go live on our sites, so keep an eye out for them.
¡Hola Jalapenõ! | Marigold Mezcal Margarita (Gluten Free & Vegan)|October 7
Beard & Bonnet | Vegan Green Pozole (Gluten Free)|October 11
¡Hola Jalapenõ! | Creamy Chicken Enchiladas with Jamaica Mole (Gluten Free) |October 14
Beard & Bonnet | Mexican Red Rice with Roasted Salsa Roja (Vegan & Gluten Free) |October 13
¡Hola Jalapenõ! | Rainbow Jicama Salad with Poppy Seed Dressing (Gluten Free)|October 18
¡Hola Jalapenõ! | Pumpkin Spice Pan de Muerto (Vegetarian)|October 10
Salt & Wind | Spiced Mexican Chocolate Coconut Pie (Vegetarian)|October 6
All of the amazing produce for our dishes and decorations was provided to us by the lovely folks at Melissa's Produce! Big love to them from all of us for making our feast intensely delicious and beautiful!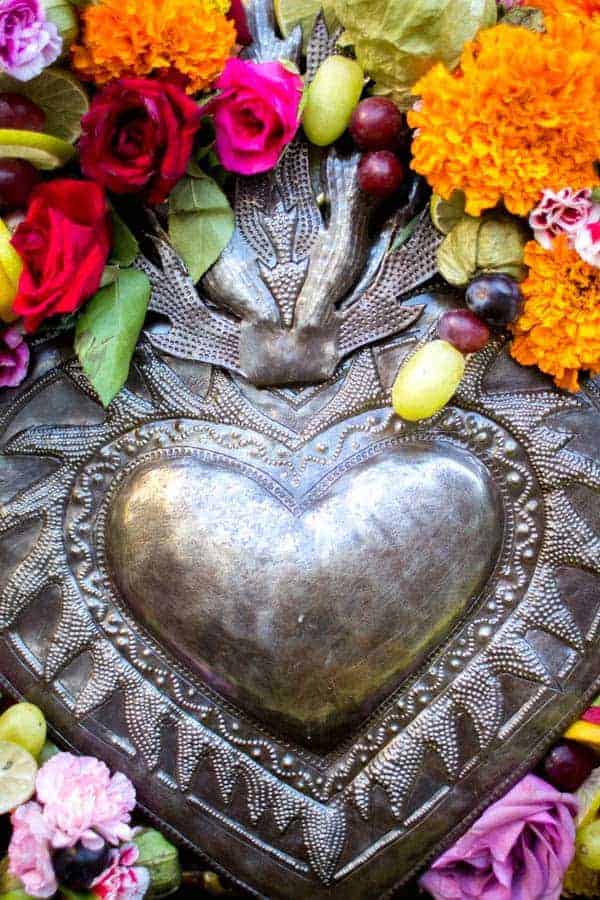 Like most feasts around the world today we had a pretty eclectic mix of diets sitting around our table. This menu really had something for everyone from the vegetarian to the meat eaters and our gluten free eaters too!
Now for the decorations:
The decorations for a Day of the Dead celebration are just as important as the food and drinks you serve. Altars are traditionally built to celebrate the lives of those that have passed on and to attract them to you from the other side. Typically you will find altars brimming with intensely fragrant and colorfully hued flowers like marigolds, roses and carnations as well as enticing fruits and vegetables. Special mementos like photographs, letters, poems, musical instruments, candles and incense all have a special place on the altar to celebrate those who have gone before us.
This year we created an array of fruit and floral mini altars in picture frames and even shot a handy little DIY for you ( coming up on October 12th ) so that you can make your own versions for your celebrations. They dry beautifully too so you can save them for next year's feast or just do what I plan to do which is leave them up and appreciate them for the rest of the season.
Happy feasting friends!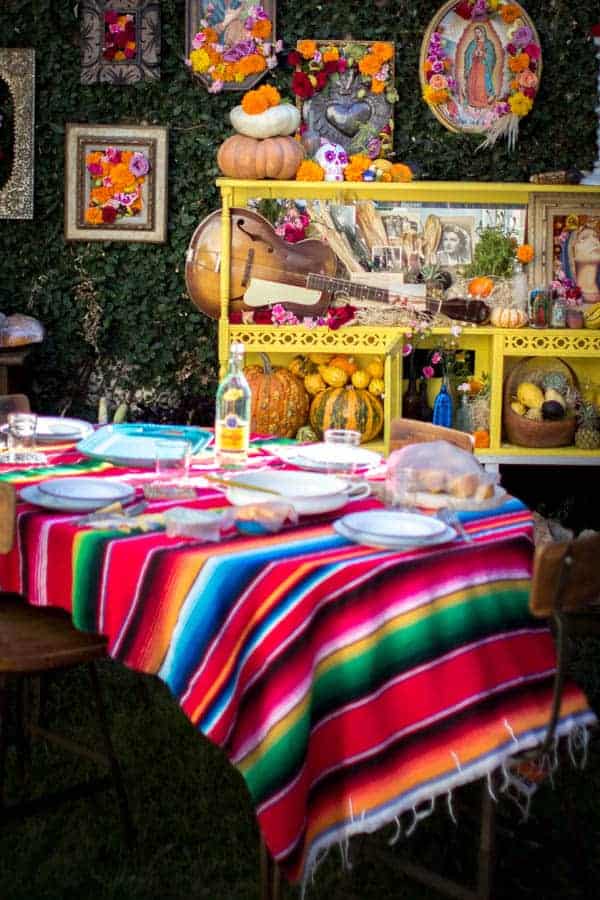 Want to be a part of our online community outside of the blog? It's easy!! All you have to do is follow @THISMESSISOURS on FACEBOOK, INSTAGRAM, TWITTER, YOUTUBE, or PINTEREST to see cooking demos and peeks into our day to day life.
Frequently Asked Questions