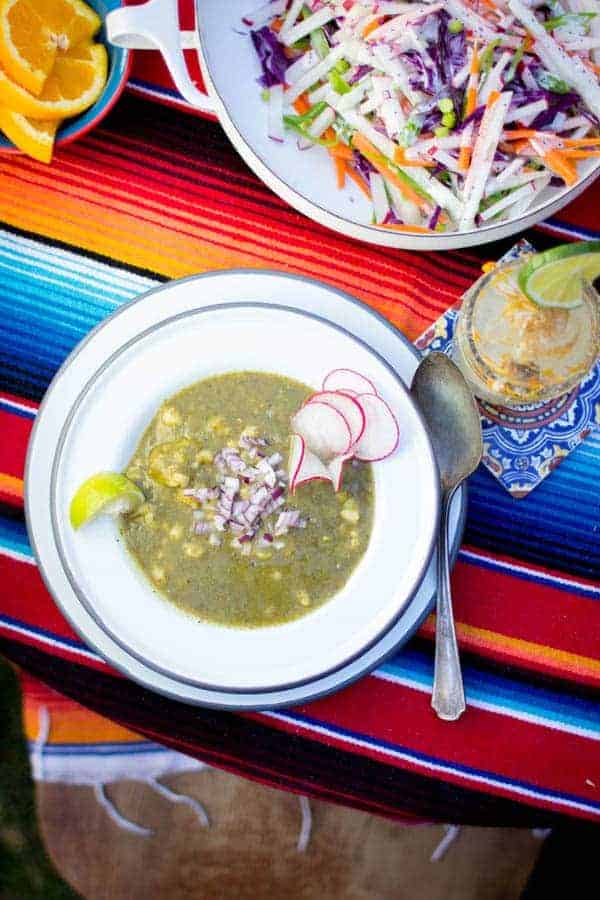 I am still reeling over here from our Day of the Dead feast with our friends Kate and Aida! The flowers, the food, the drinks - everything was SO good I had a hard time deciding what to share first, but seeing as though I have already made this vegan green pozole recipe twice since the party, I'm thinking this has to be the one!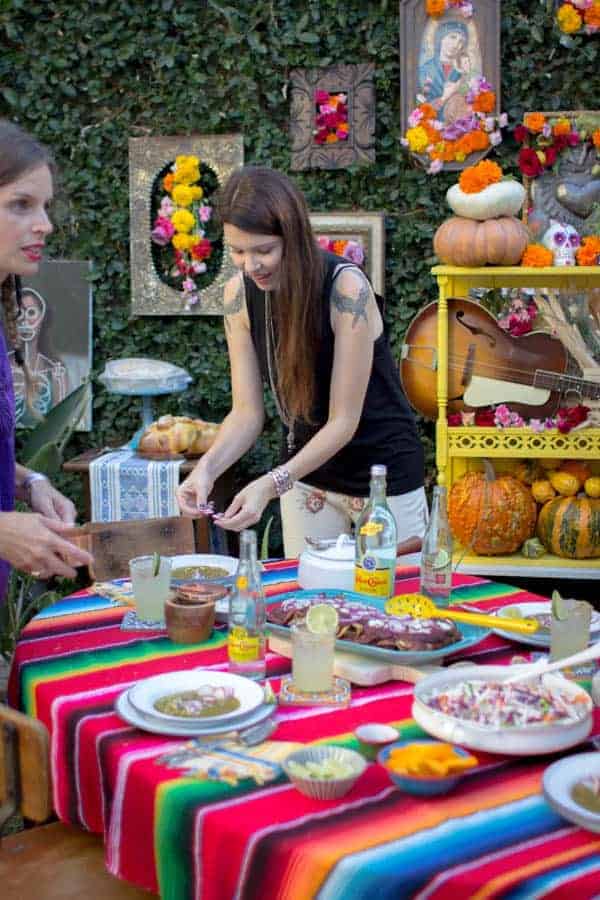 You guys, I think soup is sort of my thing now - I always seem to have a pot simmering on the stove during the fall and winter months and now it has been my key contribution to at least 3 of the past year's holiday feasts with family and friends. It's obviously my thing and I am just going to embrace it - just call me the soup lady!
This Vegan Green Pozole Recipe is filling and nutritious, the perfect meatless soup.
Since this was my star dish of the feast and Todd's vegetarian main dish I decided that cooking dried hominy was the only way to go. The process of cooking dried hominy is a lot like cooking dried beans. You soak, you rinse, you add an onion and some water then you cook the heck out of it over low heat for about an hour. Look, you could use canned hominy in a pinch, but I promise once you take the time to cook hominy this way you will never go back! Fresh cooked hominy will bloom to perfection on your stove top lending a tender slightly chewy bite.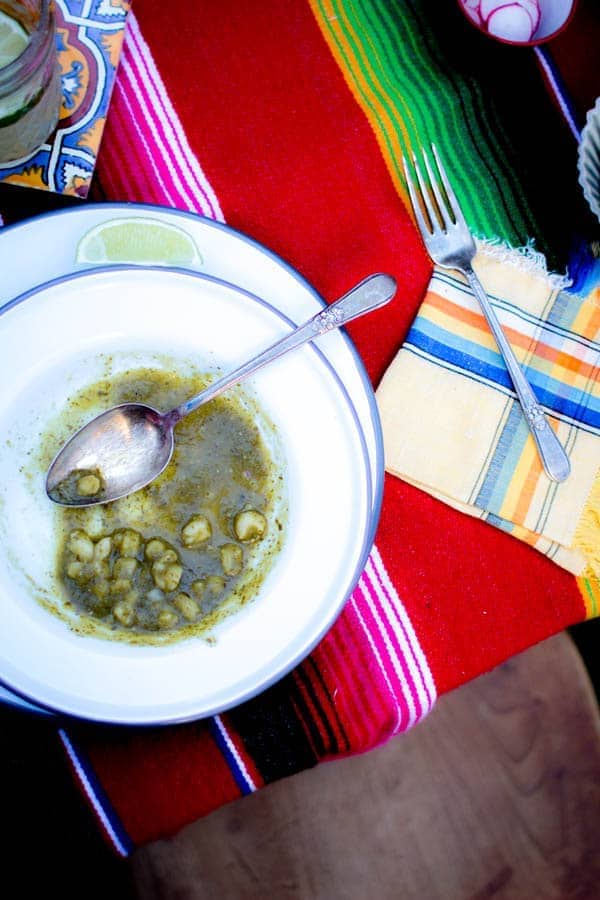 Now obviously this isn't your traditional pozole recipe made with pork, but don't sell this plant based version short either, because it is packed with an intense flavor punch from lots of roasted peppers, homemade tomatillo salsa and a variety of herbs and greens. Trust me between that and the chewy bite of the slow cooked hominy you are going to be hooked on this one too!
If you've tried this Hot and Spicy Vegan Green Pozole Recipe, I would be so grateful if you would rate it. Let me know what you think in the comments below. I just love hearing from you, and your reviews and comments really help others that visit This Mess is Ours!
Print
Hot and Spicy Vegan Green Pozole Recipe
Don't forget to rate the recipe, and let me know what you think about this Hot and Spicy Vegan Green Pozole in the comments below. I just love hearing from you. Your reviews/comments really help other people that visit This Mess is Ours!
1 ½ cups

dried hominy, rinsed

2

large white onions, peeled & quartered, divided
kosher salt

4

poblano peppers,

2

serrano peppers

1

jalapeno pepper

1

red onion, peeled & quartered

7

cloves garlic, peeled

1 ½

pounds tomatillos, husks removed

3

packed cups baby spinach leaves

2 cups

cilantro, leaves and stems roughly chopped

1 tablespoon

dried Mexican oregano

5 cups

vegan chicken broth, I use Massel
juice of

1

-

2

limes depending on taste
Garnish:
sliced radishes
chopped onions
avocado
tortilla chips
Instructions
Soak the pozole overnight in water to cover generously, the same amount as you would dried beans. Drain the pozole and place it in a large saucepan with 1 tablespoon of salt and 1 large white onion cut into quarters. Cover with a few inches of water and bring to a simmer. Cover partially and cook until the kernels are tender and have bloomed—this can take anywhere from 75 minutes to 2 hours. Remove from the heat and allow to cool. If there is excess liquid left drain it, but I have never had to drain mine.
Meanwhile preheat the broiler and line a sheet pan with foil. Roast the peppers on the pan under the broiler, turning occasionally until blackened and charred all over. Transfer the peppers to a paper bag and seal tight. (You could also place them in a bowl and cover with plastic wrap.) Once the peppers have cooled enough to handle remove and discard the papery skins, seeds and ribs. Transfer the pepper to a blender and set aside.
In a large skillet heat a tablespoon of oil over medium high - high heat. Immediately add the remaining white onion wedges, red onion, garlic and tomatillos. Turn the vegetables often, cooking for 8-10 minutes until completely softened and charred. Transfer to the blender with the peppers and puree until smooth.
Heat a tablespoon of olive oil in a large soup pot over medium heat. Add the blended tomatillo salsa and season with a generous pinch of salt. Simmer for 10 - 12 minutes. Add the spinach and stir until wilted. Remove from the heat - add the cilantro, oregano and 1 cup of broth. Transfer in batches to a blender or use an immersion blender to blend until smooth. Return to the soup pot and add the remaining 4 cups of broth, the cooked hominy and lime juice.
Serve immediately with desired garnishes.
Recipe Card powered by
Want to be a part of our online community outside of the blog? It's easy!! All you have to do is follow @THISMESSISOURS on FACEBOOK, INSTAGRAM, TWITTER, YOUTUBE, or PINTEREST to see cooking demos and peeks into our day to day life.
What are the health benefits of tomatillos?
Tomatillos are a low calorie fruit that are free of cholesterol, fat, and sodium. They are also rich in Vitamins A and C, as well as potassium. Tomatillos are known to improve heart health and alleviate arthritis symptoms.
Click here for more information on the health benefits of tomatillos.
Frequently Asked Questions