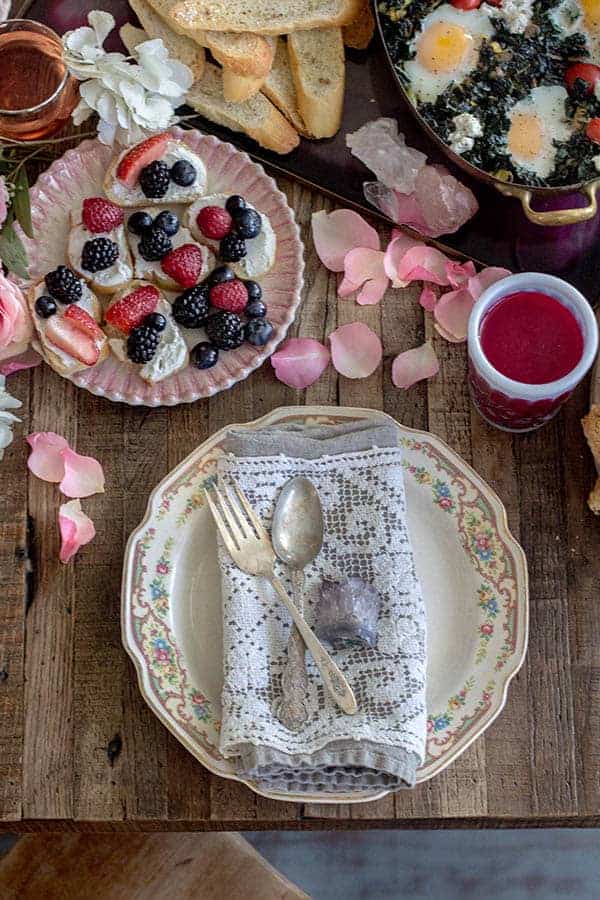 With Valentine's coming up it is the perfect time to do something special for my girlfriends, so I am teaming up with my friends at Ralphs and hosting a super special Galentine's brunch! These ladies have really gone above and beyond what I could have ever imagined, helping my family since my foot surgery. For over a month now they've been carting my kids to and from school, running errands for me and selflessly sacrificing their time to keep me company. I don't know how they have done it all and I honestly don't know what we would have done without them! Our kid's schedules haven't skipped a beat over the last 4 weeks and that is no small feat for me even on my best of days. Honestly, brunch is the least I can do to thank them.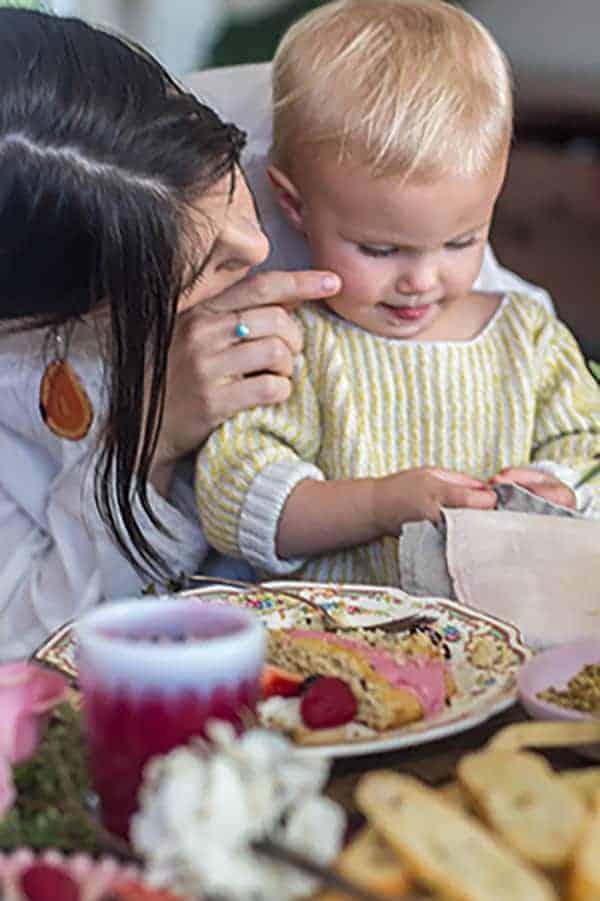 If you have some special gals in your life that make your days a little brighter and your life a little easier you may be looking for a fun way to celebrate them too, and believe me, brunch is the way to go! Curious what all goes into hosting an unforgettable Galentine's brunch? I've got all your bases covered from the menu to the place settings and then some.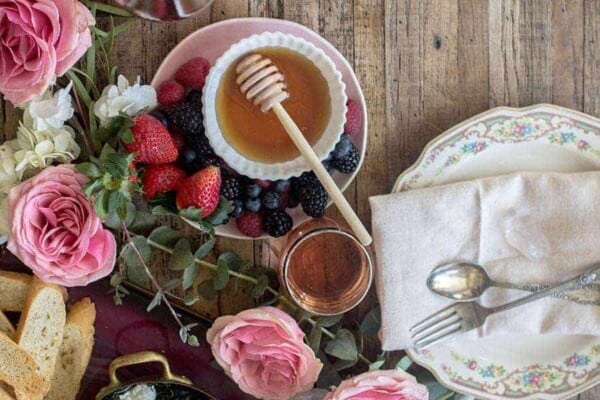 SET THE MOOD || We used a mixture of old and new elements on the table to create a more feminine, romantic feel for the party. Since I invited a very eclectic group of ladies to brunch I really wanted the table to celebrate how diverse and beautiful they all are. We pulled off these cozy vintage meets new age vibes by using my Grandmother's china and lace mixed with fresh blooms from Ralphs grocery, soft linens, and gemstones.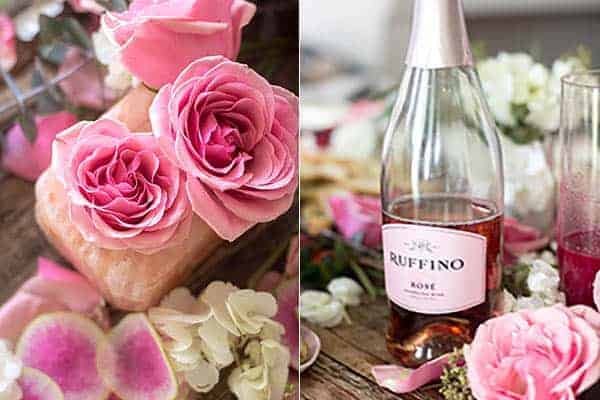 MAKE SHOPPING A CINCH || These ladies are a busy crew with hectic schedules and families that depend on them. Gone are the days of late night cocktail parties with the girls to celebrate Valentine's. Now we have found the hours between 10-12 to be our sweet spot where we can meet up, put work off for a few hours and really enjoy each others company. Since time is so precious I don't want to waste any of it running around to a bazillion different stores. My Ralphs Grocery store carries everything I need from beautiful fresh flowers and fine wine to an impressive variety of fresh produce, my favorite Simple Truth Organic products, meats, and fine cheeses. Plus, Ralphs has an enormous selection of gluten free products at great prices which I really appreciate. There is literally no need to go anywhere else for anything else!
SIPS & SUCH || I wanted to have plenty of drink options for the girls to choose from and since my friend Sabrina is the juice Queen I asked her if she wouldn't mind bringing one of her gorgeous fresh pressed juices to the party. She made this beauty with a combination of orange, strawberry, beet, and red bell pepper. The color was absolutely stunning and it tasted pretty incredible too! Alongside the juice, I set out sparkling water and a beautiful bottle of Rosé for us to indulge a little too.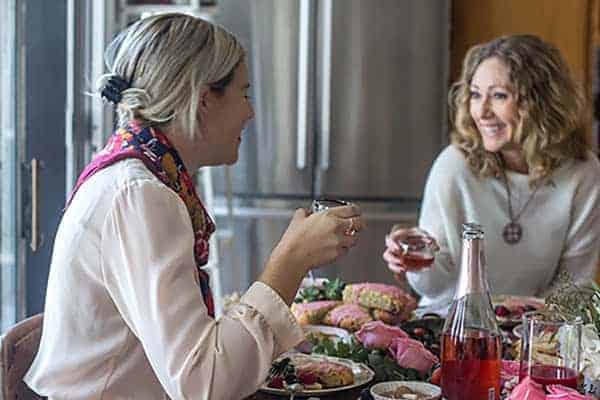 MIX & MINGLE || This year I opted to keep the gathering at my Galentine's brunch small and intimate. It was important to me that these lovely ladies that have been bending over backward to help keep our life on track were able to meet and to connect. It's rare for someone to find friends that feel like family. It filled my heart to have them all around the same table together!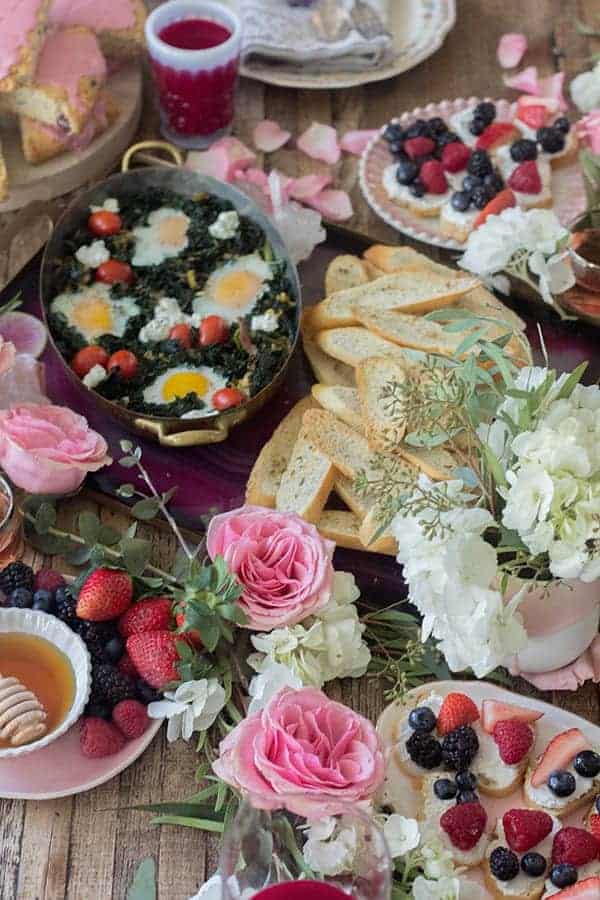 EASY EATS || Last but, definitely not least we should talk about the food! I always suggest a combination of sweet and savory so that there is a little something for everyone at the table, but I definitely don't think you should break your back (or your wallet) prepping difficult recipes! The two deceptively simple recipes that I created for our Galentine's brunch come together in less than 20 minutes each and were met with rave reviews from the ladies.
Mixed Berry and Goat Cheese Crostini | Easy Skillet Eggs with Kale and Leeks
***This post was sponsored by our friends at Ralphs grocery, all thoughts and opinions are our own.