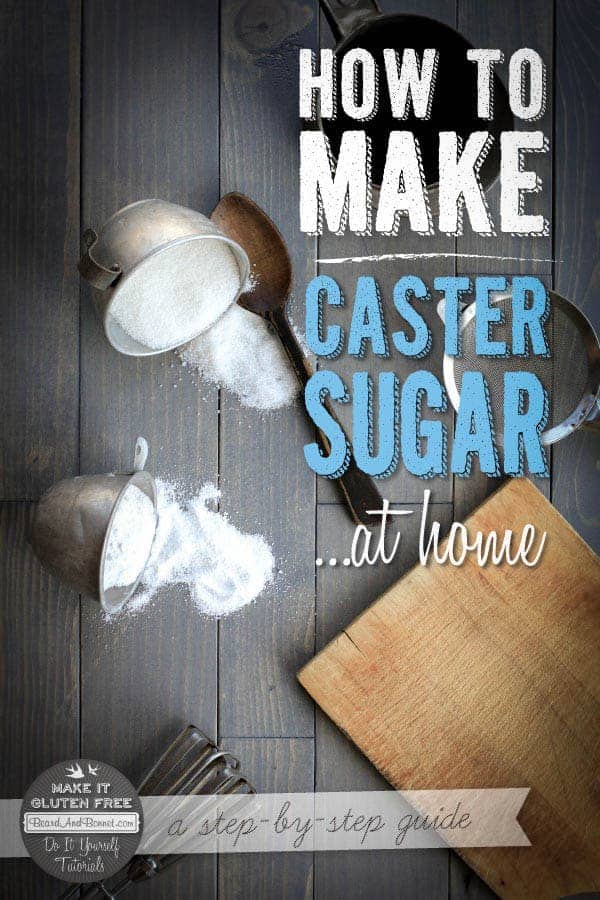 As spring is beginning to slowly roll into summer, I've noticed that I have been coming across recipes lately that call for caster sugar, AKA: superfine sugar. Caster sugar is basically white granulated sugar that has been ground to a very fine grain. Because of its small grains, superfine sugar dissolves faster than other types of sugar, so it is frequently used in dessert, cocktail, candy, and pastry recipes where large grains of sugar are undesirable. Caster sugar is perfect for sweet treats like meringues, ice cream, custard, sorbet, and even for sweetening cold drinks like tea or lemonade.
Since I have been hankering to make a summer inspired pavlova recently and I knew I would need caster sugar, I added it to my shopping list for my next trip to the market. You can imagine my surprise and utter irritation when after visiting 2 markets I only found (1) one-pound bag of caster sugar for the whopping price of $7.99!! Seriously?! Being the cheapskate that I am, I decided that if I could make my own brown sugar at home I could probably make my own caster sugar too.
So, when I made it home I broke out my trusty bag of organic sugar, threw a cup into the food processor and let it do its thing.  Turns out I was totally right, you CAN make your own caster sugar at home and since I was able to buy vegan sugar at Whole Foods, my homemade version is good for those of you that prefer vegan options as well.
Let's make caster sugar!
Step 1: Place 1 cup of granulated sugar into the bowl of a food processor fitted with the "S" blade.
Step 2: Process for 2-3 minutes.
Helpful hint from your old pal Meg here, throw a kitchen towel over the food processor when you are grinding the sugar. Some of the sugar will turn into a fine dust that will be able to work it's way out of the processor and the towel will catch them before they go and get all over your kitchen.
Once you have completed the processing time let the food processor sit with the lid on for a few minutes. This will allow the sugar dust in the bowl to settle instead of escaping when you open the lid. If you are concerned that your sugar may not be fine enough you can add the extra step of sifting the sugar through a fine mesh sieve and processing any large granules that are left again.
If you've tried this Recipe for how to make Caster Sugar, I would be so grateful if you would rate it. Let me know what you think in the comments below. I just love hearing from you and your reviews and comments really help others that visit This Mess is Ours!
Print
How To Make Caster Sugar (Gluten Free & Vegan)
Don't get hijacked at the store by high prices for specialty items like caster sugar. Make it at home yourself!
Don't forget to rate the recipe and let me know what you think about this Caster Sugar Tutorial in the comments below. I just love hearing from you. Your reviews/comments really help other people that visit This Mess is Ours!
1 cup

organic granulated sugar, if you are on a vegan diet use vegan granulated sugar from Whole Foods
Instructions
Place the granulated sugar into the bowl of a food processor fitted with the "S" blade. Lock the lid into place and place a kitchen towel over the processor. Process on high for 2-3 minutes. Allow the sugar dust in the bowl to settle for a few minutes before removing the lid.
The yield will be slightly less than a cup.
Recipe Card powered by
Disclaimer: This post contains affiliate links, I may get a small commission if you decide to purchase a product through one of those links. This revenue makes it possible for me to continue to provide you with great recipes and maintain this site. Thank you for supporting us here at Beard and Bonnet!
Want to be a part of our online community outside of the blog? It's easy!! All you have to do is follow @THISMESSISOURS on FACEBOOK, INSTAGRAM, TWITTER, YOUTUBE, or PINTEREST to see cooking demos and peeks into our day to day life.
Frequently Asked Questions