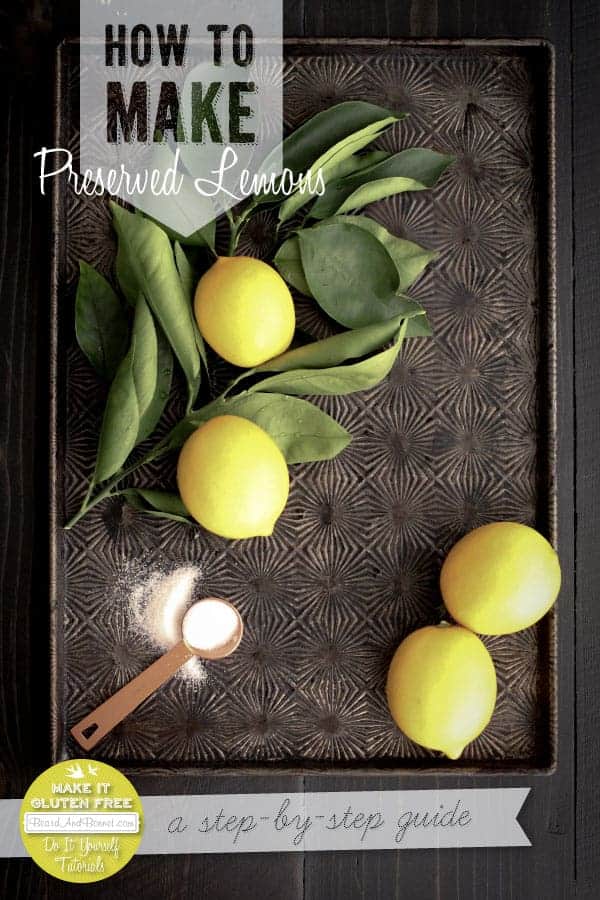 It wasn't until last year that I tried a preserved lemon after my neighbor Beth was nice enough to share a few of hers so that I could make a recipe from her site that called for them. I honestly don't know why I hadn't had them before except for the fact that I can't remember seeing many jars of them growing up in the south. Or it could have been the fact that for years I avoided anything pickled due to my insanely irrational fear of pickles...don't get me started - it's a crazy story. This year when my Mother in Law's Meyer lemon tree yielded quite a bit of fruit the same week my CSA packed my box full of Meyer Lemons I knew that it was time I make these bad boys for myself.
If you haven't guessed already preserved lemons are lemons that have been pickled in salt and their own juices and left to sit for a month before using. Salting the lemons mellows out their bold, tart flavor, and takes their lemony essence to new levels. All you need to make preserved lemons yourself are lemons, salt, and a jar. Really, that's it! After that, it's as simple as cutting washed lemons, stuffing them with sea salt, packing them into a jar and pressing until they release their juices, then letting them rest until the rind has softened and is ready to eat. You read that right - it's the rind that you eat once the lemons are preserved not the juice or the pulp. Simply rinse off the salt, remove the flesh from the rind, then add them wherever you need an additional flavor boost!
Let me show you how to make preserved lemons!!!
Step 1: Select 3-5 (depending on size)  ripe, organic Meyer lemons and wash well.
Meyer lemons have a sweeter and more floral taste than other lemons and can even have an slightly orange tint with very thin skins making them an ideal candidate for preserving. Since we will be eating the rind of these lemons I suggest splurging on organic. Wash the lemons, scrubbing the skin gently to remove any dirt.
If you cannot find Meyer lemons you can use other varieties like Eureka or a regular lemon - but remember Meyer lemons are not as acidic as a regular lemon so the final flavor of your preserved lemons will be more tart than if you used Meyers.
Step 2: Remove the ends from both sides of the lemons.
Step 3: Cut the lemons into quarters, only slicing ¾ of the way through so that the quarters remain intact.
Step 4: Place a teaspoon of sea salt in the bottom of a sterilized quart sized jar then a teaspoon of sea salt inside the quartered lemon.
In case you are unsure how to sterilize a canning jar - Weck has great instructions you can access by clicking here. I am no canning expert, but I follow these instructions and have never had a problem.
Step 5: Place the quartered, salted lemon in the prepared jar upside down and squish!
You can use clean hands or a wooden spoon to complete this task, but it is by far my favorite part. Push down hard on the lemon so that it releases its juices into the jar.
Step 6: Sprinkle a teaspoon of sea salt over the lemon in the jar.
Now that you know what to do repeat steps 2-6 until the jar is full with a little room at the top and the lemons are completely submerged in the juice. Should you need to you can squeeze more lemon juice into the jar to cover.
Step 7: Place the lid on the jar  and let it sit at room temperature for 5 days, giving it a shake and turning it upside-down a few times a day to redistribute the salt.
After 5 days transfer the lemons to the refrigerator for 3 weeks, shaking and turning upside down a few times a day. Some people leave their lemons out on the counter indefinitely, some people refrigerate after only 3 days...there really aren't any wrongs here it is just a matter of personal taste. Left at room temperature the lemons flavor will continue to develop and change in the brine where as placing the preserved lemons in the refrigerator stops this continuous flavor evolution.
At the end of 3 weeks your lemons are ready to use- simply rinse off the salt, remove the flesh from the rind, then add them to rice, salads, and main dishes. Wherever you need an additional flavor boost!
[mc4wp_form id="7635"]
Thanks to my sweet daughter Eliza for being a willing and wonderful hand model on this post!