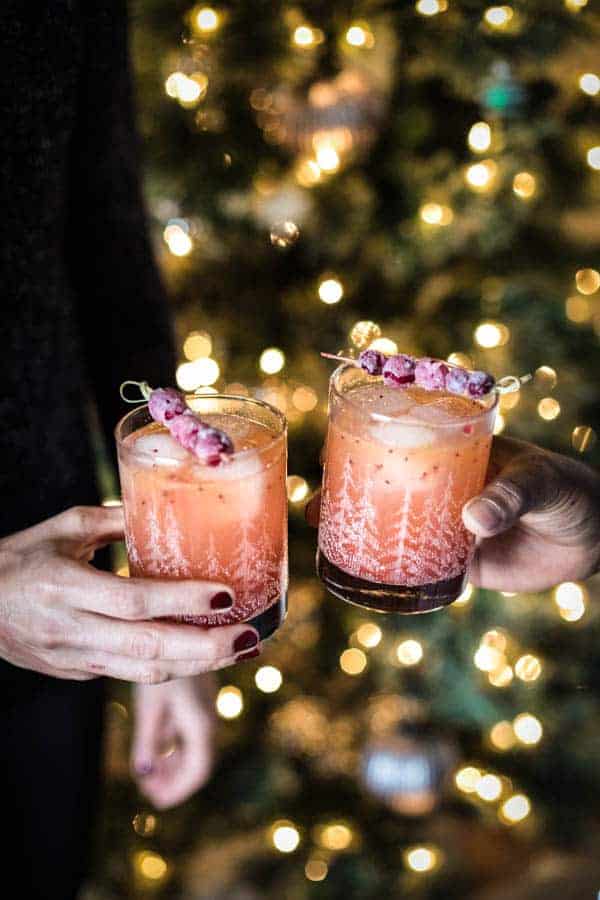 Image by Salt & Wind
If you are anything like us the months from mid-October until the end of the year seem like a total blur. Between school and work obligations, holiday activities, and crazy travel schedules we tend to all fly by the seat of our pants for most of the season. So, when the stars aligned and an impromptu weekend hang out just happened to work out with our Friends Who Fête gal pals, Kate & Aida, we jumped at the chance to throw a little last-minute holiday party together.
Since we didn't have a ton of time to plan we all decided to dig deep into our seasonal pantries for menu inspiration. All of the Christmas party food and decor ideas for this party are easy to recreate with items you probably already have on hand or with 1 simple trip to the grocery store.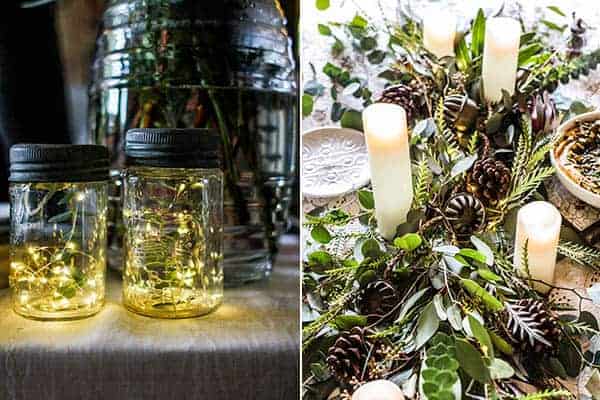 Images by This Mess Is Ours & Salt and Wind
LAST-MINUTE PARTY DECOR || No stuffiness involved here, just a few holiday decorations, a festive centerpiece, and a boat load of holiday spirit!! This party didn't require too much decoration to feel festive since there was already a tree full of twinkle lights and beautiful ornaments setting about. We simply incorporated a few of our favorite serving items and a festive holiday centerpiece to complete the set up in a flash!
How To Create A Festive Holiday Table Centerpiece || This Mess Is Ours
SHOP OUR FAVORITE LAST-MINUTE PARTY PROPS || Gold Flatware Set || Flora Poste Shibori Essex Linen Napkins || Juliska Whitewash Cocktail Plates || Japanese Yarai Cocktail Mixing Glass || Copper Bartender Set || Stainless Steel Straws || Industrial Wood and Metal Tray || Flameless pillar candles with remote || Pack of 6 Starry String Lights || Marble & Wood Cheese Board || Mason Jars || Mini White Cake Stand || WRF Lab Ceramic Dinnerware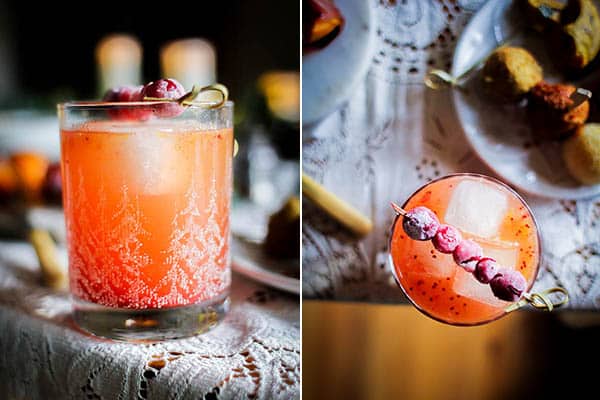 Images by This Mess Is Ours 
LAST-MINUTE PARTY SIPS || No party is complete without a signature drink and this party happens to have a few to choose from. Our 2 cocktails of the day were inspired by the seasonal flavors of eggnog and cranberry sauce. While a festive handcrafted soda bar was created for our friends who were in the mood for equally festive non-alcoholic sips.
Cranberry Sauce Dark & Stormy || This Mess Is Ours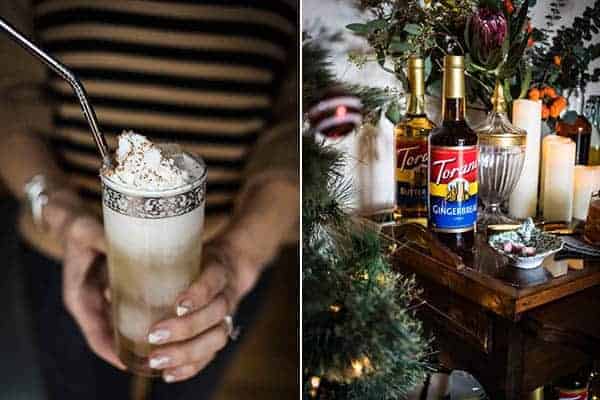 Images by Salt and Wind
How To Make A Handcrafted Soda Bar For Your Next Party || Salt & Wind 
Spiked Eggnog Italian Soda || Salt & Wind  
Spiced Cranberry Cinnamon Italian Soda || Salt & Wind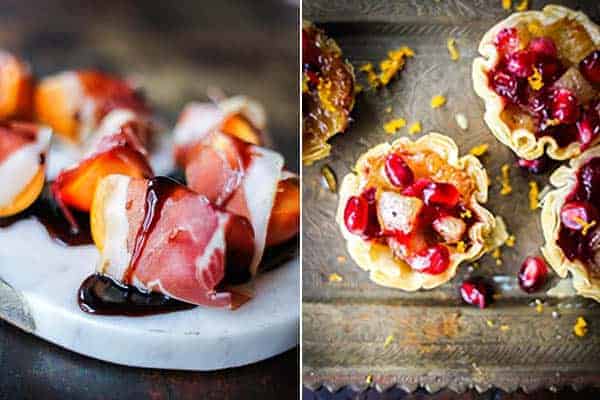 Images by This Mess Is Ours
LAST-MINUTE PARTY EATS || The fabulous Christmas party finger food ideas listed below are inspired by each of our seasonal pantries and the staples we keep on hand. Spur of the moment get togethers don't leave time for extensive shopping lists and lots of prepping, so we each set out to create a few show stopper recipes that will blow your friends minds without requiring you spending a ton of time in the kitchen.
Pear, Cranberry, and Brie Mini Tartlets with Hot Honey Drizzle || Salt & Wind 
Speck-Wrapped Persimmons With Balsamic Honey Glaze || Salt & Wind  
Roasted Butternut Hummus with Crispy Fried Sage || This Mess Is Ours
Mango Habanero Cocktail Meatballs || ¡Hola Jalapenõ!
Honey Chipotle Cocktail Meatballs || ¡Hola Jalapenõ!
Peppermint Mocha Cupcake Bites || ¡Hola Jalapenõ!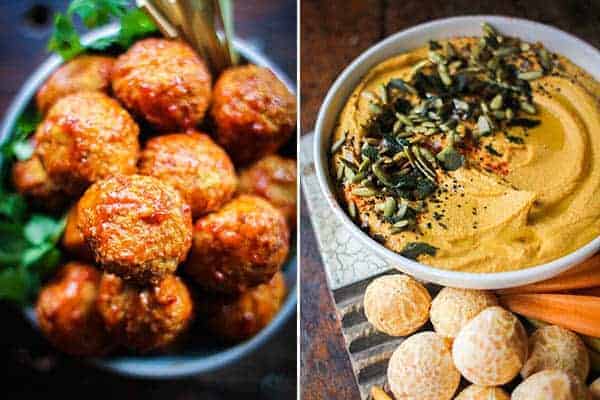 Images by This Mess Is Ours
LAST-MINUTE PARTY STORE-BOUGHT INGREDIENTS || All of the ingredients we used for our recipes were inspired by items we typically have hanging out in our pantries during the holiday season with the exception of just a few items that you may have to run grab at the store. While each recipe link above has the individual items needed to prep and serve that recipe in it I decided to share our specialty store-bought ingredients here with you too so you have them all in one place!
Meg's store-bought ingredients || Brazi Bites || Trader Joe's Cranberry Orange Relish
Aida's store-bought ingredients ||  La Quercia Speck Americano || The Fillo Factory Mini Fillo Pastry Shells || Torani syrups 
Kate's store-bought ingredients ||  Nature's Rancher Angus Beef Meatballs || Mrs. G's Mango Ginger Habanero Jelly || La Costeña Chipotle Sauce
SaveSave
This post contains affiliate links. If you make a purchase from one of these links we will receive a small percentage in return. We use these funds to continue to bring you new recipes and posts and greatly appreciate your support! 
Want to be a part of our online community outside of the blog? It's easy!! All you have to do is follow @THISMESSISOURS on FACEBOOK, INSTAGRAM, TWITTER, YOUTUBE, or PINTEREST to see cooking demos and peeks into our day to day life.
SaveSave
SaveSave
SaveSave
SaveSaveSaveSave
SaveSave
SaveSave