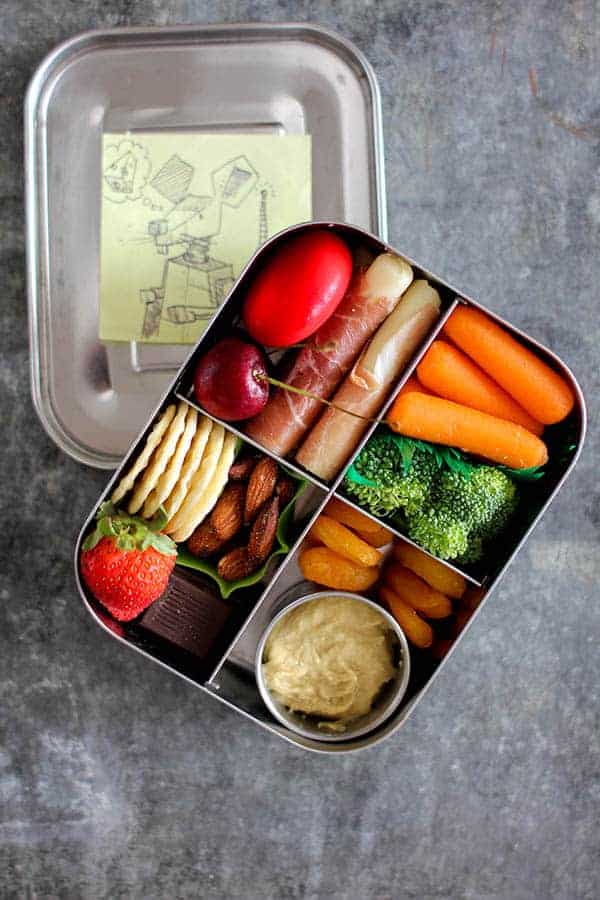 Just like adults, kids LOVE charcuterie and cheese boards. Our son loves them so much that we started packing him a charcuterie box to take to school to help me clean out the bits and bobs from the pantry and fridge. This particular one has a rogue strawberry, some crackers from the bottom of the box, nuts, raw veggies with that last spoonful of hummus in the fridge, and a little chocolate square from our candy box.
Literally anything goes here and the sky is the limit. Often times I use lunches like these as a way to also introduce new foods to our son because I find that he is more likely to take a nibble and try something new from the lunch box than he is at the kitchen table when we are all watching him.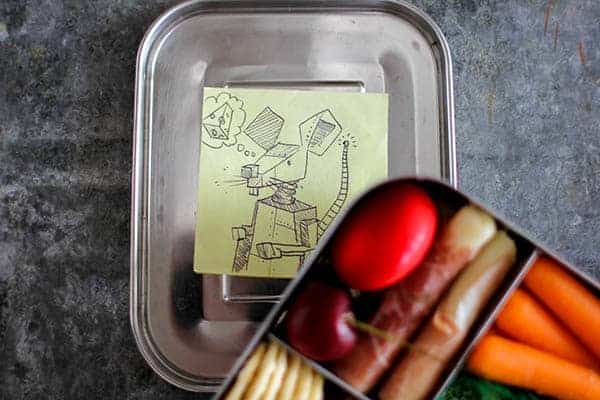 No need for a recipe here folks, this one is all you and is inspired by the items that you keep stocked in your house, but here are a few serving suggestions to get you started.
Dairy || cheese sticks, Baby Bell wheels of cheese, thick slices of cheddar, Swiss, Tuscano, prosciutto wrapped mozzarella, mini goat cheese rounds
Fruit || cherries, raspberries, strawberries, apple slices coated in lemon water, grape clusters, blackberries, dried fruits like apricots, mango, raisins, craisins, yogurt covered raisins, dates, prunes, mandarin segments
Raw Vegetables || carrots, broccoli, celery, cucumber slices, radish slices, bell peppers, thinly sliced zucchini
Cooked Vegetables || corn on the cob, steamed baby carrots, steamed/roasted cauliflower or broccoli, roasted sweet potato wedges, roasted fingerling potatoes, lima beans without broth, steamed edamame in pods, steamed peas
Meat || sliced lunch meat, prosciutto, pepperoni slices, salami rounds or sticks, grilled chicken slices, meatballs
Crunch Factor || crackers, potato chips, shoestring potatoes, crispy freeze dried fruit and vegetables, nuts, rice cakes, bagel chips, pretzels, crispy tortillas.
Sweet Treats || chocolate, small cookies, marshmallows, gummies, nut brittle, chocolate covered almonds, mini peanut butter cups. If you like to bake these healthy chocolate chip cookies would be great too!
If you are looking for a cute lunchbox, we highly recommend Lunchbots containers! They are super versatile and really stand the test of time.
Looking for even more lunchbox ideas?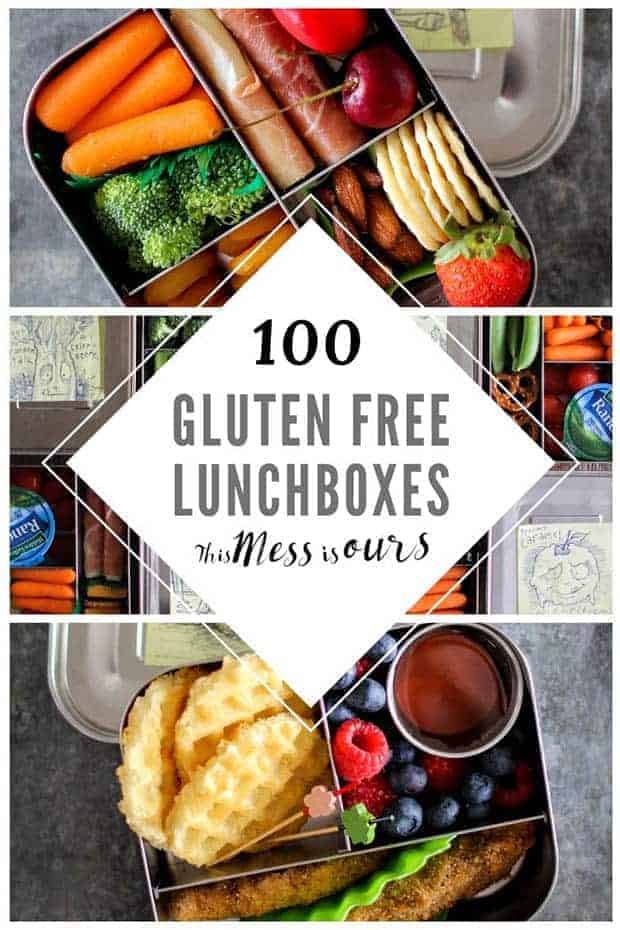 SaveSave
SaveSave
SaveSave
SaveSave