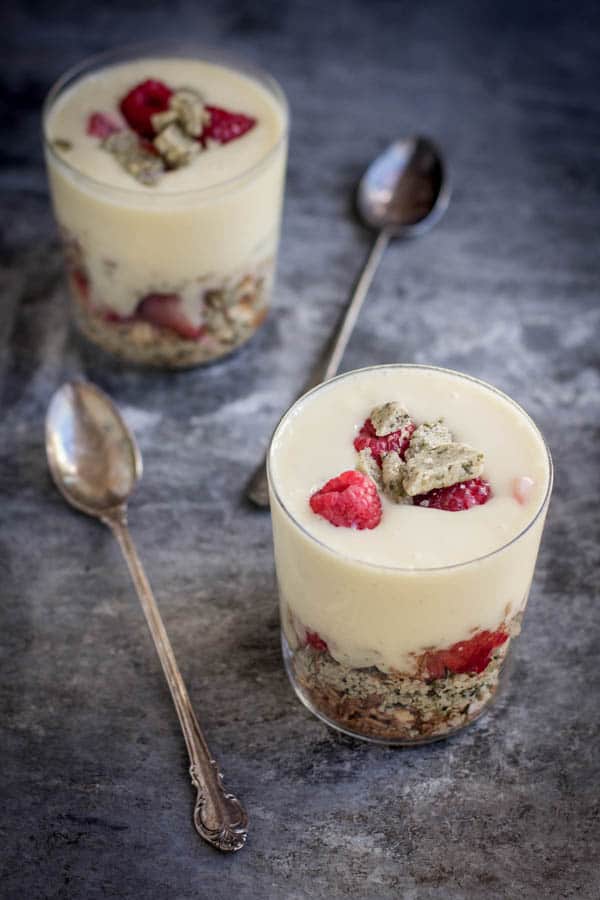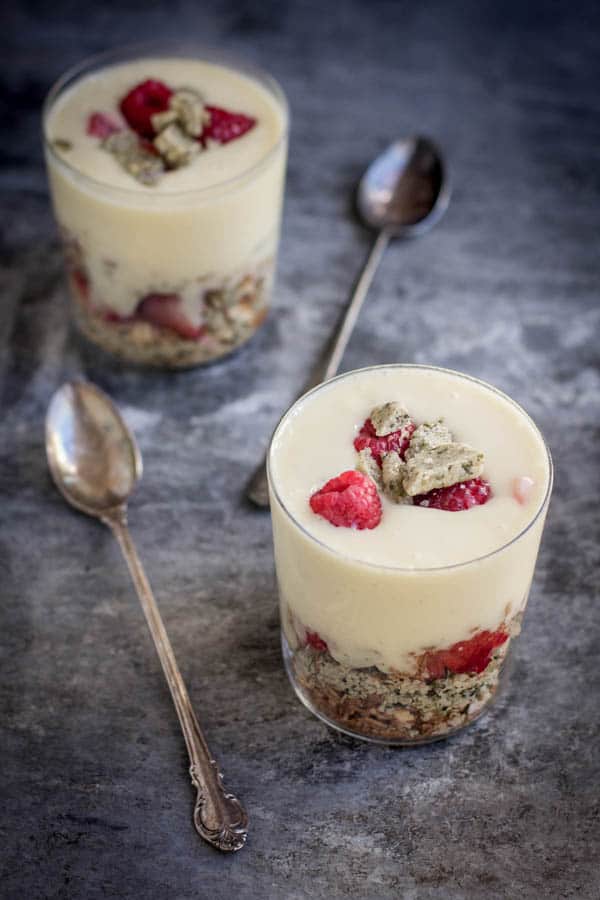 It's officially here - the first day of school for Eliza is this Wednesday. How is it possible that I have an 8th grader? Honestly, I feel like I am in a time warp over here - when did my sweet little girl grow up? Getting ready for school this year has been interesting with lots of firsts for us.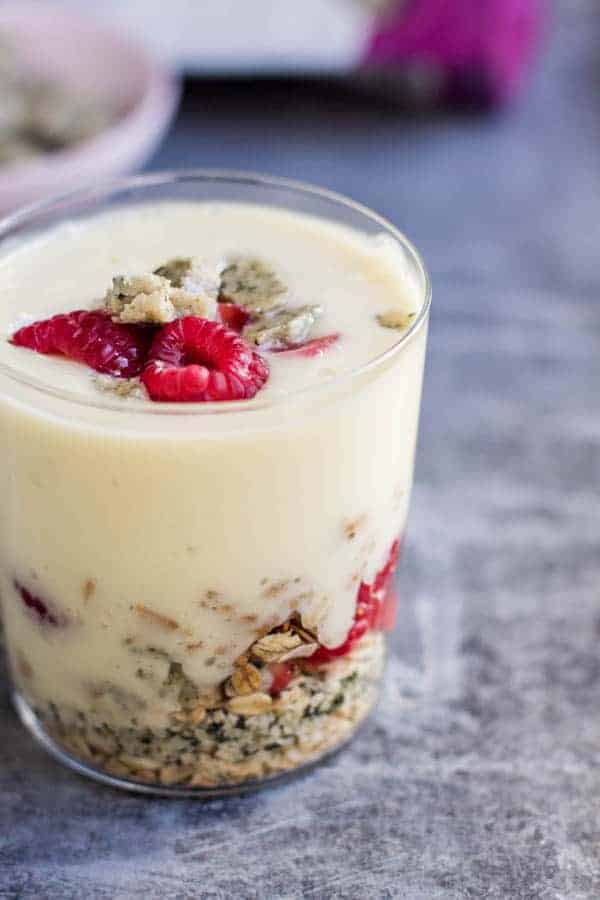 Eliza took it upon herself to download her own school supply list, she requested a weekly planner and she is actively engaging in conversations about what foods she needs for me to get at the store for her lunch every day and what type of breakfasts she thinks would fill her up and keep her focused throughout the morning. Seriously, what? You might need to pinch me.
Eliza is a HUGE fan of smoothie bowls at home because according to her plain old smoothies just don't fill her up enough to make it until lunch, but smoothie bowls that are packed full of fresh fruit, granola, seeds and nuts really hit the spot! I wasn't quite sure how she would navigate eating a smoothie bowl on her way to school in the mornings and what exactly she would do with a spare bowl at school all day, but we were determined to make it work.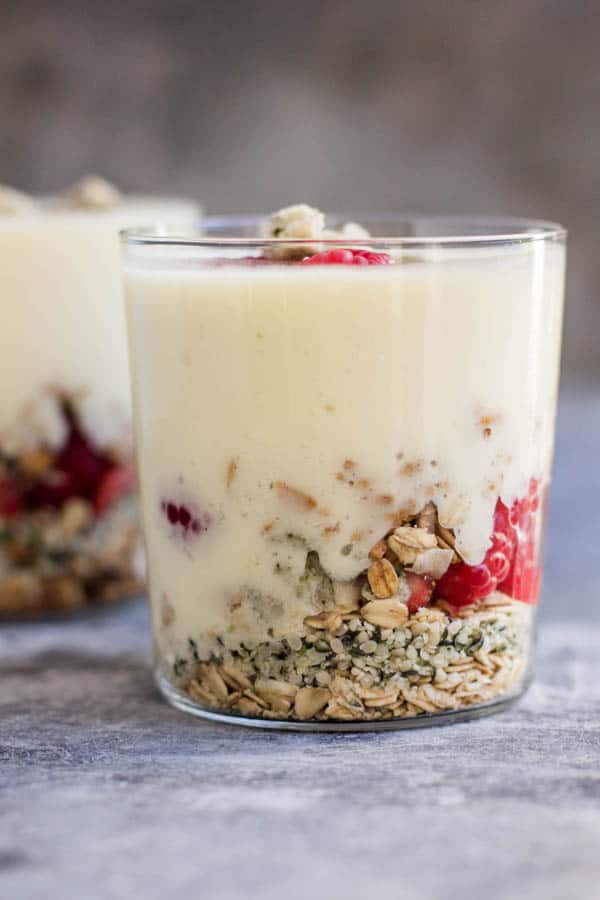 After digging around in our lunch box supplies for a bit we had an idea - thermoses! We could spend Sunday afternoon layering all of the dry ingredients for smoothie bowls into thermoses and prepping the fruit for the week into storage containers. Then each morning all we have to do is add the fresh fruit and pour her smoothie of the day on top. Super fast, super easy and super healthy! Man, this kid is smart.
Eliza has decided that for the first week of school she will be taking her favorite French Vanilla Granola mixed with Hemp Hearts and Hemp Heart Bites, a sprinkle of bee pollen, fresh raspberries, strawberries and our newest smoothie obsession - my super easy 4-ingredient pina colada smoothie! Seriously, so easy a 13-year old can make it by themselves in the morning!
Hemp Heart Bites are Manitoba Harvest's newest creation and we are loving how they add lots of texture to our smoothie bowls and make a fun healthy choice for snacking on the run. Heck, I have even crumbled these up over a roasted sweet potato with a little brown sugar, butter and pecans. (It was a total winner and a great fall lunch in case you are on the lookout for delicious lunch inspiration!)
[mc4wp_form id="7635"]
Print
Pina Colada Upside Down Smoothie Bowl
If you are building these upside down smoothie bowls for easy weekday breakfasts only add the dry ingredients into the containers and store until ready to eat. Then layer on the fresh fruit, smoothie of choice and the toppings.
Prep Time:

10 mins

Total Time:

10 mins

Yield:

1

1

x
For the upside down bowl
For the smoothie
½ cup

canned light coconut milk

1

banana cut into pieces (not frozen)

1

heaping cup frozen pineapple chunks

½ tablespoon

freshly squeezed lime juice
Instructions
Build the upside down smoothie bowl
In a large glass, mason jar or travel thermos add the granola, Manitoba Harvest Hemp Hearts, the ¼ cup of fruit and 4 roughly choppedManitoba Harvest Hemp Heart Bites, a sprinkle of bee pollen and additional nuts and seeds if desired.
For the smoothie
Combine the coconut milk, banana, frozen pineapple and lime juice in a high speed blender and process until completely smooth.
To serve
Pour the smoothie over the dry ingredients and top with the additional tablespoon of fruit and the remaining 2 roughly choppedManitoba Harvest Hemp Heart Bites. Serve immediately.
Recipe Card powered by
Compensation for this post was provided by Manitoba Harvest. Opinions expressed here are my own.