Since it is Spring and all, I have been buzzing through my "to-do" list and #1 on that list is to share some of my favorite cookbooks (from some of my favorite people) with all of you; and when I say share I mean give all of you fabulous B&B readers a chance to win a copy of your own! That's OK with you right?! Last week we talked about my lovely friend Tess and her newly released book, The Blender Girl, and this week friends, I am sharing with you this beautiful book, Everyday Classics, from Alexa Croft of Lexie's Kitchen. I must admit I have been holding onto this book for a little while since its release which has given me the opportunity to cook from it quite a bit and I love it!
Photos courtesy of Lexie Croft, Everyday Classics
Lexie was one of the first bloggers that I reached out to when we found out about Kash's gluten intolerance. I knew from reading her story that she had been through the ringer with medical professionals as well and was having great successes with her son through changing his diet. Reading her blog gave me hope and having her as a friend meant the world to me! Lexie worked tirelessly on this book as she wrote, designed, and photographed the entire thing from start to finish. This is one of those books that you flip through and you can feel the love that went into it. Here is what you can expect from Everyday Classics:
68 Total Recipes—100% Gluten-Free, Dairy-Free, Egg-Free, and Soy-Free
67 Corn-Free or Easily Corn-Free Recipes
58 Tree Nut-Free or Easily Tree Nut-Free Recipes
54 Coconut-Free or Easily Coconut-Free Recipes
42 Vegan or Easily Vegan Recipes
46 Vegetarian or Easily Vegetarian Recipes
I am a big believer in reading reviews and testimonials myself so I thought it would be fun to share a few about Everyday Classics here with all of you:
"After a diagnosis of food sensitivities, I was lost. I didn't know what to do. Thankfully the internet led me to Lexie's Kitchen. It started with pancakes and led to full meal plans. We were saved!" —Trina B.

"Food is what brings our family together and with these recipes we have found a way for everyone to feel included and special. Thank you for this precious gift." —The McIntosh Family

"Cooking for a child with food allergies is a challenge, and Lexie is a genius in the kitchen. Her recipes are both healthy and delicious." —Amanda F.
Lexie has even put together a little sneak peak of Everyday Classics so that you can get a feel for the book and try out some of her amazing recipes! Click here for a peak.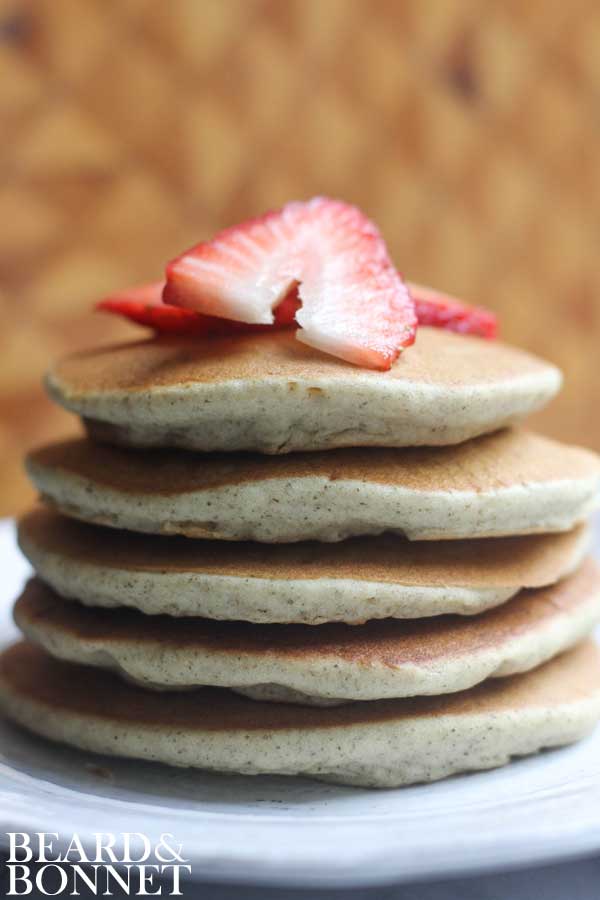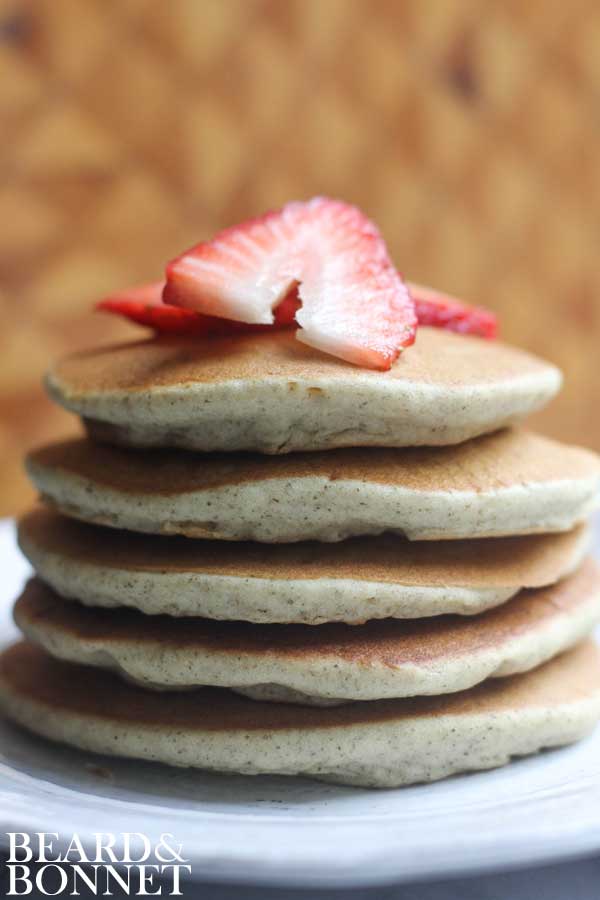 These pancakes are quite possibly my favorite recipe in the whole book! Seriously, pancakes. These little babies are gluten, dairy, egg, corn, soy, tree nut, and coconut free. Phew, that is a mouthful. I'll tell you what they are full of though...taste! These pancakes are soft, pillowy, and simply gorgeous. I may have eaten the entire stack of 5 pancakes in the photograph (ok! I did), but seriously I didn't even care that I was uncomfortably full and had to loosen the drawstring on my "work out pants." Besides flavor and texture my other favorite part about Lexie's pancakes is that I can whip them up in my blender. Did you just swoon? I think I felt it!
Print
Saturday Morning Pancakes
Author:
Prep Time:

15 mins

Cook Time:

10 mins

Total Time:

25 mins

Yield:

14

4-inch pancakes

1

x
1 ⅓ cups

warm water

2 tablespoons

white chia seed meal

¼ cup

melted honey

3 tablespoons

melted palm shortening

2 teaspoons

vanilla extract

2 cups

Bob's Red Mill AP GF Flour or Gluten-Free Flour Blend (see page 39)

½

heaping teaspoon salt

¾ teaspoon

baking powder

½ teaspoon

baking soda
Instructions
Preheat oiled griddle to 350-375 ̊F.
In a large mixing bowl whisk together water and chia seed meal. Set aside
-3 minutes to thicken.
Whisk in honey, shortening, and vanilla extract. Add flour and salt and whisk until smooth. Add baking powder and baking soda. Whisk just until incorporated.
Using a ¼-cup measure gently scoop batter onto griddle to form 4-inch
pancakes. Cook until bubbles appear and begin popping on surface.
Flip and cook 1-2 minutes more. Best enjoyed hot off the griddle
Notes
Batter may be prepared in a blender. Simply add all ingredients to blender container except for baking soda and baking powder. Blend until smooth. Add baking soda and baking powder and blend just until combined. Pour batter from blender container for perfectly round pancakes.
Recipe Card powered by
Recipe reprinted with permission from Everyday Classics by Alexa Croft
Giveaway begins at midnight PST 4/11/2014
a Rafflecopter giveaway

Disclaimer: This post contains affiliate links, I may get a small commission if you decide to purchase a product through one of those links. This revenue makes it possible for me to continue to provide you with great recipes and maintain this site. Thank you for supporting us here at Beard and Bonnet!