Confession: I paid $6 for an epic date smoothie....it was so good in fact that I went back and paid $9 for a large two days later. I have to admit I am pretty ashamed of this. I mean seriously, there are SO many things I could have done with that money. $15 worth of gas would get me around town for about a week. I could almost take the fruit bandit to a matinee movie or have coffee with my daughter. Instead I spent that money on smoothies! Granted it was during the Christmas rush and I was feeling like a smoothie breakfast was a MUST while I was on the go, but still. $15 for 2 smoothies!!! I just knew that I had to learn how to make a smoothie like that.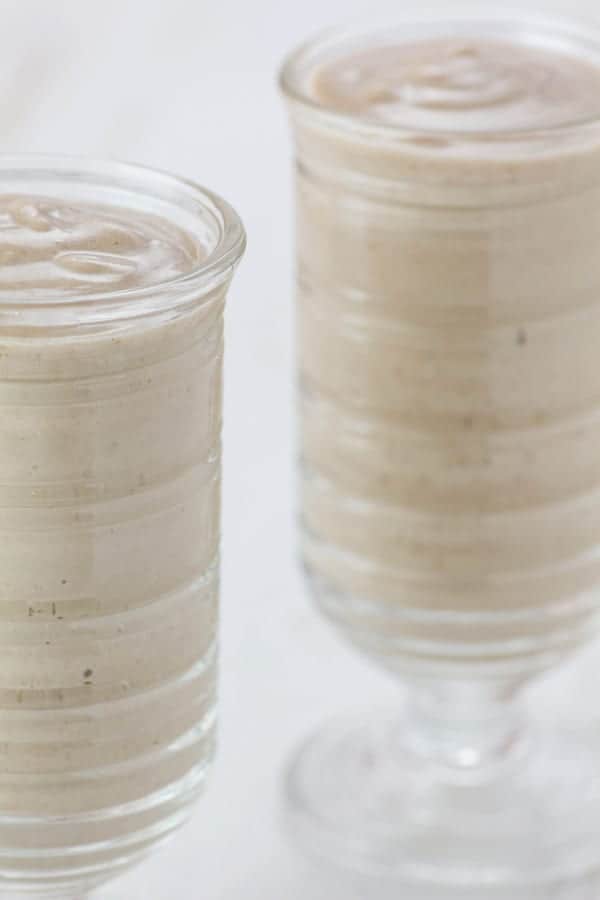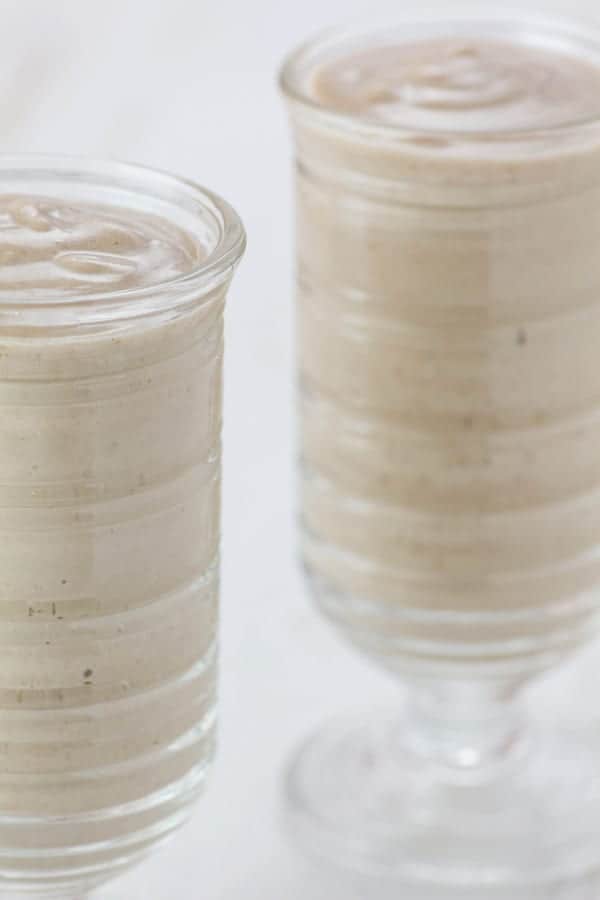 Don't spend a fortune! You can learn how to make a smoothie right at home.
Last weekend when the craving hit for that epic pricey smoothie I decided enough was enough - I was going to make that smoothie on my own! I knew the main ingredients were dates, nut milk, and spices, but that was about it. I tested different nut milks, I added all sorts of warming spices, I pinched some sea salt, and I ultimately decided that there was no ice only frozen bananas.
All I can say in the end is that this is one lip smacking, soul warming, hunger quenching smoothie that I would pay epic prices for if I hadn't already figured it out! Bonus: this one is so cheap to make I don't mind sharing it with our kids.
If you've tried this Spiced Date Smoothie Recipe, I would be so grateful if you would rate it. Let me know what you think in the comments below. I just love hearing from you, and your reviews and comments really help others that visit This Mess is Ours!
Print
Spiced Date Smoothie
Don't forget to rate the recipe, and let me know what you think about this Spiced Date Smoothie in the comments below. I just love hearing from you. Your reviews/comments really help other people that visit This Mess is Ours!
Instructions
Place all of the ingredients in the order listed into a high speed blender and blend until smooth.
Recipe Card powered by
Want to be a part of our online community outside of the blog? It's easy!! All you have to do is follow @THISMESSISOURS on FACEBOOK, INSTAGRAM, TWITTER, YOUTUBE, or PINTEREST to see cooking demos and peeks into our day to day life.
What are the health benefits of medjool dates?
This high fiber, fat-free stone fruit is packed with essential nutrients and antioxidants. There is a high quantity of B Vitamins, iron, copper, potassium, and magnesium in just a serving of 2 dates. Medjool dates aid in the promotion of gut health and reduce the risks of various diseases and illnesses.
Click here for more information on the health benefits of Medjool dates.
Frequently Asked Questions