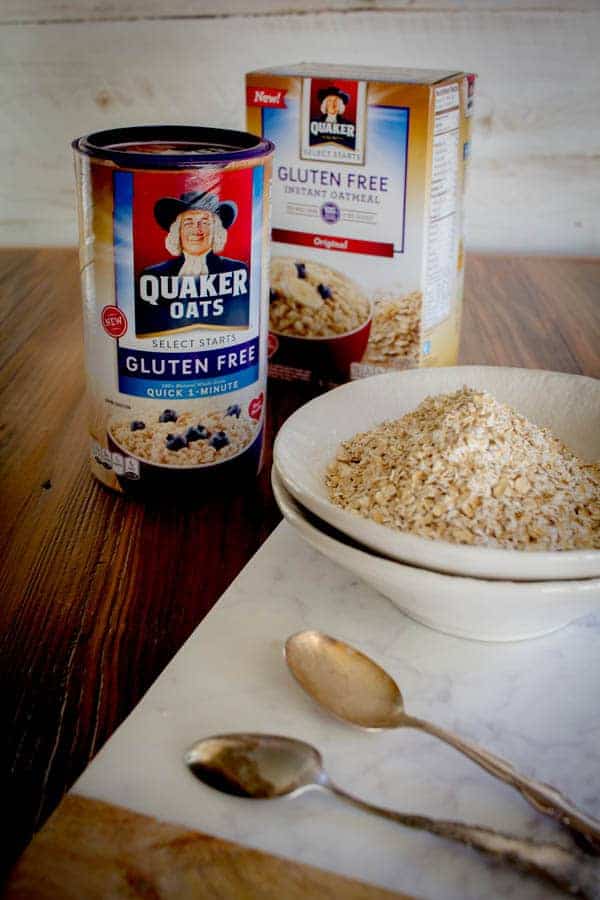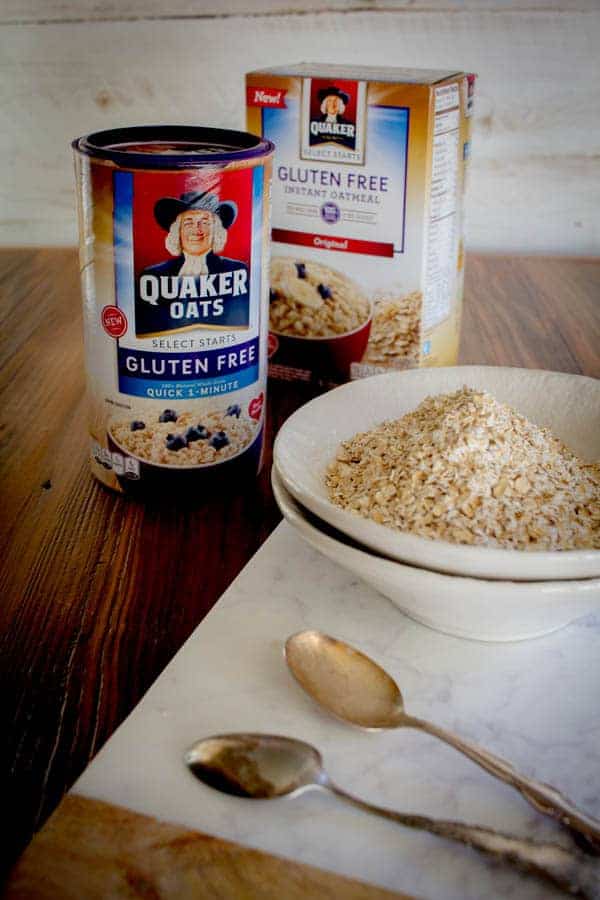 If you have followed Beard and Bonnet for any length of time then you know, I love to cook with oats! I have spent literally hours contemplating ways to incorporate more gluten free oats into my family's diet and have honestly been frustrated with the lengths I have to go to and the price I have to pay to find gluten free oats that I know are safe for us to eat.
I cannot even begin to explain to you how excited I was when Quaker Oats reached out and extended an invitation for me to come and spend a day with them in Chicago to learn all about their new gluten free oats, how they are different and how they are committed to creating a product that has my family's health and safety at heart.
Quaker Oats is without a doubt one of the most trusted companies in the marketplace. They have been a household name for nearly 140 years and hold the oldest continuous use trademark in America to prove it! Quaker's commitment to bringing families together at the breakfast table is evident in everything they do – from their milling practices to the people they employ; they are passionate about oats and their new gluten free Quaker Oats Select Starts Gluten Free products are no exception.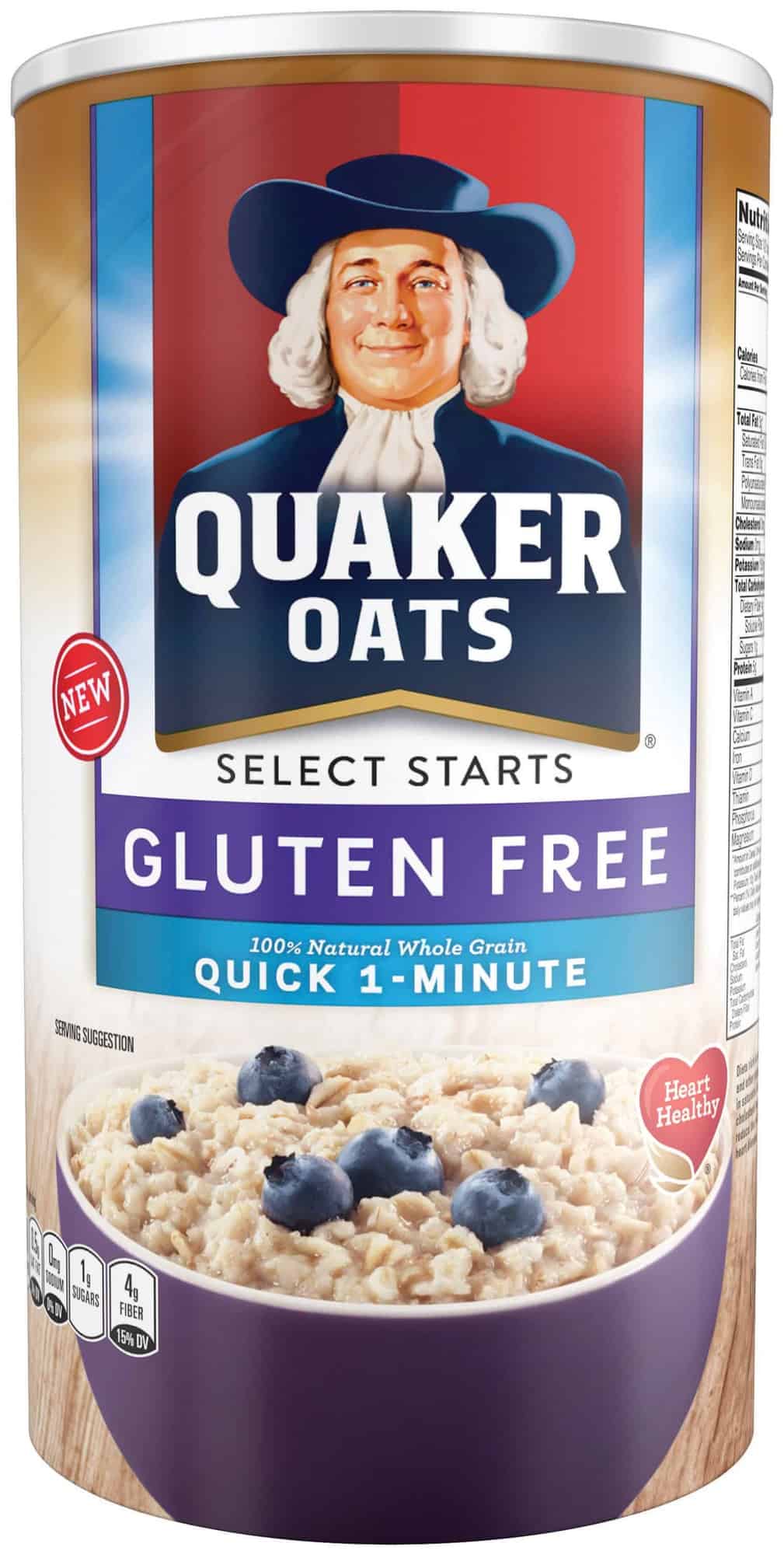 Quaker has employed a special team of oat aficionados to spearhead this project and has spent countless hours and no doubt a lot of money ensuring that their gluten free claim is true and that their Select Starts Gluten Free oats are truly gluten free.
Let me introduce you to a few of the people that are instrumental in bringing this product to market:
I had the opportunity to sit with Lori Alexander at dinner the night I arrived in Chicago. I picked her brain about her career, this product line and Quaker – to say she was fascinating would be an understatement. Lori spearheads nutrition research for Quaker and has actually been diagnosed with Celiac disease herself. How often do you hear of a person with celiac developing products for big brands like this? It was immediately comforting to me to know that there was someone in the trenches with Quaker who gets it, first hand and if that wasn't enough to make me trust that she knew just how important this product being safe was for my family I learned that she was appointed as the youngest member to ever serve on the Board of Directors for the Canadian Celiac Association. That is some serious street credit right?!
Next up, I met Alan Koechner. Alan is the director for Global Milling Research and Development with Quaker and is completely fascinating! Alan has been with the company for 26 years and is truly passionate about oats and the milling process. He walked us through the life of an oat from field to table and enlightened us on Quaker's unique process for identifying gluten containing grains and how they can ensure a safe product for us and our readers. If there was ever an Oat Guru – Alan is it!
Now that you know Lori and Alan I can talk to you all about oats and share with you my takeaways from our Oatucation!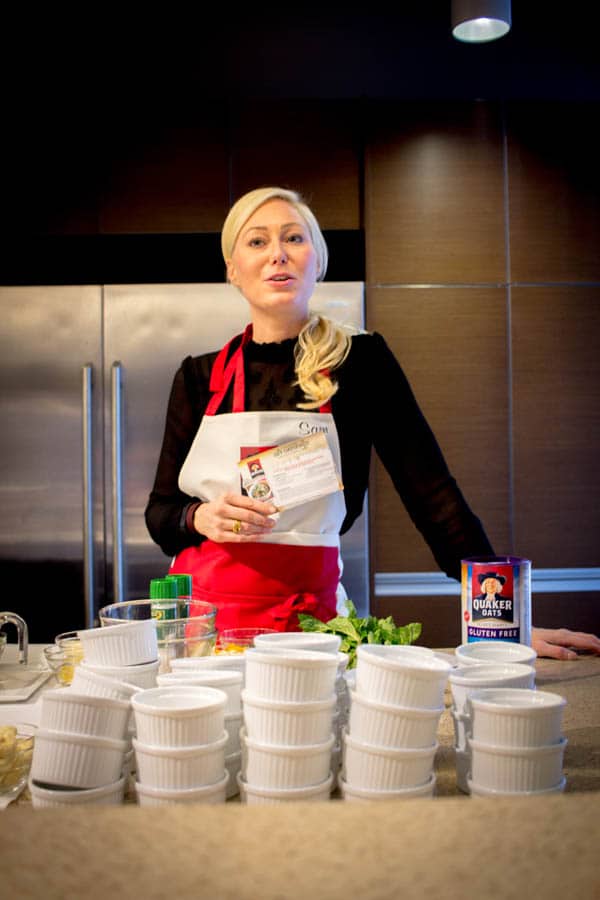 First, it's important to know that oats themselves are inherently gluten free. The problem with oats for celiacs and those with gluten sensitivities is cross contamination and the multiple contamination points in harvesting and processing. In some instances, oats are contaminated in the field where some farmers seasonally rotate their crops with gluten containing grains like barley or wheat. During the harvesting process some of the gluten containing grains can be redistributed on the field and unintentionally pop up again the next season with whatever crop is being harvested.
Oats can also be contaminated in transit from the fields to the processing facility. Large truck beds are filled with oats to transport from field to plant, but those same trucks can be transporting wheat, barley or rye too. Tiny grains can accidentally be left in the cracks of the truck bed leading to cross contamination of an entire truck load of oats.
Finally, the grain silos themselves are potentially a point for cross contamination – you guys grains are REALLY small, they like to hide and seek even in the smallest of crevices in everything from the machinery that is used to harvest to the grain silo where oats await processing! Plus, some gluten containing grains are extremely similar in size and appearance to oats, and aren't evenly distributed throughout the oats, but instead are found in pockets. This is called 'kernel based contamination' – basically imagine looking for a needle in a haystack, literally!
I know what you are asking yourself, you are wondering how on earth Quaker has been able to ensure that their oats are safe even when faced with all of these contamination points. Am I right? The difference is in the process – Quaker has developed a breakthrough cleaning and sorting process that employs mechanical and optical sorting to detect and remove gluten containing grains.
When oats come into Quaker's dedicated cleaning house they begin a multi-step process to dehull, clean, sort and stabilize the oats. All gluten containing grains are different than oats in some way so Quaker employs mechanical and optic sorters to separate the oats based on length, density and color. As the oats move through the cleaning process Quaker inspects samples, how many samples? Well, it is A LOT! Quaker inspects the equivalent of 3,000 40 gram samples per run of oats; that is approximately a sample per hour for each run. (Or if you are into numbers, that is approximately 263 pounds of oats inspected or every 500,000 pounds of oats.) If gluten is detected above Quaker's standards, then the entire run goes towards other Quaker non-gluten free products where cross contamination is not a health risk.
Quaker then tests again at the finished product level – 16 serving size samples in every finished product lot– to ensure each individual sample meets FDA guidelines for gluten free of less than 20 ppm. If anyone sample fails, the entire lot is destroyed.
At the end of our visit after hours of discussing oats, the manufacturing process and gluten we were left with this statement from the Quaker team, "Quaker is the #1 most trusted Health & Wellness brand trademark in the United States. It is our responsibility to maintain that." During my brief 24-hour stay at Quaker I learned a ton! I participated in a cooking challenges and I witnessed other bloggers, some of which had not had oats in over 8 years, enjoy a big beautiful bowl of Quaker Select Starts Gluten Free Oats without issue. It was so enlightening and reassuring to know that we too can be a part of the Quaker family and enjoy America's favorite oatmeal around our breakfast table too!
Thank you to Quaker for sponsoring my travel to Chicago and this post, all opinions are my own. With that said, I advise each person to use their best judgment when deciding whether or not to try Quaker's gluten-free products. I have presented the facts as they were presented to me, and I hope they help you make the right decision for yourself and your family.
(Visited 21 times, 21 visits today)