The So Delicious Dairy-Free 2013 Recipe Contest Pinterest board is full of great recipes and the contest is really heating up! Only a few "likes" separate the top entries and I would really appreciate it if you would vote for my Coconut Creamsicle Cocktail! All you have to do is give it a "like" and then peruse the rest of the delicious recipes that the board has to offer. Thanks so much!!!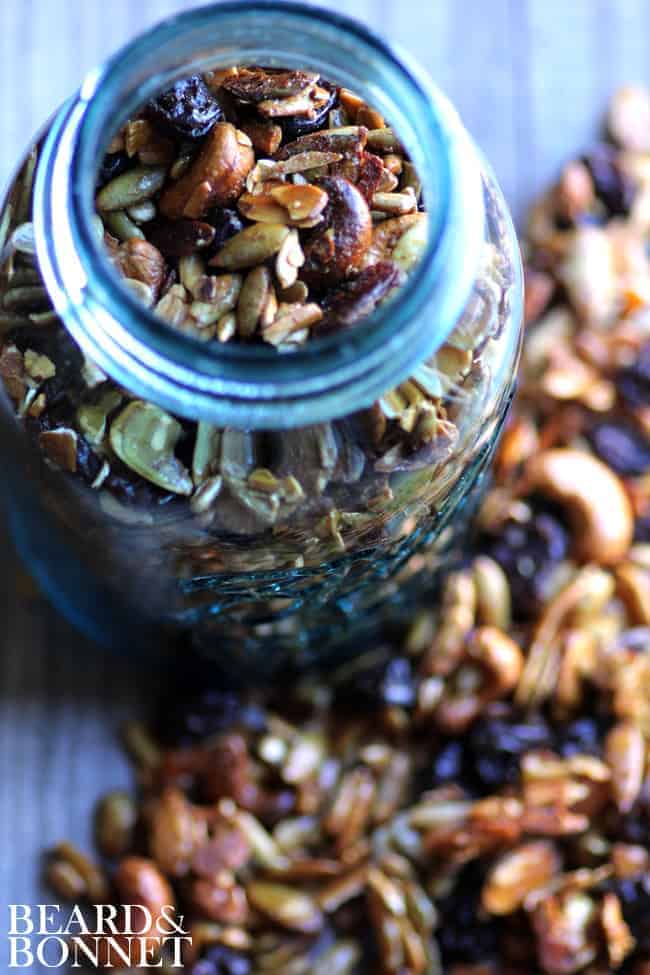 How is your week? Mine is busy! I am packing, tying up loose ends, dealing with 2 extremely excited kiddos, all while attempting to cook my way through our pantry. Faced with an insane collection of nuts in my freezer I decided that the best thing to do was make a big batch of trail mix for us to munch on during our road trip. I like making mixes like this one that are fast, easy, and delicious. Feel free to swap out the nuts and seeds for what you have on hand, any combination would work.
Traveling Trail Mix
Makes 7 cups
1 cup cashews
1 cup sliced almonds
2 cups pepitas
¾ cup raw sunflower seeds
7  Tbsp. maple syrup
Coarse salt
1 cup dried cherries
Preheat the oven to 300 F.
Line two baking sheets with parchment or silicone mats.
In a large bowl, toss the cashews, almonds, pepitas, and sunflower seeds with the syrup until coated. Spread the mixture evenly onto the baking sheets and sprinkle with salt to taste. Bake for 15-20 minutes, stirring several times, until golden. Cool completely on the baking sheets, then add cherries and toss to combine.
Once cooled, store in an airtight container at room temperature for up to two weeks.