Put on your stretchy pants people, it's Taco Tuesday and I'm serving up a gigantic batch of Cauli Tinga Tacos!!
Oh yes, I'm not even kidding! You are about to have one epic Taco Tuesday and if these tacos are anywhere near as popular at your house as they are in ours your loved ones will be be deeming your family table the best taco joint in town. (Be warned though, they just might come to expect a platter of Cauli Tinga Tacos every week!)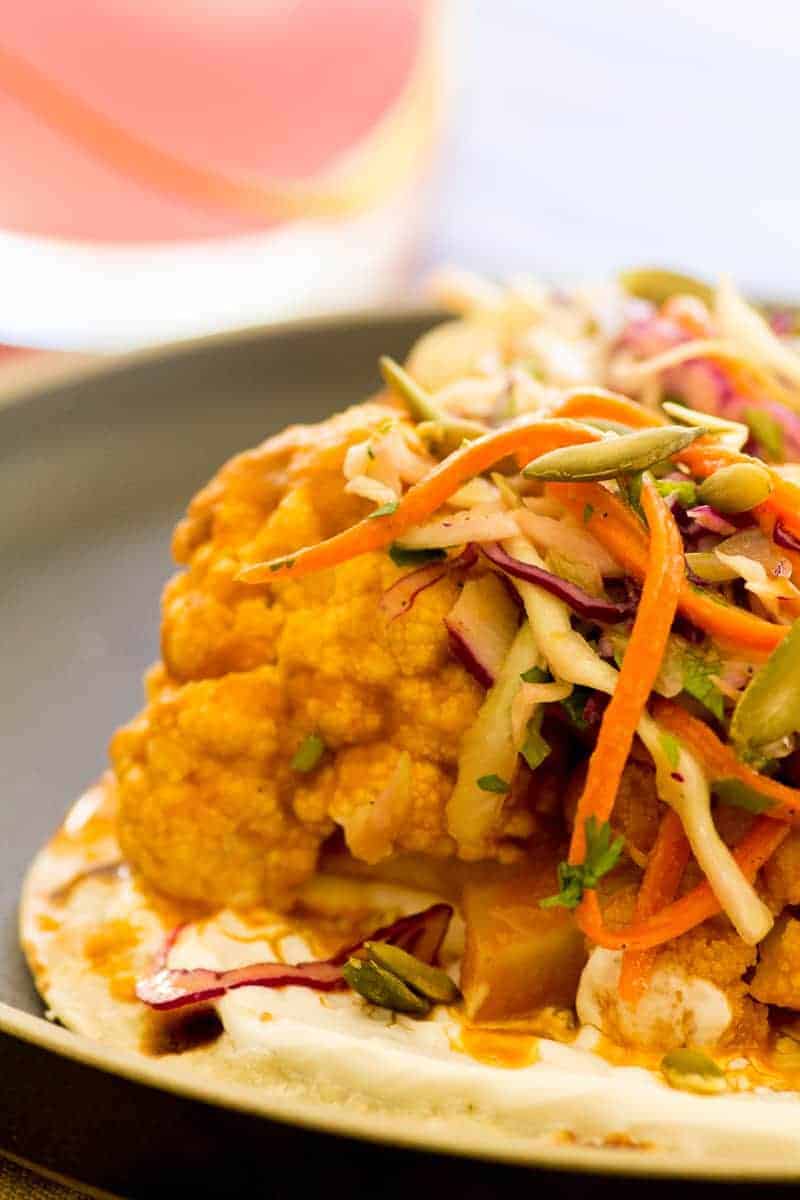 Look, it's no secret that I am a taco fanatic and I am a pretty big admirer of cauliflower too, but I had never put the two together before. I've had crispy cauliflower tacos at restaurants and thought they were pretty good, but I've never really had the desire to fry up a head of cauliflower. (When you think about it that's pretty weird because I really do LOVE to fry things!) However, when I was plowing through Pinterest and scrolled past my friend Kate of ¡Hola! Jalapeño's recipe for Leftover Turkey Tinga Sopes I immediately knew that dreamy tinga sauce had to happen in my house stat and that it needed a blank slate to really let it shine - hello cauliflower!
I've been meaning to share this Spicy Mexican Slaw recipe with you for a while too, but just had not gotten around to making it happen yet. If you keep a small batch of it on hand you can top tacos any time you like, but it is also great on sandwiches and tossed in with your favorite salad fixin's...heck it's even good over nachos. However, the greatest pairing this slaw has ever had are these Cauli Tinga Tacos - the smoky heat of the tinga sauce really plays well with the fresh, crisp bite of the slaw. It's like magic to your taste buds!
Smoky, crunchy, tender and fresh - these Cauli Tinga Tacos have it all!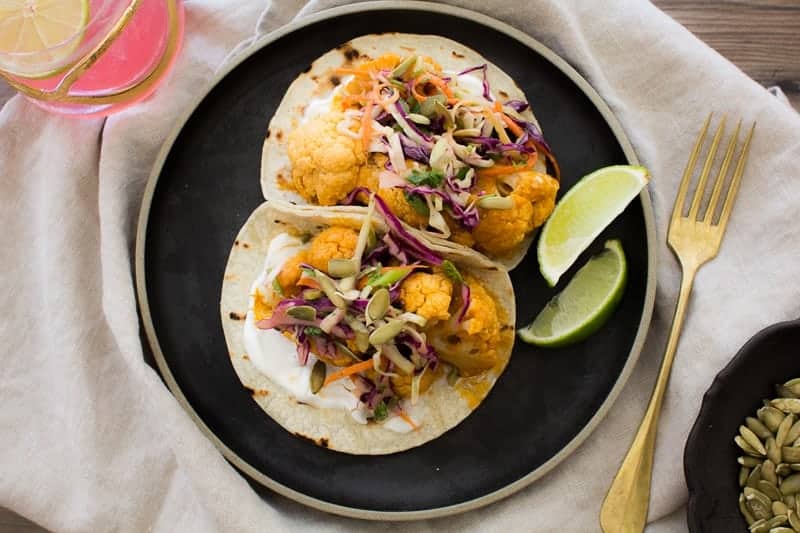 Print
Cauli Tinga Tacos
Don't just limit this smoky tinga sauce to cauli tacos! Save any leftover sauce for drizzling over egg dishes, spreading a top quesadilla's, or even slathering your black bean patty for an epic veggie burger!
Author:
Yield:

6

servings

1

x
Cauli Tinga
3 tablespoons

olive oil

1

heaped cup large dice red onion

4

cloves garlic, roughly chopped

3

tomatillos, husks removed and cut into quarters

2

large tomatoes, chopped

3

chipotles en adobo +

1 tablespoon

adobo sauce from the can

2

scallions, chopped white and green parts

½ teaspoon

dried oregano

1 cup

vegan chicken broth ( I use

1 cup

hot water + Massel All Purpose Bouillon and Seasoning Granules, chicken flavor )
juice of

1

orange

6 cups

cauliflower florets, about 1 ½ heads
to serve
sour cream or cashew cream if vegan
Spicy Mexican Slaw
roasted pepita seeds
lime wedges

12

white corn tortillas, grilled
Instructions
Make the cauli tinga
Heat the oil in a large braising pan or deep frying pan over medium heat. Add the onion to the pan and a generous pinch of salt and pepper. Cook until softened and turning translucent, about 6-7 minutes.
Add the garlic and tomatillos to the pan and cook for 3 minutes more, stirring occasionally. Add the tomatoes, chipotles, adobo sauce, scallions, and vegan "chicken" broth. Bring to a boil, reduce to a simmer, cover and cook for 30 minutes. Allow to cool slightly.
Transfer the tinga sauce to a blender and add the orange juice. Blend until smooth, taste and season with more salt and pepper.
Return the tinga sauce to the braising pan and add the cauliflower florets. Bring to a simmer, partially cover and let cook for 10-12 minutes until the cauliflower is tender and cooked through.
Assemble the tacos
Spread a grilled tortilla with sour cream or cashew cream, top with cauli florets and a drizzle of tinga sauce. Top with slaw and pepitas. Serve immediately with lime wedges.
Recipe Card powered by
Print
Spicy Mexican Slaw
Top tacos and sandwiches with this tangy slaw or just eat it as a side dish!
Author:
Yield:

4

-

6

servings

1

x
1 tablespoon

Dijon mustard

1 tablespoon

freshly squeezed lime juice

1

small clove garlic, minced

1 tablespoon

jalapeno chile, minced

⅛ cup

olive oil

1 ½ cups

shredded red cabbage

1 ½ cups

shredded green cabbage

2

carrots, shredded

2

scallions, light and dark green parts
salt and freshly ground black pepper

¼ cup

cilantro leaves, minced
Instructions
In a small bowl whisk the mustard, lime juice, garlic and jalapeno together. Slowly drizzle in the oil while whisking the mustard mixture.
In a large mixing bowl combine the red and green cabbage, carrots, and scallions. Toss with the dressing then season to taste with salt and pepper. Refrigerate until ready to serve. (For best results, allow the slaw to chill for at least an hour so that the flavors can develop and the cabbage soften.)
Before serving toss with the cilantro.
Recipe Card powered by
SaveSave