I'm kicking off the new year with lots and lots of this crispy kale salad, fruit infused water and feelings – totally normal right?
I'm not much for New Year's resolutions – I'm more of a New Years reflections kind of a girl actually. While the rest of the world is declaring how much weight they will loose or how organized they will be in the new year I am over here reflecting about events that have transpired over the last year that really taught me something and what I learned from it that I am taking into the new year with me.
Here is my list for 2016-
I'm not super woman and that's OK because no one is. (Unless you are and then please tell me your secrets and sign me up for your bootcamp!)
Although I still feel like it in my brain, I am not 21 anymore and the days of pulling an all nighter ( errr…midnighter ) because I over scheduled my day and couldn't get my work done will sneak up and bite me in the butt – FAST!
My kids deserve "me time" for themselves. Everyone needs to sit around in their pj's sometimes right?
As long as my family and I are healthy and happy nothing else really matters.
2015 was full of adventure and excitement, but it was also stressful and chaotic. You see, I have these really delightful self destructive, workaholic tendencies that started in my late teens and twenties and have apparently followed me into my 30's. I tend to commit to too much for myself and the kids. I even schedule our fun days! Weird right? Inevitably something doesn't go as planned which leaves me blaming my color coded planner for failing me when I couldn't get every task done, at least not to my liking.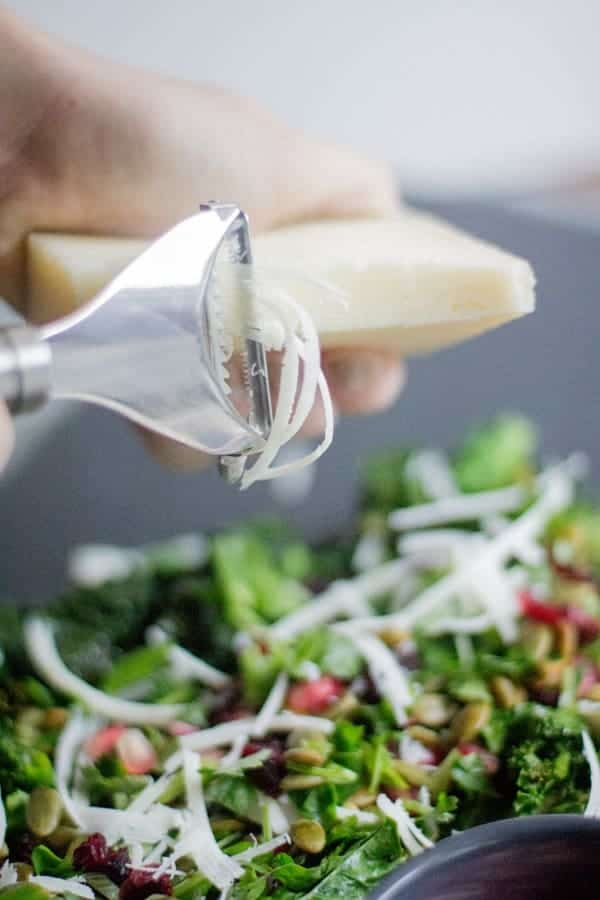 2016 will be different – I can feel it already. Lesson learned & game well played 2015!
So, what about you? Do you make resolutions or do you have revolutions for 2016?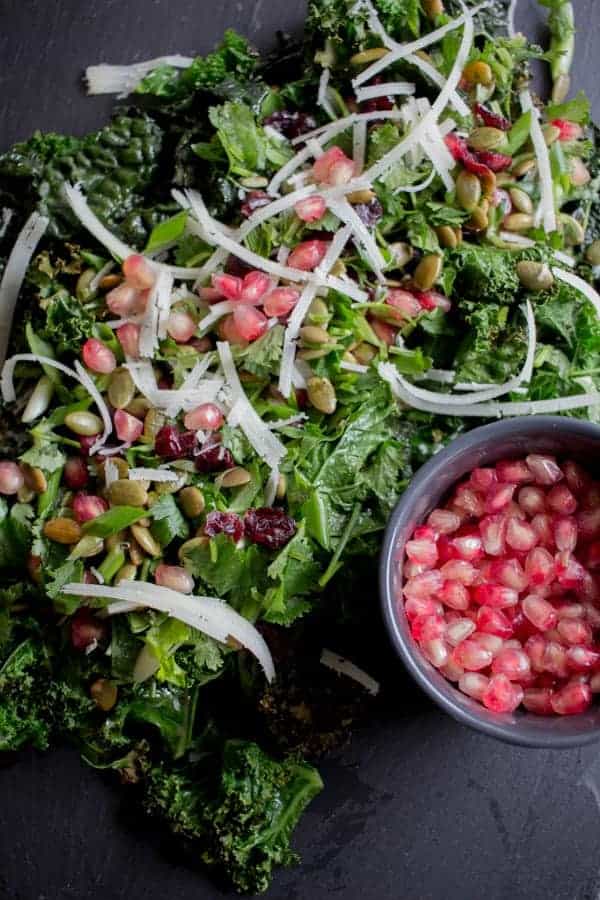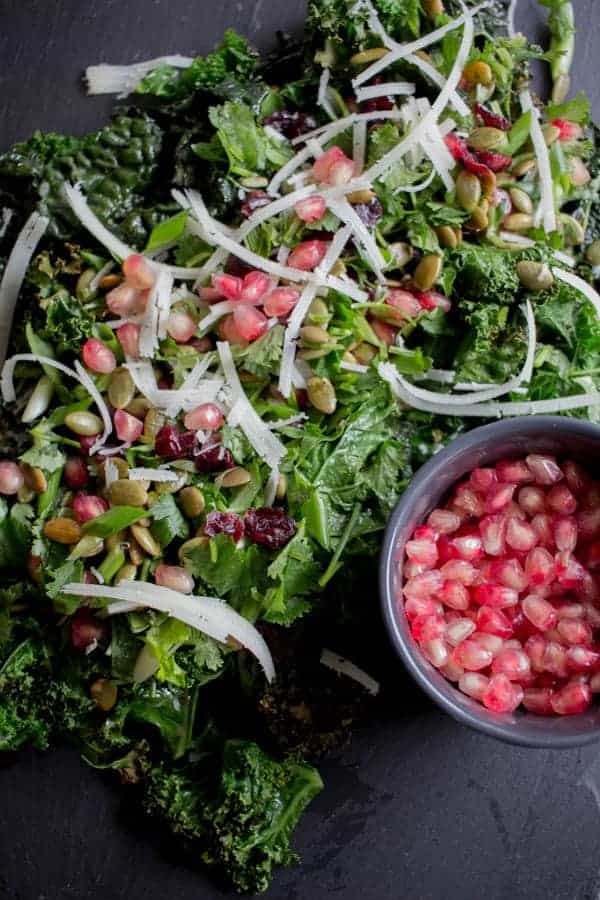 Print
Crispy Kale Salad with Pomegranate and Pepitas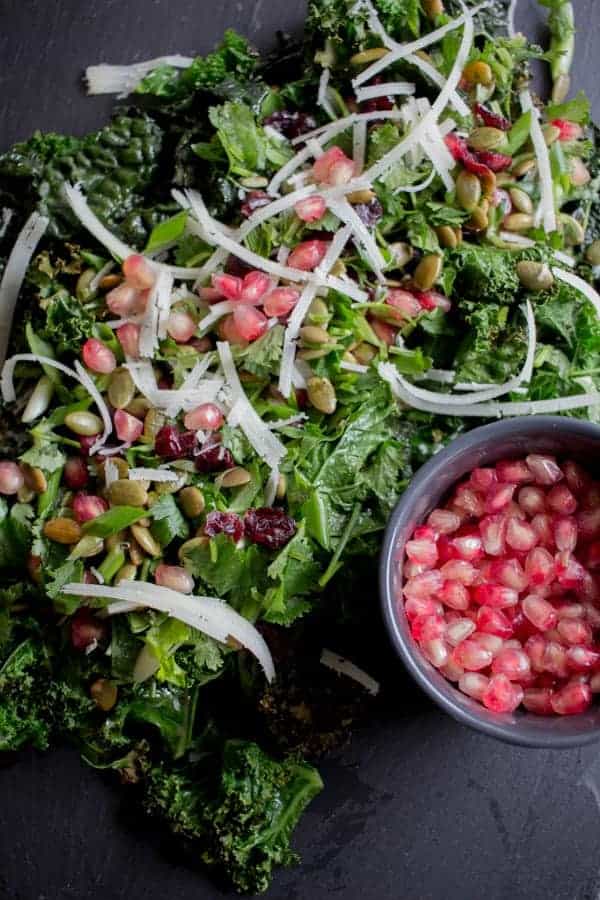 This salad is the perfect accompaniment to a giant baked sweet potato. It's also really tasty served withmillet cakes for a heartier meal.
Author:
Prep Time:

15 mins

Cook Time:

12 mins

Total Time:

27 mins

Yield:

2

as a main 4 as a side

1

x
Ingredients
For the salad
1

large bunch curly kale, tough stems removed

1

bunch Lacintao kale, tough stems removed
olive oil, salt and pepper for roasting kale

2

scallions, white and green parts sliced thin

1/2

chopped cilantro

1/3 cup

toasted pepitas

1/4 cup

pomegranate arils

1/8 cup

dried cranberries
Grated Manchego cheese for serving (omit if vegan)
For the dressing
2 tablespoons

olive oil

2 tablespoons

lemon juice

2 teaspoons

agave

1

garlic clove, smashed
kosher salt and pepper to taste

1 tablespoon

grainy spicy brown mustard

1 tablespoon

grated Manchego cheese (omit if vegan or use

1 teaspoon

nutritional yeast instead of the cheese)
Instructions
Preheat the oven to 400°F and line 2 baking sheets with parchment paper.
In a small bowl combine the olive oil, lemon juice, agave, garlic clove, salt, pepper, mustard and cheese. Set aside while you work on the rest of the salad.
Drizzle the kale leaves with olive oil, salt and pepper to taste. Spread into a single layer on the prepared baking sheets. Bake in the preheated oven for 8-12 minutes or until the edges are crispy and the stems are wilted. Remove from oven, let cool to room temp. Stack the leaves and chop them into bite sized pieces. Set aside.
Remove the garlic clove from the dressing and discard. Toss the kale leaves with a few tablespoons of the dressing. Add the scallions, cilantro, pepitas, pomegranate and cranberries, then toss again. Transfer to a serving platter and top with grated Manchego cheese. Serve immediately.
Recipe Card powered by
(Visited 1 times, 1 visits today)