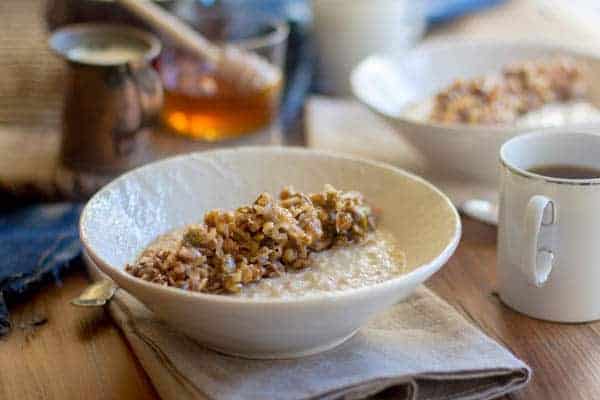 Looking for new oatmeal toppings? This Baklava Oatmeal is so darn good it needs its own hashtag! How about #baklavaoatmeal or #bestbreakfastever?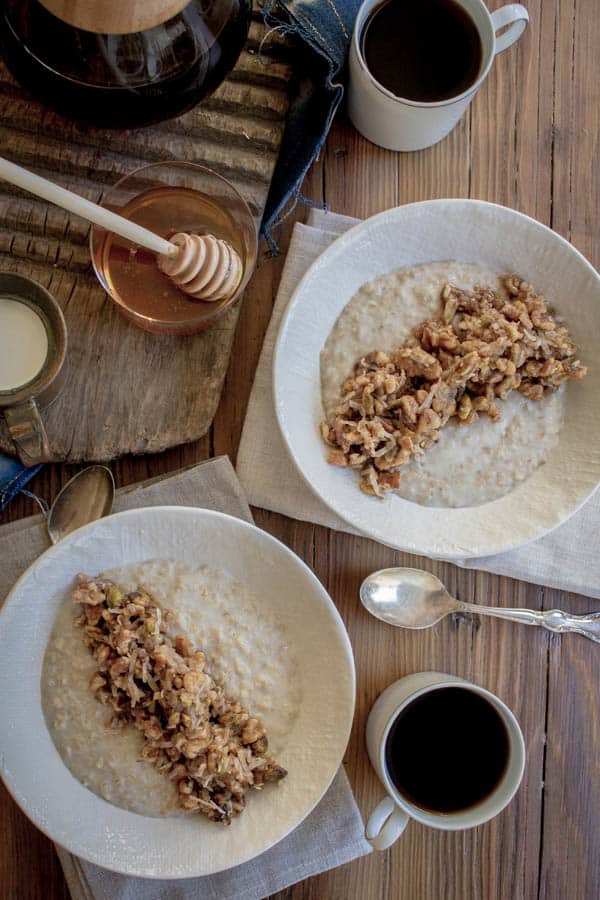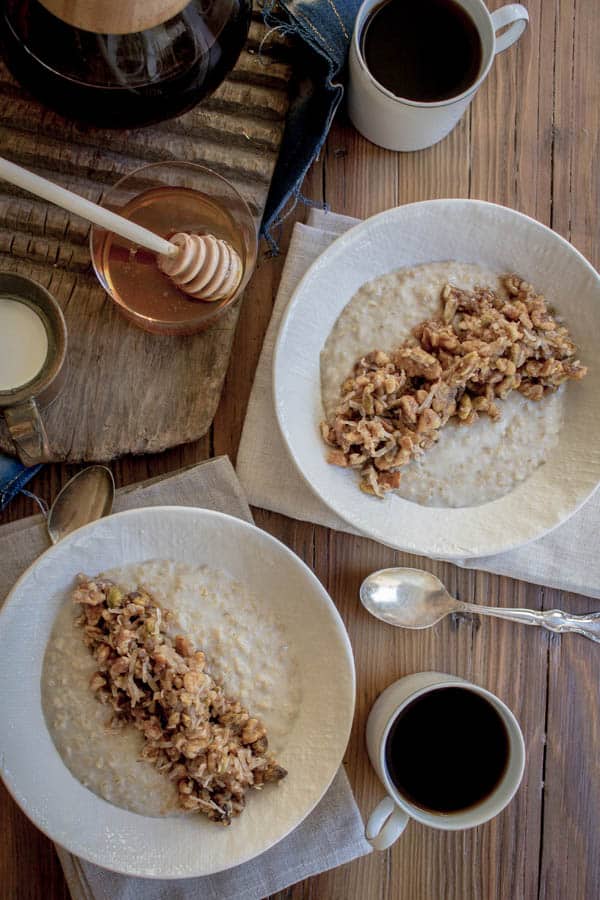 Ahhhh weekday mornings, the stuff that dreams are made of. If by dreams, you mean nightmares! Mornings are frantic at our house to say the least and although I am a little ashamed to admit it, we tend to grab and go when it comes to breakfast.
The fruit bandit will usually settle for a banana while our teenager prepares her own breakfast; honestly I shudder to think what that might be. Todd and I, well, we rarely eat unless there are breakfast bars in the house. My head is officially hanging in shame over here, but now you know our truth! It isn't pretty – it just is what it is.
My issue lies in the fact that unless it takes less than 15 minutes I just don't have time. In between packing lunches, dressing fidgety preschoolers and debating about the length of my daughters shorts there just isn't room for much else unless I give up brushing my teeth before I wander out into the world. #nevergonnahappen
I was beyond hope with our weekday breakfast routine until I met the great folks at Quaker last month and learned about their new gluten free products. Quaker's Gluten Free Oats deliver the same great taste and texture of traditional Quaker Oats that consumers know and love and come in three varieties: Quaker Quick 1-Minute Oats (18 oz. canister) and Quaker Instant Oatmeal (single-serve pouches) in both Original and Maple & Brown Sugar flavors.
Out of all of our favorite oatmeal toppings, this Baklava Oatmeal takes the cake!
So, for the past few weeks over Christmas break I spent time whipping up quick oat inspired breakfasts to see if I could come up with a few family favorite oatmeal breakfasts for our crazy hectic weekday mornings. During my testing these Baklava Oatmeal toppings, it received a household rating of 8 thumbs up which honestly doesn't happen very often – 8 thumbs up!!!!! #momswinning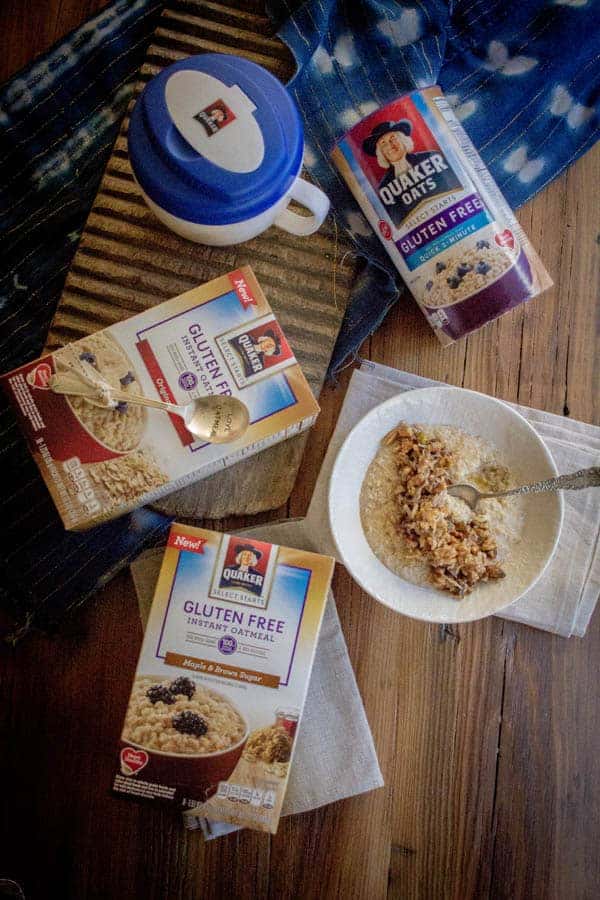 Speaking of winning, the kind folks at Quaker and I want you to get in on the gluten free oat fun too so we are giving away (1) Quaker® Gluten Free Recipe Inspiration Kit! Entering is easy, simply leave a comment below telling us what toppings you would used in your gluten free oatmeal and we will select one (1) U.S.-based winner at random on January 20, 2016.
A chic tote bag, perfect for grocery shopping
A custom 'Love Oatmeal' spoon to enjoy your favorite morning meal
An apron to wear while making oat-inspired dishes at home
The perfect portable microwavable oatmeal bowl
Delicious Quaker Gluten Free Oats, including Quaker Quick 1-minute Standard Oats (18 oz. canister) and Quaker Instant Quaker Oatmeal (single-serve pouches) in both Original and Maple & Brown Sugar flavors
Total giveaway value is approximately $60
Quaker is providing the prizes for this program at no cost to me.  This program is not administered by Quaker or its affiliates, but solely by Beard & Bonnet.
Download the FREE Quaker Oats Recipe Book Here
If you've tried this Gluten Free Baklava Oatmeal Recipe, I would be so grateful if you would rate it. Let me know what you think in the comments below. I just love hearing from you, and your reviews and comments really help others that visit This Mess is Ours!
Print
Gluten Free Baklava Oatmeal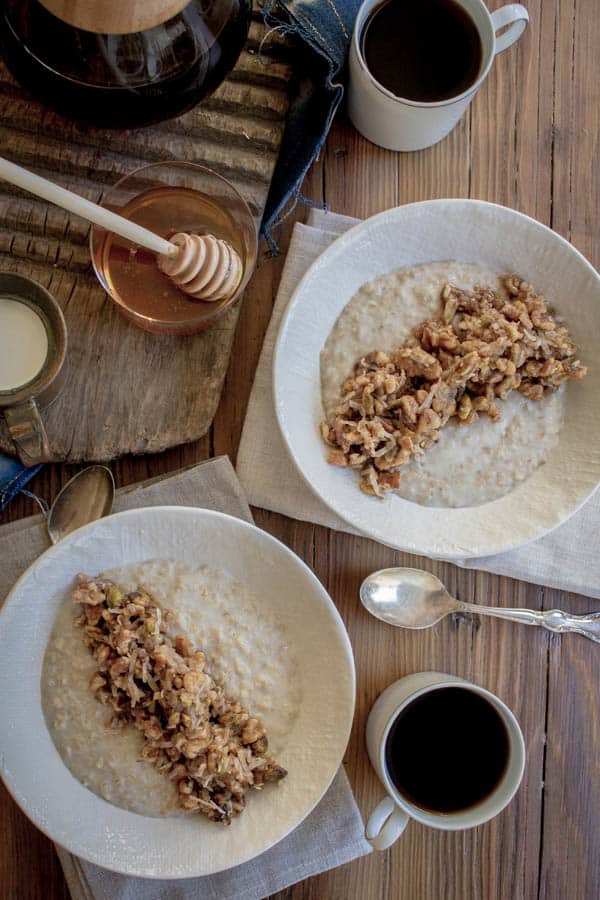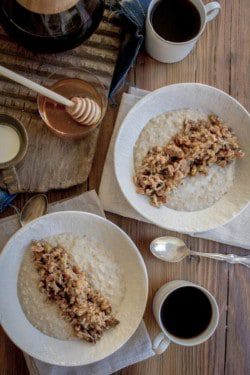 Don't forget to rate the recipe, and let me know what you think about this Gluten Free Baklava Oatmeal in the comments below. I just love hearing from you. Your reviews/comments really help other people that visit This Mess is Ours!
Author:
Yield:

2

servings

1

x
Scale
Ingredients
For the baklava topping
¼ cup

roasted unsalted pistachio pieces

¼ cup

roasted unsalted pecan pieces

¼ cup

roasted unsalted walnut pieces

¼ cup

shredded sweetened coconut

2 tablespoons

melted butter

2 tablespoons

orange blossom honey

½ teaspoon

ground cinnamon

½ teaspoon

vanilla extract

¼ teaspoon

ground cardamom

1/8 teaspoon

ground cloves

1/8 teaspoon

kosher salt
For the oats
1 ¾ cup

or (1) 13.5 ounce can lite coconut milk

2 tablespoons

orange blossom honey

1/8 teaspoon

kosher salt

1 cup

Quaker Quick 1-Minute Gluten Free Oats
Instructions
In a small mixing bowl combine the pistachios, pecans, walnuts, and coconut. Stir to combine. In a separate small dish whisk together the butter, honey, cinnamon, vanilla, cardamom, cloves and salt. Pour the wet ingredients over the nut mixture and stir to coat. Set aside.
Heat the coconut milk, honey and salt over medium-high heat until boiling. Stir in the Quaker Gluten Free Oats and cook for 1 minute, stirring occasionally. Remove from the heat. The oatmeal may seem thin at this point, but it will thicken as it cools.
Divide the oatmeal between two serving bowls then divide the baklava topping between the bowls. Serve immediately.
Notes
Make ahead tip!
You can roast the nuts ahead of time and combine them with the shredded coconut. Keep this mixture stored in an airtight container. When ready to prepare the oats all you will need to do is add the wet topping ingredients. This should shave a few minutes of your prep time for those busy weekday mornings!
This recipe is an original creation of Beard and Bonnet. When you make this recipe at home, be sure to look for ingredients labeled gluten free.
Recipe Card powered by
 As a Quaker-Sponsored Blogger, my trip to the Quaker Oat Summit was compensated as was this post. All thoughts and opinions are my own.
Want to be a part of our online community outside of the blog? It's easy!! All you have to do is follow @THISMESSISOURS on FACEBOOK, INSTAGRAM, TWITTER, YOUTUBE, or PINTEREST to see cooking demos and peeks into our day to day life.
What are the health benefits of oats?
Oats are a gluten free grain that is packed with protein and fiber. The numerous amount of vitamins and minerals in oats makes them a great alternative to other grains. Among others, magnesium, iron, zinc, and Vitamin B are highly concentrated in oats. All of these positive nutrients help to lower blood sugar and cholesterol levels, promote gut health, and reduce constipation.
Click here for more information on the health benefits of oats.
Frequently Asked Questions