Classic cocktails are having a sort of a revival and we are here for it! Take this Gin Martini with a Lemon Twist, for example, this is a fantastic, classic cocktail to mix up if you love a strong drink that really showcases the flavor of a good quality Gin.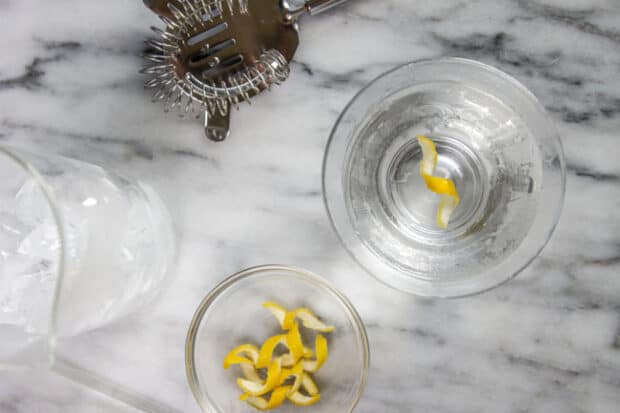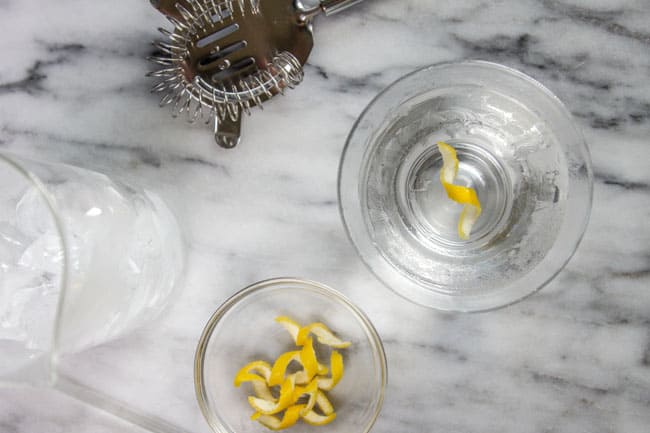 What is the difference between a Vodka Martini and a Gin Martini?
In its simplest and truest form, a martini is a mix of gin or vodka and vermouth, perhaps with a dash or two of bitters, and garnished with an olive or a twist.
Martinis will taste different depending on which alcohol you choose. If you decide Gin as your base, the more traditional option, it has a botanically complex flavor. Juniper, gin's defining flavor characteristic, tastes primarily like pine, but is also herbaceous and floral. Its flavor is very distinct and the overwhelming flavor note in a Gin Martini.
On the other hand, a Martini made with vodka has a smoother, cleaner taste. If you aren't a fan of gin, but still want to try a martini try our Classic Vodka Martini recipe.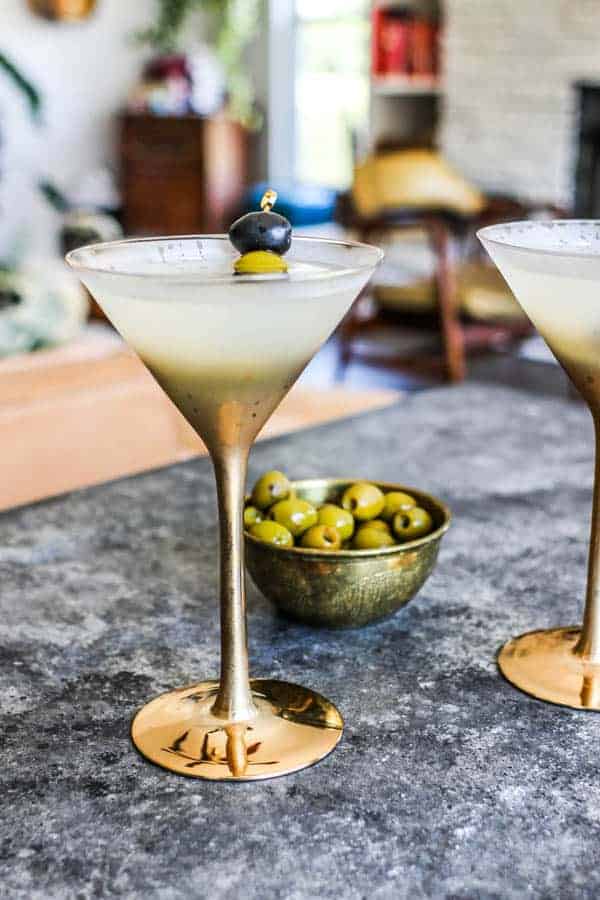 Stirred not shaken, please! Nothing looks quite as classy as sipping on a martini with an assortment of drunken California olives adorned on a skewer.
This vodka martini is a fantastic, easy cocktail to mix up and it is the perfect way to put premium vodka to use!
When and where did the Gin Martini originate?
The martini's origins can be traced to the late 1800s, first-served and recorded in bartending manuals. While the exact origin is unknown, many believe the gin martini was originated in Martinez, California, during the mid-1800s Gold Rush, according to historians and residents.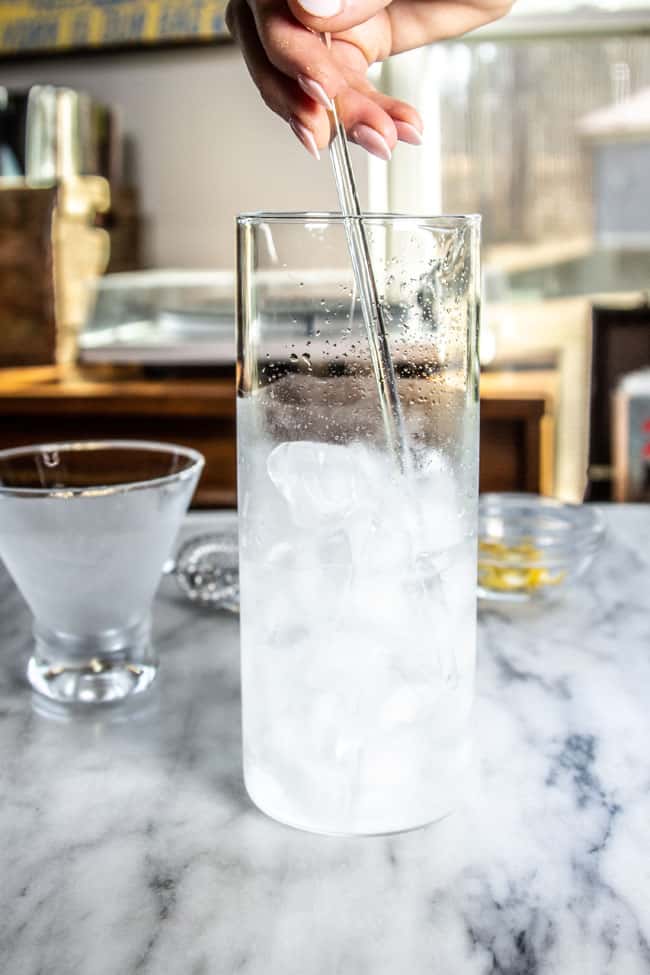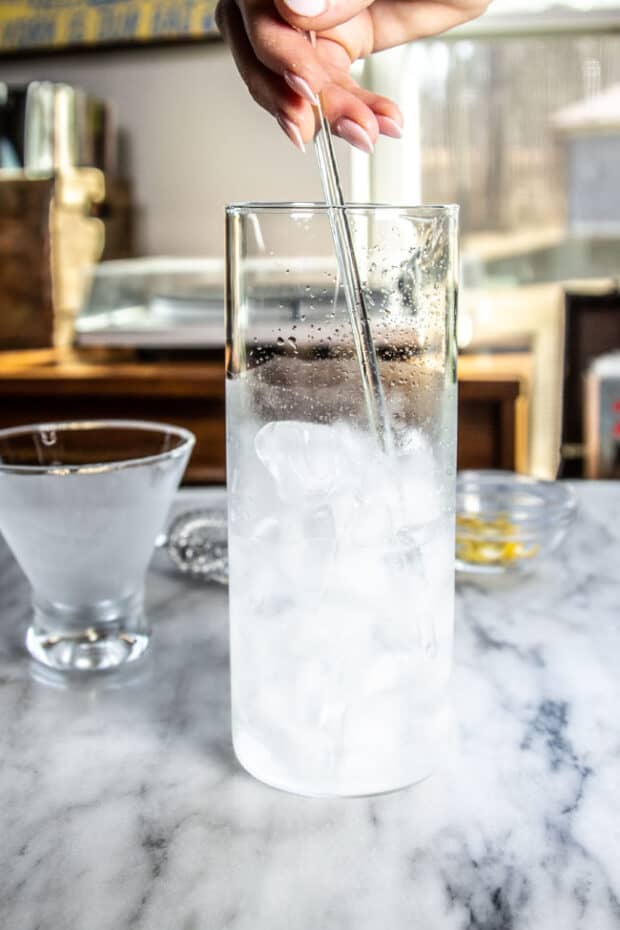 How did the Martini get its name?
Initially, the martini was a signature cocktail served to customers at the Occidental Hotel in San Francisco while preparing to board the ferry to Martinez, California. The name was shortened to "Martini" over time.
Martini lingo you need to know.
Whether it's straight or on the rocks, with olives or a twist, the martini comes with its own lingo and everyone has a preference on how the best version of this versatile drink is made.
I figured it best we include a glossary of terms for ordering the perfect martini - because Lord knows it's really confusing, even for someone that cooks and creates cocktails regularly like me.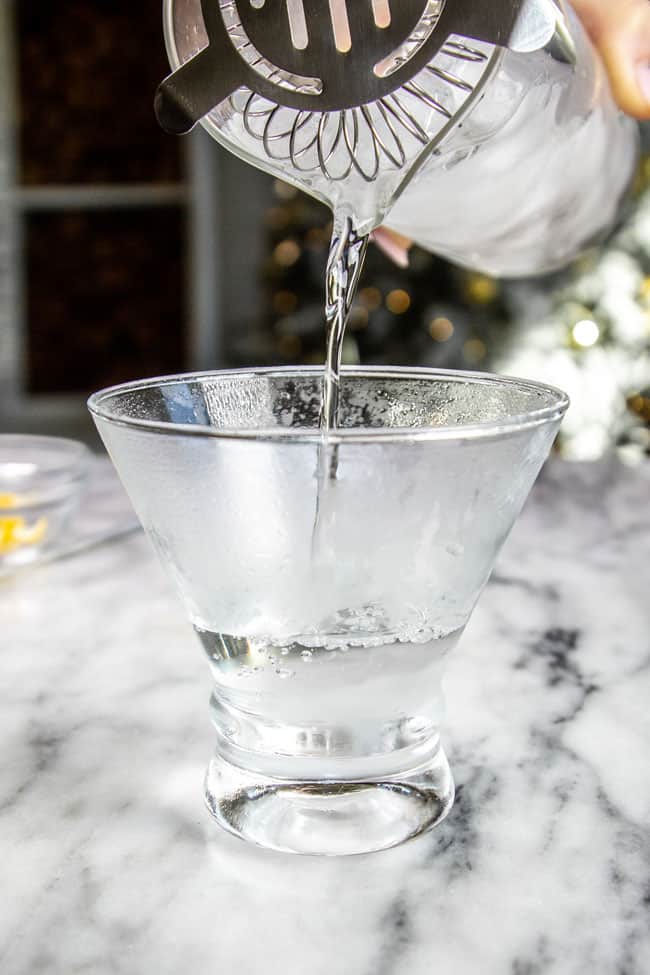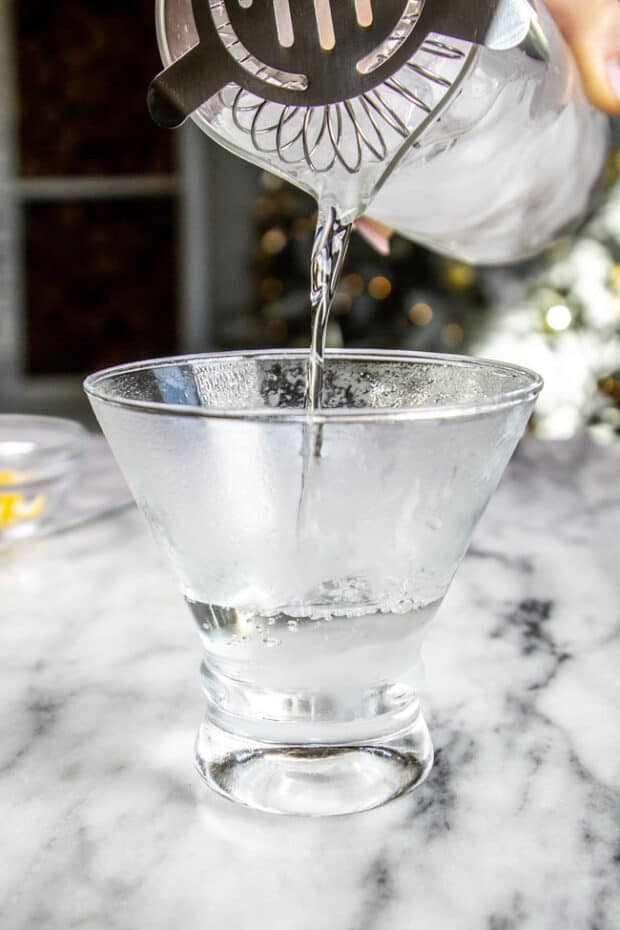 Shaken versus stirred:
A classic martini is most definitely stirred, not shaken.
I'm pretty sure we all know Mr.Bond's famous phrase "shaken, not stirred." It literally and figuratively shook up the martini industry. Martinis were stirred and rarely if ever, shaken before this classic movie line, but now it's a common request.
Straight up, neat, or on the rocks:
When you order a martini "straight-up" it means the liquors will be mixed with ice to chill but it will be strained so that there is no ice in the glass that the cocktail is served in.
"On the rocks" refers to a cocktail that is served over ice. If you opt to have your martini served over ice, it is best to sip quickly before the ice melts and waters down the cocktail.
If you order a martini "neat" you will be served a room-temperature cocktail. No chill whatsoever.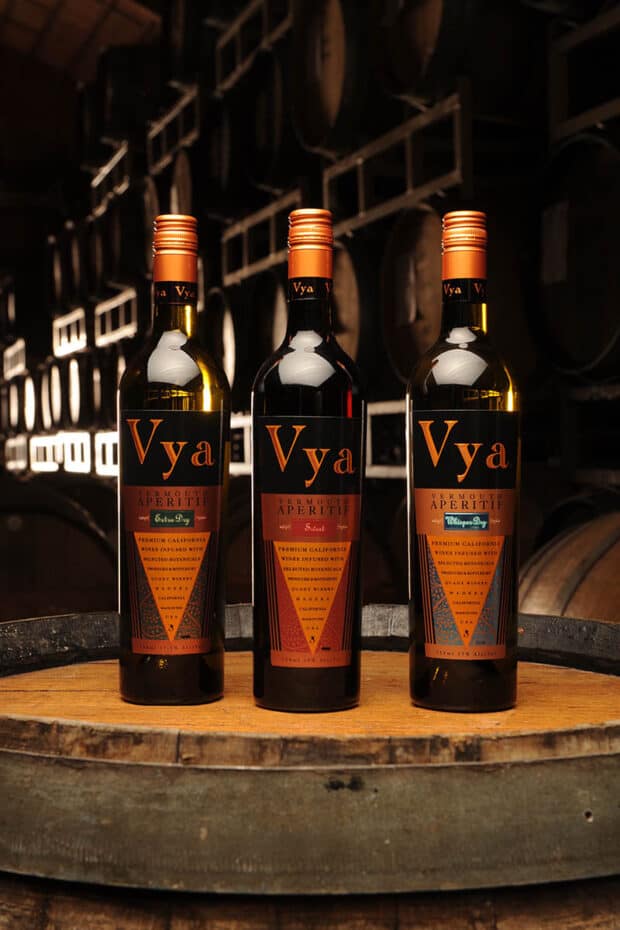 What is Vermouth?
Many people don't realize that vermouth is actually a fortified, infused wine that's been flavored with aromatic plants.
Our preferred brand of vermouth is Vya by Quady winery. Vya is the first premium handcrafted American-made vermouth and is produced in Madera, California!
"Vermouth is so different. There's only so much you can do with grapes in winemaking. But grapes with plants opens up a whole new world."- Andy Quady of Quady Winery
All 3 of Quady's Vya vermouths are uniquely and deliciously their own. Each one boasts over 15+ herbs, a variety of spices, and of course top-secret ingredients!
Extra dry, dry, bone dry, and wet martinis
Extra dry means no vermouth whatsoever.
Dry means less dry vermouth.
Bone dry is a martini made with just a hint of vermouth.
Wet means more dry vermouth.
What does Vermouth taste like?
Sweet Vermouth is mildly sweet and spicy, with a bitter aftertaste.
The flavor of dry Vermouth is similar to that of dry white wine.
Sweet versus perfect:
A sweet martini is made by substituting dry vermouth for sweet vermouth.
A perfect martini is made of equal parts dry and sweet vermouth.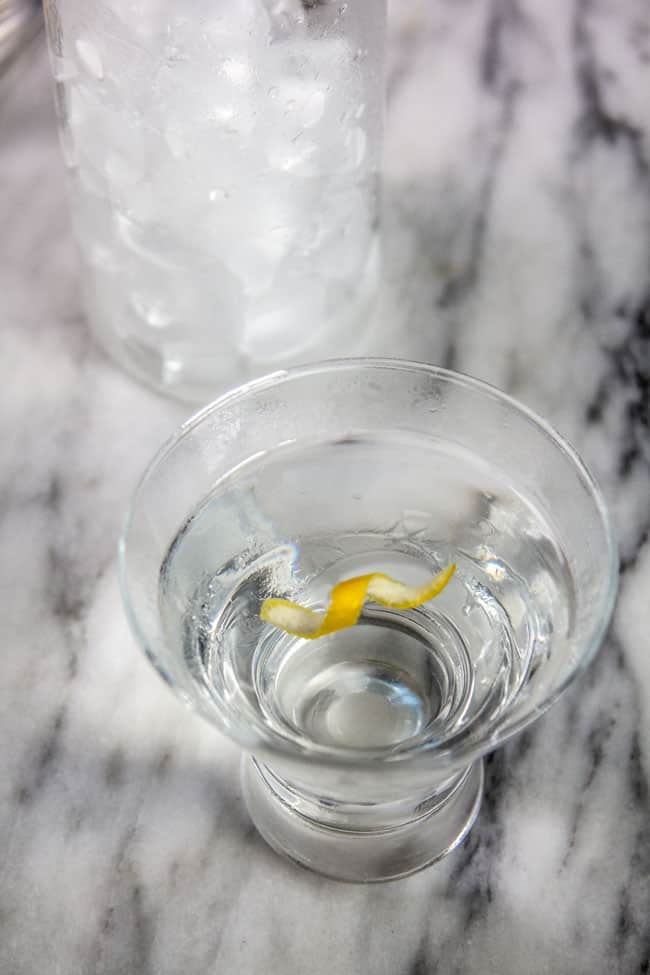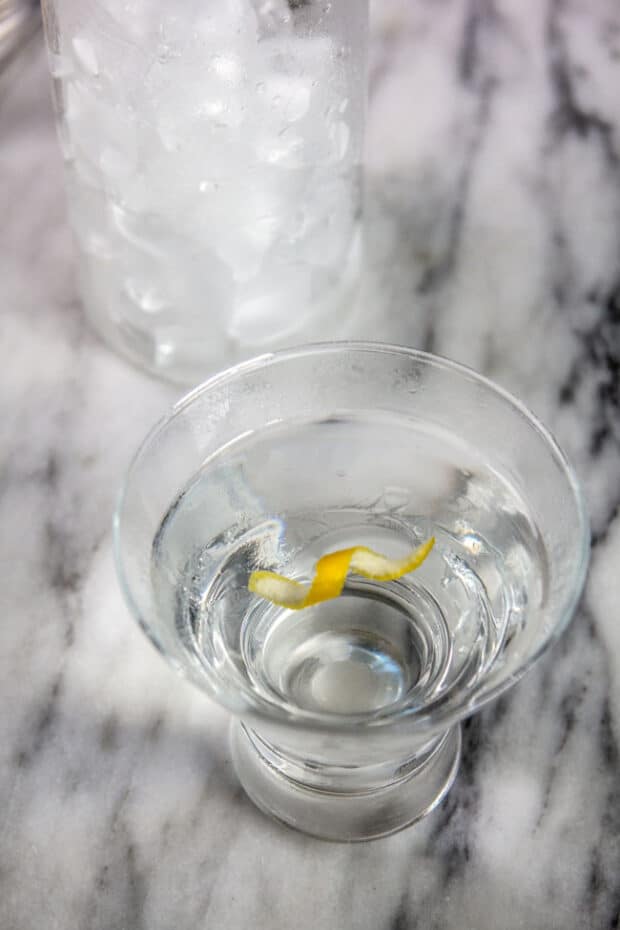 Dirty, extra dirty, and filthy.
The term "dirty" refers to adding a tiny amount of olive brine to your martini. Usually, half the amount of vermouth that is called for in the recipe.
"Extra dirty" calls for the same amount of brine and vermouth to be used.
A "filthy" martini uses more olive brine than vermouth.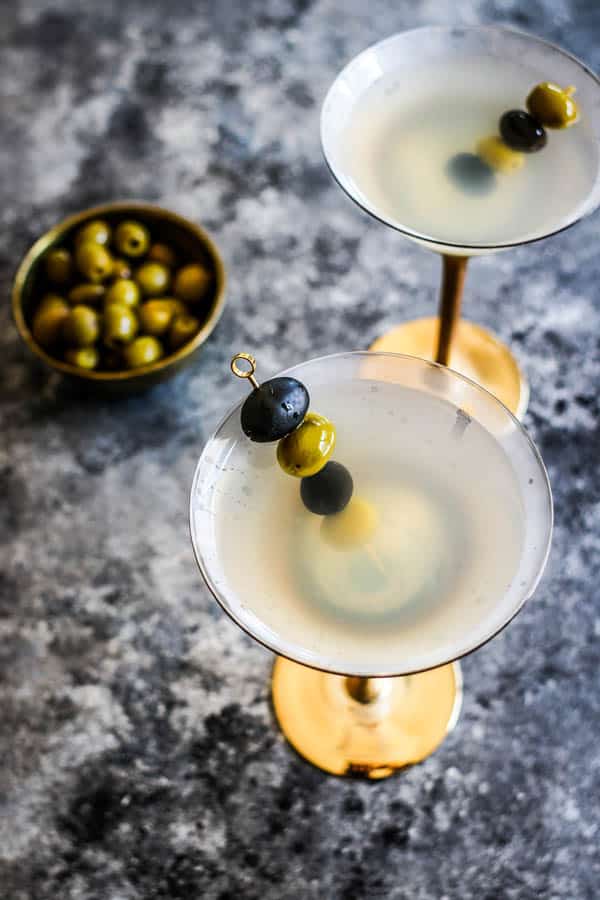 How to garnish a Gin Martini
Olives are a popular garnish that provide a saltiness and briny flavor to martinis.
A lemon twist garnish like we use in our Gin Martini offers a lemony aroma.
Ever heard of a Gibson? A Gibson is a dry martini that has a pickled onion garnish.
Do you prefer a martini with big, bold flavor? Don't worry we have recipes for those too!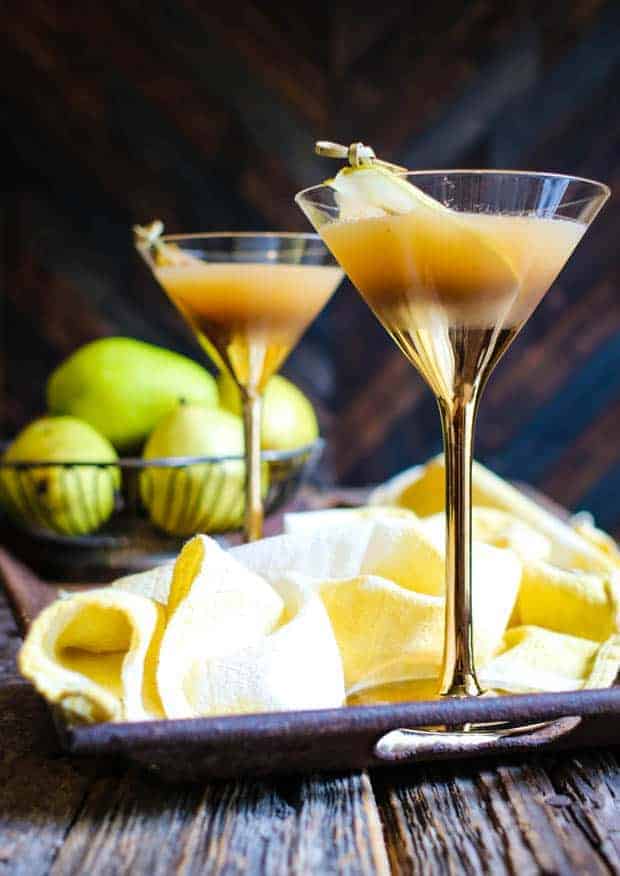 Roasted pear puree blends perfectly with vermouth, pear vodka, and lemon juice in this martini that is sweetened with a cardamom-infused syrup.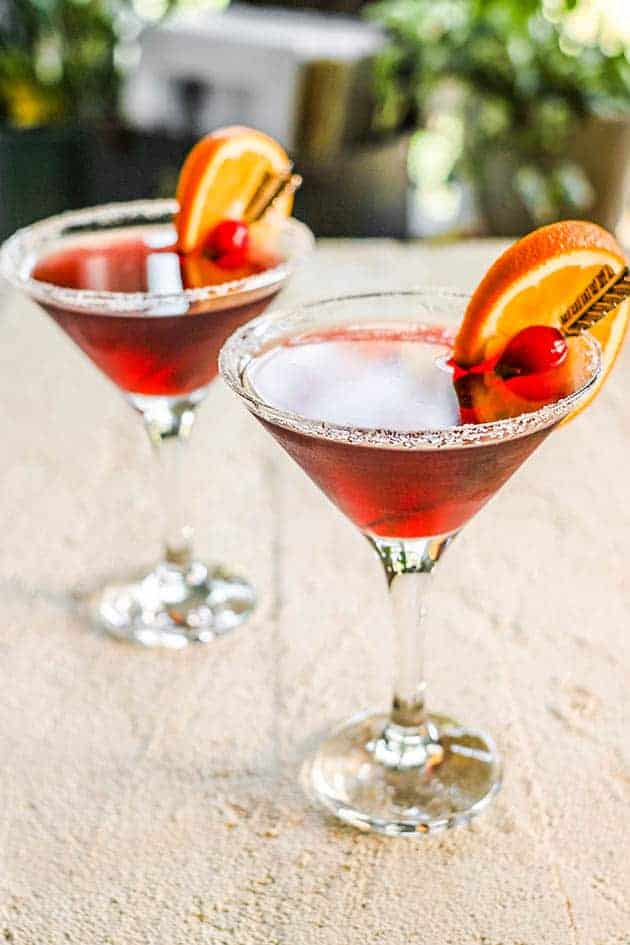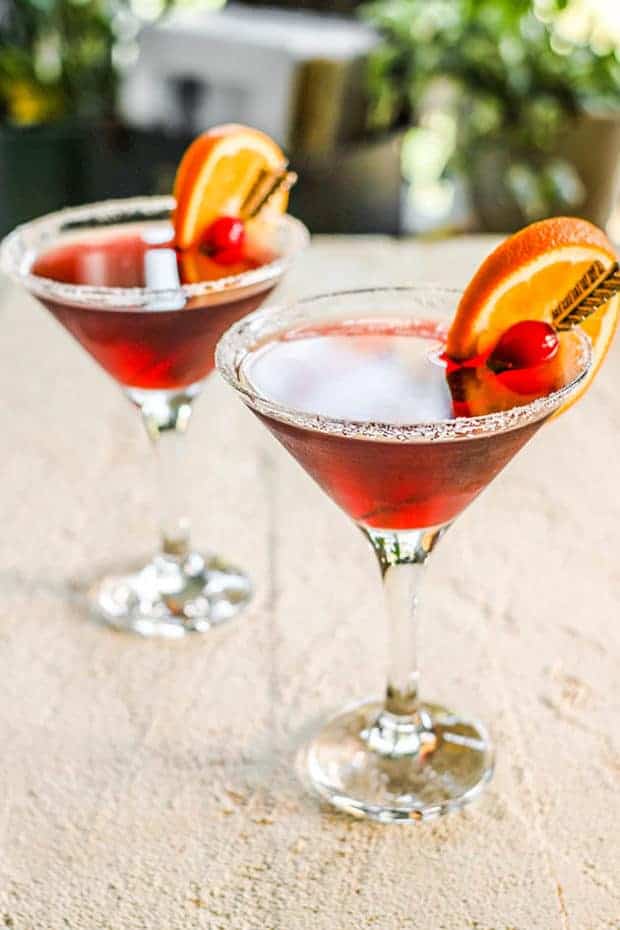 We recently photographed this stunning cranberry and pomegranate-infused martini for our friend The GFree Foodie and it was every bit as decadent to sip as it looks!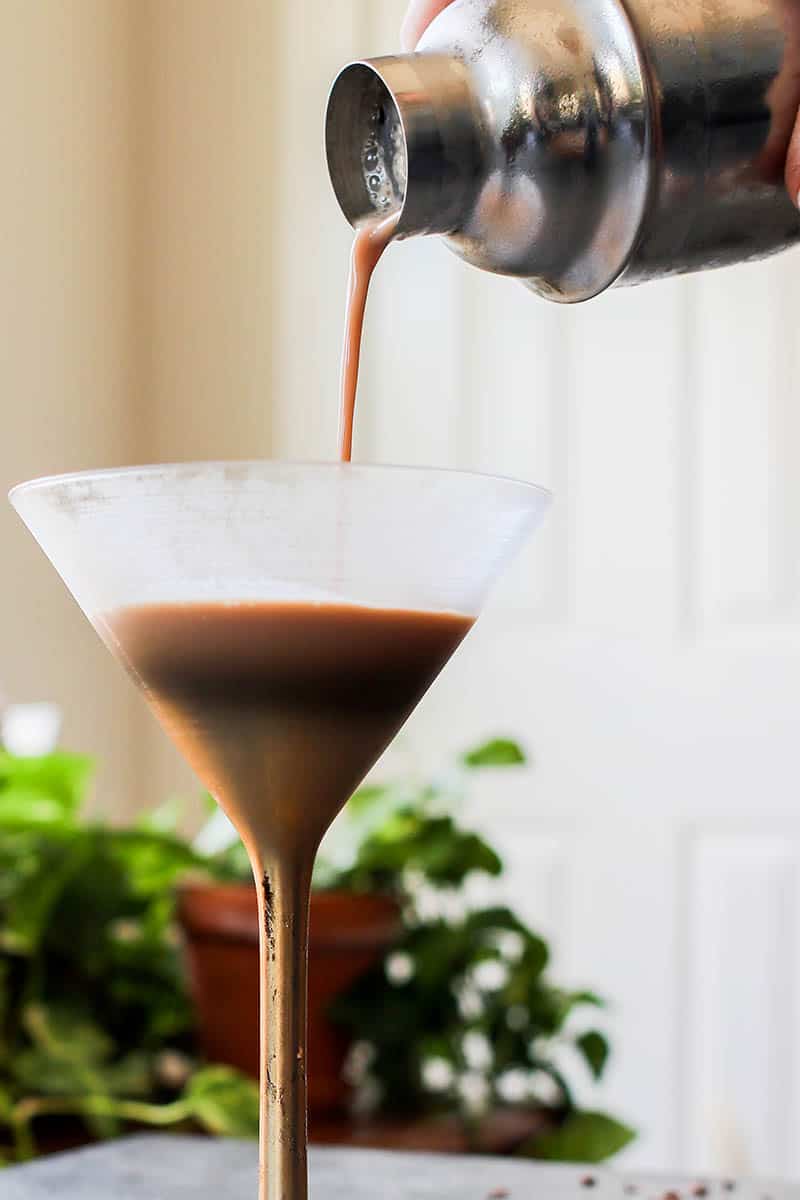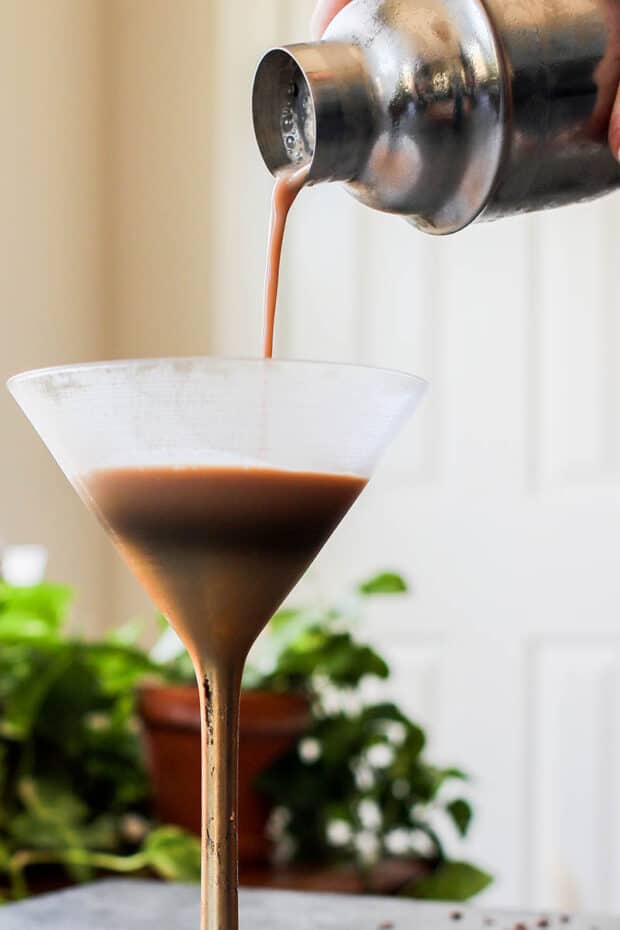 This Chocolate Martini recipe from G Free Foodie is rich and delicious. She even shows you how to make it dairy-free easily too.
Plus, K. C. shares a recipe for making your own Kahlua. WINNING!
If you've made our Gin Martini I would be so grateful if you would rate the recipe and let me know what you think in the comments below!
I just love hearing from you and your reviews and comments really help others that visit This Mess is Ours.
Print
Gin Martini with a Lemon Twist
Don't forget to rate the recipe and let me know what you think about this Classic Gin Martini with a Lemon Twist recipe in the comments below, I just love hearing from you and your reviews/comments really help other people that visit This Mess is Ours! 
Author:
Prep Time:

3 min

Total Time:

3 minutes

Yield:

1

drink

1

x
Category:

Cocktail

Method:

Stirred

Cuisine:

American

Diet:

Gluten Free
2 ½ ounces gin
½ ounce dry vermouth, or to taste
1 dash orange bitters
Lemon twist
Instructions
In a mixing glass filled with ice cubes, combine the gin and vermouth, pouring more or less vermouth to your taste.
Stir for 30 seconds.
Strain into a chilled cocktail glass.
Add a dash of bitters, if desired.
Serve immediately garnished with a lemon twist.
Notes
A note about garnishes: 
Olives or a pickled cocktail onion can be used in place of the lemon twist garnish in this classic cocktail. 
What does a twist of lemon mean?
It's a cocktail garnish that is simply the peel of the lemon that's twisted into a corkscrew shape. To get this to happen, you have to remove the fruit and the pith before shaping the peel.
What is a twist of lemon in a martini?
It's a garnish that adds some citrus to a drink, like a martini.
Nutrition
Serving Size:

1 drink

Calories:

216

Sugar:

0.4 g

Sodium:

1.6 mg

Fat:

0.2 g

Carbohydrates:

10.6 g

Protein:

1.8 g

Cholesterol:

0 mg
Keywords: martini, gin martini, cocktail, classic cocktail, vermouth, gin, lemon, lemon twist
Recipe Card powered by
Frequently asked questions about gin martinis
How many martinis can I drink at one time?
The martini is not a light cocktail. It is, without a doubt, one of the most potent cocktails you can mix up.
That's why it's given in small portions, rarely exceeding 3 or 4 ounces. The average gin martini has 30% alcohol by volume (ABV) or 60 proof.