The best meatballs are incredibly soft, full of flavor, never dry, and they always impress! Everyone needs a back pocket meatball recipe - everyone, and this is mine. These meatballs come together fast, require minimal hands-on time, and taste like you've been slow cooking them all day. What's not to love?!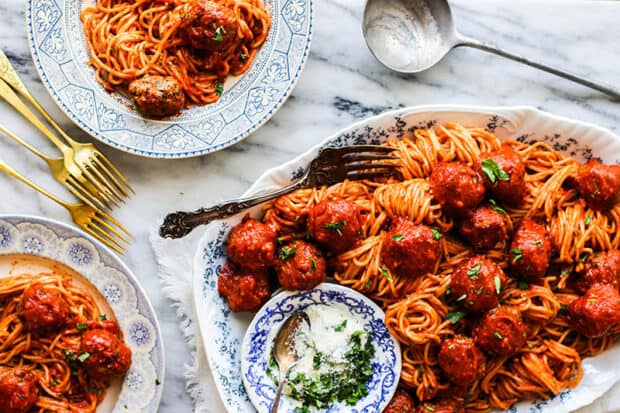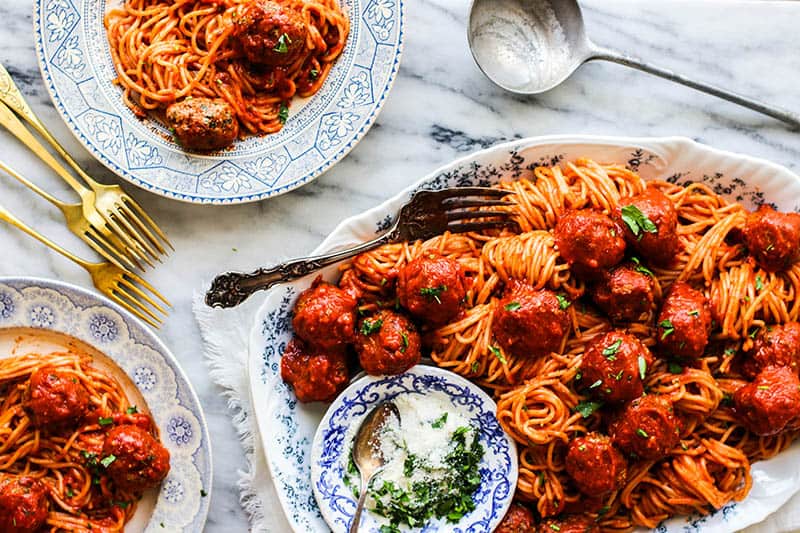 What is a sheet pan meatball?
A sheet pan meatball is simply a meatball cooked on a sheet pan, and man, are they good!! Sheet pan meatballs are extremely easy to cook, which is a bonus for me and perfect for those of us on a budget too.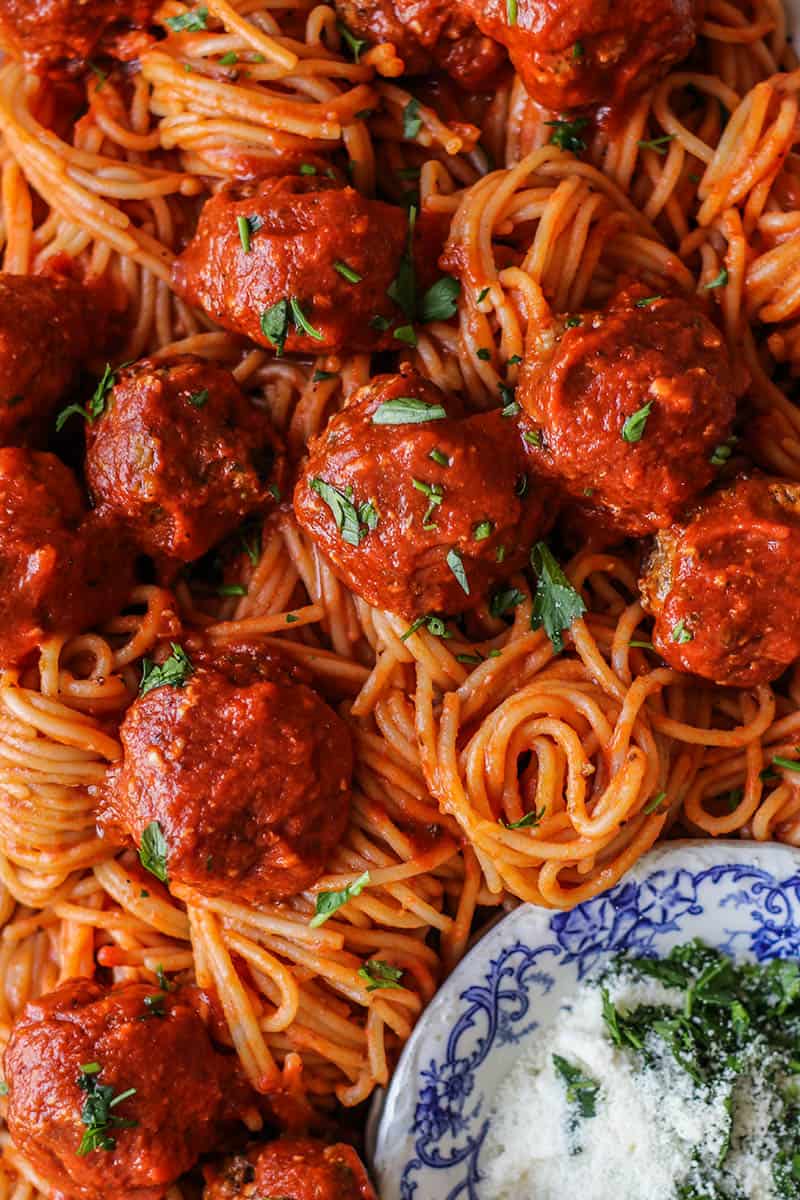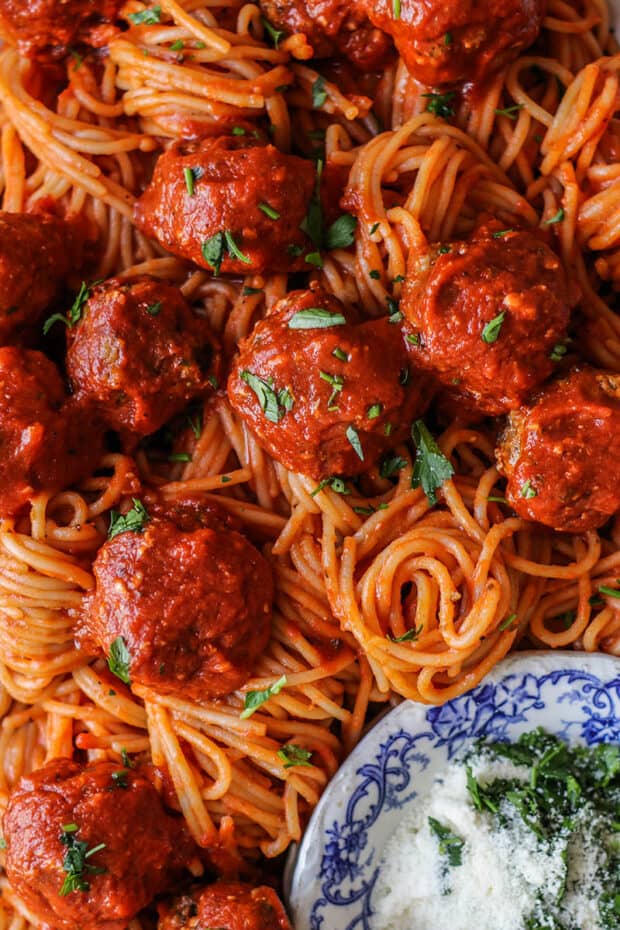 The History of Meatballs
Although many people believe the meatball originated in Persia, when leftover meat was utilized to produce a dish known as Kofta, it remains uncertain who invented the first actual meatball.
American versus Italian meatballs: 
In Italy, traditional meatballs are served separately from the pasta as a main course? Pasta is considered a first-course there, and Americans are actually who created the combination of pasta and meatballs together as a meal.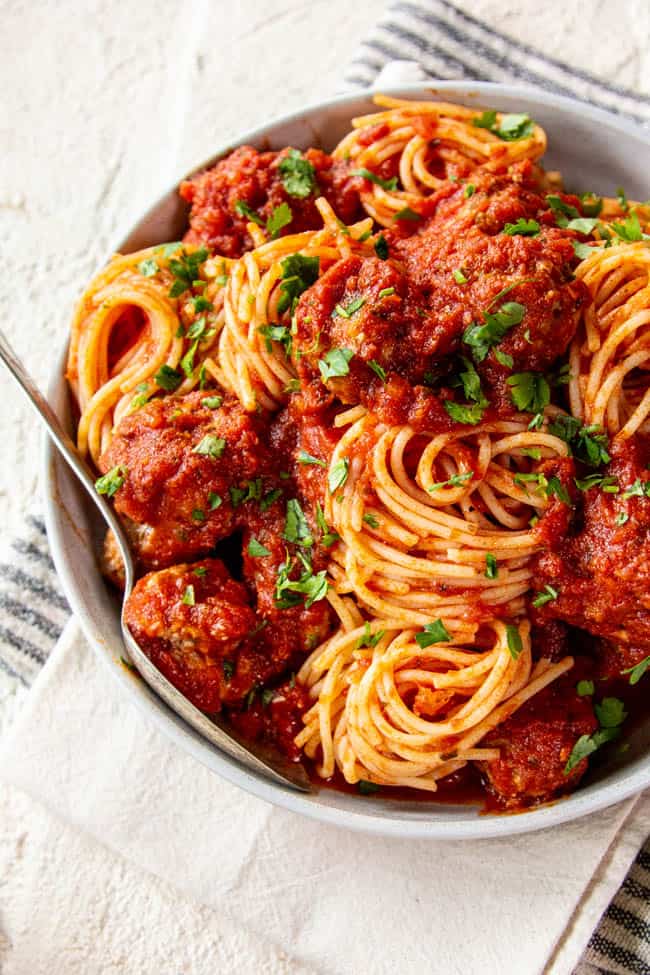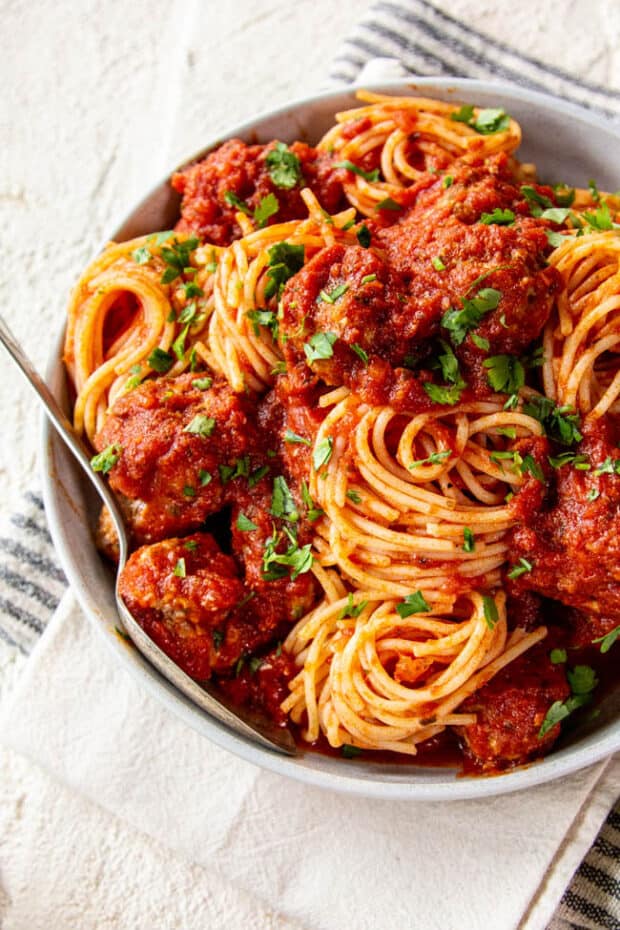 What are the best meats to use in your meatball recipe:
Even though most Americans identify meatballs with meat, meatballs are also made using many other ingredients such as fish, beans, and sometimes vegetables.
In my opinion, the best meatballs that are actually "meatballs" are made with a combination of meats. This provides superior taste and texture while ensuring your meatballs are never just one note.
I personally like to combine pork and turkey like in my sheet pan meatballs recipe below, but a mix of beef and pork, or pork and chicken is equally delicious.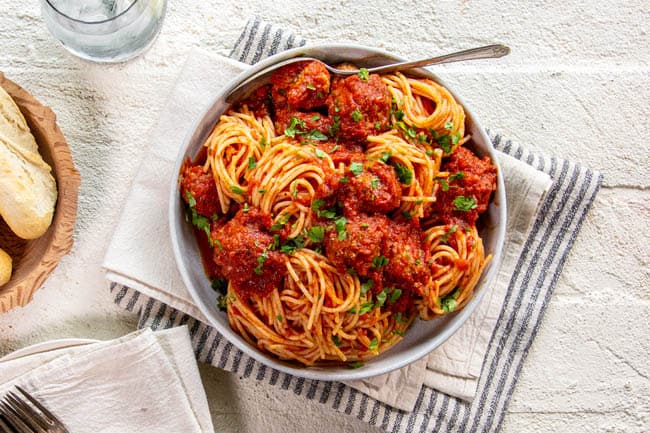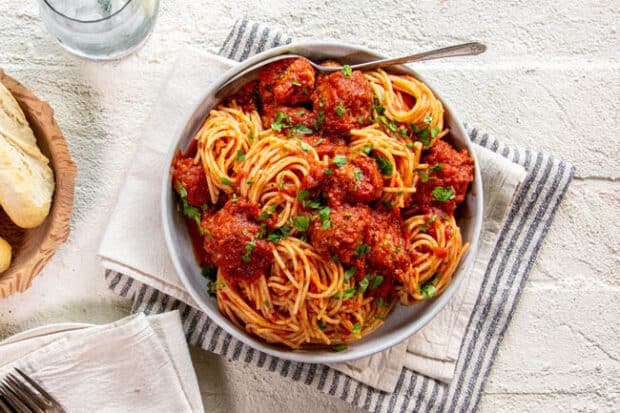 Tips for making the best meatballs:
The colder the better
Keep all ingredients as cold as possible before cooking the meatballs to prevent the fat from melting and breaking down.
If you're using pre-cooked components like onions, make sure they're completely cool before adding them.
Making the mixture in a refrigerated bowl or transferring them to the freezer for 10-15 minutes will keep meatballs nice and chilly.
Don't overwork your meatballs!
Tough, rubbery, and chewy meatballs result from overworking your meatballs.  Form the meatballs carefully and quickly using lightly oiled or wet hands to prevent the mixture from sticking to them.
Use an icecream scoop or measuring spoons.
I like to use a small ice cream scoop to make equally sized meatballs without overworking them.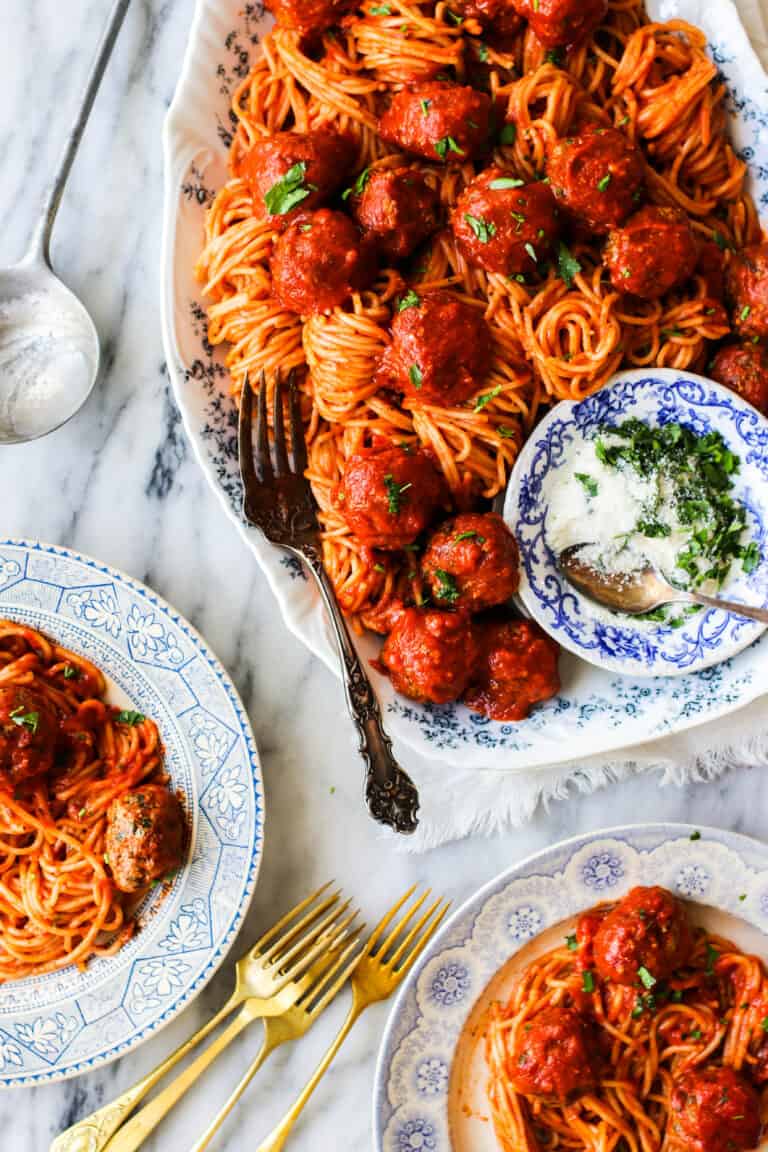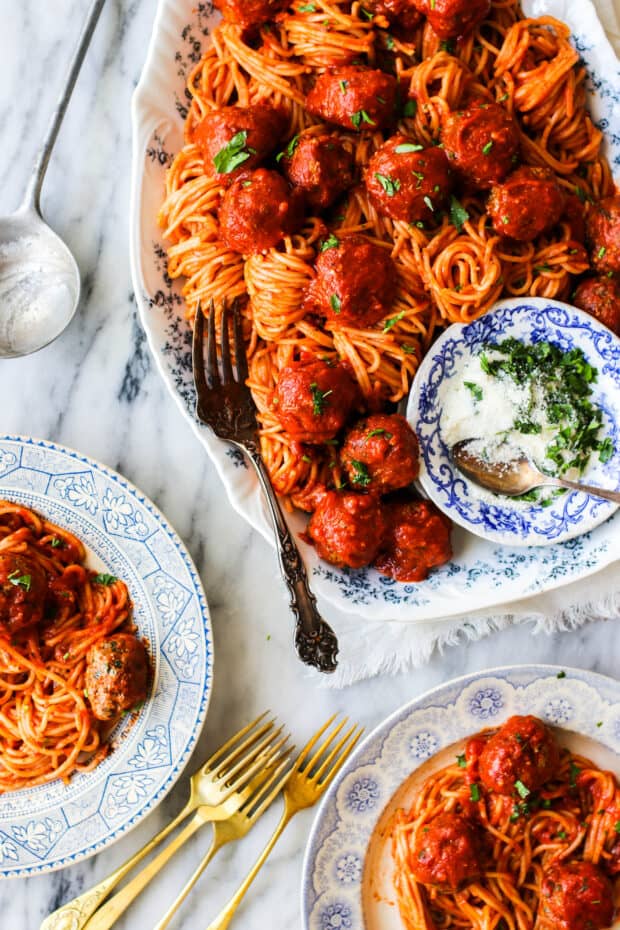 Looking for the best meatballs recipes on the internet? Keep scrolling!
We think our kitchen serves up the best meatballs in town and we think your oven can too! Here are a few more ideas for delicious meatball recipes from our kitchen.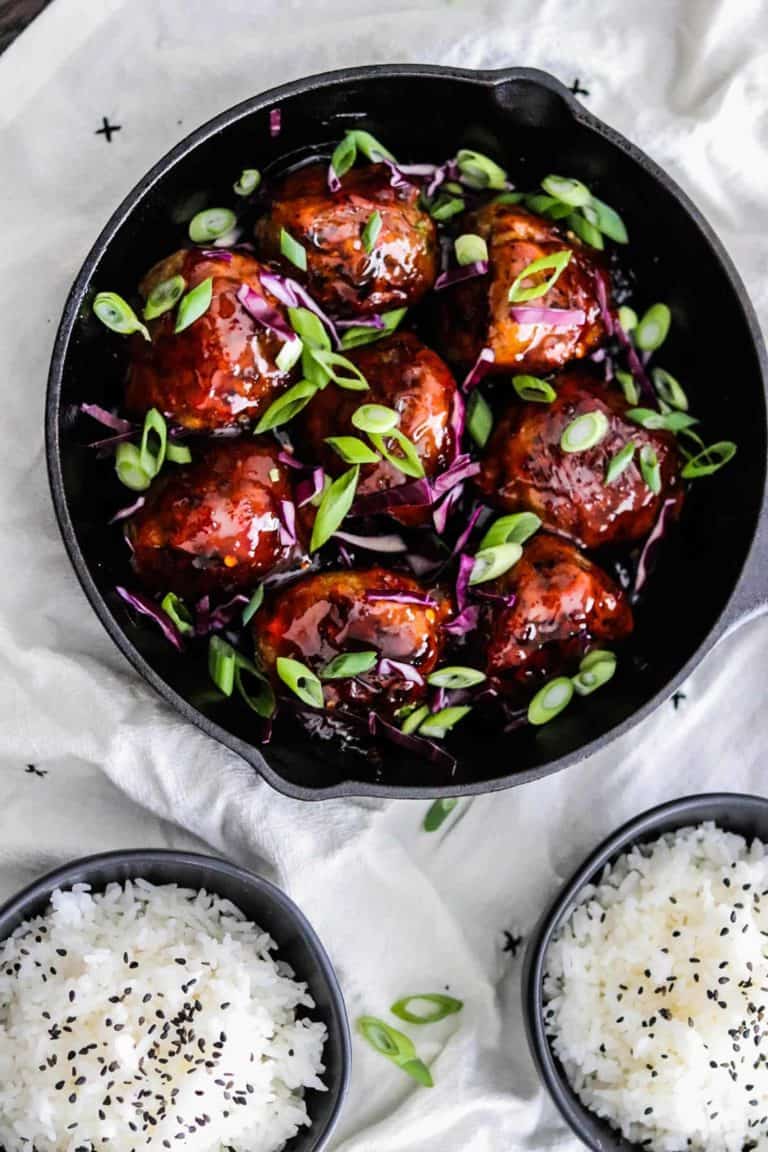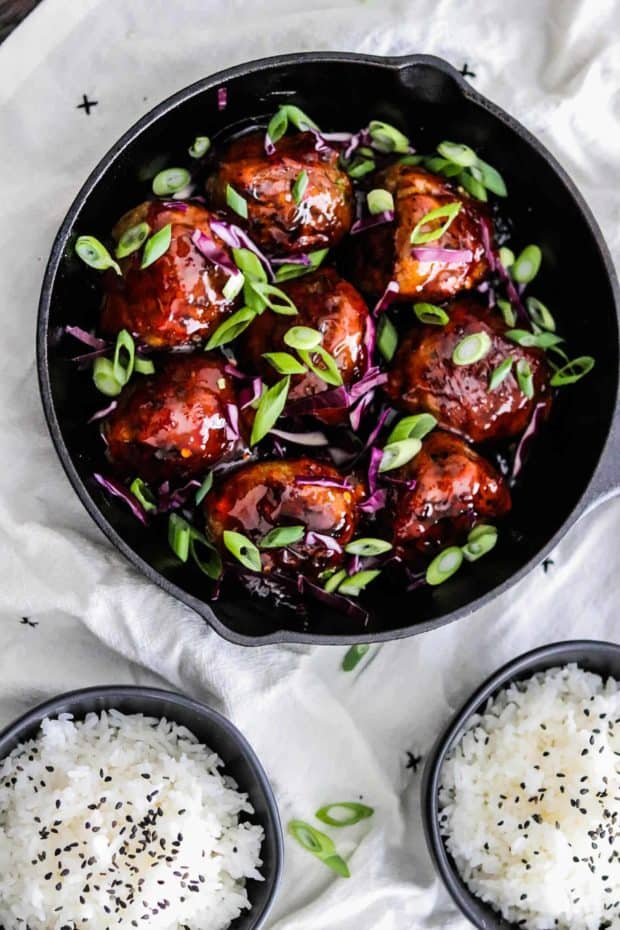 Korean BBQ Meatballs
These meatballs are anything but ordinary!
They are slightly sweet with a little kick of heat that will keep your family coming back for more.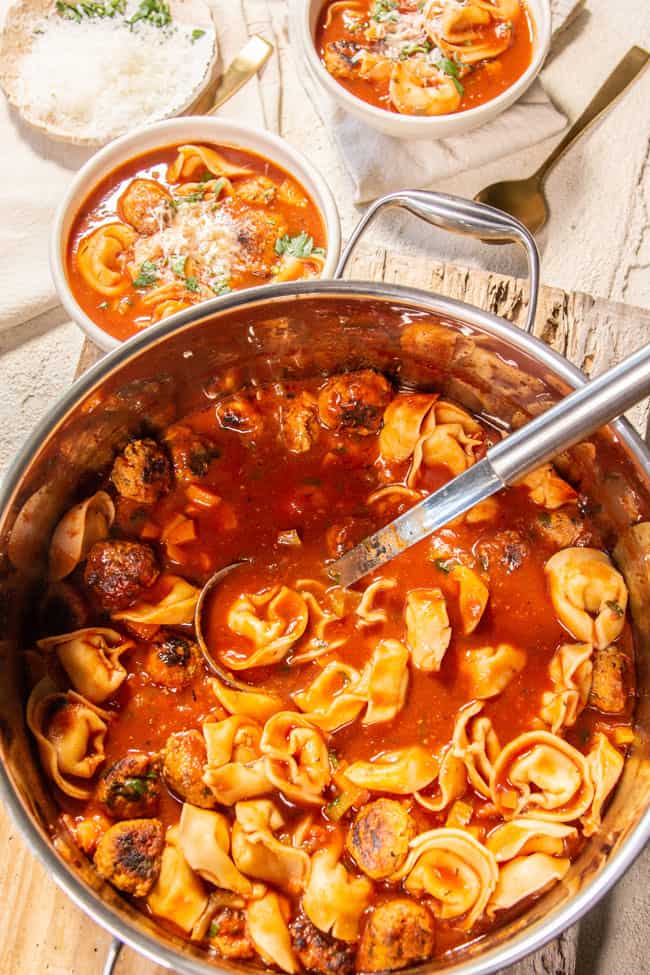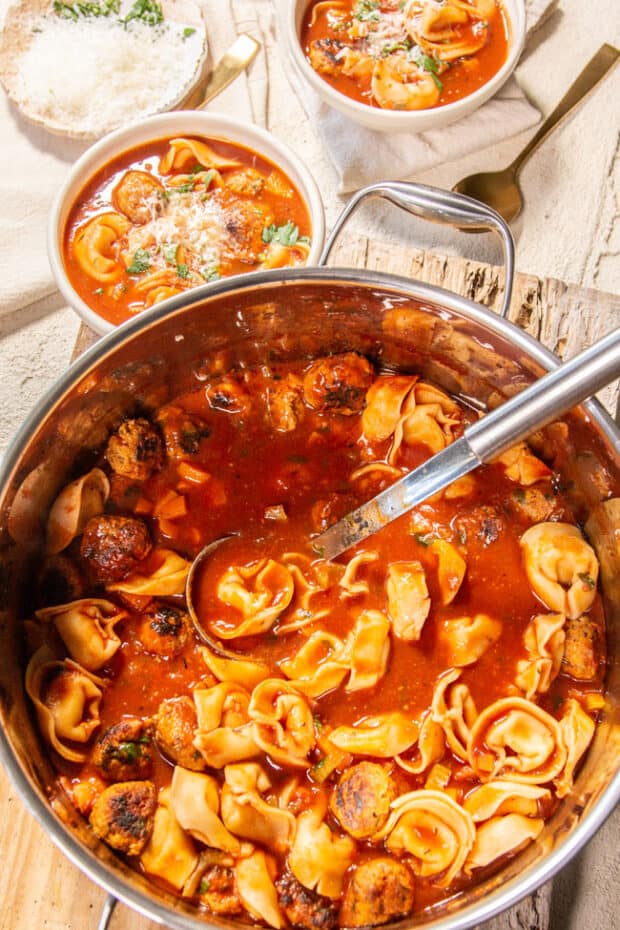 Meatballs in soup? YES PLEASE!! This soup has a rich tomato base that is chock-full of vegetables and is studded with succulent bite-sized meatballs and gluten-free tortellini.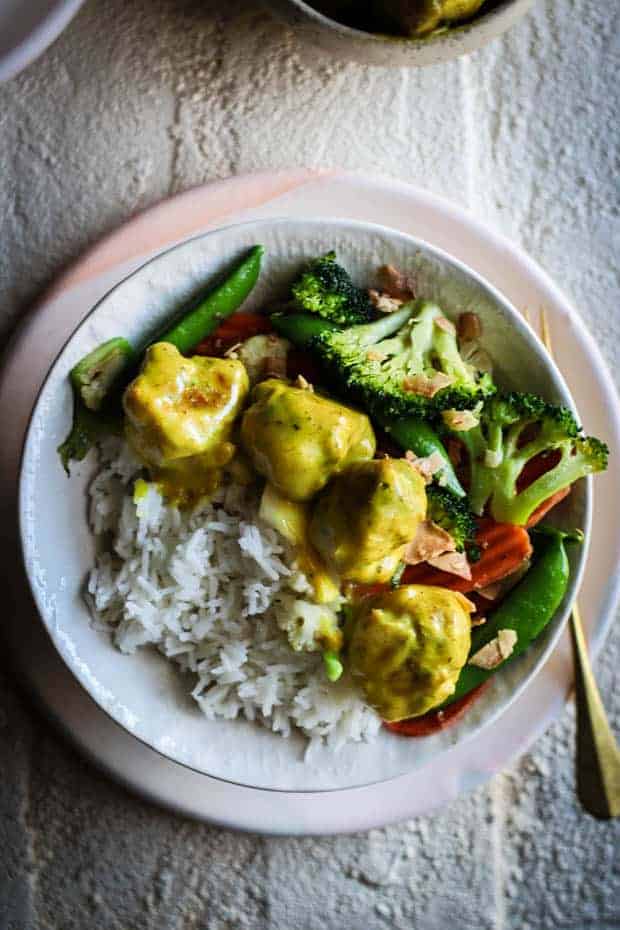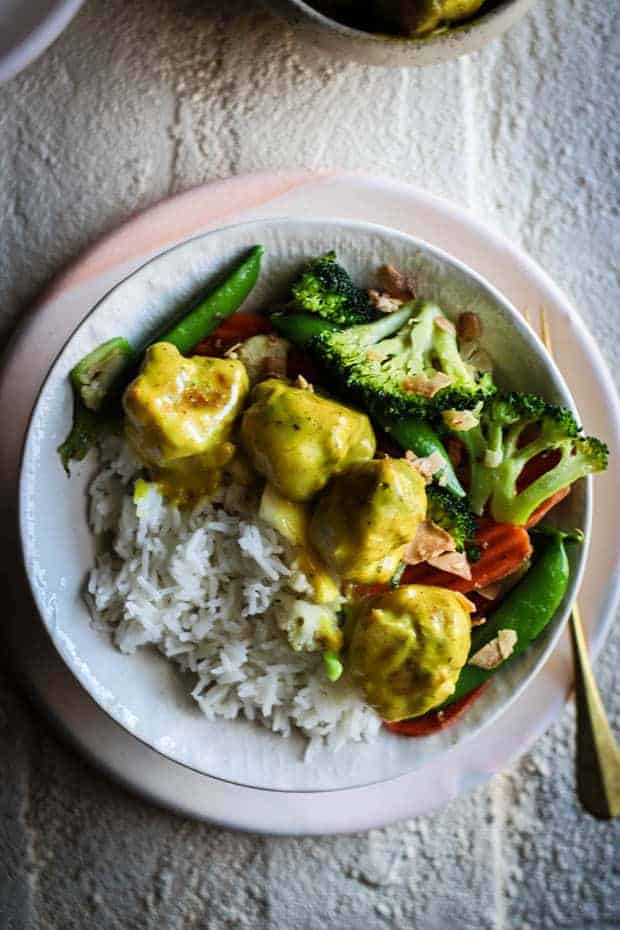 These meatballs are the perfect solution to the age-old question, "What's for dinner?"!
This 50/50 blend of turkey and pork is seasoned with ginger, cilantro, green onions, and soy sauce before being baked in the oven and tossed with a delicious yellow coconut curry sauce.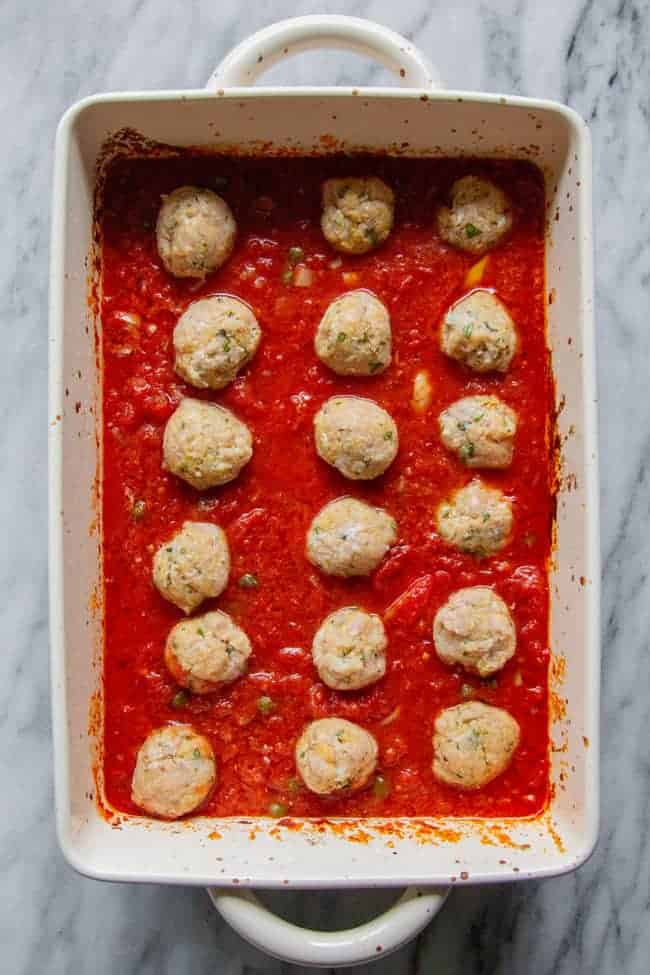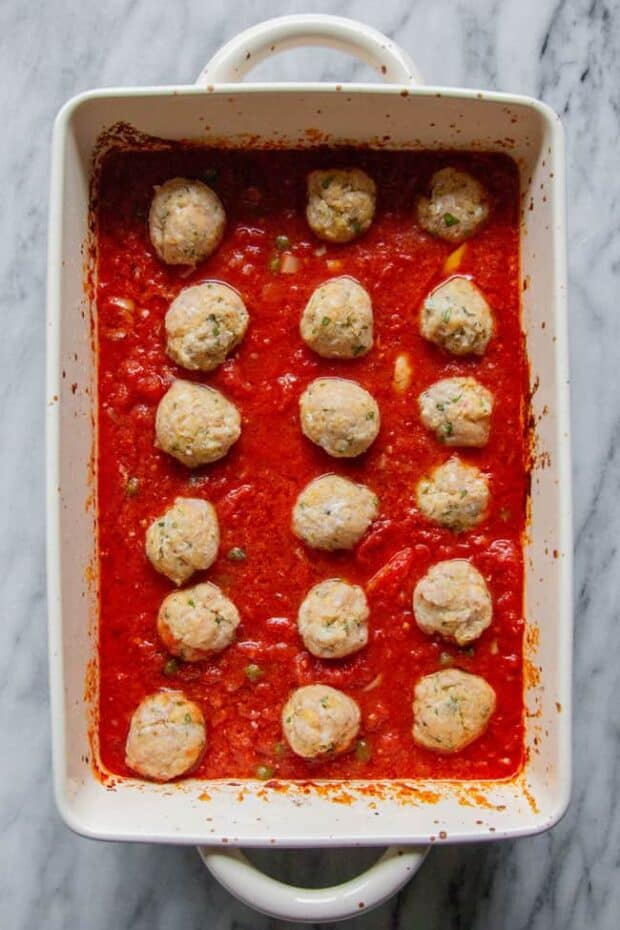 One Pan Baked Chicken Meatballs & Tomato Sauce
Yes, you read that correct...meatballs that bake in the oven right along with a simple homemade sauce.
There is very minimal prep, dishes, or effort involved really when making this delicious meatball recipe that we created for California Grown.
The tomato sauce is rich, buttery, and inevitably tastes like it's been cooking all day - even though this entire meal comes together in only about 40 minutes.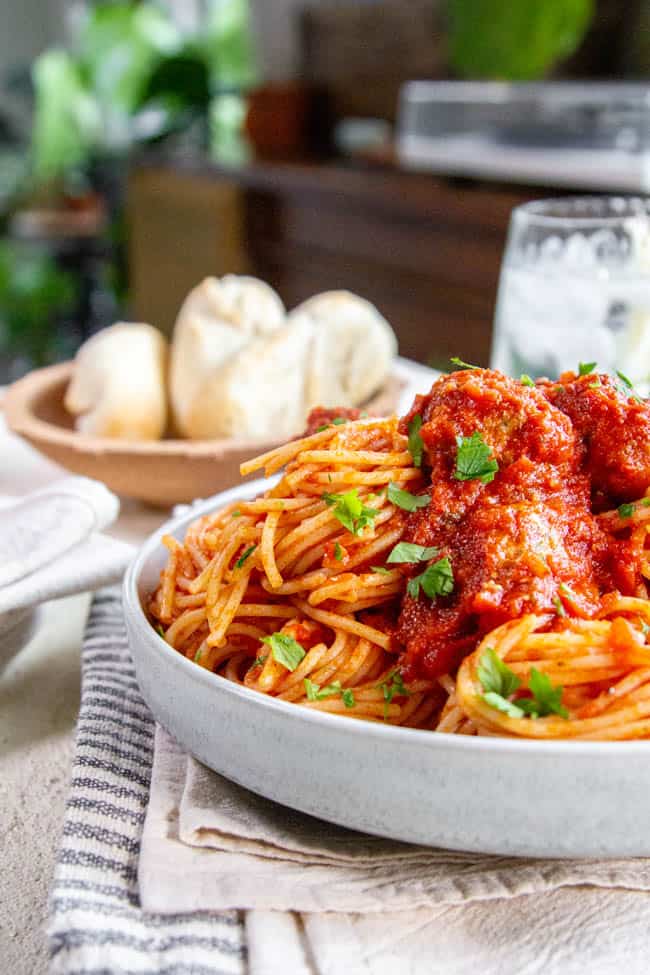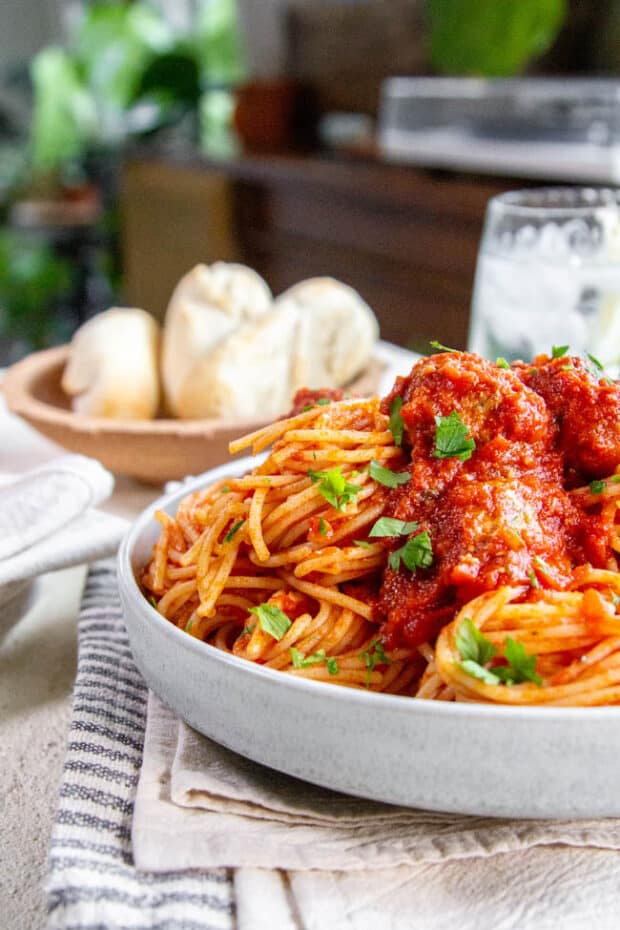 If you've made our sheet pan meatballs and think they are the best meatballs too I would be so grateful if you would rate the recipe and let me know what you think in the comments below! 
I just love hearing from you and your reviews and comments really help others that visit This Mess is Ours. 
Print
Fast and Easy Sheet Pan Meatballs
We think these are the best meatballs for lots of reasons. They're easy to make, delicious to eat, and require minimal clean up too! While we love them with pasta, these meatballs are great served all on their own also as a solo dish. 
Author:
Prep Time:

10 min

Cook Time:

20 min

Total Time:

30 minutes

Yield: approximately

30

small meatballs

1

x
Category:

Dinner

Method:

Baked

Cuisine:

Italian

Diet:

Gluten Free
1 pound ground turkey ( mix of white & dark meat is best)
½ pound ground pork
½ cup almond flour
3 small cloves garlic, grated
2 tablespoons minced, flat leaf parsley
1 tablespoon Italian seasoning
1 egg, lightly beaten
2 ½ teaspoons coarse kosher salt
1 teaspoon ground black pepper
½ teaspoon red pepper flakes
To serve: 
1-2 jars of your favorite marinara sauce, or our favorite homemade sauce, 1 pound pasta, prepared
Instructions
In a mixing bowl combine all of the ingredients except for the sauce & pasta. Mix well.⠀⠀⠀⠀⠀⠀⠀
Measure the meatballs with a small cookie scoop that is about 1 - 1 ½ inches or use a measuring spoon. Once all of the meatballs are portioned out, you should have about 30, roll each of them between slightly wet or lightly oiled hands to quickly shape. 
Space meatballs on a parchment paper-lined sheet pan and bake at 350°F for 15 minutes, until just cooked through. The meatballs will be shiny. 
⠀⠀⠀⠀⠀⠀⠀⠀⠀
Gently warm 1 pasta sauce in a shallow saucepan. Once the meatballs have been baked through in the oven add the desired amount of meatballs to the simmering sauce & cook for 5 minutes so that the flavors can mingle. Do not overcook. 
⠀⠀⠀⠀⠀⠀⠀⠀⠀
Toss the prepared pasta with some of the sauce, top with meatballs then serve immediately. 
⠀⠀⠀⠀⠀⠀⠀⠀⠀
Notes
COOK AHEAD TIP: Meatballs can be made through the forming step then refrigerated for up to 2 days or frozen for a few months.
Nutrition
Serving Size:

5 meatballs

Calories:

282

Sugar:

0.4 g

Sodium:

594.9 mg

Fat:

16.4 g

Carbohydrates:

2.9 g

Protein:

23.9 g

Cholesterol:

110.4 mg
Keywords: meatballs, sheet pan meatballs, the best meatballs, pork, turkey, almond flour, easy meatballs, oven baked meatballs, spaghetti and meatballs
Recipe Card powered by
Looking for more recipes for easy, sheet pan meals?! We've got ya covered there too!
Sheet pan meals are often some of the easiest and most delicious recipes you can crank out of your kitchen! I love getting all the prep done at one time and cleaning up the kitchen while the oven does ALL the work cooking!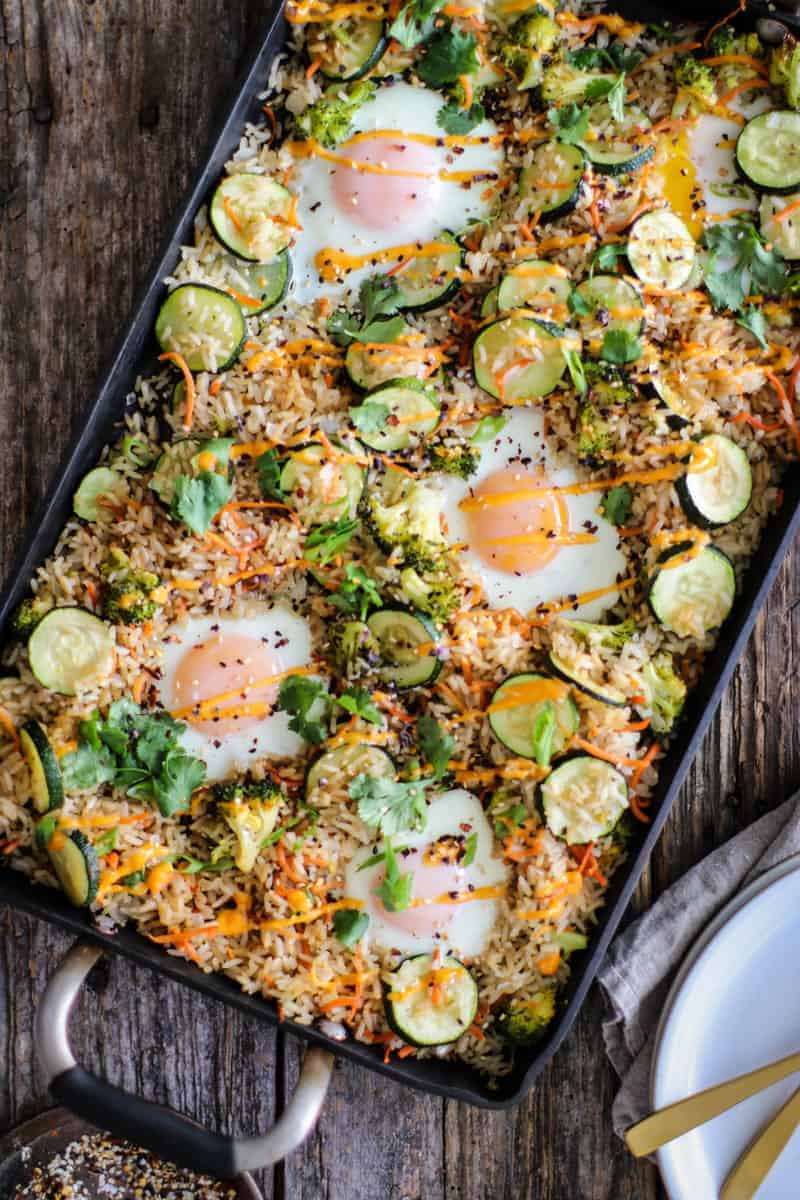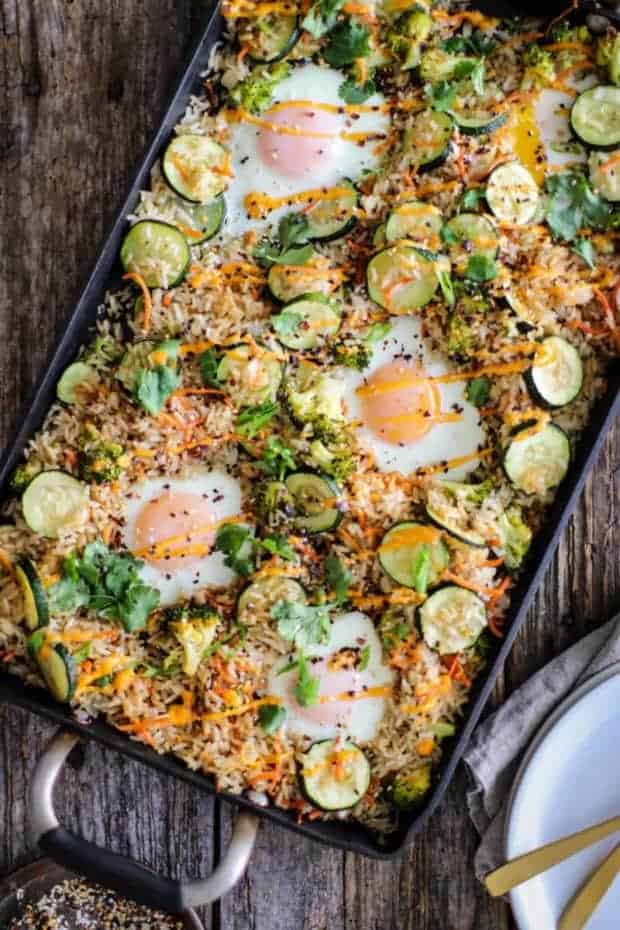 Love fried rice, but don't love the hassle of making it on the stovetop? Try our oven-baked version that still has ALL the flavor without the hassle!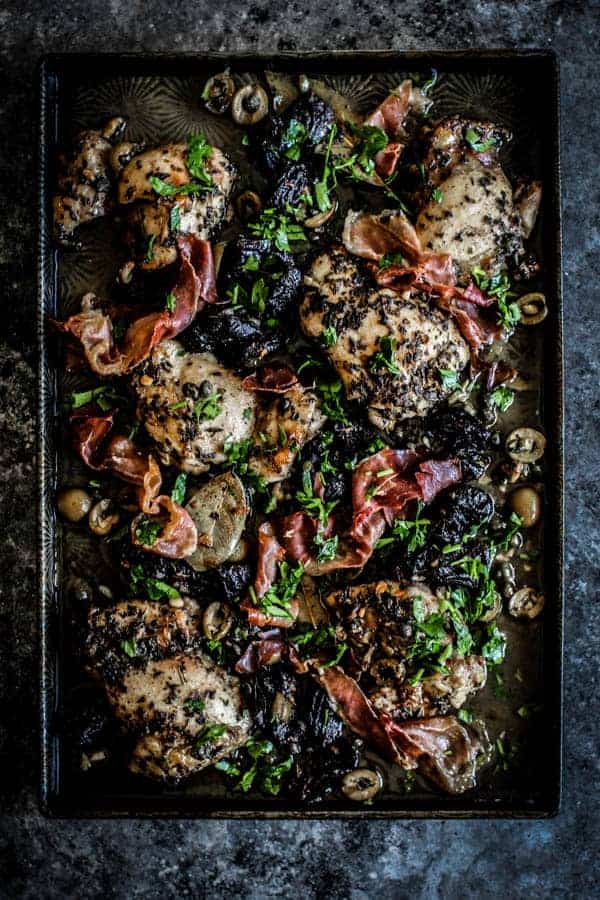 This sheet pan recipe is made with sweet prunes, green olives, and capers for BIG flavor!
This retro redo is a simple chicken dinner idea that packs BIG, BOLD flavor with minimal effort.
Whether you plan ahead to marinate overnight for maximum Marbella flavor or you just want to get a delicious dinner on the table with only a few minutes of prep time to spare, our Sheet Pan Chicken Marbella tastes great with almost zero hassle.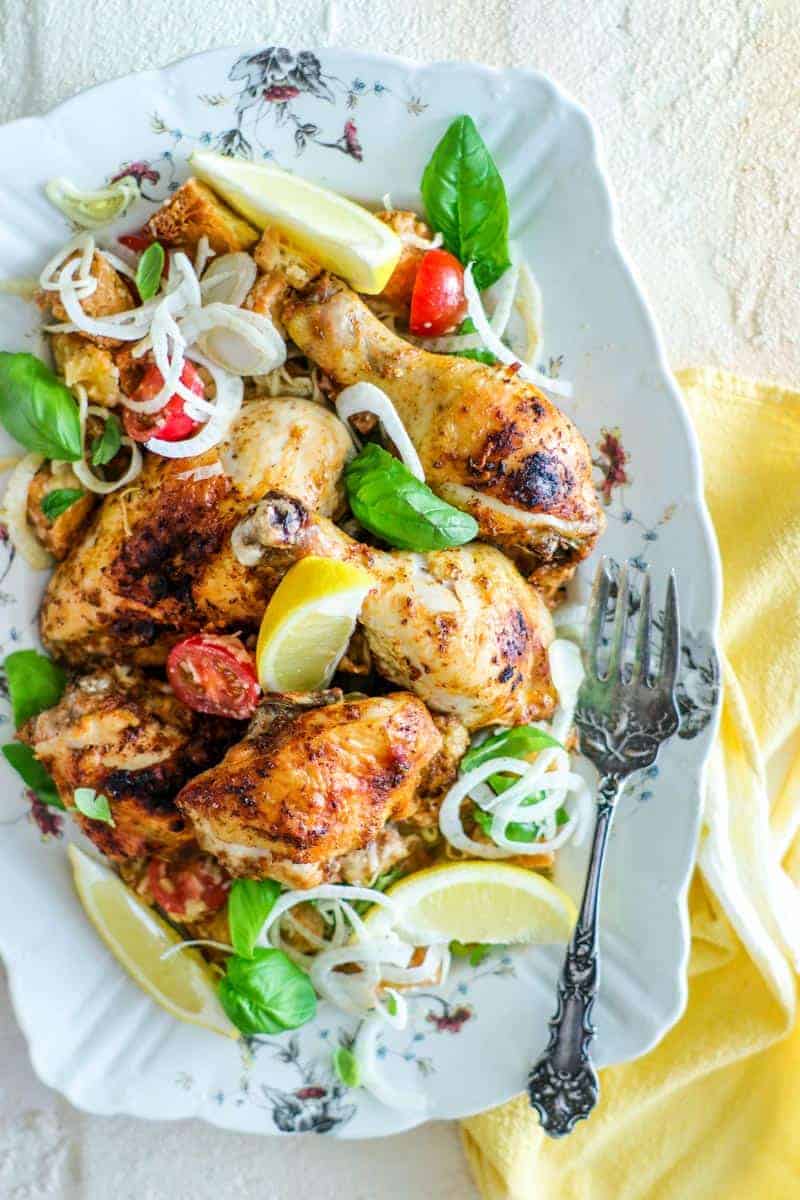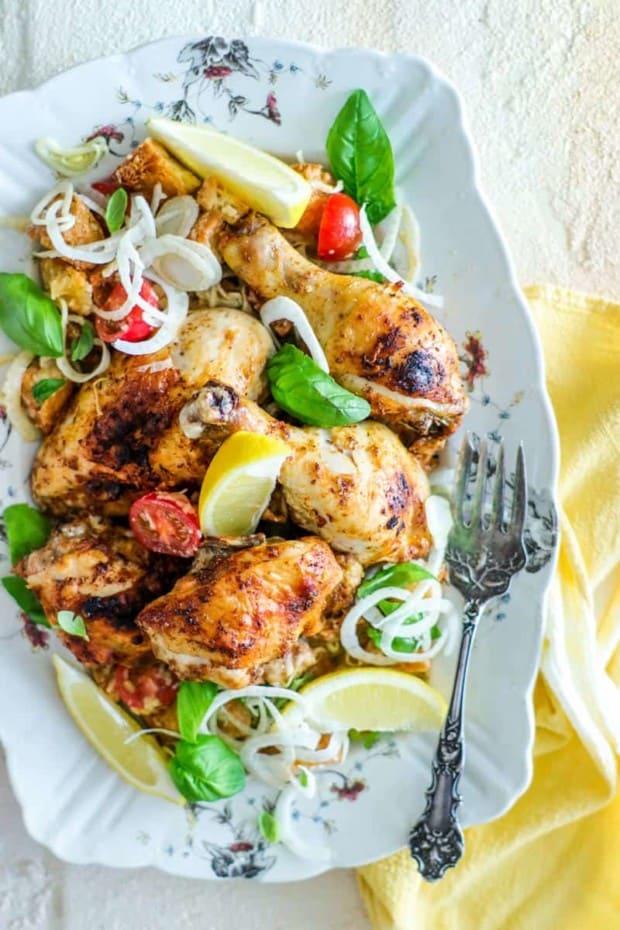 Talk about a show stopper of a sheet pan recipe! This chicken recipe from Giada takes a bit more time to cook than some of our other sheet pan recipes, but is so worth it!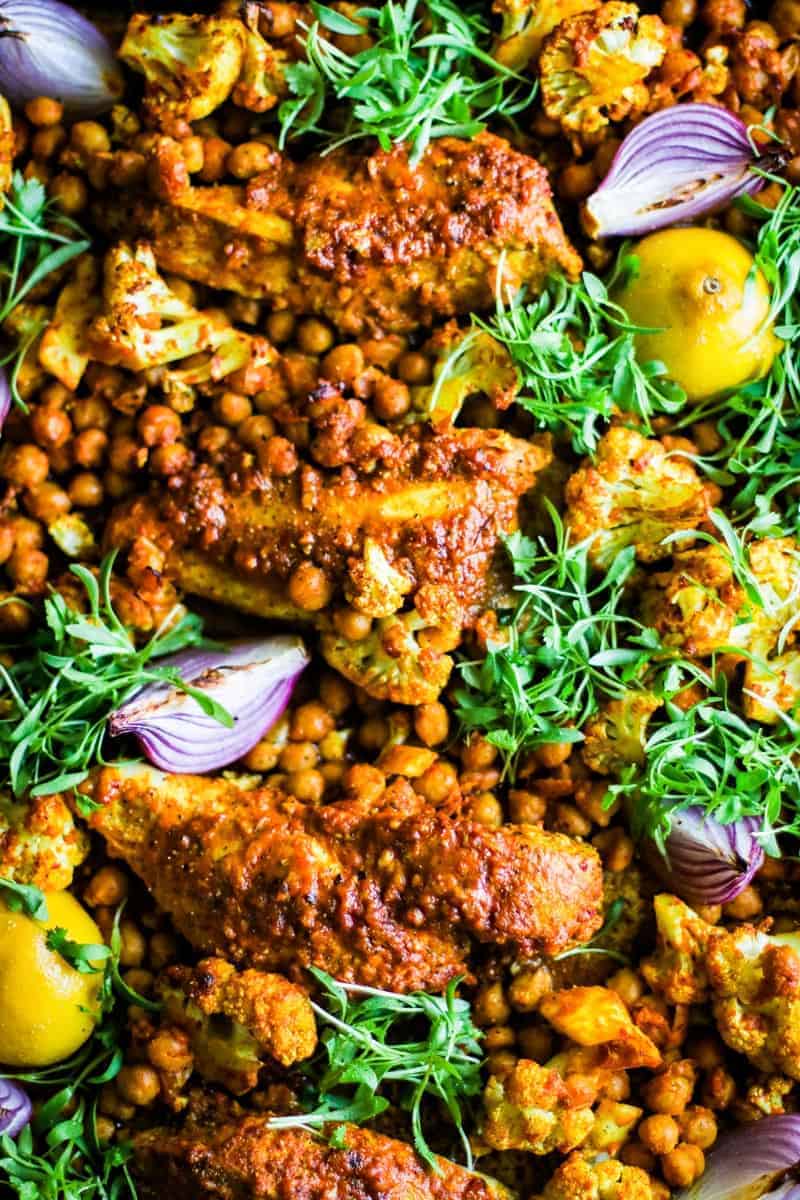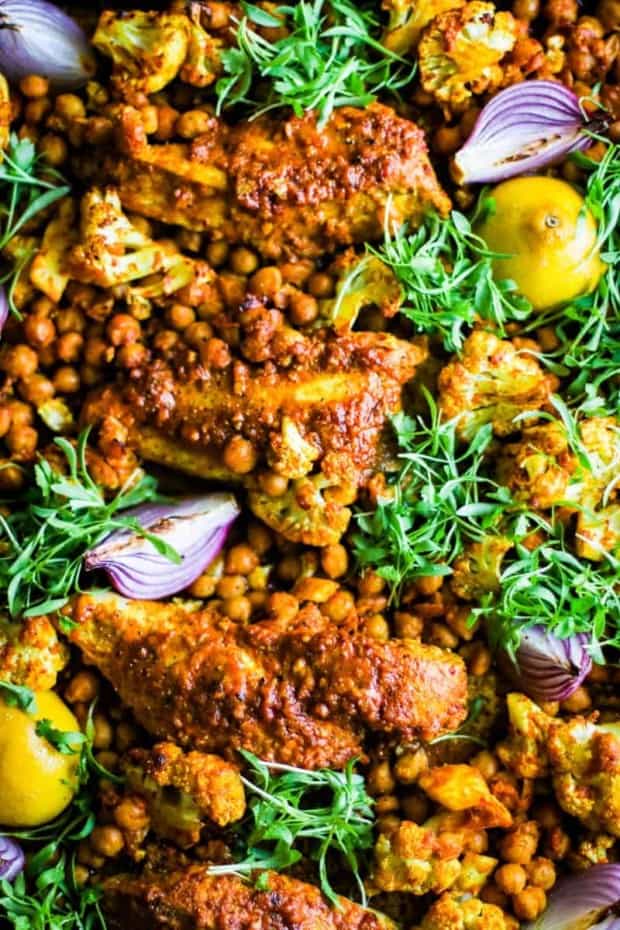 This sheet pan dinner is loaded with Middle Eastern spices, is easy to pull together even on the busiest of weeknights, and feeds a crowd!