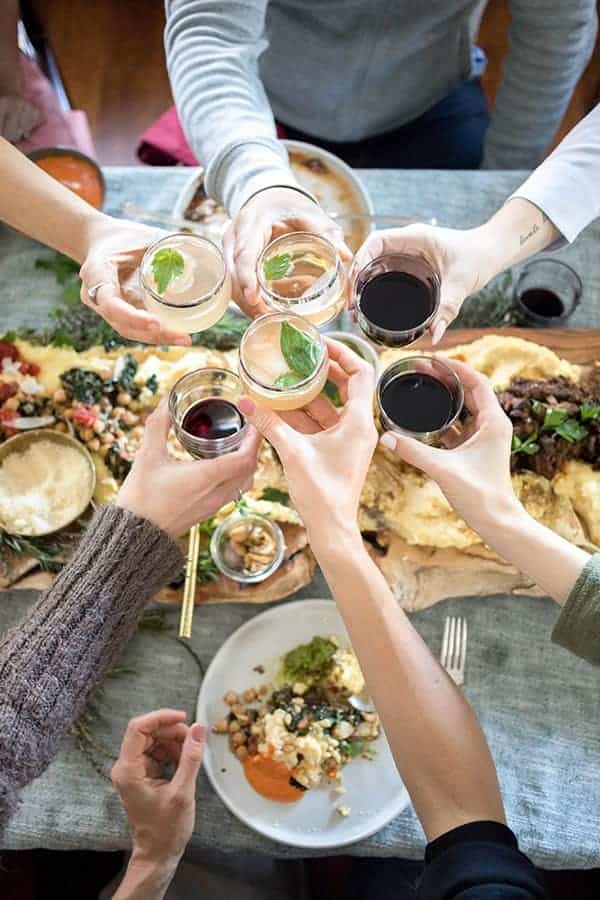 Winter is in full swing here in So Cal and we are absolutely loving it! We've been all about creating cozy vibes in our home the past few months and now we're transferring those cozy, comfy vibes to our latest party with our friends Kate of ¡Hola Jalapenõ! and Aida of Salt & Wind. Prepare yourself for the coziest of cozy parties with this Italian Polenta Party...also you may want to have your stretchy pants ready, the polenta recipes in this feast lend themselves to over indulgence with a side of naps afterward.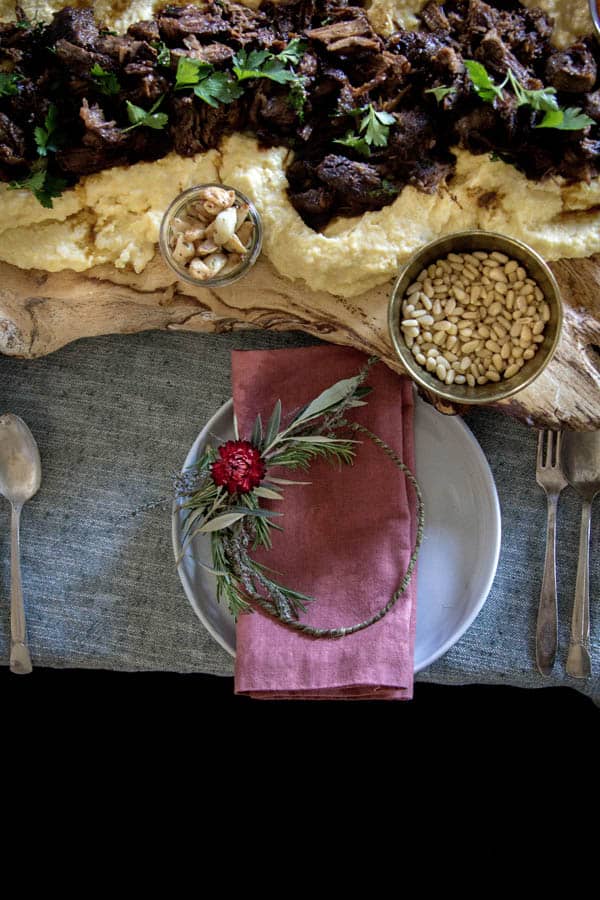 Follow these tips and polenta recipes for an awesome polenta party:
DECORATE || The whole purpose behind a gathering like this is to feast on beautiful, decadent eats right? So, the decor should really let the food be the superstar. We decided to forgo giant platters and serving bowls replacing them with a gorgeous, food safe, live edge wood slab from local LA maker Pasadenaville. To make for easy clean up we cut parchment paper to fit down the center of the board then spread the polenta with a spatula towards the edges of the paper. Since our boards were going to be the centerpiece of the table we opted to keep everything else simple and elegant. The table underneath the board was layered with linen and denim then topped with handmade place settings by Orange County based ceramic studio W//R//F// Lab and beautiful hand dyed shibori and plain linen napkins topped with simple little handmade floral and herb wreaths. 
Looking to throw a polenta party on a smaller scale or don't have access to a large board like ours? No problem! You can create a similar look by layering cutting boards together like we did for our holiday charcuterie boards and then simply covering any seams with parchment as instructed above. Here are all the links to what we used to cook, decorate and feast!
Live edge wood slab polenta and charcuterie boards by Pasadenaville || Handmade pottery by W//R//F Lab || Shibori Essex Linen Napkins  || Rustic linen napkins || DIY mini floral and herb wreaths || Gold serving utensils || Linen fabric for table  || Denim fabric for table || Dansk Kobenstyle 4- Qt Casserole for cooking polenta & chickpea dishes || Vinatge silver rimmed roly poly cocktail glasses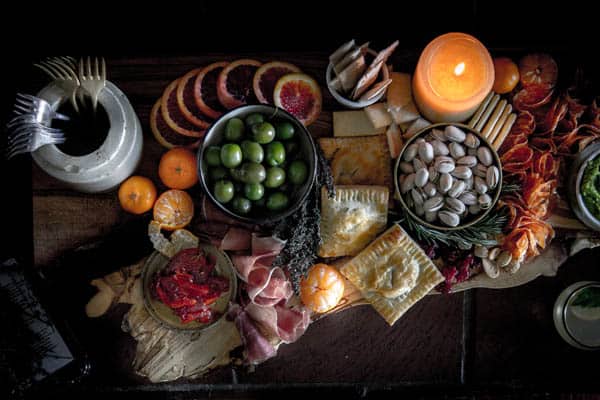 THE PRE-FEAST PLAN ||  Before we get to the polenta recipes, we must discuss the pre-dinner plans. In Italy friends and family gather before big feasts like this for an aperitivo which consists of light, clean, crisp cocktails and hors d'oeuvres which stimulate your appetite for dinner. The pre-feast eats can be as simple as a combination of roasted nuts, olives, and fresh fruit or as elaborate as the decadent bites that Aida made for our charcuterie board that we served alongside my simple Prosecco spritzer.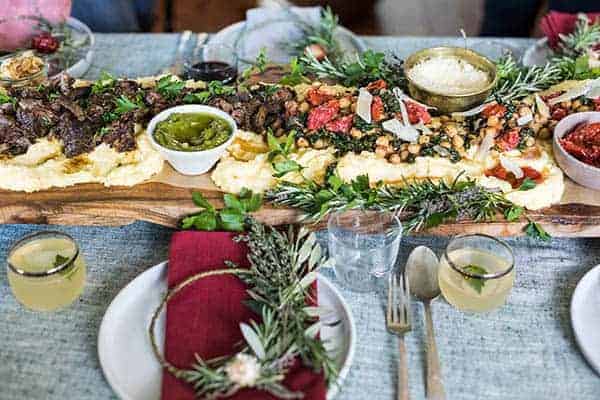 THE MAIN EVENT || At most of our gatherings we typically have a mix of eclectic eaters; there are those of us that eat pretty much anything and everything mixed in with others that have vegetarian preferences, dairy allergies, and gluten intolerances. There are a lot of mouths to feed, but these varied polenta recipes had something special for everyone. We had separate serving utensils for the vegetarian and meat based sides of the polenta boards and served vegan polenta on the side for our dairy free guests. The board was peppered with a plethora of bowls filled with incredibly delicious sauces for us to garnish our plates with too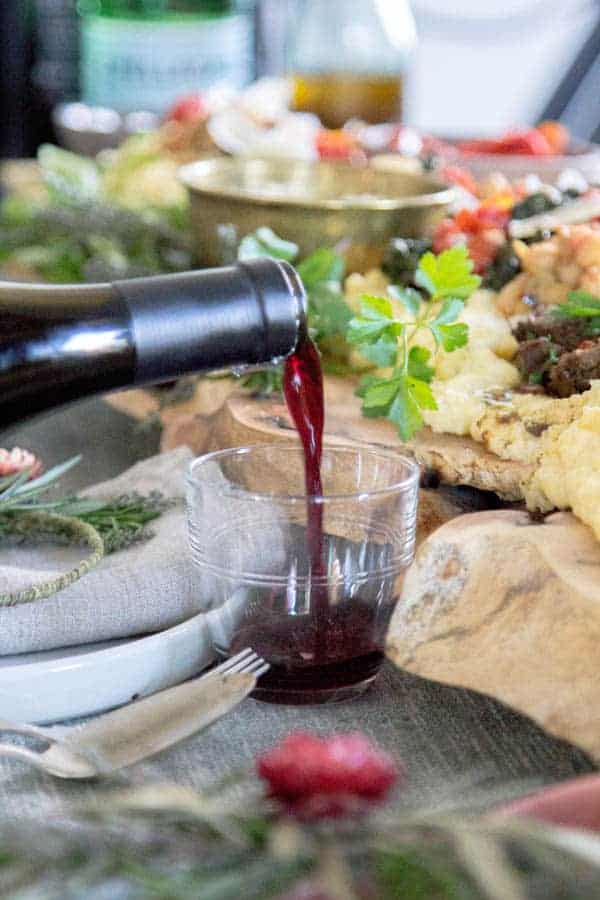 MEAL TIME SIPS, SIDES & SWEETS TO CLOSE THE FEAST|| Since we served our Apple Basil and Prosecco Spritzer's as an aperitivo before the feast we opted for good quality Italian red wine and San Pellegrino to serve alongside the main event. It was an easy, but incredibly delicious choice. Aida served a gorgeous salad made of Escarole, Charred Mandarins, Toasted Almond Salad with Rosemary Balsamic Vinaigrette and to finish our day of Italian inspired gluttony Kate showed off her pastry chef chops for dessert with a beautiful blood orange tart!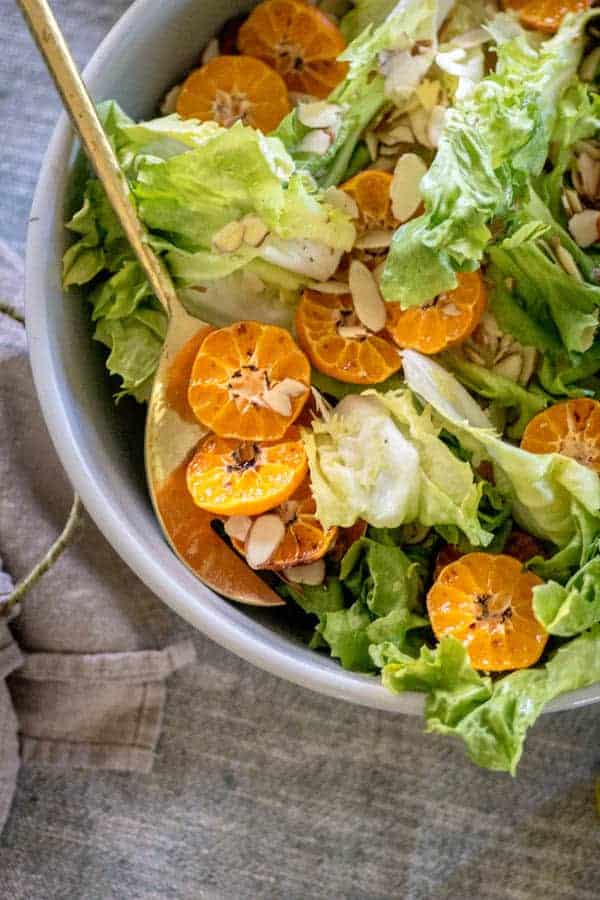 Photos by Salt & Wind and This Mess Is Ours
If you've tried any of these polenta recipes, I would be so grateful if you would rate them. Let me know what you think in the comments below. I just love hearing from you and your reviews and comments really help others that visit This Mess is Ours!
Want to be a part of our online community outside of the blog? It's easy!! All you have to do is follow @THISMESSISOURS on FACEBOOK, INSTAGRAM, TWITTER, YOUTUBE, or PINTEREST to see cooking demos and peeks into our day to day life.
What are the health benefits of polenta?
Polenta is a gluten free, low fat, low calorie alternative to other fattier cooked grains. Made with corn, polenta is full of antioxidants that help reduce the risk of many age-related illnesses, such as eye disease, heart disease, and diabetes.
Click here for more information about the health benefits of polenta.