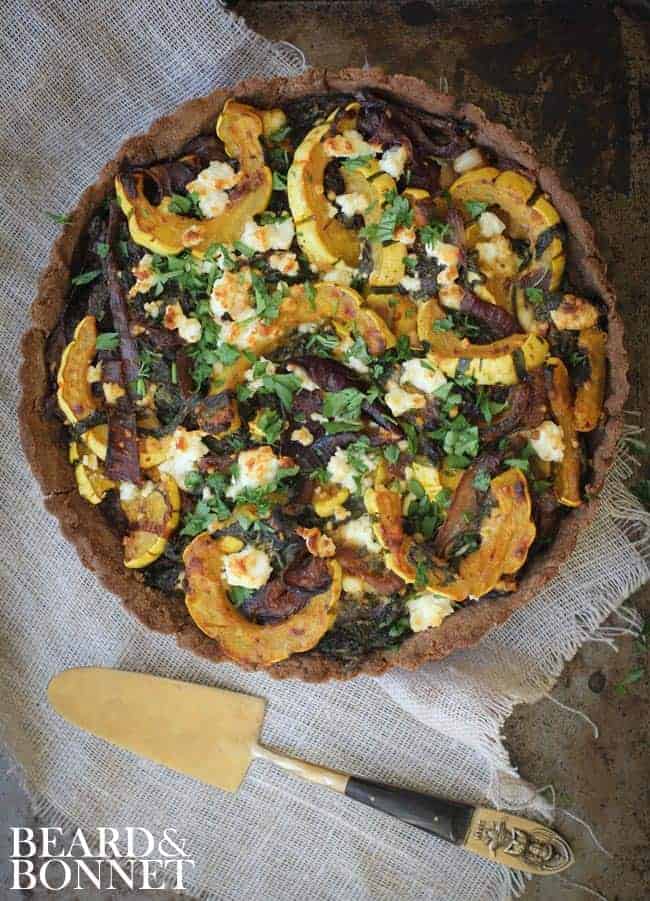 I can hardly believe that Thanksgiving is almost upon us, I swear it snuck up on me when I wasn't looking. Thanksgiving for us is a little different than most people seeing as though we don't really plan our meal around a big turkey feast. My vegetarian husband isn't even a fan of the traditional Thanksgiving side dishes like mashed potatoes and sweet potato casserole, to be perfectly honest it may be his least favorite meal of the year. We love getting together with our family, but poor Todd hasn't been stricken with anxious anticipation of a true Thanksgiving feast in years! Like a good sport he always goes along with the whole Thanksgiving ritual for the rest of us and has never once complained in the seven years I have known him. He's awesome like that!
So, this year I plan on preparing a few not so traditional vegetarian Thanksgiving dishes to serve alongside our families feast that I am sure he will look forward to devouring. I have a few extra side dishes to bring to the table this year that I am sure he will love, but this savory tart I plan on serving him for his main course is going to be a show stopper, I just know it! You can't really go wrong with caramelized balsamic onions, greens, and slightly sweet delicata squash...right?!
With prep heavy meals like Thanksgiving dinner it is important that I can turn to a trusted brand like Earthbound Farm for delicious, beautiful, organic produce. I love their line of Deep Green Blends for all sorts of recipes from salads to smoothies, but I think the POWER blend worked particularly well in this tart. This mix is the perfect blend of tender baby spinach, baby red and green chards, and baby kale leaves. My 2 ½ year old couldn't stop stealing handfuls of these baby greens when I was cooking the other day, he was shoving the raw leaves right into his mouth as fast as he could, I have pictures! If that doesn't tell you how good they are I don't know what will. Besides the comfort of knowing that I am using a quality product from a reputable brand like Earthbound Farm I am also happy to eliminate the extra steps of having to wash and spin dry all of the greens from my Thanksgiving Day "to-do" list. Hooray for checking off items before they even hit the list!
Do you have vegetarians that will be dining at your Thanksgiving feast? What special dishes will you be making for them?
Follow this link to see the recipe on Potluck!
Disclosure: Earthbound Farm compensated me for the time spent developing and photographing this recipe. All the statements and opinions in this post are my own.