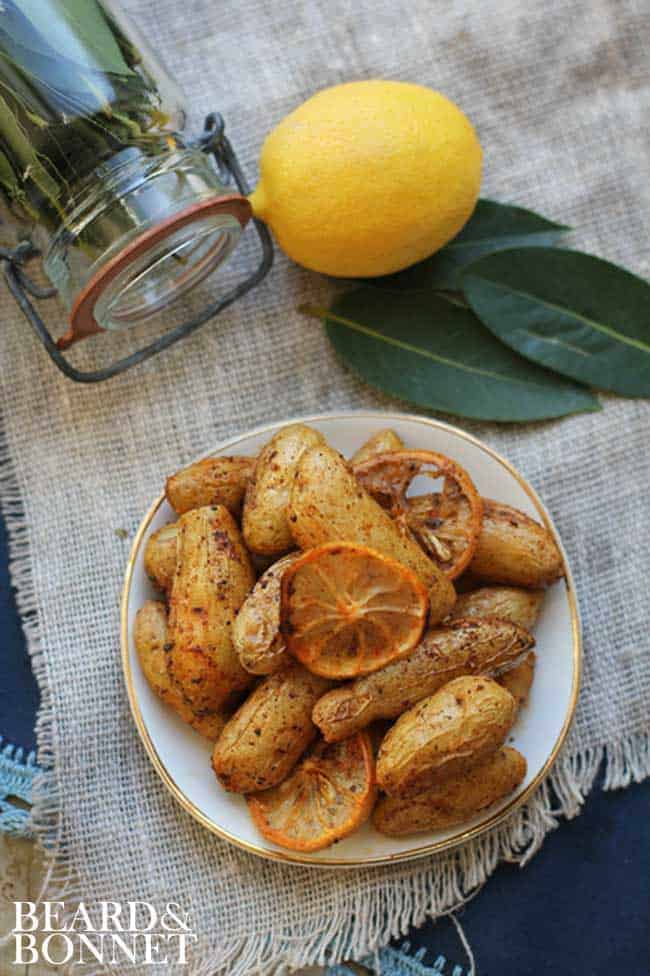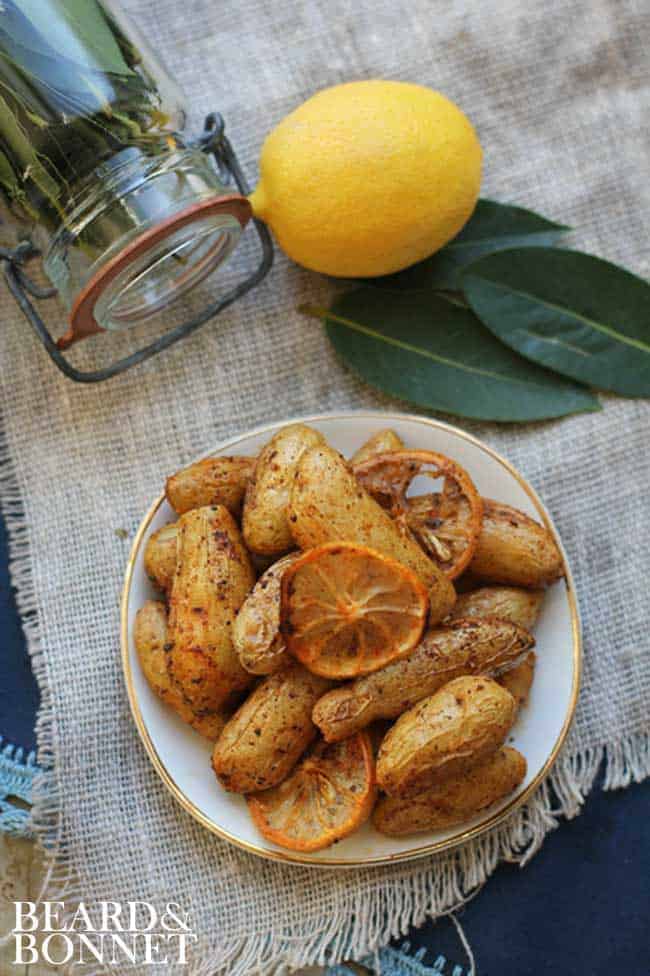 You want to know what makes me incredibly happy? When I am having one of those uninspired in the kitchen kind of days and I wind up throwing something together that turns out to be a HUGE hit with my family. You see, occasionally I have these days where I just can't pull my act together when it comes to cooking. I stare aimlessly into the pantry awaiting inspiration for what seems like hours only to come up empty handed. Does this happen to you? It's like writers block for cooks right? You just stand there waiting for the flood of inspiration to come and all you get is crickets chirping. So, last week when I was having one of those days I fought the urge to just call for takeout and decided to throw together a few small side dishes and have vegetable plates for dinner. The hit of the night were these lemon and bay roasted fingerling potatoes. This is really funny to me, because they took the least amount of effort on my part. Our kids ate them so fast that Todd and I barely had a chance to put any on our plates so for that very reason I knew that I had to share them here with all of you.
Print
Lemon and Bay Roasted Fingerling Potatoes
1

pound fingerling potatoes, washed well

2 tablespoons

olive oil

½ teaspoon

sweet paprika

1

large lemon sliced into

¼

-inch rounds and seeds removed

4

bay leaves
A generous sprinkling of kosher salt and freshly ground pepper to taste (Potatoes need lots of salt so don't skimp!)
Instructions
Preheat the oven to 425°F. Combine all of the ingredients in a large roasting pan and toss to combine.
Bake for 20-25 minutes until a knife slides easily into one of the largest potatoes — flipping them every 10 minutes or so to ensure the tops don't burn.
When the potatoes are tender remove the bay leaves and serve warm.
Recipe Card powered by