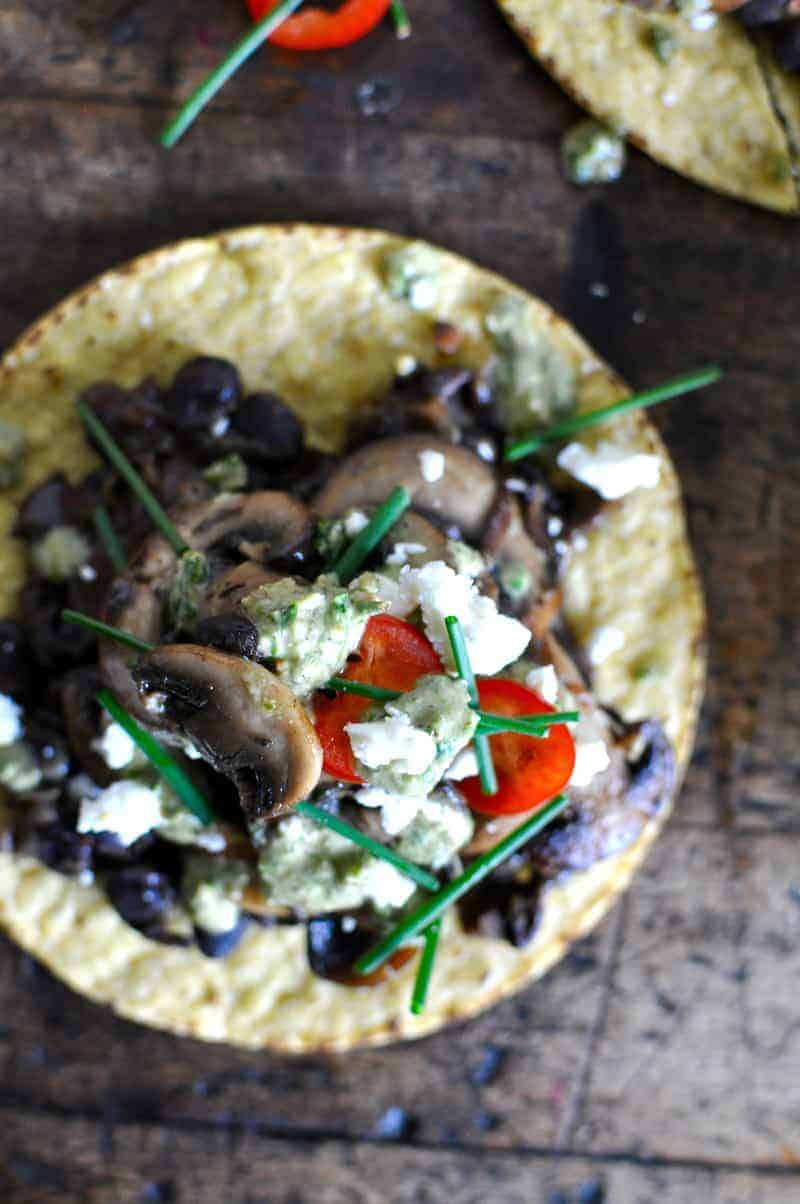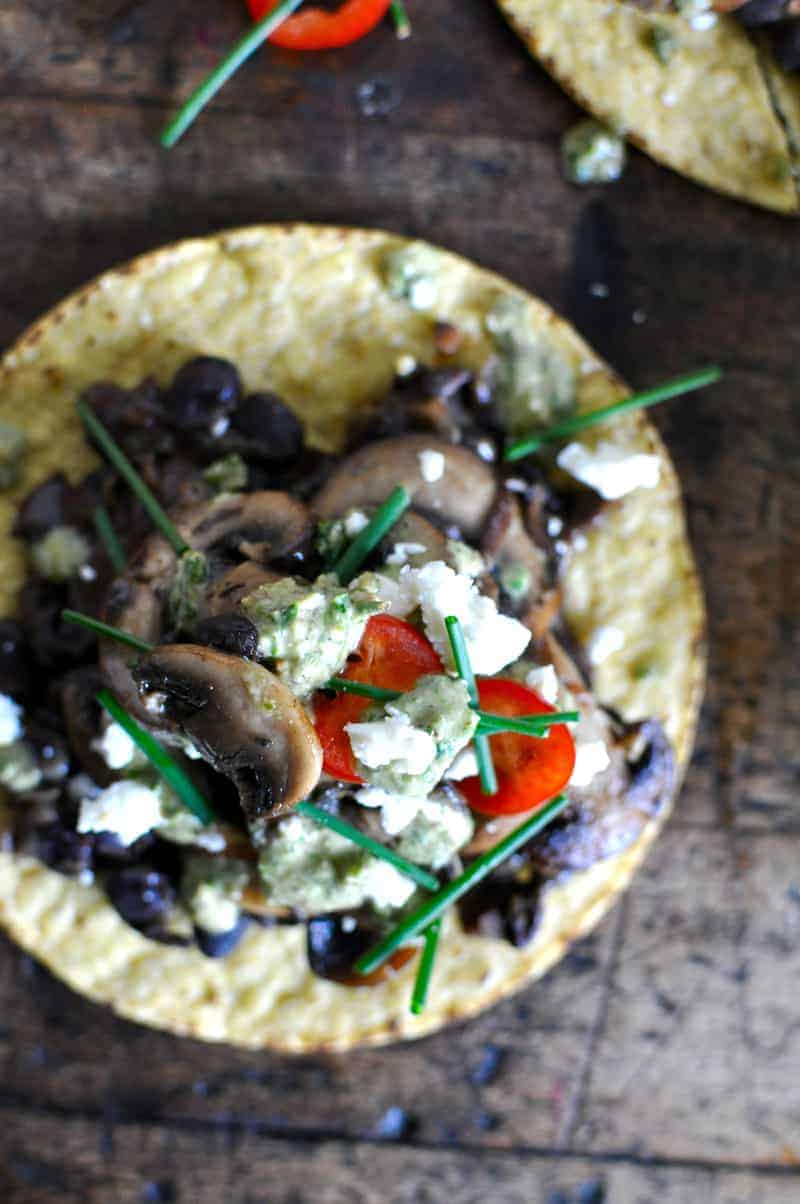 I am so excited to have Kate of ¡Hola! Jalapeño back here on B&B! It's been quite a while since she first shared one of her amazing recipes with us and I couldn't be more ecstatic that she is back and bringing us these amazing Mixed Mushroom Tostadas with Charred Scallion Pesto and Black Beans. You guys, these are insane! Make them, stuff your face with them and then tell your friends and family about them so that they can indulge with them too. -Meg
¡Hola! ¡Hola! You don't know how fun it is for me to be back over here on Beard and Bonnet again! Every once in a while it's nice to spread your wings and share a recipe on a friend's site. It's like going to their house for dinner, but you know, over the internets, and Meg is forever generous in inviting me over; she is one of the most generous, first-class ladies I know. If you don't know me, my name is Kate and I write a blog called ¡Hola! Jalapeño. ¡Hola! Jalapeño is where I share my take on Mexican and other Latin-inspired food. I merge authentic ingredients and flavors with modern preparations; embracing the fresh, healthy, simple cooking that is at the root of traditional Latin cuisine; I call it Comida Nueva Latina, come check it out, but first, let's talk about tostadas, shall we?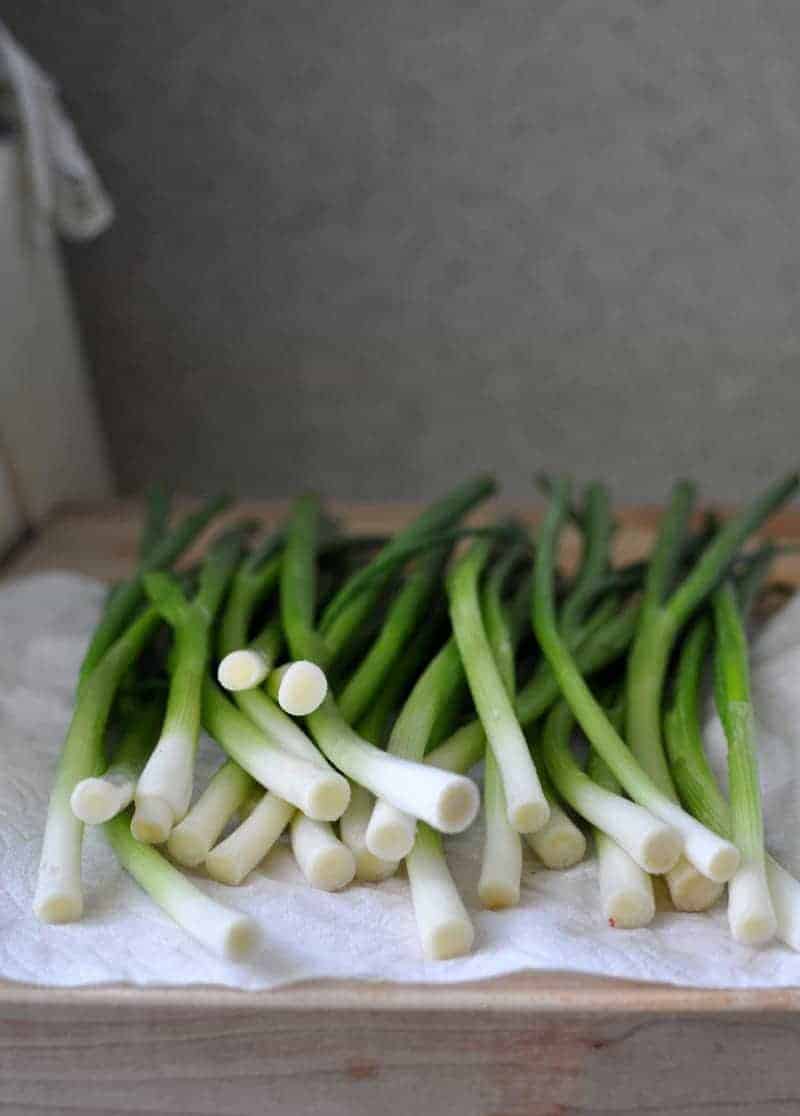 Given the choice I would choose tostadas over tacos any day. If you're familiar with my blog then you're well aware of my fondness for the crispity, crunchiness of food. When it comes to my favorite Mexican fare, the snap of the tostada's shell wins out over the chew of a soft corn tortilla on most occasions and especially if the filling is going to be tender or fluffy or creamy.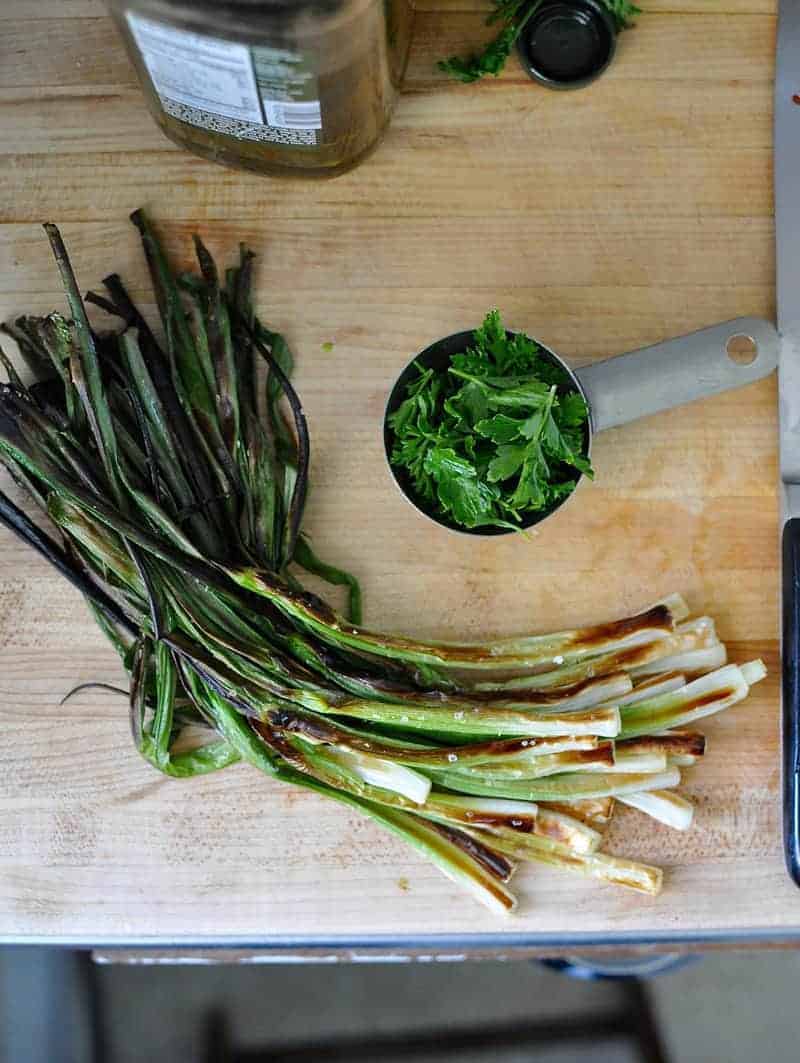 When Meg and I were going back and forth about what to make I knew I'd have to take this opportunity to share a tostada recipe since my regular readers are probably tired of reading tostada recipes, (I kind of have a thing). I topped this particular crunchy flat shell with creamy chipotle black beans, a mixture of three different kinds of caramelized mushrooms, a drizzle of pesto sauce made from charred scallions, toasted almonds, and garlic, and a sprinkling of feta cheese (which you can leave off if you want it to be vegan).
Don't be alarmed by the amount of some of the ingredients in the recipe. Three bunches of scallions cooks down to just over a cup after they are cooked. The mushrooms also cook down to half their size and this recipe makes enough for four hungry eaters or a dinner for six people with a couple of side dishes.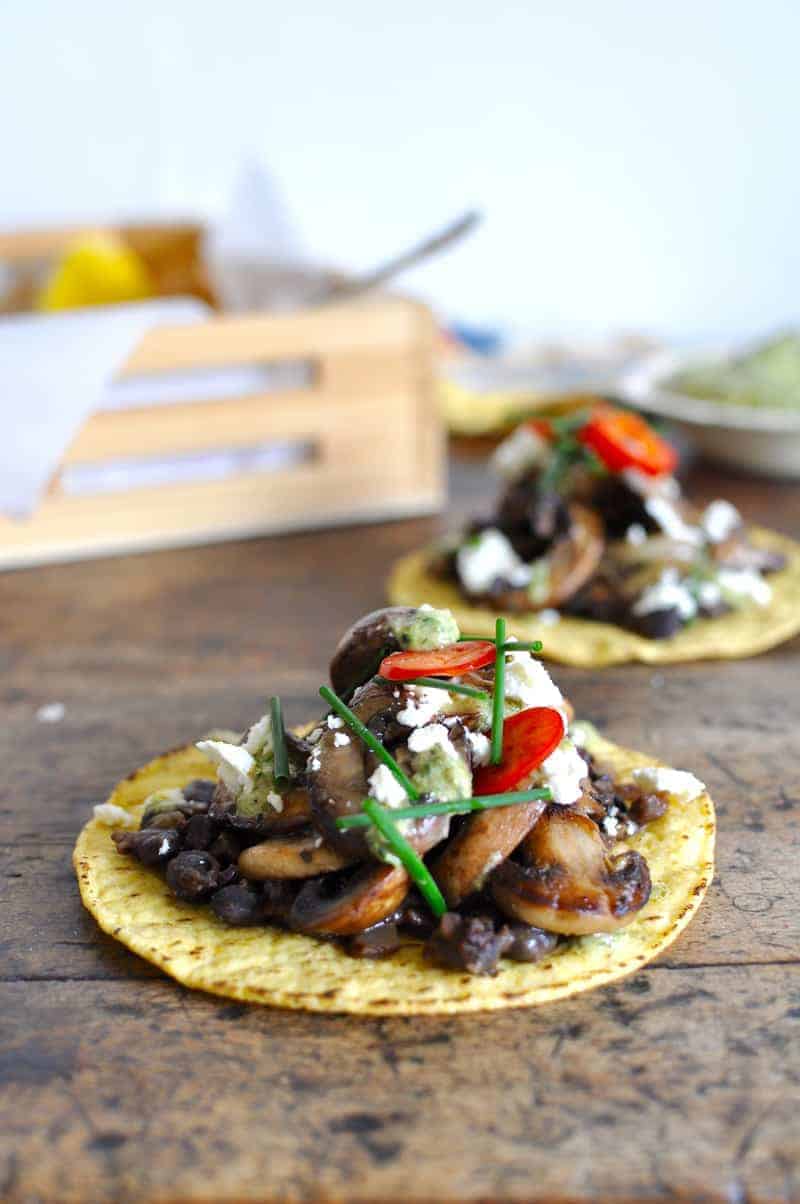 Just a word about caramelized mushrooms before I leave you to the recipe; the secret to golden, crisp-edged, caramelized mushrooms is to get your pan and the oil in your pan very hot, almost smoking hot, before you add the mushrooms. Secondly, add just enough mushrooms to fill a single layer in the pan, add any more than that at once and they will steam, not brown. And lastly, don't add any salt until after they are done cooking or the mushrooms will release all their water (and they have a lot of water) making a soft, wet sauté not the golden, intense mushrooms you are looking for.
Print
Mixed Mushroom Tostadas with Charred Scallion Pesto and Black Beans
Mixed Mushroom Tostadas with Charred Scallion Pesto and Black Beans Author: Kate Ramos of Hola Jalapeno Prep time: 40 mins Cook time: 45 mins Total time: 1 hour 25 mins Serves: 4-6 servings
Author:
Prep Time:

40 mins

Cook Time:

45 mins

Total Time:

1 hour 25 mins

Yield:

4

-6

1

x
For the Pesto:

3

bunches scallions, trimmed

1 teaspoon

, plus ⅔ cup olive oil

⅓ cup

sliced almonds

1

bunch Italian parsley, stems removed
Juice of

1

lemon

1

clove garlic, chopped

½ teaspoon

kosher salt

6 tablespoons

water
For the Black Beans:

1 tablespoon

olive oil

½

small yellow onion, chopped

1

clove garlic, chopped

1

chipotle en adobo, chopped

1

(15-ounce) can black beans

1 teaspoon

ground cumin

½ teaspoon

ground coriander

½ teaspoon

kosher salt
For the Tostadas:

6

-

8

tablespoons olive oil

28 ounces

mixed mushrooms, such as crimini, button, shitake, or Portobello, cleaned and cut into thick slices if large or halved if small

½

yellow onion, sliced

½ teaspoon

dried thyme

1

clove garlic, chopped
Juice of

½

a lemon

8

-

12

tostada shells

½ cup

feta cheese, optional
Instructions
For the Pesto:
Heat broiler to high. Place scallions on a baking sheet and drizzle with the 1 teaspoon of olive oil, sprinkle with salt and toss to coat. Arrange in a single layer and broil until charred, about 4 minutes. Remove and let cool, then chop.
Meanwhile, place almonds in a dry skillet and toast over medium heat until golden. Let cool.
Combine scallions, almonds, parsley, lemon juice, garlic, and salt in the bowl of a food processor fitted with the blade attachment. With the machine running, slowly pour in the olive oil. Stop to scrape down the sides then run again, adding the water. Stop and scrape again, taste pesto and add more salt if needed and a tablespoon or two more of water if it is too thick.
For the Black Beans:
Heat oil in a large saucepan over medium heat. Add onions and season with salt. Cook until just starting to brown, about 4 minutes. Add garlic and cook 30 seconds more.
Add remaining ingredients and cook, mashing the beans against the side of the pan until thick, about 5 minutes more.
For the Tostadas:
Set a baking sheet next to the stove. Heat 1 tablespoon of the olive oil in a large frying pan over medium-high heat. Once the oil is very hot and almost smoking add a couple handfuls of mushrooms, do not crowd the pan, and cook, undisturbed for about 30 seconds.
Stir occasionally, do not season, until caramelized and brown, about 4 minutes. Scrape mushrooms on top the baking sheet and season with salt. Repeat with remaining mushrooms, adding 1 tablespoon of oil with every batch.
Once last batch of mushrooms is cooked add a final tablespoon of oil to the pan and add onions. Season with salt and cook until browned, about a minute or two. Remove from heat return mushrooms to the pan along with the thyme, garlic, and lemon juice. Taste and add more salt if needed.
To serve; top tostada shells with black beans, then mushrooms, then drizzle pesto over the top. Sprinkle with feta, if using, and serve.
Recipe Card powered by