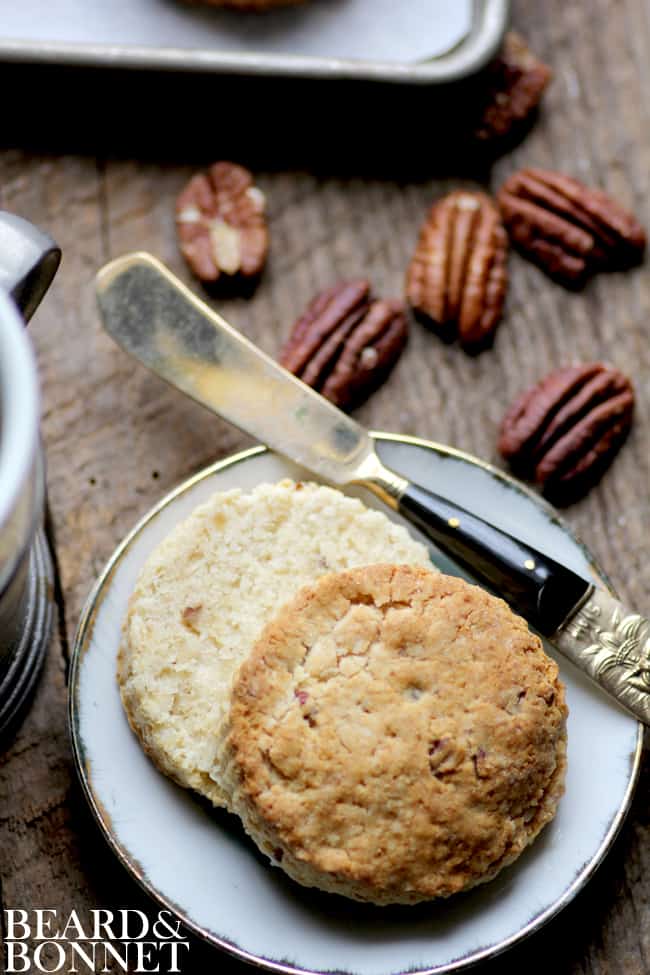 This week has been full of rain, rain, and more RAIN! Nothing makes me want to stay in and bake more than weather like this. So, since I have the baking bug I decided to put my Better Batter all-purpose gluten-free flour mix to work and see how it handled one of my beloved Dorie Greenspan recipes. These Brown Sugar and Pecan Biscuits are the prefect breakfast on a dreary day like today, the house smelled divine while they were baking and when they came out of the oven the biscuits were tender and flaky, as they should be! I swear, just briefly the sun broke through all of the rain when we sat down to eat and we enjoyed our perfect little moment.
Brown Sugar and Pecan  Biscuits
Adapted from Baking Fom My Home To Yours by Dorie Greenspan
Makes approx. 1 dozen biscuits
2 cups Better Batter, g-free all-purpose flour
1 Tbsp. baking powder
1/2 tsp. salt
1/4 tsp. baking soda
1/4 cup light brown sugar, packed
6 Tbsp. cold unsalted butter, cut into small equal pieces
1/2 cup cold sour cream
1/4 cup cold whole milk
1/3 cup toasted pecans, finely chopped
Preheat the oven to 425°F with a rack in the center position, and line a baking sheet with parchment paper or a silicone mat.
Whisk the g-free flour, baking powder, salt, and baking soda together in a bowl. Stir in the brown sugar, breaking up any lumps. Drop in the butter and gently toss to coat the butter pieces with flour. Quickly, with either your fingertips or a pastry blender, cut and rub the butter pieces into the dry ingredients. The mixture will look like rough sand or pebbles.
Combine the sour cream and the milk together, stirring well, and then pour them over the dry ingredients. Use a fork to gently toss and turn the ingredients together until you have a soft dough, once combined give the dough a 2 or 3 kneads in the bowl with your hand to bring all of the dough together.
Lightly dust your work surface with Better Batter or g-free flour and turn out the dough. Dust the top of the biscuit dough lightly with Better Batter and pat the dough out with your hands until it is about 1/2 inch high. *Just like with my other recipe for Faux Buttermilk Biscuits, the less you handle this dough the better !
Use a 2-inch-diameter biscuit cutter to cut out as many biscuits as you can, cutting the biscuits close to one another so you get the most out of the dough, then transfer the cut biscuits to the prepared baking sheet. Gather together the scraps of dough that are left and pat out to a 1/2″ thickness again and cut the remaining biscuits.
Bake the biscuits for 14-18 minutes, or until they are golden brown. Serve immediately.
We are happy to have shared this post at the Gluten-Free Friday's link up party hosted by Vegetarian Mama and  The Gluten Free R.D.!  Hop on over to find more great gf recipes.