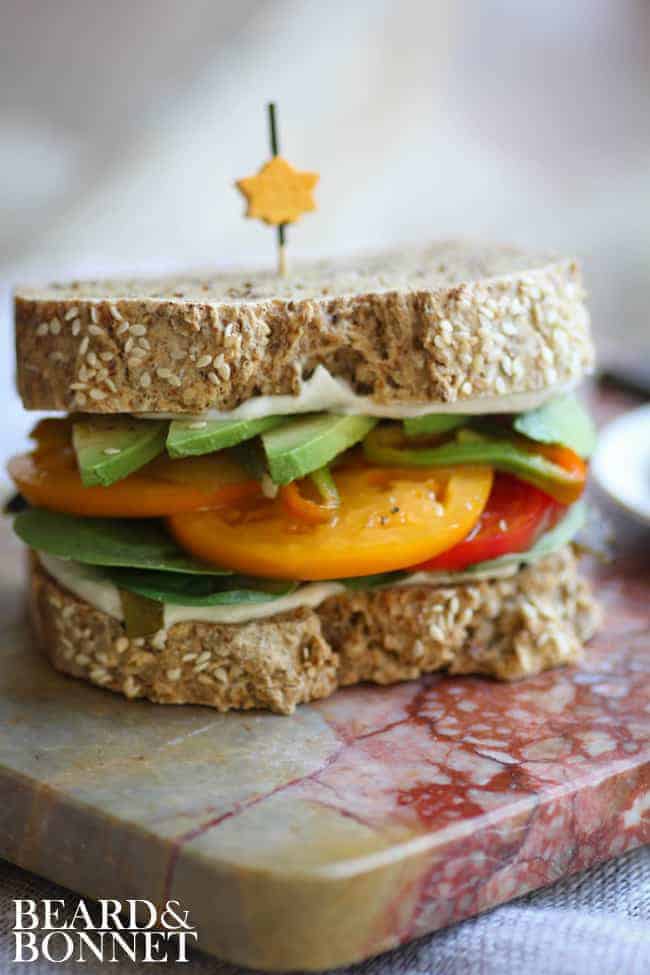 Every day when Todd leaves for work I have a special lunch waiting for him. Some days I send soup or leftover taco stuffing's from the night before in the form of a burrito bowl and other days when I have fresh baked gluten-free bread I send specialty sandwiches. You see, before we learned about his and Kash's gluten intolerance I sent sandwiches all of the time. They were the norm, not a special treat. Now that we have been committed to this gluten-free lifestyle for over a year and a half now sandwiches are a delicacy. We don't normally buy gluten free bread from the store because lets face it, it just isn't that great and it costs way too much! Now that I am comfortable baking gluten-free bread at home I like to occasionally surprise Todd with an EPIC sandwich, because they are special!
This past week's special sandwich consisted of homemade millet bread, heirloom tomatoes, spinach, roasted hatch chile slices, pickled hatch chiles, avocado, black truffle salt, and a generous schmear of my hatch chile cashew cream on both sides of the bread! Take a good look at that sandwich, because Todd said "This is the BEST sandwich I have ever eaten in my whole life!". Holy crap people, we are counting all of the gluten filled sandwiches and all of the gluten free sandwiches at the same time!!! *I totally patted myself on the back for that one! When I mentioned that not only was the sandwich completely gluten-free, but it was vegan as well his mind was officially blown. The bread was soft with a great crust and the veggies from my CSA just cannot be beat, but that hatch chile cashew cream...well, it knocked that sandwich out of the park. It's slightly tangy like a mayo would be with a subtle sweetness in the beginning that ends with a twinge of heat.
Obviously sandwiches are not the only way you could utilize this dreamy cashew cream creation, you can top nachos, add to tacos, use it as a dip, or toss it with gluten free pasta. Do you want me to keep going?
Print
Roasted Hatch Chile Cashew Cream
This cashew cream is intended for spreading on sandwiches, schmearing on toast with roasted tomatoes, and for topping tacos. It's slightly sweet with a spicy finish and also gluten free & vegan.
1.5 cups

raw unsalted cashews, preferably soaked for 2-4 hours (

30

minutes, in a pinch.)

¾ cup

filtered water

2

-

3

roasted hatch chile peppers, depending on how hot you like it

1

small garlic clove minced

¼ cup

minced red onion

¾ tablespoons

fresh lime juice
salt, to taste (about 1 tsp.)
Instructions
I purchased hatch chiles that were roasted on site at our local market , but roasting them yourself is really easy. Simply place the whole chiles under the broiler until blistered on all sides. (time will vary depending on the heat of your broiler). When they are completley blistered, remove and place in a bowl, cover with plastic wrap or a towel. Set aside for 15 minutes or so, until it's cool enough to handle. Using your fingers, slide off the skin and remove the stem and seeds. Blend the roasted hatch chile and the remaining ingredients in a high powered blender or food processor; stopping to scrape down the sides if necessary. Blend until your cashew cream is smooth and silky with no chunks. Taste and adjust seasonings to your liking.
Notes
This will make enough cashew cream to almost fill a 16 oz. mason jar.
Recipe Card powered by