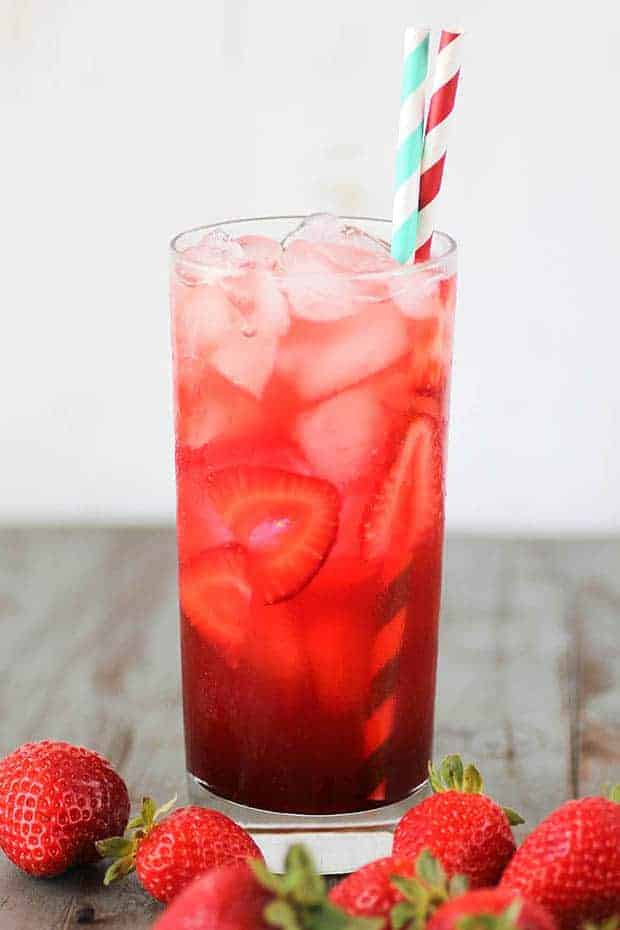 Happy Independence Day ! Do you have big plans? Is there BBQ and fireworks involved? Did someone ask you to bring the soft drinks to the party? Isn't that the worst/best party assignment ever?! Worst because you know you are bringing the most unhealthy thing to the party possible...best because you have the least amount of responsibility. You swing in to the store, you grab a few cases of fizzy drinks, a bag of ice, and you show up. Am I right?!
Of course you could totally surprise everyone and make homemade sodas this year. No soda stream needed! It's pretty easy really, you just cook down your favorite fruit with a little water and sugar (add some lemon juice for non-acidic fruits like blueberries) until it is a thick syrup, strain it and mix it with ice and club soda.
You can get as creative as you want with your flavor combinations like this strawberry and peppercorn syrup, or you can go with your basic strawberry, raspberry, or blueberry fruit flavors no fuss. This syrup isn't too sweet and it has just a hint of black pepper at the finish. It's one of those flavor combinations that may seem a little odd, but it just works.
May I suggest also bringing a few packs of light up ice cubes for the celebration? I have one in the image below...it's totally fun, festive, and reusable!
Print
Strawberry Peppercorn Syrup
Author:
Prep Time:

10 mins

Cook Time:

30 mins

Total Time:

40 mins

Yield:

2 cups

1

x
Instructions
Combine the strawberries, water, and sugar in a heavy bottomed sauce pan. Crush the strawberries with a potato masher then add the peppercorns to the pot. Bring the mixture to a boil over medium-high heat then reduce the heat to medium and simmer for 30 minutes, stirring occasionally until the liquid has reduced and the mixture has thickened.
Place a fine mesh strainer over a large bowl and pour the strawberry peppercorn mixture into the strainer. Gently press on the solids with a spatula to extract all of the syrup then discard the solids. Allow the syrup to cool then store in the refrigerator for up to a week.
Notes
This syrup is also great over ice cream, yogurt, pancakes, waffles, or added to salad dressing.
Recipe Card powered by
Print
Strawberry Peppercorn Soda
2

-

4

ounces of strawberry peppercorn soda

6

-

8

ounces of very cold club soda
ice
fresh strawberry slices
Instructions
In a large glass place the desired amount of syrup (2 ounces for a subtle sweetness 4 ounces for a true sweet tooth) add the cold club soda, ice, and a few slices of fresh strawberry. Stir to combine and serve immediately.
Recipe Card powered by
Thirsty for more homemade soda recipes? Check out these recipes.
Pineapple Mint Soda from Food Republic
Cherry-Basil Soda from Gluten Free Girl
Blueberry Soda from The Food Network
Disclaimer: This post contains affiliate links, I may get a small commission if you decide to purchase a product through one of those links. This revenue makes it possible for me to continue to provide you with great recipes and maintain this site. Thank you for supporting us here at Beard and Bonnet!
link
SaveSave