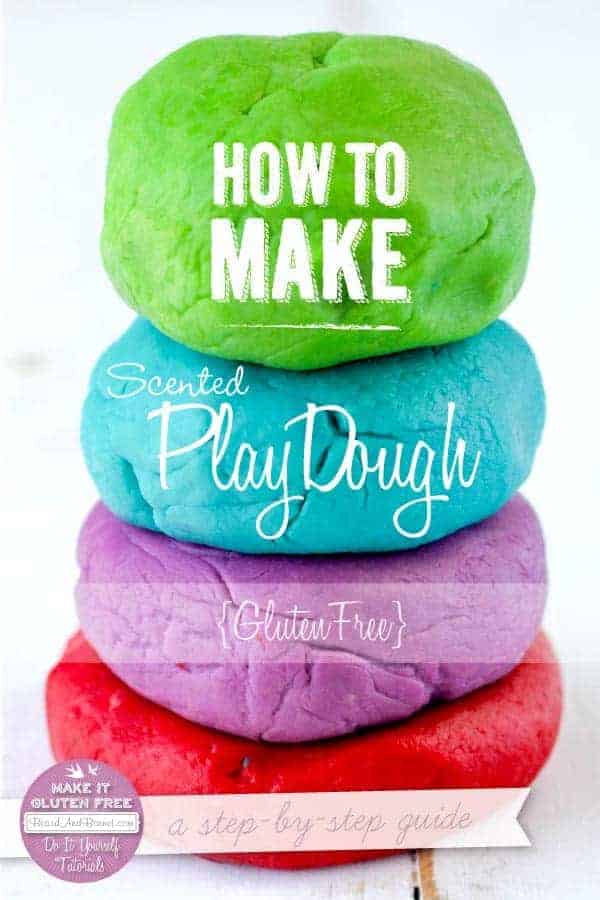 How is summer treating you so far? Are you still full of fun ideas to keep your kids occupied or are you running a little low? If your kids are anything like mine they require a laundry list of activities each day to keep them engaged, happy, and out of mischief. On days when our little #fruitbandit is home all day we set up play stations around the house to keep him busy. We have water and sand toys outside in the courtyard, Lego's and building blocks in the play room, and homemade gluten free scented playdough in the kitchen. He happily moves from place to place playing and making little messes all day; only stopping long enough to sneak a peak at Scooby Doo or eat a wedge of watermelon.
Last week when I was dropping Kash off at preschool one of his teachers stopped me and asked about the playdough station. She wasn't sure if they should put it away on the days when Kash came to school or if it was OK to leave it out due to the fact that it has gluten in it (even though he wasn't going to be eating it). As I was standing there discussing how easy it is to make gluten free playdough I realized that some of you may be interested in knowing how I make it at home too.
So, I hope you don't mind that this isn't a recipe you can make and serve up for dinner...we'll get back to those on Wednesday.
Let's make playdough!
Step 1 & 2: Combine the ingredients in a large mixing bowl.
Combine organic brown rice baby cereal (make sure that your brand is labeled gluten free) and cornstarch in a large mixing bowl and mix with a whisk until blended. Add applesauce and coconut oil then stir until the dough begins to come together.
Once the dough has started to form use your hands to knead the dough and work in any of the cereal mixture that has not been incorporated. The dough will seem dry, but just keep kneading and working the dough it will come together and become smooth after a few minutes.
Step 3 & 4: Divide the dough & add scent and color.
Each batch of dough can be halved or quartered to make multiple scented colors. Choose which colors and scents you would like to make then divide the dough into separate bowls accordingly. For a half batch of dough use 1 whole packet of Kool-Aid powder for a ¼ batch use ½ of 1 packet of Kool-Aid powder.
With gloves on your hands knead the Kool-Aid powder into the dough, pulling and stretching to incorporate the color throughout the dough. Each color will take 3-4 minutes to completely knead into the dough. The dough will appear glossy and should be allowed to rest for approximately 5 minutes before determining whether the dough is too sticky or dry to work with.
Due to the coconut oil in this recipe, be sure to wipe little hands after they play with the dough. They may be a little greasy.
Troubleshooting:
If your dough is too sticky: add more brown rice baby cereal and knead it in until the dough is no longer tacky.
If your dough is too dry: Try wetting your hands and kneading the dough until it feels soft and smooth.
To store: Wrap the individual colors of playdough in plastic wrap, or airtight container and store in the refrigerator. The dough will last for up to 2-3 days if kept sealed when not in use. Check the dough for strange smells or mold each time you take it out to play. If either is present, toss out the playdough and make a new batch.
Your playdough hardened while in the fridge: No worries! Allow the playdough to sit out for 5-10 minutes or until it reaches room temperature, then knead the dough with your hands until it is smooth again.
Print
How To Make Gluten Free Scented Playdough
Author:
Prep Time:

10 mins

Total Time:

10 mins
1 cup

gluten free organic brown rice baby cereal

1 cup

cornstarch

½ cup

unsweetened applesauce

3 tablespoons

coconut oil

2

-

4

packs of Kool-Aid
Instructions
In a large mixing bowl combine the baby cereal and the cornstarch. Stir with a whisk until completely combined. Add the applesauce and coconut oil to the bowl and stir to incorporate.
When the mixture is beginning to come together like dough use your hands to knead it together until all of the cereal mixture has been incorporated and the playdough is smooth and elastic. This will take 3-5 minutes.
Divide the dough into halves or quarters and place each ball of dough into its own small bowl. Add 1 whole pack of Kool-Aid powder to each ½ batch of dough and ½ a packet of powder to each ¼ batch of dough.
While wearing kitchen gloves, knead each ball of dough, stretching and pulling the dough to work the color through. Once the color is evenly dispersed set it aside and repeat the process with the remaining portions of dough.The dough will appear glossy and should be allowed to rest for approximately 5 minutes before determining whether the dough is too sticky or dry to work with.
Recipe Card powered by