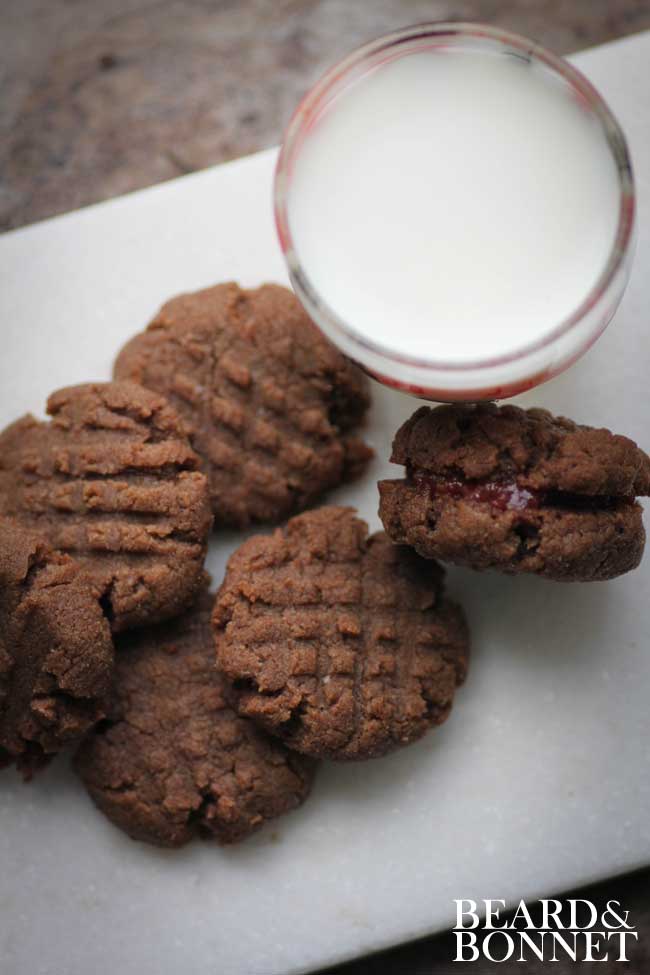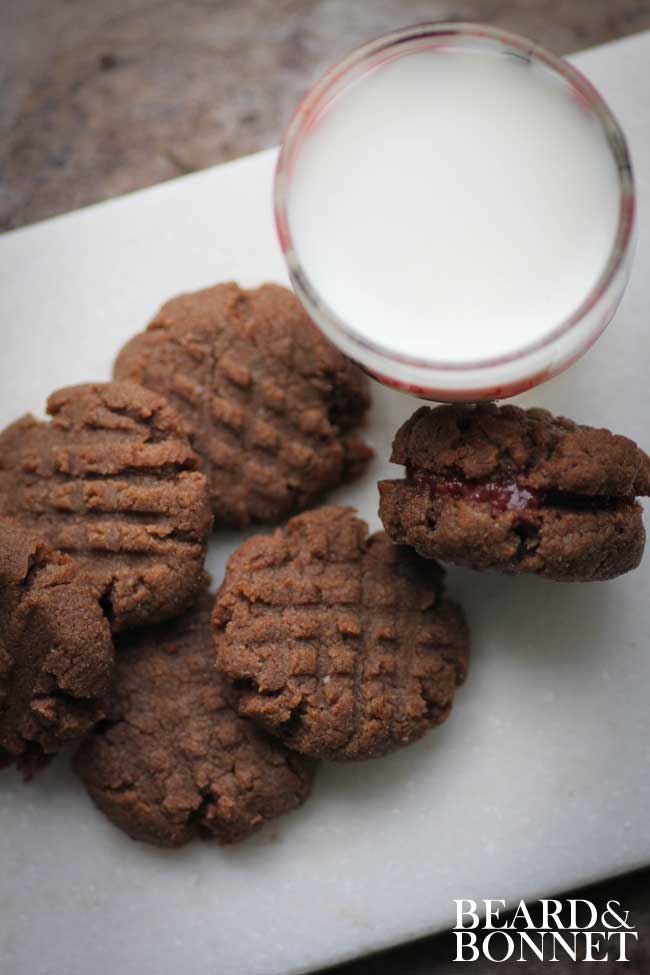 Recently when I was working on a guest post for my friend, Sarah Bakes Gluten Free Treat's site, I decided to investigate and see what my reader's favorite recipes were here on B&B. Imagine my surprise when I realized that out of all of the healthy, great tasting, good for you treats on Beard and Bonnet it was my Peanut Butter Sandwich Cookies that are your favorite! Those cookies were the answer to distracting my kids from a day filled with constant tornado sirens in Atlanta. I wasn't concerned so much about nutritional value as I was creating something fun for us to do in between time spent in our tornado shelter with limited ingredients on hand. I was more concerned about erasing the absolute terror from my kid's eyes each time the tornado alarms went off. By round three of the alarms we were cuddling in our bunker with fresh baked cookies stuffed with marshmallow fluff. Silly giggles and giddiness ensued as our sandwich cookies were devoured and the fear was temporarily swept away.
Over the past few months I have been constantly searching for a new peanut butter cookie alternative that will still make me kids squeal in delight and that has no refined sugar. As you all know I have fallen in love with Teff flour. I have been baking up pumpkin loaf, fig chai tea bread, and Teff sandwich bread like no one's business around here. So, imagine my surprise when I actually skimmed the back of the Bob's Red Mill package the other day and saw a recipe for peanut butter cookies using Teff flour! I love that this recipe only has 6 ingredients, comes together in a matter of minutes, and tastes every bit as decadent as my previous peanut butter cookie recipe. I swapped out the suggested canola oil for coconut oil in this last batch and I personally feel that it resulted in a superior tasting peanut butter cookie. If you are dying to make sandwich cookies, these were absolutely insane when we stuffed balsamic strawberry jam in between them. I highly suggest it...at least once.
Teff Peanut Butter Cookies
A delectable peanut butter cookie that is crisp and tender, packed with flavor, and good for you!
Author:
Prep Time:

25

Cook Time:

15

Total Time:

40

Yield:

2

4

1

x
1 ½ cups

Teff flour, I use Bob's Red Mill

½ teaspoon

kosher salt

½ cup

organic maple syrup

½ cup

coconut oil, in liquid form

1 teaspoon

gfree vanilla extract

1 cup

creamy peanut butter
Instructions
1. Preheat the oven to 350°F and line a baking sheet with parchment, set aside.
2. In a large bowl combine the Teff flour and kosher salt, stir to combine, set aside. In a food processor fitted with the "S" blade combine the syrup, oil, vanilla, and peanut butter then process until smooth. Add the liquid ingredients to the dry ingredients and stir until incorporated.
3. Scoop dough with a small cookie scoop into walnut size balls. Roll each portion in between the palms of your hands until smooth and round. The batter will be thick, but will still seem wet from the oil and syrup when you pick it up in your hands. Place on the prepared cookie sheet and gently press down with the tines of a fork to flatten.
4. *Bake for 13-15 minutes then cool completely on the baking sheet over a wire rack before serving.
Notes
*Allow the cookies to cool completely before attempting to pick them up. They are very fragile when they come out of the oven, but will harden as they cool.
Recipe Card powered by