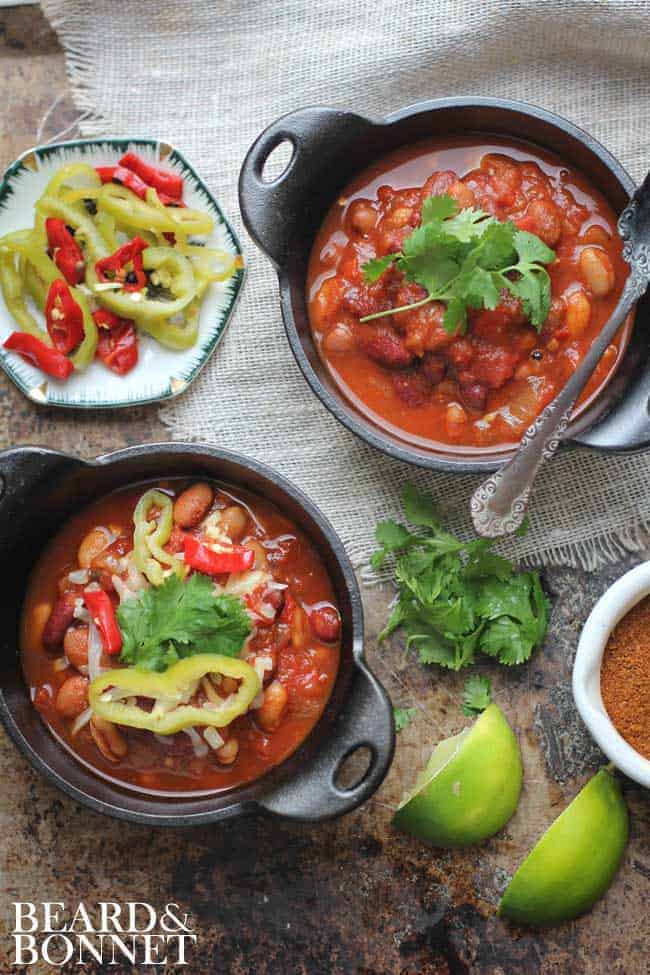 As soon as the weather starts to become cooler in the fall I immediately start making soups, stews, and chili. In years past I have regrettably neglected to break out my slow cooker, but this year I have been focused on developing a nice selection of slow cooker recipes for my family for those days when I don't have a lot of time to devote to dinner.
When I was making soups and chili without my slow cooker, I felt so strapped to the stove and to the house that it was more of a hassle to make my favorite fall dishes than a pleasure. With 2 kids that are constantly on the go and a business myself I have been finding it increasingly hard to plan in advance for slow simmering soup days, but when I put my slow cooker to work my family and I don't have to give up on the fall foods we love or the intense flavors that only cooking a meal low and slow can achieve.
Todd and Eliza have been reaping the rewards of my slow cooker obsession with some pretty amazing lunches that are a nice swap up from their usual sandwich and salad routine. I am pretty sure that they are officially spoiled when it comes to homemade lunches and I am OK with that!
Here are a few of my favorite slow cooker cookbooks:
Fresh from the Vegetarian Slow Cooker by Robin Robertson: I have now made vegetable broth, applesauce, two types of soup, and 3 chili recipes from this book and I am completely hooked! Robin's recipes are easy to follow and have yet to disappoint. Next on my "to-make" list from this cookbook is Robin's Slow Cooker Pumpkin-Pecan Bread, how did I not know you can bake bread in a slow cooker?! I plan on subbing a few ingredients to make the bread gluten-free, but I'm positive that the final product will be delicious. I am not alone in my love for this book, check out what Kiersten of Oh My Veggies has to say about this book.
Vegan Slow Cooking for Two or Just For You by Kathy Hester: This is Kathy's 3rd cookbook and I have to say it is hands down my favorite! This book loaded with all sorts of fabulous recipes from soups, stews, pumpkin spice syrup, risotto's and more. I seriously can't say enough nice things about this book! Kathy includes oil free, soy free, and gluten free options for most of the recipes which I can really appreciate since different members of my extended family fall into all of these categories. I have even purchased a few extra copies of this book for Christmas presents this year I like it so much. I am not alone in my love of this book either; just see what Cara of Fork and Beans had to say about it.
Do you have a favorite slow cooker recipe?
Print
Fire Roasted Slow Cooker Chili
This slow cooker chili is packed with 3 types of beans, 2 types of peppers, and fire roasted tomatoes for an intense flavor that is out of this world!
Author:
Prep Time:

20

Cook Time:

420

Total Time:

440
1 Tablespoon

olive oil

1

large sweet yellow onion

½

red bell pepper, seeded and chopped

½

poblano pepper, seeded and chopped

2

garlic cloves, minced

3 Tablespoons

tomato paste, I use San Marzano double concentrated tomato paste

1 Tablespoon

chili powder, I like Penzey's Chili 9000

1

28 ounce can of crushed fire roasted tomatoes

15.5 ounce

can of northern beans, rinsed and drained

15.5 ounce

can of pinto beans, rinsed and drained

15.5 ounce

can of kidney beans, rinsed and drained

1 ½ cups

vegetable broth, I prefer to use homemade

1 teaspoon

salt

¼ teaspoon

freshly ground black pepper
Instructions
1. Heat the oil in a heavy bottom skillet over medium heat. Add the onion, red bell pepper, and poblano pepper, and cook until the onions are beginning to turn translucent and the peppers are slightly softened. Add the garlic and cook for 1 additional minute. Stir in the tomato paste and the chili powder and cook for 1 more minute. Remove from the heat and pour the onion/pepper mixture into the bowl insert of a 4-6 quart slow cooker.
2.Add the fire roasted tomatoes, beans, vegetable broth, salt and pepper. Stir well to combine then cover and cook on low for 7 - 8 hours.
Recipe Card powered by