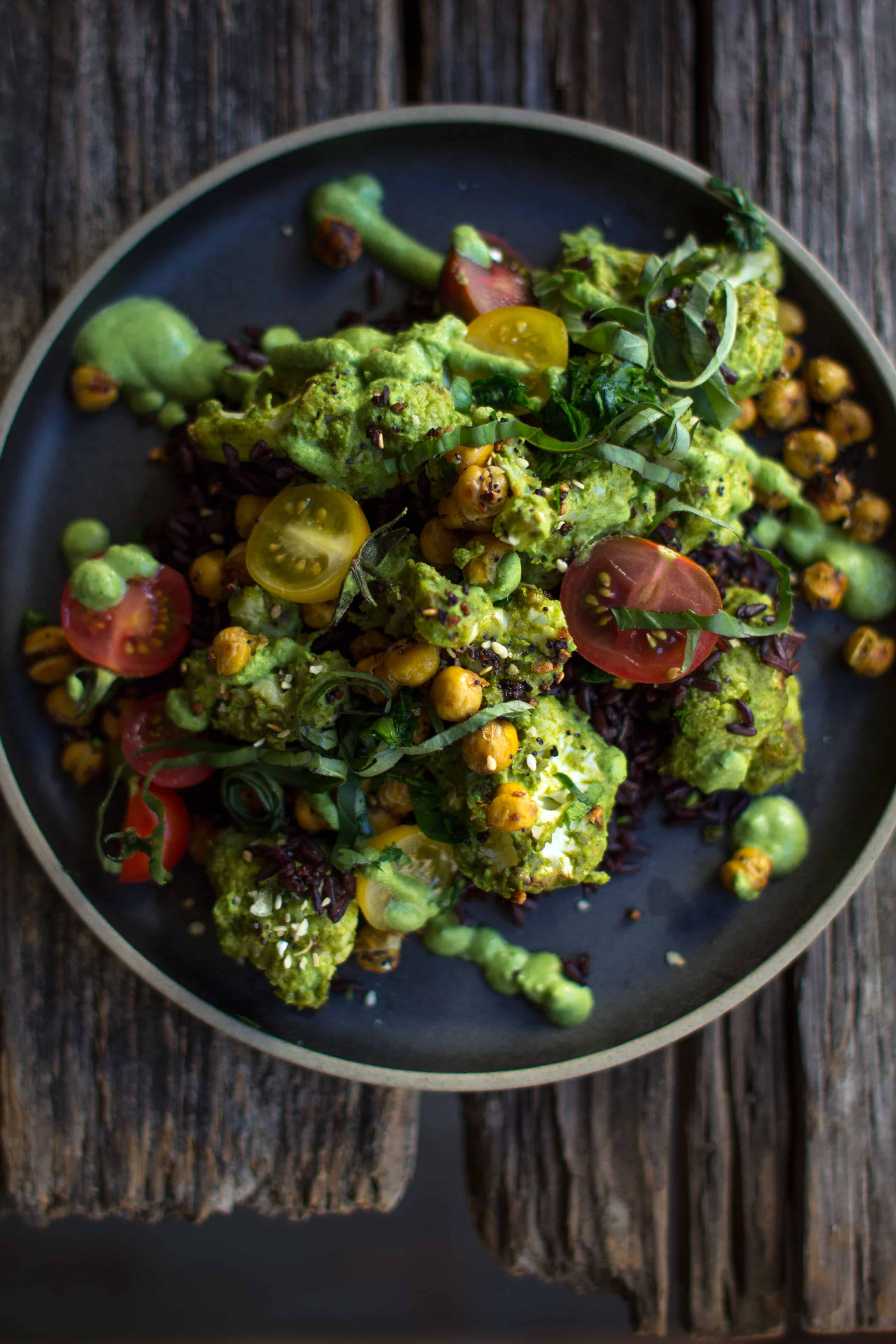 I know what you are thinking, titling this recipe 'Best Ever Cauliflower Roast' is a strong statement. I struggled with naming this one for a while. Honestly, it is the best cauliflower dish I have ever had and there really isn't one name that I could come up with that wasn't a million words long and perfectly described the flavor explosion that happens when you get a little bite of everything at the same time.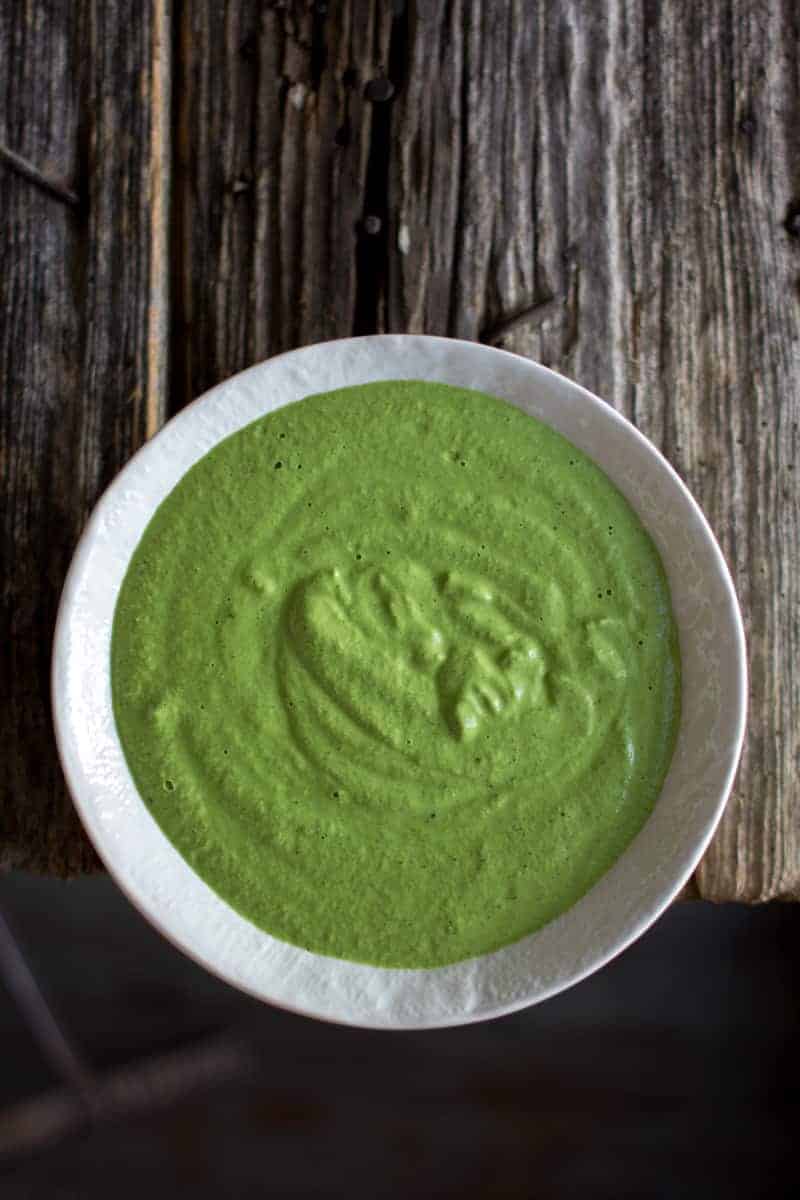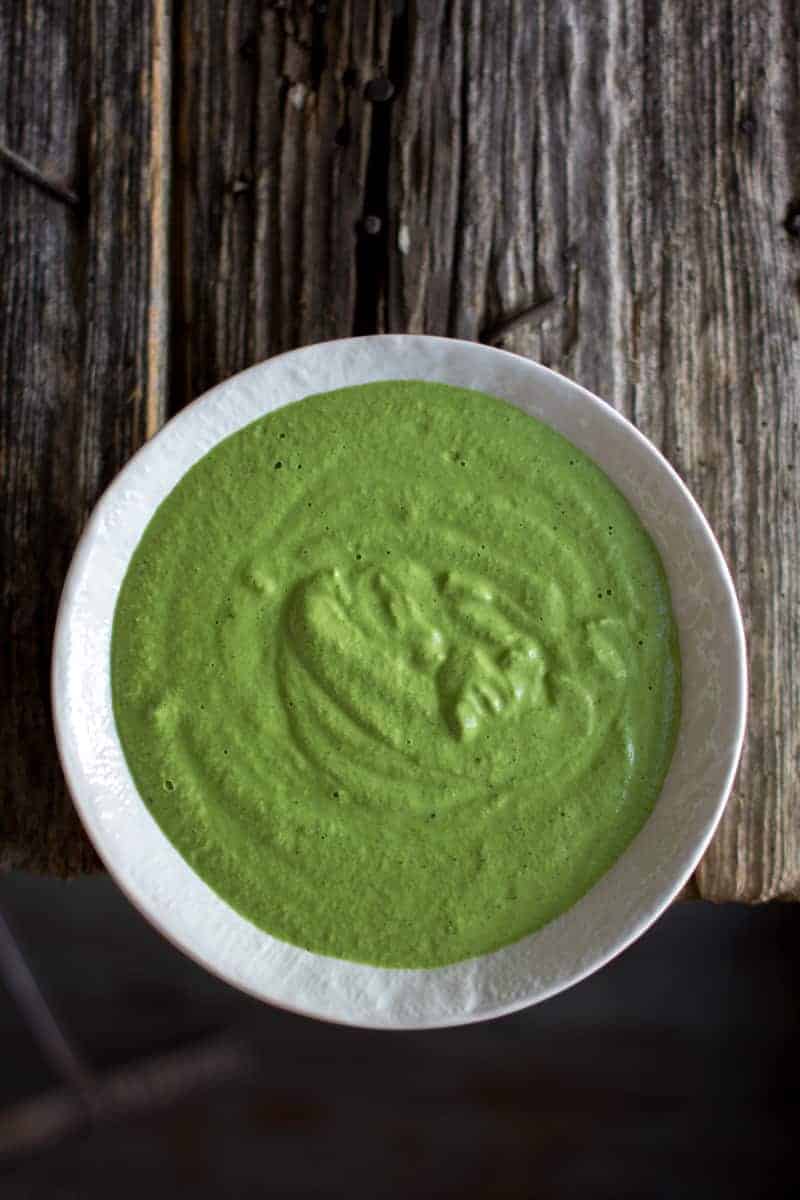 This feast all starts by marinating the cauliflower florets in my banging kale basil sauce for a few hours. The combination of kale + basil with roasted poblano is so good that I publicly professed it as "the sauce of the summer" when the recipe first hit the site.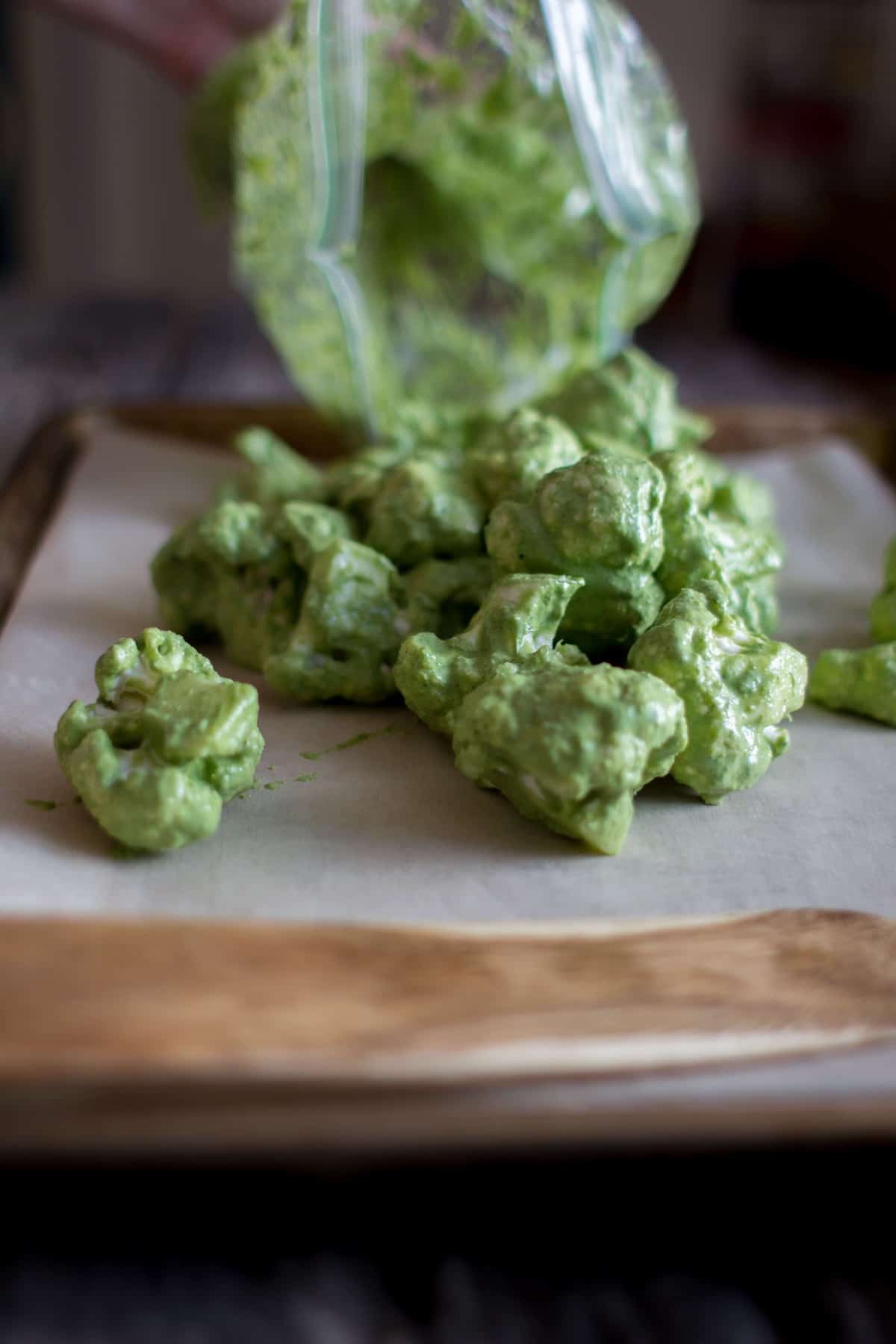 I like to marinate the cauliflower for at least a few hours, that way the sauce has time to really work its way into all of those nooks and crannies. I know, I know - marinating requires a bit of advance planning, but I promise you won't regret it. Just toss the cauli in the sauce before you go to work and let it soak away in the fridge all day. You are going to be so glad that you did!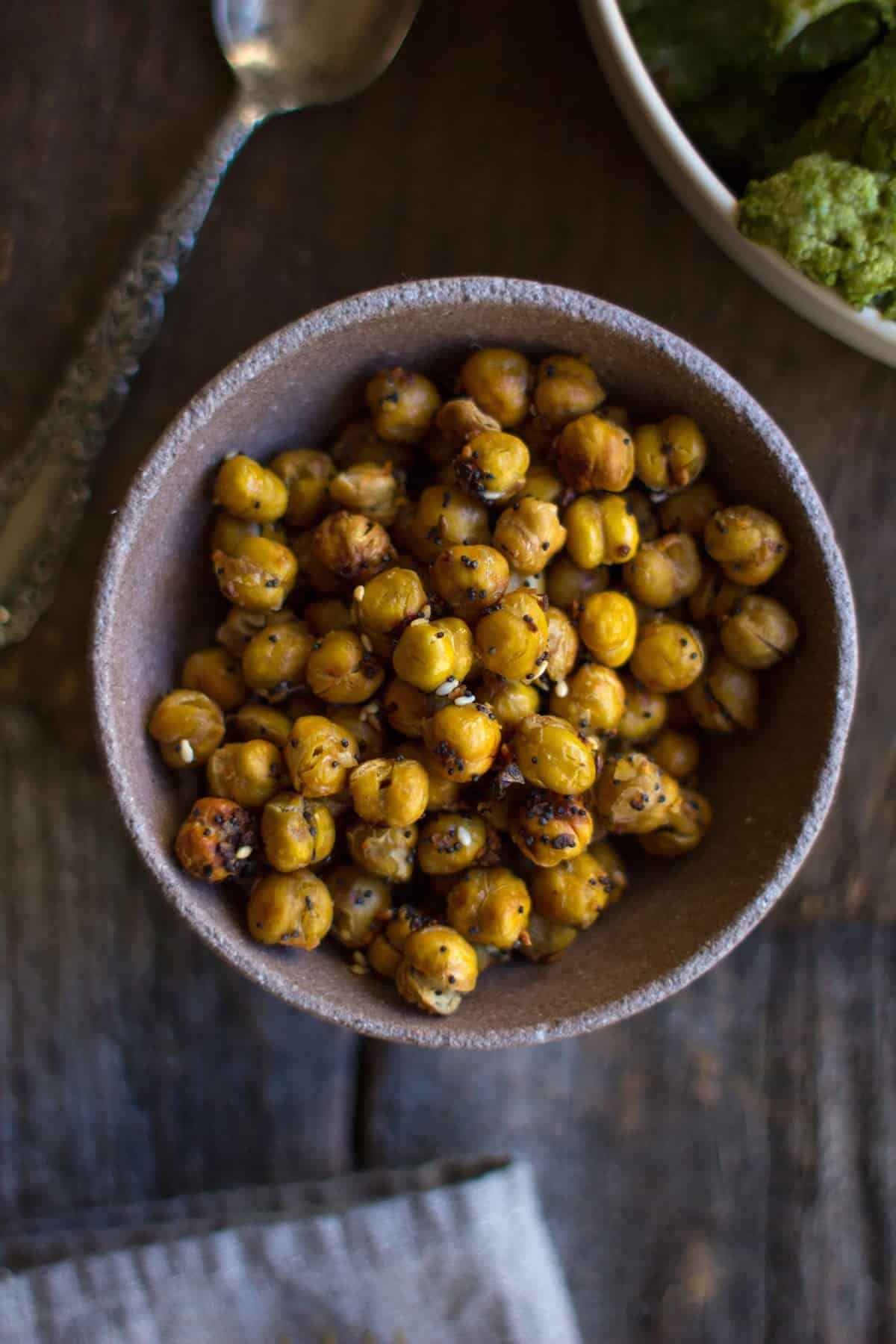 Let's take a second to talk about garnishing this best ever cauliflower roast. While you could just roast the cauliflower in the banging kale basil sauce and call it a day I implore you to take this meal next level by sprinkling fresh cherry tomatoes, ribbons of fresh basil and crispy everything bagel chickpeas. All of those layers of flavor combined are ridiculously good...like the kind of good that makes you do a little dance while you chew!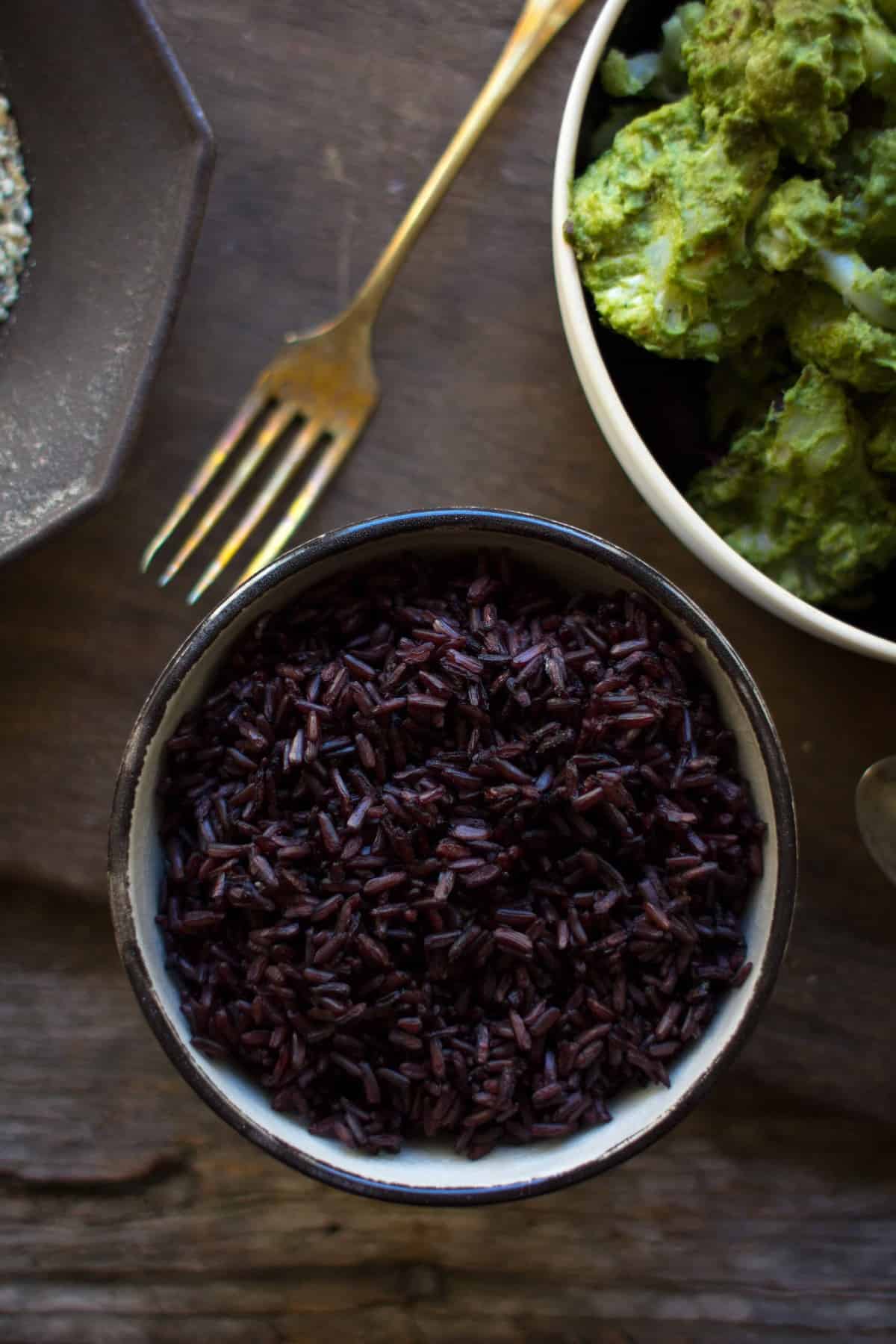 Last but not least, I like to serve all of those delicious components over a bed of aromatic, nutty black rice. You could really use any type of rice or even millet or quinoa, but I really love the flavor of black rice and how in this dish it really compliments all of the other ingredients instead of overshadowing them.
Look, I know I have gushed a lot about this recipe. More probably than any other recipe I have ever created. ( Except maybe my life changing biscuits, I'm pretty proud of those.) It totally deserves it though!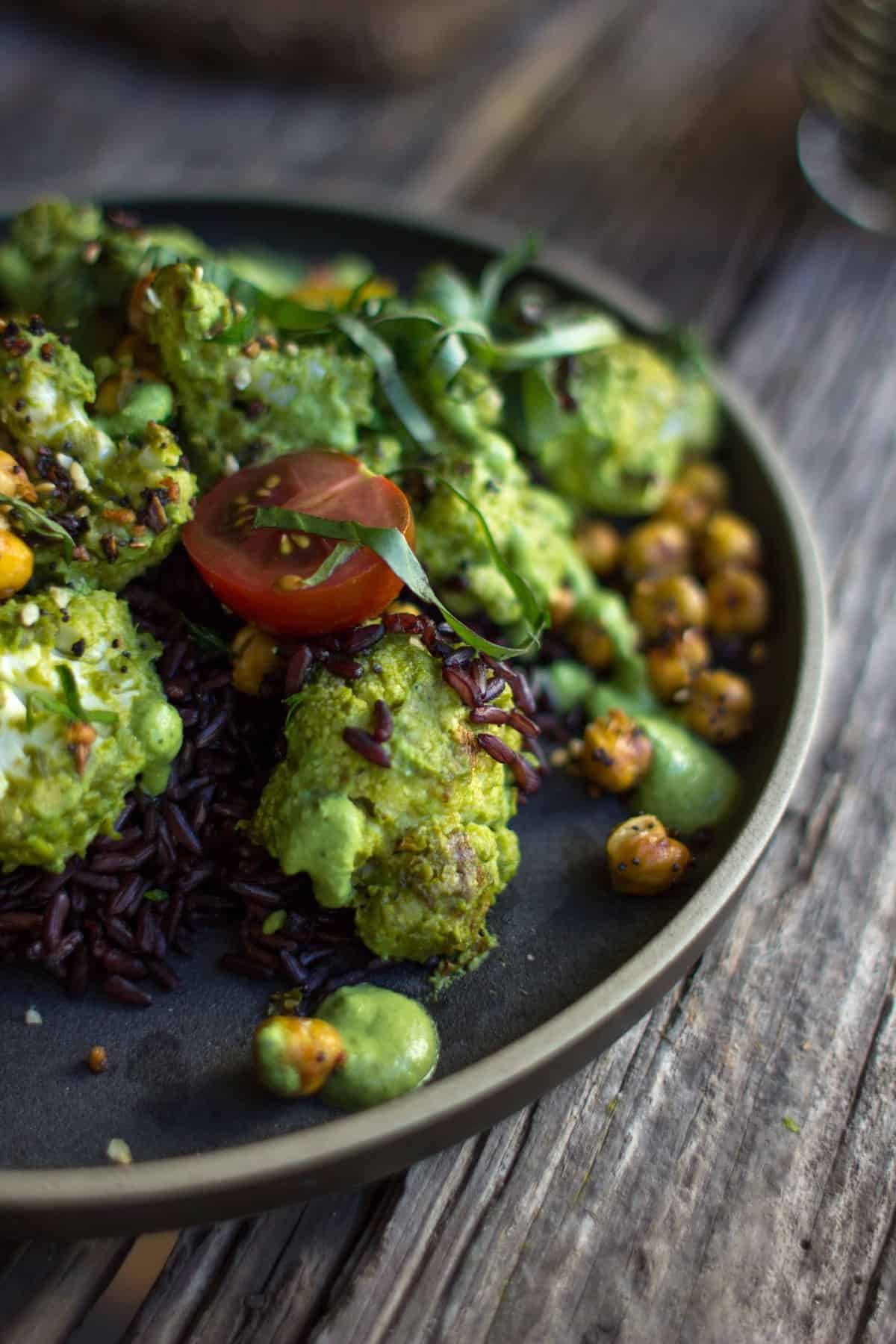 [mc4wp_form id="7635"]
Print
Best Ever Cauliflower Roast
Instructions
Place the cauliflower florets into a large bowl or plastic bag and add 1 cup of the banging kale and basil sauce. Reserve the remaining sauce. Coat the cauliflower with the sauce completely and let marinate for at least 2 hours.
Preheat the oven to 425°F and line a baking sheet with parchment paper. Spray the parchment with olive oil spray and spread the cauliflower out on the pan in an even layer.
Roast the cauliflower for 20-25 minutes, turning once.
Once the cauliflower is tender and starting to turn golden brown on the edges remove from the oven and toss with all but ¼ cup of the remaining banging kale basil sauce.
To serve
Fill a platter with black rice and arrange the cauliflower on top. Sprinkle thecrispy everything bagel chickpeas, cherry tomato halves and basil over the top. Serve with the reminaing ¼ cup sauce.
Recipe Card powered by