Guess who's CSA box showed up with a cantaloupe in it 2 weeks in a row?! Oh man, cantaloupes remind me of weekend visits to my grandparents when I was a kid. I thought it'd be a good opportunity to create a new agua fresca recipe with cantaloupes as the star.
My grandmother could always pick the perfect cantaloupe out of  the pile at the market. I would watch her sniff them, push on the "button" as she called it, and tap on the rind. I didn't really understand all of the steps she performed, but what I did know was that when we went back to her house we would partake in the sweetest, juiciest slices of cantaloupe ever.
I can vividly remember her shaking a little salt over each slice before we ate it, and trust me when I say I ate my weight in it every visit. To this day I still don't have the cantaloupe picking magic down, but I imagine it comes with many more years worth of experience in the kitchen.
This Agua Fresca recipe is sure to be a family favorite!
My CSA cantaloupe wasn't near as sweet as one my grandmother would have picked for me, so I decided to take a different approach and turn that melon into a beautiful summertime drink that my whole family could enjoy. Think cantaloupe meets homemade lime-aid; mouth watering yet? I have had to make this cantaloupe and lime agua fresca now 3 times because my family keeps downing the pitchers faster than I can photograph it which I guess means it's pretty darn good.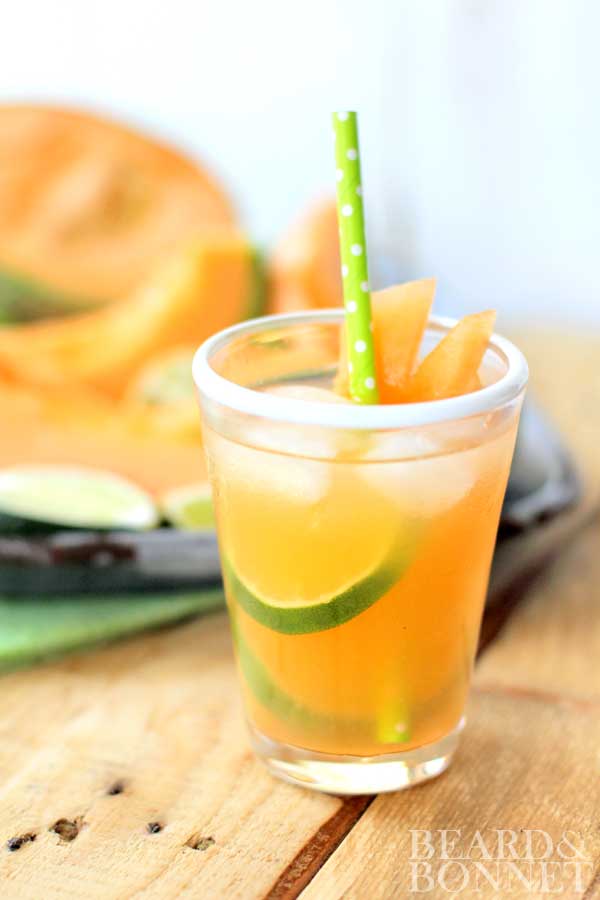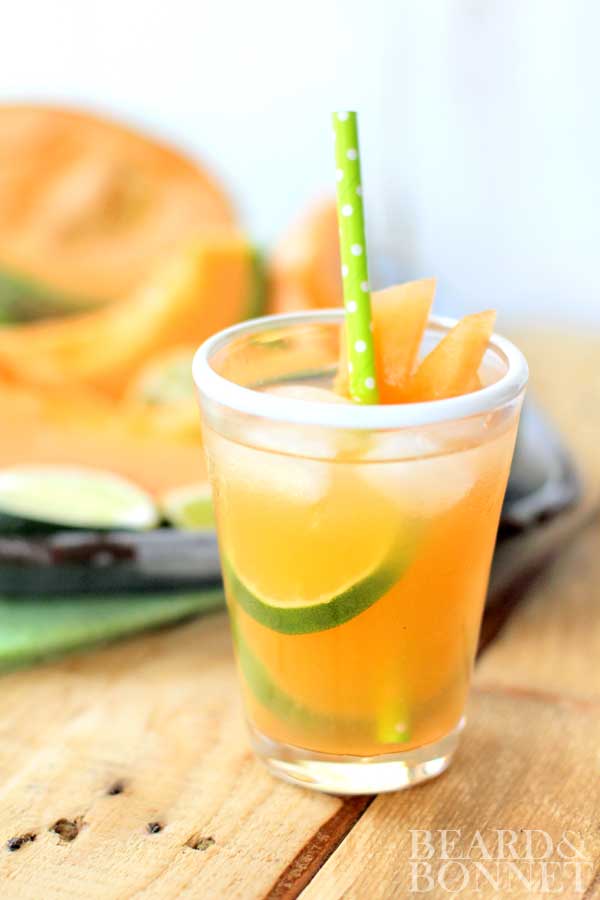 If you've tried this Cantaloupe and Lime Agua Fresca Recipe, I would be so grateful if you would rate it. Let me know what you think in the comments below. I just love hearing from you, and your reviews and comments really help others that visit This Mess is Ours!
Print
Cantaloupe and Lime Agua Fresca (Gluten Free & Vegan)
Don't forget to rate the recipe, and let me know what you think about this Cantaloupe and Lime Agua Fresca in the comments below. I just love hearing from you. Your reviews/comments really help other people that visit This Mess is Ours!
Author:
Prep Time:

20 mins

Total Time:

20 mins

Yield:

6 ½

-

7

cups

1

x
4 cups

filtered water, divided

½ cup

raw or coconut sugar

3 cups

seeded, peeled, and diced cantaloupe

¼ cup

freshly squeezed lime juice
generous pinch of salt
Garnish
cantaloupe spears
lime wheels
Instructions
Make a simple syrup
In a small saucepan combine 1 cup water and the sugar. Bring to a boil, stirring, until sugar has dissolved. Allow to cool.
Make the agua fresca
Blend the diced cantaloupe and 1 ½ cups water in a high-speed blender until completely smooth. If you don't have a high-speed blender you might need to strain the cantaloupe through a sieve to remove solids. Transfer to a large pitcher.
Add the lime juice, an additional 1 ½ cups water, the cooled simple syrup, and salt to the cantaloupe puree in the pitcher. Stir well to mix. Chill in the refrigerator for at least a few hours.
Serve over ice with lime wheels and cantaloupe spears in the glasses.
Notes
For a more intense lime flavor add 3 or 4 of the juiced lime rinds to the agua fresca during the chill time. Just be sure to remove them after a few hours or they will over power the cantaloupe flavor.
Recipe Card powered by
Want to be a part of our online community outside of the blog? It's easy!! All you have to do is follow @THISMESSISOURS on FACEBOOK, INSTAGRAM, TWITTER, YOUTUBE, or PINTEREST to see cooking demos and peeks into our day to day life.
What are the health benefits of cantaloupe?
Cantaloupe is a fat-free, low calorie melon that is bursting with essential nutrients. The high amount of Vitamins A and C help the body to promote eye health and boost the immune system. The folate in cantaloupes is especially good for women and expectant mothers, as it improves prenatal health and reduces the risk of cancer.
Click here for more information on the health benefits of cantaloupe.
Frequently Asked Questions