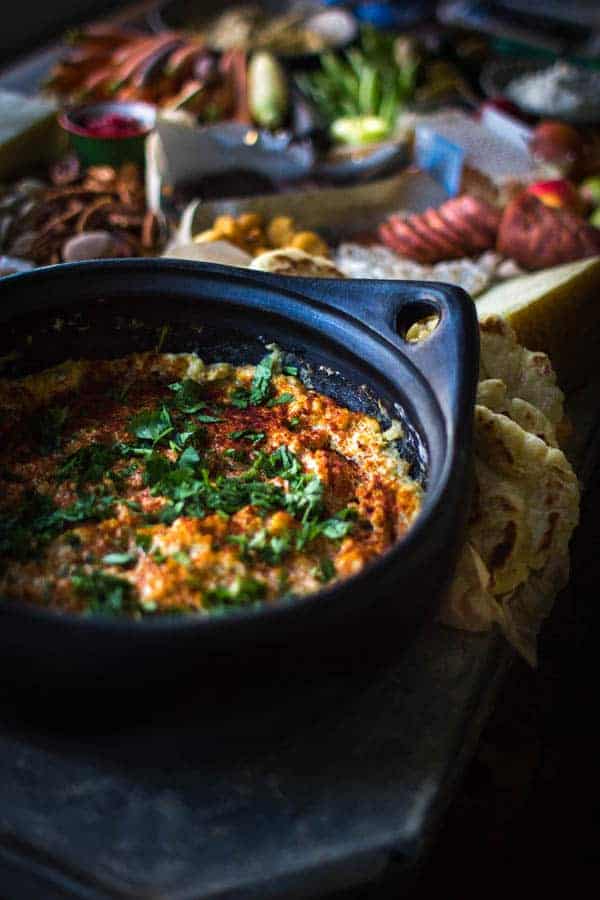 I met my friend Nicole for the first time at a play date 10 years ago. She served the most amazing baked artichoke dip! It reminded me of dips my aunt made during the holidays when I was growing up -- creamy, tangy, salty, cheesy. Nicole's dip hit every flavor point that I could ever ask for, and then some! This artichoke dip recipe is a game changer!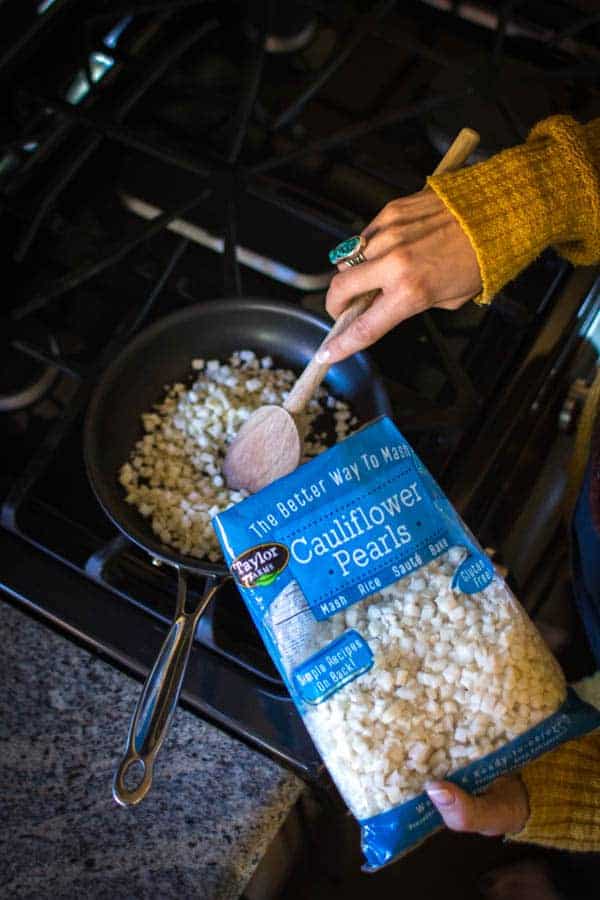 I've never tried a healthier and tastier artichoke dip recipe.
I couldn't resist asking her for the recipe after I had a few bites of her creamy golden dip. After a few gentle twists of her arm, she graciously gave it to me! In the years that have passed since, this dip has become a family favorite during the holiday season and on special occasions in our home.
I've made this dip every year since Nicole gave it to me. Sometimes I make it the way Nicole does, and sometimes I give it a little twist. I tweaked the version I made last weekend for our Friendsgiving gathering in Ventura by adding cauliflower!
Hide cauliflower in anything!
I first had the idea to add Taylor Farms Cauliflower Pearls to my baked artichoke dip after making a vegetarian version of Buffalo Dip for my husband last spring. I was amazed at how the cauliflower just sort of melted into the dip as it baked. It added just the right amount of texture and bite to replace the chicken in the original version.
I knew as soon as I tasted the Cauli-Ranch Buffalo Dip that my artichoke dip was going to get a cauliflower infusion too! I'm so glad I gave it a try. I like how the cauliflower really mellows out the richness of the dip. And it blends in so perfectly that my cauliflower-hating son has no idea it's even in there! (Shhh, don't tell him!)
This artichoke dip recipe will be the star of your hors d'oeuvres platter.
I decided for our Friendsgiving gathering this year that I would make a dunk and slather board. My new and improved Creamy Cauliflower Artichoke Dip would be the superstar! This board had it all: 4 dips and spreads, homemade roasted garlic naan, freshly baked baby biscuit bites, a variety of crackers, 3 types of cheeses, fresh carrots, sugar snap peas, fresh and dried fruit, nuts, seeds, and fine chocolate. It was stunning on the table and met with so many oohs and ahs that I lost count!
This platter easily fed 15 people and paired perfectly with both holiday cocktails and glasses of wine! It was so fun creating new flavor combinations and pairings as we went. But most of all, I loved hearing about how much everyone loved this Artichoke Dip recipe. One friend even said it reminded her of a dip her mom made when she was growing up. This dip transported me to my childhood the first time I ate it too!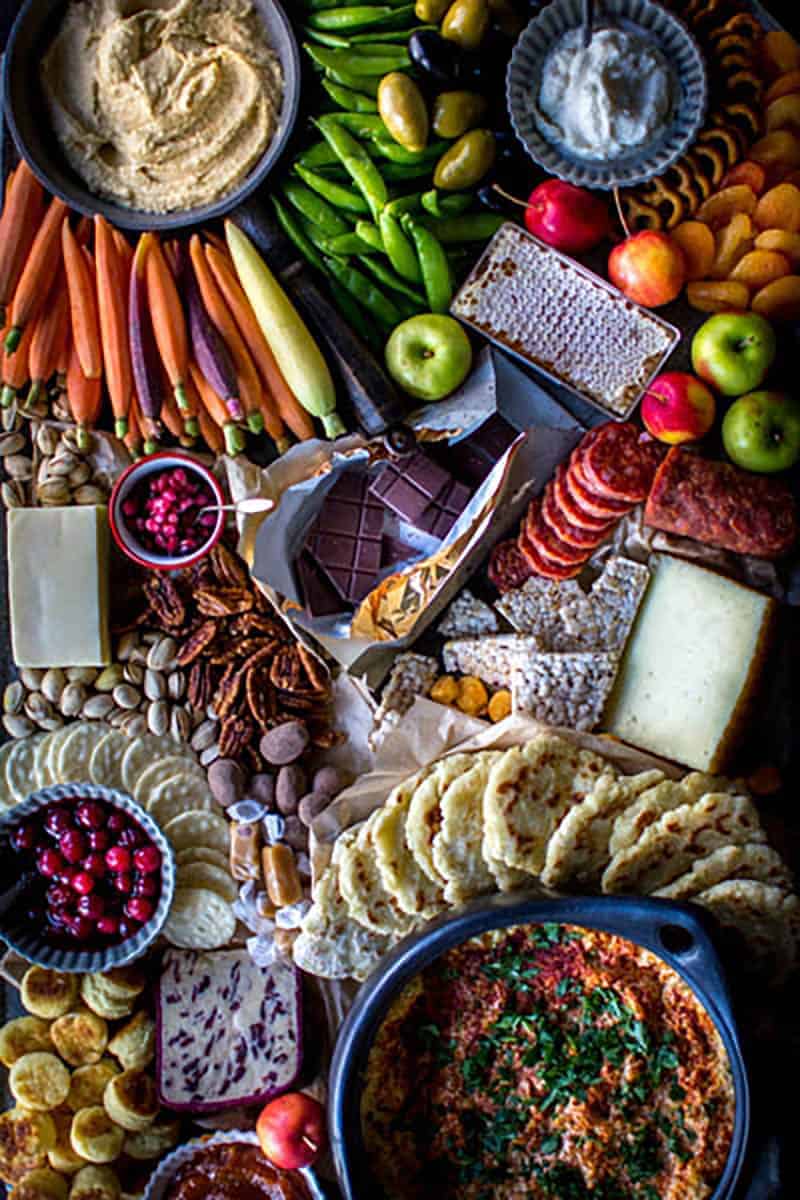 If you've tried the Cauliflower Artichoke Dip Recipe, I would be so grateful if you would rate it. Let me know what you think in the comments below. I just love hearing from you and your reviews and comments really help others that visit This Mess is Ours!
Print
Creamy Cauliflower Artichoke Dip
Don't forget to rate the recipe, and let me know what you think about this Creamy Cauliflower Artichoke Dip in the comments below. I just love hearing from you and your reviews/comments really help other people that visit This Mess is Ours!
Author:
Prep Time:

10 mins

Cook Time:

38 mins

Total Time:

48 mins

Yield:

6

-

8

servings

1

x
1 tablespoon

olive oil
kosher salt and pepper to taste

1

(12-ounce) bag frozen artichoke hearts, thawed

1 cup

freshly grated Parmesan cheese

½ cup

mayonnaise

½ cup

sour cream

½ cup

plain Greek yogurt

3

-

4

green onions, finely chopped

½ teaspoon

Worchestershire sauce

¼ teaspoon

garlic powder
salt and pepper to taste
sweet paprika
To serve
1

-

2

teaspoons finely chopped mixed herbs, I prefer to use a blend of parsley and thyme
Instructions
Preheat the oven to 350° F.
Heat the oil in a skillet over medium-high heat add the Taylor Farms Cauliflower Pearls and season with a generous pinch of salt and pepper. Cook, stirring frequently for 8-10 minutes until golden brown and tender. Transfer to a large mixing bowl.
Place the artichoke hearts in a food processor fitted with the "S" blade. Process until finely chopped; add to the mixing bowl with the cauliflower.
Add the freshly grated Parmesan cheese, mayonnaise, sour cream, yogurt, green onions, Worcestershire, garlic powder, salt, and pepper. Stir to mix well.
Transfer the artichoke mixture to a baking dish, smooth the top with a spoon, and sprinkle paprika over the top. Bake for 30-35 minutes.
Sprinkle the herbs over the top and serve immediately.
Recipe Card powered by
Want to be a part of our online community outside of the blog? It's easy!! All you have to do is follow @THISMESSISOURS on FACEBOOK, INSTAGRAM, TWITTER, YOUTUBE, or PINTEREST to see cooking demos and peeks into our day to day life.
What are the health benefits of artichokes?
Artichokes are loaded with nutrients and vitamins, especially fiber and vitamins C and K. They work wonders for digestive health, cholesterol problems, and helps regulate blood pressure.
Click here for more information on the health benefits of artichokes.
Frequently Asked Questions