Thanksgiving this year was also Eliza's 11th birthday! Man, time flies. Eggplant Parmesan is her favorite meal and without fail it is always the dish that she requests on her special day. Not the lasagna-esque version that most of us think of when someone says eggplant parm, but our deconstructed version where the eggplant is really the star. Stack as high as you would like and layer anything you wish in between to really make this dish special. This time we layered slices of broiled green tomatoes that had been seasoned with olive oil, salt, and pepper. Then broiled until slightly charred, although my favorite version of this dish is layered with slow roasted caprese tomatoes! Yum!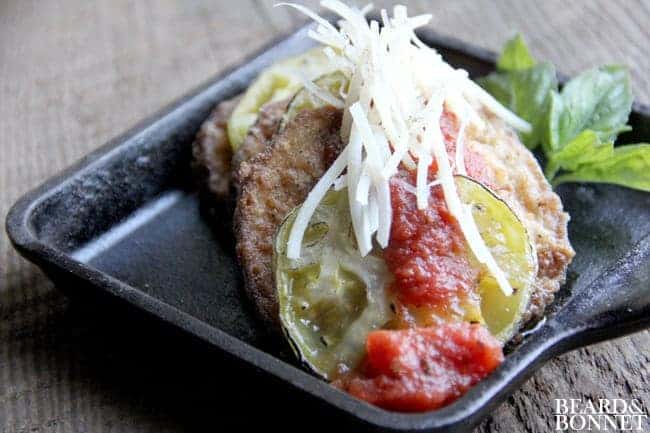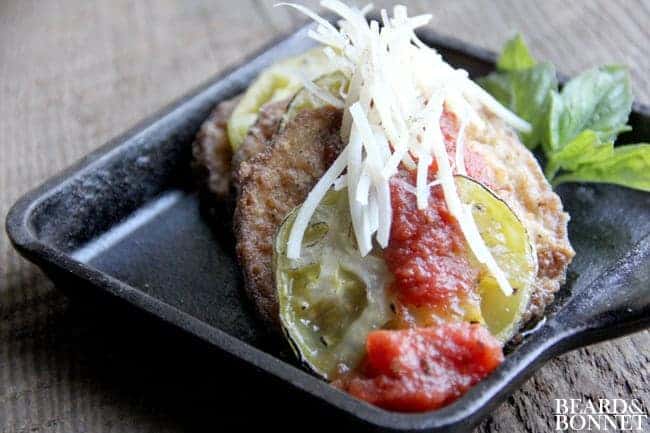 Deconstructed Eggplant Parmesan
Serves 4-5
2 medium globe eggplants, peeled and cut into ½ inch thick rounds
3 eggs, lightly beaten
¼ cup plain almond milk
¼ tsp. fresh ground black pepper
1 ½ cups Domata gluten-free seasoned flour
¼ cup shredded Parmesan
Peanut oil
Peel and slice eggplants into rounds. Place the rounds of eggplant on a plate in single layers, separated by sheets of paper towels. Wrap the plate in plastic wrap tightly and place in the fridge for a few hours or overnight. *This will draw all of the bitter juices out of the eggplant and into the paper towel without the need to salt and drain them. 
Pour peanut oil to a depth of 1 inch in an electric skillet set at 350°F or a cast iron skillet over medium heat. In a shallow dish combine the eggs, almond milk, and black pepper; whisk to combine. In another shallow dish combine the Domata g-free seasoned flour and the shredded Parmesan; stir to combine. One at a time dip the eggplant into the egg mixture and then dredge through the seasoned flour mixture. Drop the eggplant into the preheated oil and cook until golden brown on the first side, 3-4 minutes, flip and cook until golden brown on the second side. Drain on paper towels.
Serve warm with jarred pasta sauce and extra Parmesan.  Layer with slices of slow roasted tomatoes or broiled green tomatoes in between the eggplant to make this dish really special.
*Important note: Notice there is NO salt or garlic in this recipe...I didn't forget about them, the awesome people at Domata did all of that work for you! Their Domata Seasoned Flour is super tasty and makes breading a cinch! I am not affiliated with them in any way..just consider this a friendly product recommendation! 
We are happy to have shared this post at the Gluten-Free Friday's link up party hosted by Vegetarian Mama, Eat.Live.Make, and Gluten Freed R.D.!  Hop on over to find more great gf recipes.